With its slow synth build up and Mitski's alluring vocal performance, "Two Slow Dancers" is a bittersweet look at a forgotten love and the false hope of those sparks ever returning.
— —
Mitski's presence in 2018 has been absolutely extraordinary. With the release of her first single "Geyser" released back in May, listeners were given a taste of the indie-rock vibes she has perfected, serving as a brief introduction into what the upcoming album will hold. With the track "Nobody" released back in June, a classic indie-pop melody was born, one that continues to charm us to this very second. Now, Mitski is bringing forth an emotive and intimate side of her that has already gotten us hooked with her latest single, "Two Slow Dancers."
Listen: "Two Slow Dancers" – Mitski
---
Released yesterday, August 9, 2018 via Dead Oceans, "Two Slow Dancers" is Mitski's third single off of her upcoming album, Be The Cowboy (out August 17, 2018). The track is a contrast from the previous single "Nobody," which had a disco-inspired beat, but the emotional intensity in "Two Slow Dancers" mirrors tracks on her previous album, Puberty 2. Albeit with a much different sound. It's as haunting as it is beautiful with its synth melodies carrying the listeners through the melancholic story of a previous love and the false hope of it ever becoming a reality once again.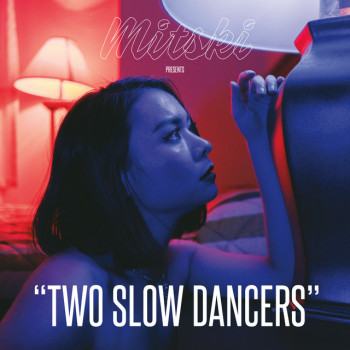 Does it smell like a
school gymnasium in here?
It's funny how they're all the same
It's funny how you always remember
And we've both done it all
a hundred times before
It's funny how I still forgot
It's a story of two lovers reuniting in the walls of a school gymnasium, a sight and even smell listeners can relate to. However, those gymnasium dances are potential turning points for the young, naïve, and in love individual.  It's enchanting in a way – feeling as if you and your partner are alone, the "last ones" around the venue, and despite the awkward nature of the constant shuffling and nerve-wracking hand placements, it's special. These moments in one's adolescence were simple and pure, where love and romance were easily achievable. Mitski wishes for those moments to come back, but like most things in life, it's never as simple as we hope.
It would be a hundred times easier
If we were young again
But as it is
And it is
We're just two slow dancers, last ones out
We're two slow dancers, last ones out
"They used to have something together that is no longer there," explains Mitski in a press release. "And they're trying to relive it in a dance, knowing that they'll have to go home and go back to their lives." What starts as a sweet nostalgic tune turns into one of regret and unease. "It would be a hundred times easier if we were young again," a realization from someone who is older and knows better that it won't work, that their past love is nothing more than a memory.
Her delicate vocal work pairs nicely with the gentle synth chords that are carried throughout the track. At the half-way point, a quick flourish of strings joins in, creating an aural representation of a sparkling night that, under any other context, would provide a moment of pure bliss. Now it's simply mocking them, that moment of magic nothing more than a falsity.
And the ground has been slowly pulling us back down
You see it on both our skin
We get a few years and then it wants us back
As the track comes to its close, the synths become louder and more apparent, building up the tension occurring between our two lovers. Mitski cries out "to think we could stay the same" in defeat – a once strong love reduced to nothing more than an awkward and confrontational dance in a dreary gymnasium. As much as she would love to be back in those early loved-filled days, back with whom she loves, they are simply nothing more than "two slow dancers."
Mitski has conjured up repressed feelings of regret in this solemn anthem of a love worth revisiting. To live in naiveté and to do what the heart wishes for is a luxury not afforded to her as an adult, nor any of us for that matter. Despite the heartbreak presented, she has crafted a track that is not only gorgeous but worthy of praise. Mitski is an artist to watch, and we'll be eagerly awaiting her newest album releasing August 17.
— —
— — — —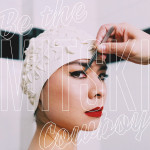 ? © Bao Ngo
:: Stream Mitski ::
---
:: Mitski Tour Dates ::
* = w/ EERA | % = w/ Sidney Gish | & = w/ Overcoats
^ = w/ Downtown Boys & SASAMI
Sun. Aug. 12 – Providence, RI @ Columbus Theatre %
Mon. Aug. 13 – Portsmouth, NH @ 3S Artspace %
Tue. Aug. 14 – Portland, ME @ Space Gallery %
Wed. Aug. 15 – Burlington, VT @ Higher Ground Showcase Lounge %
Thu. Aug. 16 – Holyoke, MA @ Gateway City Arts %
Sat. Aug. 18 – Brooklyn, NY @ Elsewhere – Record Release Show %
Wed. Sep. 19 – Manchester, UK @ Manchester Gorilla *
Thu. Sep. 20 – Glasgow, UK @ Saint Luke's *
Sat. Sep. 22 – Dublin, IE @ Tivoli Theatre *
Mon. Sep. 24 – Leeds, UK @ Brudenell Social Club *
Thu. Sep. 25 – Bristol, UK @ Trinity Arts Centre *
Wed. Sep. 26 – London, UK @ O2 Shepherd's Bush Empire *
Fri. Sep. 28 – Paris, FR @ La Maroquinerie *
Sat. Sep. 29 – Antwerp, BE @ TRIX *
Mon. Oct. 1 – Cologne, DE @ Gebäude 9 *
Tue. Oct. 2 – Amsterdam, NL @ Paradiso Noord (Tolhuistuin) *
Thu. Oct. 4 – Berlin, DE @ Musik & Frieden *
Fri. Oct. 5 – Vesterbro, DK @ Vega *
Sat. Oct. 6 – Hamburg, DE @ Uebel & Gefährlich *
Fri. Oct. 19 – Philadelphia, PA @ Union Transfer &
Sat. Oct. 20 – Boston, MA @ House of Blues &
Sun. Oct. 21 – Montreal, QC @ L'Astral &
Mon. Oct. 22 – Toronto, ON @ Danforth Music Hall &
Tue. Oct. 23 – Detroit, MI @ Magic Stick &
Thu. Oct. 25 – Chicago, IL @ Vic Theatre &
Fri. Oct. 26 – Minneapolis, MN @ First Avenue &
Tue. Oct. 30 – Vancouver, BC @ Imperial &
Wed. Oct. 31 – Seattle, WA @ Showbox SoDo &
Thu. Nov. 1 – Portland, OR @ Crystal Ballroom &
Sat. Nov. 3 – San Francisco, CA @ Warfield Theatre &
Wed. Nov. 7 – Los Angeles, CA @ The Wiltern &
Thu. Nov. 8 – Phoenix, AZ @ Crescent Ballroom &
Sat. Nov. 10 – Austin, TX @ Emo's Austin &
Sun. Nov. 11 – Dallas, TX @ Trees &
Tue. Nov. 13 – Nashville, TN @ The Basement East &
Wed. Nov. 14 – Atlanta, GA @ Masquerade: Heaven Stage &
Fri. Nov. 16 – Washington, DC @ 9:30 Club &
Fri. Nov. 30 – Brooklyn, NY @ Brooklyn Steel ^
Sat. Dec. 1 – Brooklyn, NY @ Brooklyn Steel ^