Austrian singer/songwriter OSKA opens up about her beautiful, achingly intimate debut album 'My world, My life, Paris,' a radiant, dreamy, and deeply human record brimming with sadness and hope, inner reckoning and heartfelt reflection.
Stream: "My world, My love, Paris" – OSKA
---
Achingly intimate and beautifully tender, OSKA's debut album is as warm and wondrous as it is utterly moving: The Austrian singer/songwriter pours herself into the music of My world, My life, Paris, a radiant, dreamy, and deeply human record brimming with sadness and hope, poignant inner reckonings and reflections on life, love, purpose, and being. It's enchanting music of raw, visceral connection; a set of songs that feels at once timeless, and yet so fitting for the 2020s.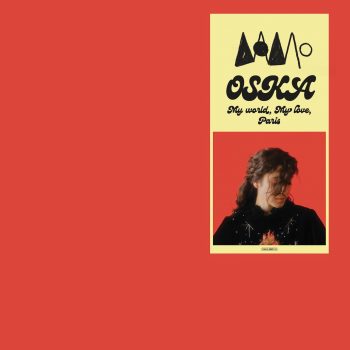 We let our raven find us new haven
Follow the Milky Way's endless rotation
Our little journey is not for returnin'
Our lifeboat and jackets only for burnin'
We made a statue of notions and embers
We burned it up so that we won't remember
They talk of "always," we know of "never"
This island's sinking, let's go down together
Like stars we'll carve into the universe
Here in your arms, we will start, just the two of us
Is this you asking me?
Will it be like falling asleep?
Or listenin' to Édith Piaf sing
I'm sorry, my world, my love, Paris
If our tower came crumblin' down
Would the world gather 'round to join in?
We could have made something with this
Oh, I wish we made something of it
My world, my love, Paris
Released February 25, 2022 via Nettwerk Music Group, My world, My love, Paris is a breathtaking introduction to Vienna-based singer/songwriter OSKA. Since introducing her artistry in 2020, the singer/songwriter has steadily established herself as an inspiring beacon of light and depth at the intersection of the indie folk and indie pop music worlds. 2021's wistful debut EP Honeymoon Phase set her apart from her peers with its five expressive and stunningly emotional tracks that dove into her youth and earlier years. It proved a fitting precursor to this LP, which sees OSKA exploring past, present, and possible futures with her heart on her sleeve and her soul spilling into every song.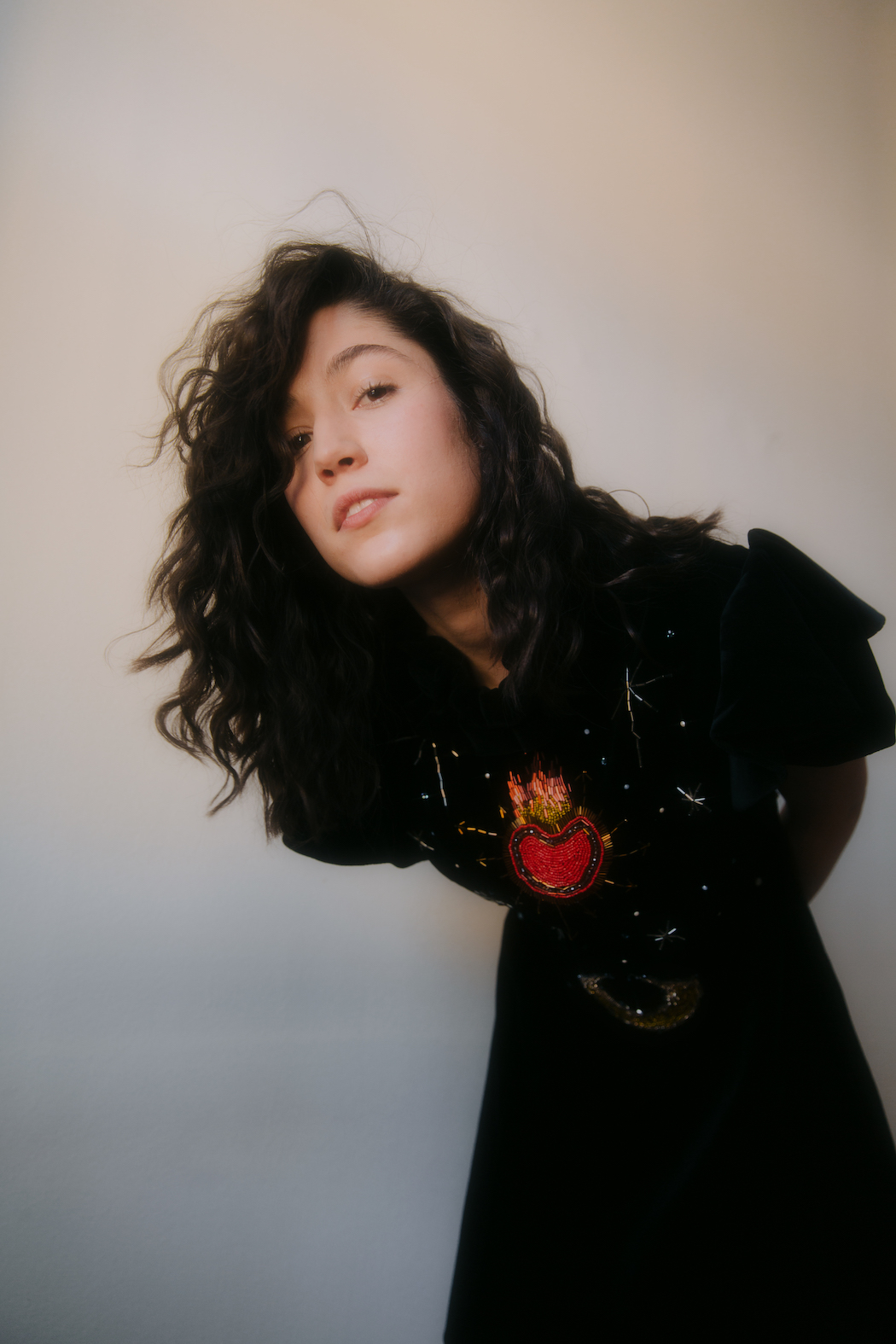 As OSKA candidly explains, this album is quite a long time coming.
"Most of the songs were recorded in 2020," she tells Atwood Magazine. "Some songs were written very close to the finish line while other songs are already a few years old. For example I wrote "Hallucinating" about three years ago. I knew after I wrote it that I wanted it to be the last song of my first album because it ends with the question, 'Would you hallucinate a little longer with me?' The opener of the album was the last song to finish, so it's probably the closest to me as a person and songwriter. It deals with the question what a song is worth in a world where music isn't paid for enough. I've loved making this album with Alex Pohn, who found my music on the internet and took on this journey with me. The journey of capturing songs the best way we could. I wanted to release an album before I've even fully finished writing my first song over ten years ago. I was captivated by songs then and I'm happy that I'm still as much in love with songs and music as I was then. "For so many years making my first album was the biggest thing in the world to me. That's probably also why it took me so long to make it… I always wanted it to be special and at times was scared that I wouldn't like it five years from now or that I couldn't identify with the music some time after the release."
"I honestly never really had a full sense of what the album "should" be or sound like," she continues. "We always took it step by step. And sometimes it took time to find out what each song needed. I was a little afraid that the songs wouldn't fit together in the end. But now I see that they make sense in the context of an album because of how they are written and sung. For me it was always about the songs. For Alex (my producer) as well, but he also had the big picture in mind, production-wise, which I sometimes probably didn't have cause my head's in the clouds most days."
I wish I knew you when I was a kid
Looking back, I felt so alone with this shit
If they would test my courage, you'd encourage me not
Not to lose myself and all I've got
I'd try to kill you in the playground
And you'd let me 'cause you love how
Everything makes sense when I put my hands on you
I would have loved you then just like I do
I'd love all of you just like I do
I still feel starstruck when you come in the room
I never thought I would find someone like you
If I'd ever lose you, I would wanna clear my head
'Cause a spotless mind is what I'd need for a life without you
For a life without you
---
My world, My love, Paris is a soothing balance of intimate reflections basking in the moment, and existential crises searching for purpose, meaning, and place in the world. Throughout, one gets the sense that OSKA is welcoming us into her inner sanctum: She herself describes the record as a sad, inviting, and hopeful journey – "a snapshot of a young woman attempting to make sense of getting older in an increasingly uncertain era."
"I hope it's an album where one can hear it was thoughtfully written, arranged and produced," she says. "We always tried to capture beautiful moments in the studio and there's a lot of appreciation for detail. I care so much about these songs. On the other hand I know that music is supposed to be fun. If you'd look at music from an outside perspective (for example: music in relation to the universe) music would probably be as important as playing lego – it's supposed to be fun; something to enjoy, something to share, something to accompany you through life. I hope that I captured that; that for me music is a matter of love, care and play, and in some sense insignificant – although it means the world to me."
The album's expressive title is an homage to the song of the same name; a little love letter to music, and to the Earth itself. "It's so hard to name an album; to find something that captures the essence of twelve songs you've written at very different stages of your life," OSKA admits, "but after Danai Kelleher and I wrote the song "My world, My love, Paris," it was very clear to me that I wanted the album to have the same name. The song means so much to me and the words seem like the beginning of a love letter: A love letter to this beautiful planet we're living on, that we do not take enough care of. And a love letter to music – my longest relationship yet!"
Highlights abound throughout this twelve-track collection of graceful upheavals and elegant outpourings. Opener "Too Nobody" sets the scene with a lilting acoustic guitar, and eventually strings, supporting OSKA's vibrant and unfiltered voice. She laments the pressures of the music industry and being made to feel like a "nobody," when as she explains, "It should all just be about the music, the songs, the joy." The chorus is a bittersweet, yet ultimately empowering and uplifting moment of resolve as OSKA commits herself to her art.
Boarded up the record store
Who cares about songs anymore?
And it makes me feel too nobody
And there's nobody to disagree
Closing down the club next door
Who cares about music anymore?
But I will sing to nobody
If there's nobody to disagree
---
And just like that, we're hooked. The beautiful title track "My world, My love, Paris" is another instant standout on the album: OSKA's hushed, heartfelt vocal performance tells the story of two lovers at the end of the world, reflecting on the life they've led together and what's about to happen to them. Heartache glows as strong as pure wonder in both the music and lyrics here, as OSKA effortlessly ropes us into a breathtaking, emotional romance. "I thought we'd make somethin', I wish we made somethin'," she sings. "We should have made somethin' of it, my world, my love, Paris…"
Further highlights including the tender and aching "Responsibility" (a heartbreaking song about a parent who leaves their family behind), the sweetly cinematic and gentle anthem "Mona Lisa, a girl's best friend," the soaring, charming love song "Starstruck," and the vivid, rousing finale, "Hallucinating."
"Some songs feature strings and I think that it makes these songs very special," OSKA says on the topic of favorites. "When I listen trough the album, I always love when the strings come in – they are the star of this album, in my opinion. Sometimes it's a folky fiddle, other times it's a beautifully arranged quartet or a lonely cello. The strings always sound subtle, which makes them that much more lovely."
As for her favorite lyrics, she immediately cites the title track. "I really like the ending of 'My world, My love, Paris.' The song tells the story of a couple who board a boat as the world comes to an end. As they sail away, they ask each other all kinds of questions like "Will it be like falling asleep?" and "Was is all worth it?" I especially like the last line of the song, which is also is the end of their conversation. One says: "The sea looks dead tired from crashing and drowning," and the other one answers: "My love you're mistaken, it's only sunbathing." It kind of captures the feeling of insignificance I talked about earlier. That if the human race extinguished tomorrow, the earth would finally just start chilling again," she laughs.
OSKA's debut album is as warm and welcoming as it is simply captivating.
Whether you delve deep into the emotion and poetry of these songs, or let them be the soft, moving background to your day, there is no denying the beauty at the heart of My world, My love, Paris.
"I'd like listeners to be able to take away from the album whatever they need to in a certain moment," OSKA shares. "Although the lyrics are important to me, I think it's possible to just enjoy the music. To enjoy dancing to it, or crying to it. Or daydreaming about the future, or someone you're in love with. To write songs is such an amazing job, because you can't do that much harm unless you want to. I want people to find joy in it. I've also found joy in creating it. Sometimes it was very tough to confront myself with my insecurities; I've taken away that the most amazing days in the studio were the days I'd forgotten myself, my insecurities, my ego. Going forward I want to focus much more on the joy music was made to bring."
Experience the full record via our below stream, and peek inside OSKA's My world, My love, Paris with Atwood Magazine as she goes track-by-track through the music and lyrics of her debut album!
— —
Stream: 'My world, My love, Paris' – OSKA
:: Inside My world, My love, Paris ::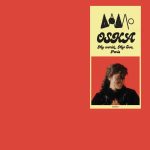 — —
TOO NOBODY
Sometimes (when you're part of the music industry) you can feel like you're not enough. Your songs are too slow, you're too shy, you post too little. You might start feeling like you're just too nobody. When really it should all just be about the music, the songs, the joy. So I wanted to begin my album with a song that finishes off with the following conclusion: I will sing to nobody. Cause I know I'll always keep singing, even when no one will listen.
MY WORLD, MY LOVE, PARIS
"Recording strings for the song My world, My love, Paris, was one of the coolest experiences of the album-making process. I decided on the day of the string recording that I wanted to invite the lovely players again for a live session. I'm so happy everyone was up for playing in this cozy setting. It was really special for all of us to perform the song together in one room."
RESPONSIBILITY
It is a very sad story about a parent who leaves their family behind. She implores would-be and current parents to think about the world they're passing down to their children. "It's the same one that will be inherited by your sons and daughters."
MONA LISA, A GIRL'S BEST FRIEND
"My great aunt was very sick, but she survived saying it was my family, our dogs, and the apples in our garden that got her through. Years later my dog Mona died unexpectedly, and it got me thinking about life and death a lot and that all we can really do is to be there for each other."
MISUNDERSTOOD
Misunderstood is a song about feeling sad and wanting to tell your friends about it. And then people around you come up with a lot of reasons why you're sad or with suggestions what you should do about it. That made me even more sad, so I wrote this song.
STARSTRUCK
"This song was inspired by one of my favorite movies, Eternal Sunshine of the Spotless Mind. It's about celebrating someone great that is in your life while also dealing with the fear of losing them. A bittersweet ode to all the loved ones out there."
WOODSTOCK
"Woodstock is a song about my dumb, old car and getting over the fact that I probably won't be in someone's life; just like I'll never be a part of a festival that took place over 50 years ago. I wish I was but it's impossible. And that's okay."
LOUSY T-SHIRT
"It's about what ́s left behind after a break-up and how the relationship itself doesn't feel real to you at all anymore. When you look back, it feels more like you ́re watching a movie and not like you actually lived it. Sometimes you might also feel like the other person is getting over everything much more easily, and that all that ́s left is a t-shirt -a statement from my ex-boyfriend. It's a very personal song that I wrote at a stage when I was really angry. After writing it, I wasn ́t anymore. That ́s the beauty of songwriting -you have such joy with the new track that you forget everything else. Sometimes that is what ́s left after a relationship too: a lousy t-shirt and a song."
CROOKED TEETH
"It's about losing people and, along with them, the ability to be as carefree as we once were. It's about wishing they were still here,and that we could still laugh like we used to -carefree laughs with carefree smiles, crooked teeth and all."
ABC
When your two best friends fall in love you might feel like the "B" in "ABC." It's kind of a childish analogy but that's why I liked it so much. "When A loves C what about B? Will B be happy again?" It's a simple idea with a simple melody and that's probably why I love performing it live.
HELPLESSLY HOPING
I was looking for a song that I could sing with my four older siblings. We grew up singing and harmonizing together so I really wanted to include their voices on my first album. Recording it with them was a big highlight of this whole process.
HALLUCINATING
I wrote "Hallucinating" about three years ago. I knew after I wrote it that I wanted it to be the last song of my first album because it ends with the question "Would you hallucinate a little longer with me?"
— —
— — — —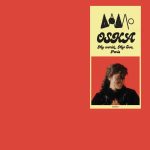 ? © Hanna Fasching
:: Stream OSKA ::
---