MisterWives remind us to get back up again with their uplifting, brightly-lit new single "Rock Bottom."
Stream: "Rock Bottom" – MisterWives
---
There is a levity that comes with hitting rock bottom.
It's falling that is the hard part: The slow and slippery slope to the bottom that often goes ignored or even unnoticed. And although that fall and eventual smack to the bottom is grueling and soul-crushing, when you look at it the right way, it can also be life-changing and awe-inspiring. Because sometimes, the only way to bring yourself back to life, is to hit rock bottom – that is when the levity begins.
With their brightly-lit and poetically piercing new single "Rock Bottom," MisterWives remind us that everything is going to be okay – we just have to get back up again.
Released April 22 via Fueled By Ramen, "Rock Bottom" is indie pop group MisterWives' first single since they put out last year's EP mini bloom, described by Atwood Magazine as soul-packed and poetically perfect – "an awakening to live your best life [and] a reminder that we are not alone."
"Rock Bottom" starts low and pulsing, drawing you in with Lee's intoxicating lyrics and vocals,
Hallucinating i'm waiting to feel myself again
Can't remember the last time I talked to me as a friend
Spiraling out of control to see how far I could go
Underneath the lowest low to feel anything at all
The verse transitions to a pre-chorus that builds with motivation and anticipation; The fight is most worth it in the times that are the most difficult.
Running running running for my life
I'm playing hide and seek with the light
Sorry you had to see me like that
Glad I saw this place now
I know I'm never coming back
Next comes the explosive chorus with a seventies-like earworm that is as surprising as it is welcomed,
I fall just to get back up,
I fall just to get back up
Before the final dance party of a chorus ties a ribbon on "Rock Bottom," the bridge punches us in the gut. It could not be a more powerful or perfect moment to drive the message home. It's not easy to share unaltered feelings with yourself let alone the world, but continuously the members of MisterWives bravely shake their egos and allow themselves to be vulnerable, just so the people who hear their songs can feel a little less alone.
Got below rock bottom
Fallen angels I taught 'em
But we're bringing it back, bringing it back
Cause I'm never losing myself like that
MisterWives have always embraced their individuality, never marching to the beat of anyone's drum but their own.
In this way, they haven't changed a bit. However, the precision and the intention they set in their musicality to match the tone and message of their lyrics has been sharpened and refined impeccably over time.
They aren't changing into who they think people want them to be; they are evolving into the best versions of themselves. "Rock Bottom" starts luring, dragging you in, and then it explodes like a bright light – making you never want to leave.
Album three is on its way, and we could not be more excited.
— —
Stream: "Rock Bottom" – MisterWives
— — — —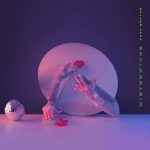 ? © Matty Vogel

:: MisterWives ::
---
---