The magic and energy of MisterWives radiates in our recent interview, where the indie pop band discuss everything from new music to staying true to themselves, and much more!
Stream: "The End," "whywhywhy" – MisterWives
---
People always say our music is so real, and it is because it's coming from a real place. It's not trying to be something that it isn't, and it's not chasing what's trendy in music or trying to be cool; it's really just us pouring our hearts out in three minutes.
The combination of Mandy Lee, Etienne Bowler, Jesse Blum, Will Hehir, Marc Campbell, and Mike "Murph" Murphy, the group of people who together make indie pop band MisterWives, light and warm up a room better than anyone in the business. It is clear through a single conversation how their undeniable and completely authentic chemistry translates to their music and their live show.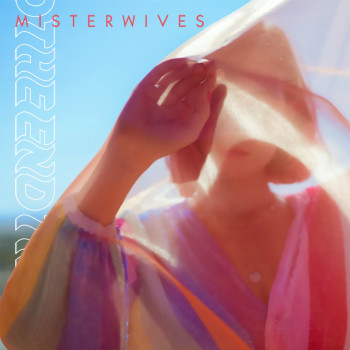 In sitting down with MisterWives on the day of their Happy Valley show earlier this month, we discussed everything from songwriting and production, to being truthful with what you have to say instead of saying what you think people want to hear, to their new beginning, and (of course) their appreciation of everything – including their beloved tour bus driver, Tom.
There is a humble quality to this music group. When talking about how amazing their live show is they graciously thank me, but almost immediately dive into how amazing the band for which they are currently opening, Twenty One Pilots, is live. While this may also be true, there is a special magic to a MisterWives show: One that is entirely unique to them. They are kind enough bottle up this rare combination of who they are and let us experience it through music and lyrics. It's why they've gotten to where they are today, and it's why this is only the beginning.
Enjoy Atwood Magazine's interview with MisterWives.
A CONVERSATION WITH MISTERWIVES
Atwood Magazine: I'm going to start on a general level before diving into the new songs. Mandy, your song writing is so incredible. You write the kind of songs that make people feel. There's almost a tangible quality to them. I'm wondering about your process and how you kind of arrive at these epic songs.
Mandy Lee: Thank you. I'm happy it resonates with you. I guess it's just that they are just very real personal songs. It's all writing from experience, places, feelings and emotions that I have; it's kind of just like sharing my diary with people. And I think we can all connect on certain motifs and themes, you know? People will hear the songs and maybe it's not the same thing for them as it was for me, but they still feel like they can connect to it. I think that's what really brings people together with our music.
People always say our music is so real, and it is because it's coming from a real place. It's not trying to be something that it isn't, and it's not chasing what's trendy in music or trying to be cool; it's really just us pouring our hearts out in three minutes. It's very weird sharing such personal things with other people, but I like that it takes on different life forms. I like that it can mean different things to different people and help them in a completely different way than it did for me.  Also, sometimes it's just fun. A lot of times even if a song is sad people don't even realize it because it's just an upbeat fun song. It's kind of a release in that sense where people aren't even listening to the lyrics, but the music just makes them feel so good.
Absolutely. Which brings me to the music. All of you guys are so talented musically. I'm wondering when the bones of a song are kind of done - what's it like building the rest of the song together? Is it always the same? Does it depend on the song?
Marc Campbell: It's kind of song by song, I'd say.
Mandy Lee: Yeah, song by song. It's really been me bringing the bare bones and the skeleton of a song, basically just the keys and vocals with some ideas and then we all eventually fill it in together. Sometimes we make a demo just to have the general idea and then the other guys will bring stuff into it. Marc might have a really cool guitar riff that I'll be inspired to write on top of. It totally depends on the song, and it's never the same formula. It's very open.
Marc Campbell: Yeah, and sometimes you are very clear on what the song should be.
Mandy Lee: Yeah, sometimes I hear it all in my head and I'm like this is what it should be.
So sometimes when you're writing you have the production ideas in your head already?
Mandy Lee: Yeah definitely, but they make those ideas better.
Jessie Blum: We're a team, but she is our leader.
Marc Campbell: It is very exciting when Mandy comes in and plays something on the piano for the first time.
Mandy Lee: It's very nerve wracking. I'll come in and be like "okay here I go!" And they're all standing behind me, it's actually very scary. They are my best friends, but it's a very vulnerable thing to do.
Etienne Bowler: I've never heard her write a bad song.
Will Hehir: Yeah, there's never been a time where we're like "Yeah, maybe try that again." That just does not happen. Etienne though, when he throws his ideas out…
Mandy Lee: Honestly, though, one song came about because of Etienne. "Let the Light In." If you were to hear that original song; It started off as a joke, but when I heard it I felt there was actually something there and that the rhythm was really cool so I asked if I could please write to it. The next morning, I sat at the counter and wrote a real song to it, but Etienne was the one who made the complete goof song first.
Etienne Bowler: I made a track and I actually sang on it (drinks may or may not have been involved) and I was like wow this is pretty dumb, but Mandy was like wait I like the rhythm to this.
Mandy Lee: It actually started because we came into our apartment on a hot summer day and the AC was on and we were like "Ah, it's nice in this apartment."
Mandy and Etienne then break out into a spontaneous song, "feels so nice in this apartment, feels nice, in this apartment yeah." Even their joke version of a song turns into an epic 5-minute powerhouse of a song. Mandy continues:
Mandy Lee: We just riffed off of that. If you heard the production, it would make more sense. The "It's nice in this apartment" is the rhythm of "Let the Light In."
Etienne Bowler: We should do a re-release of that song.
Mandy Lee: We should, we should do the original version. We've never shared that with anybody – you're getting real special stuff here. Scoop du jour.
The room breaks out in a laugh.
Let's get to your new songs, "Whywhywhy" and "The End." They both have this kind of epic, anthemic '80s-like feel. Was that something you were going for, or did it just happen? Tell me about the creation of these songs.
Mandy Lee: They came about very differently. "Whywhywhy" I just wrote on the keys in our apartment a long time ago.
Marc Campbell: That's an older one of them all.
Mandy Lee: Yeah, that one seems quite old, actually, it doesn't feel like a new song.
Etienne Bowler: We've been playing it live for a year.
Mandy Lee: I guess we've always been influenced by '80s sounds. The synths, JUNO keys and all that stuff, but we never set out to make a big anthemic song. I write it and it's how I feel when writing it and we just come up with the right emotion and musicality that should go along with it.
And "The End?"
Mandy Lee: "The End" I actually did a co-write with Sir Sly. We love those guys. They're so talented. I was out in LA just trying new things because it's our third record. I've always been very anti co-writes, but I met a lot of really great musicians on tour and I finally felt like I wanted to give it a try. With Sir Sly the connection was just there. They loved our "Dreams" cover and so they wanted to make something that captured that feeling. We just sat down at the keys and it all came together. It was the first time I ever did a song like that, without these guys, which was weird, but Sir Sly is also a band so it still felt like an extension of what we always do, just with taller dudes. They're all giants.
The room breaks into another laugh.
Mandy Lee: And then obviously that was just a demo, so I brought it back to these guys and we put it all together as MisterWives. But yeah, it's nice, "WhyWhyWhy" and "The End" feel very cohesive.
Marc Campbell: And I feel like "The End" is the perfect introduction to the new songs.
Murph: We also open our set with "The End." We begin with "The End"
That's great, and perfect because before I go, we have to talk about the live show. It is so special. You can tell how much fun you are all having on stage and how much you genuinely love doing what you're doing.
Mandy Lee: Thank you, that is so kind. It's the most fun. It's very nice that no matter what happens, however much we grow or if we don't grow, we will always have this much fun on stage; whether we're playing to 10 people or 10,000 people. I think that's the beauty of being in a band with your best friends. It never feels like a job. On stage is especially this crazy kind of other worldly thing where we kind of get to just experience such a blissful way to connect and have fun. There's nothing like it.
Jesse Blum: There is really nothing like it at all. It is a unique feeling and because we vibrate at similar frequencies, we're connected. There is something really special that happens when you play the music you want to play with the people you want to play it with.
MisterWives' joyous and energetic sound that is amplified through their music is completely evident in their Friday afternoon personalities, sans any music at all. I think that's a big part of the reason their music connects so much with listeners: It's because of who they actually are as people. I joked about their appreciation for their bus driver Tom, but truly when you strip it down, it's a testament to who they are. They are so appreciative that they're able to do what they love with people they love every day, and it's reflected in everything they do.
The show that followed this conversation was nothing short of epic. As always, MisterWives poured their hearts out, coming right out of the gate with "The End" and sprinkling in a "Truth Hurts" Lizzo cover to bring the house down. It only makes us that much more excited for what's to come with this next record and this next tour; don't miss it.
MisterWives' headlining tour starts November 12th at Brooklyn Steel, and folks can expect more new music in 2020. Hopefully including, "It Feels So Nice In This Apartment."
— —
— — — —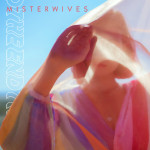 ? © Shervin Lainez
---
:: Stream Misterwives ::