Pomplamoose's Nataly Dawn dives deep into her beautifully tender and hopeful fourth solo album 'Gardenview,' a softly stirring indie folk record of catharsis, inner reckoning, reflection, and release.
for fans of Iron & Wine, Sufjan Stevens, Blind Pilot
Stream: "All Bad" – Nataly Dawn
---
Sometimes you just need to have a good cry and write something that gets to the core of your most miserable and beautiful humanity.
Nataly Dawn knows a thing or two about spilling her soul in song.
The Berkeley-based singer/songwriter has been rather unapologetic about giving her all throughout her decade-plus career. Whether she's singing as one-half of Pomplamoose, the musical duo she founded with her husband Jack Conte back in 2008, or performing as a solo artist, every Nataly Dawn offering promises to be equal parts raw, emotional, and engaging.
No pressure!
Intimacy is second nature to some, and it comes as no surprise that Dawn's latest solo release – her first album in six years' time – is as achingly vulnerable as it is beautifully tender. What does come as a surprise, however, is the unabating sense of hope peaking through the sadness.
A softly stirring indie folk record of inner reckoning, reflection, and release, Gardenview is the uplifting and inspiring shining light in the dark: As Dawn herself describes, it's "the audio equivalent of a hug," and a big, comforting bear hug at that.
In the darkness, I will open up your mouth
And have a look inside
'Cause you've got soft teeth, but they sink into me
Get out, don't just laugh in my face
If I can't make you leave, I guess I'll have to love you
If I can't make you leave
In a strange way, you have known me
longer than any friend
But I was taught to cut you out
To run you out, to cast you out
Not to figure out, how you got in
How did you get in?
Cause I just can't believe
No one ever loved you
I just can't believe
You're all bad
Independently released June 3, 2022, Gardenview is Nataly Dawn's fourth solo album and her first full-length LP since 2016's critically acclaimed Haze. Co-produced alongside John Schroeder (Frankie Valli, Jordin Sparks) and Ross Garren (Bon Iver, Ben Folds), Gardenview is both a product of and response to the COVID-19 pandemic. Written in the isolation of the pandemic, its songs feel at once fragile and full of life – each one an inviting world unto itself, gradually built around an acoustic sketch that Dawn fleshed out with her friends and collaborators.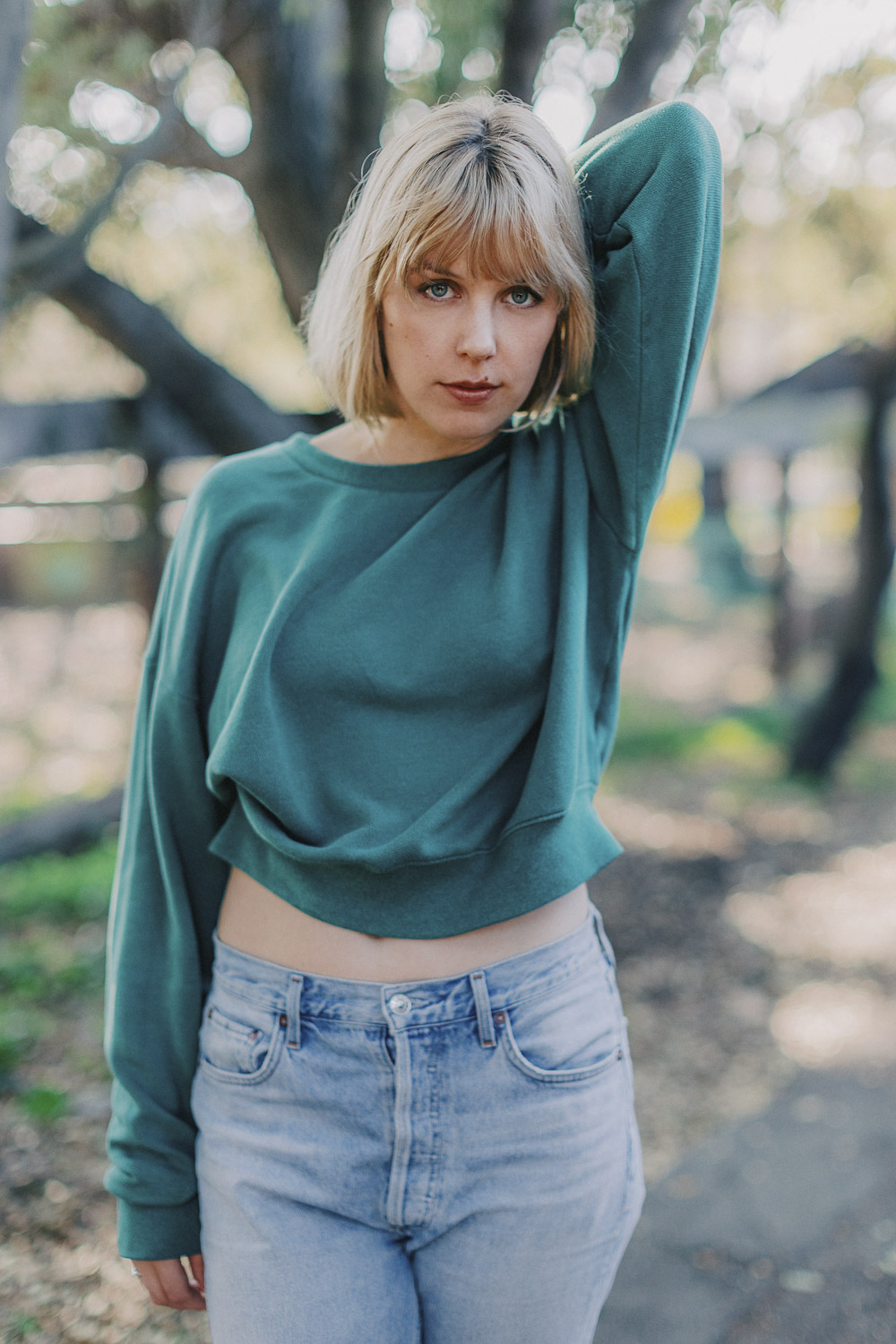 "They're a bunch of songs written in solitary confinement, then recorded with people I love," Dawn tells Atwood Magazine. "It's a communal expression of loneliness, I guess. The audio equivalent of a hug. Not like it's all gonna be ok, but like, you're not the only one going through this. You're not alone. Or you are alone, but that's ok because we're all alone together. I know this is all golden, by the way!" she laughs. "I knew [these songs] would benefit from making the recording process a very communal experience; it definitely opened them up into something bigger and less about me and my little world."
"The writing process was very playful and experimental, in the sense that I didn't know what I was doing because I kept messing up the tuning on my guitar or baritone ukulele," she adds. "My friend Ryan Lerman dropped off an acoustic guitar for me to plunk around on while we were down in LA one week. When I strummed it, I discovered that it was in a different tuning. This was the beginning of something exciting, something that pushed me out of my comfort zone. So I started writing on this guitar, really paying attention to chord voicings. And playfulness turned into meticulous attention to detail. Really crafting the way each melodic line moved relative to other lines. At the end of our stay, I gave the guitar back to Ryan (like a good friend), but when I got home, I started tuning my guitars to inexplicable notes. Partly to push myself, and partly to see what melodies arose. When I had ten songs, I went to my friends John Schroeder and Ross Garren and asked them to produce it with me."
"Suddenly I was playing these weirdly crafted songs for my friends, trying to explain my madness, and they embraced it. We decided not to futz with things too much – just to go into the studio "old school style" (not a thing people say) and record everything in two weeks. This was partly because I had to have surgery the following month. I'd just found out that I had skin cancer on my nose (everything's fine but it was scary for a while). Anyhow, the combination of skin cancer, being tired of recording remotely and wanting everything to sound cohesive led us to 64 Sound in LA, where we recorded for two weeks. Lots of live tracking, being very sparse and minimalist with our choices. I'm so happy with how it turned out. You can really hear each person who contributed. It doesn't feel overproduced or chaotic. Just a simple, grounded record. You would never know that every guitar is intricately tuned for each song. It doesn't feel like acrobats. But it is. It took so much care and intention to make something that sounds so effortless."
Suddenly I was playing these weirdly crafted songs for my friends, trying to explain my madness, and they embraced it.
Dawn is the first to note the immediate differences between her solo music and her work with Pomplamoose, the indie pop project/YouTube sensation that has earned her (and her husband) millions of streams and views over the past ten-plus years.
"Pomplamoose is fun, upbeat, frenetic energy! It's such a good time. I love having a good time," she states. "I also love having a good cry. Sometimes you just need to have a good cry and write something that gets to the core of your most miserable and beautiful humanity dammit! We're all just a bunch of bleeding hearts at the end of the day. My solo music is sadder and slower than what Pomplamoose does. Am I doing an amazing job selling my music right now? Am I upselling the suffering too much? Well, it's there. And also, Gardenview is far from depressing. It's pretty damn hopeful actually. I just love how minimalist it is. I really feel like the songs get to be themselves."
Dawn describes her latest effort as pretty damn hopeful. "It's pretty," she says. "Seriously, it sounds really nice. It contains no swear words (surprisingly)… but the feeling of being damned, that's in there. And then there's hope. A word we barely dare to pronounce these days. The combination will make you cry big cathartic tears, I hope."
---
Perhaps the best way to fully understand Gardenview starts with understanding the album's title itself; for Dawn, it's meant to elicit a mixed feeling of being on the outside, looking in.
"I like to imagine that's the town Adam and Eve settled in after getting kicked out of the Garden. It has a sort of Pleasantville or Sudden Valley ring to it. There's something quite lovely at first glance, but also a bit unsettling," she says. "I was living in a place that felt like Gardenview. Walking around Berkeley, looking at everyone's beautifully maintained gardens. It lifted me up, just knowing that there were people in these homes that cared so much about these plants. I would just walk and walk, listening to podcasts or albums or audiobooks. So much walking. So many gardens. So many reminders that your little world is important, but also such a speck in the universe. Balancing those two realities – the importance of the intimately small in an infinitely vast space. I hope that comes across sonically and emotionally on the record."
With this in mind, we happily enter the warm world of Gardenview, an album that tastefully mixes grounded acoustic balladry with ethereal indie folk wonder and grace. Opener "Have You Heard" sets a delicate scene – immediately injecting an intimate weight into the air that hangs heavy, yet feels light and bearable at the same time. It falls easily onto the shoulders, like a nicely form-fitting jacket might conform to our bodies. Atop a sparse acoustic guitar, Dawn sings, "Have you heard that the rapture is coming? Have you heard He'll be calling your name?" It's unexpected and enticing – an instant lure, as grounding as it is ephemeral.  "And you'll fly like a bird into the heavens, and you'll never be sad again…"
There's something to be said about starting the record off with this enchanting lullaby of acceptance and reckoning; Dawn brings us in with a whisper, rather than a shout, yet still we feel that sense of longing and cathartic release right off the bat. "I wanted to sing about a different kind of rapture," she explains. "A homecoming; a reunion – not a terrifying end-of-times situation… It's about believing that you belong, that you are worthy of love just as you are."
Have you heard that the rapture is coming
That He loves you for all that you are
That He'd make you again in a heartbeat
Every freckle and every scar
What a wonderful sound
My Jesus in the sky
He has counted all your tears
Come and meet Him in the by and by
---
So begins a record that seamlessly – and often simultaneously – embraces life's beauty and ugliness. The intimate, emotionally charged "All Bad" is an easy standout, its mix of acoustic and electric instrumentation and layers of rich vocal harmonies elevating Dawn's haunting, deeply self-reflective and uncompromisingly honest lyricism. "If I can't make you leave, I guess I'll have to love you," she sings sweetly to her own demons. "'Cause I just can't believe no one ever loved you; I just can't believe you're all bad."
Dawn's vivid, poetic lyricism is the indisputable highlight of this album.
Whether she's singing about her great grandmother ("Danny"), dwelling in an identity crisis ("Over the Moon"), learning to let the light in ("Joy," "Follow the Light"), learning to love herself ("Afternoon Tea," "The Garden") and bask in love's depths ("Every Second Day"), or longing for a place to call home and grow roots ("You Belong"), Gardenview is full of immersive storytelling and engaging, colorful imagery.
I still recall the photograph on the wall
Those early eyes
To be so loved and so small
To know you belong
To know you belong
I never saw such an infinite sea
Of walking souls
Where do we get what we need
To know you belong
To know you belong
---
"Lyrics are very important to me – phrasing, too," Dawn says. "The way the line ends, but isn't actually over. There's more waiting around the turn. Like on "All Bad." It's a weird song, in part because it's a love song to a demon? Anyhoo. It's a messed up love song, so it keeps misleading you. Like it starts with "In the darkness" and you're like, ooooh this is sexy…and then "I will open up" – again, very enticing. I like where this is going…"your mouth" ummm… ok? Mouth was a weird choice… "and have a look inside" again – sexual, but also kind of medical at this point? "Cause you've got soft…" Skin? No. "Teeth." Anyhow, you get the point. It's somewhere between sex and a dental exam. I like doing that with lyrics – keeping you on your toes. Keeping myself on my toes. It's more interesting that way."
Of course, a song is more than lyrics alone – and it's a testament to Dawn's strength as a songwriter and a performer, as well as her collaborative co-production team of John Schroeder and Ross Garren, that each of these thirteen songs comes to life with its own character and flavor. From the lush, hypnotic warmth of "You Belong" and the indie rock drive of "Afternoon Tea," to the bubbly, buoyant Beatles-esque pop/rock of "Every Second Day" and the slow burn of "The Void," Gardenview is a record of many styles and sounds – all put together with a deft, delicate touch.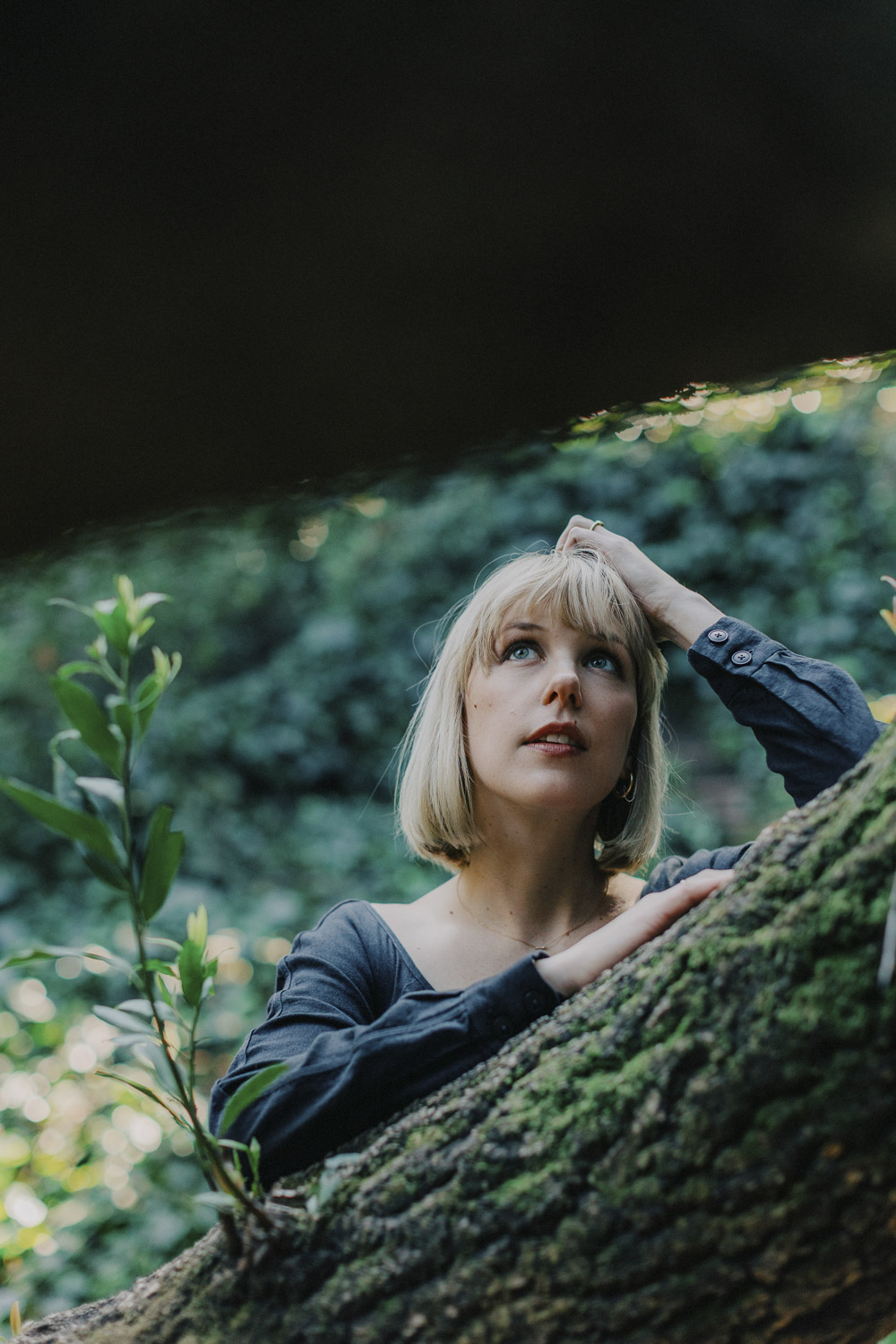 As far as personal favorites, Dawn is quick to cite a few tracks that come to mind. "'Have You Heard' is the hymn I wish they'd played at church when I was growing up," she says. "All about acceptance and unconditional love. 'All Bad' is about loving your most unloveable self. I know that sounds like Brené Brown, but fuck it. I'm all about Brené Brown. We all need to stop hating on ourselves so much. 'Danny' is a song about my great grandmother. Whatever Kyle Crane is doing on drums is just right."
Danny
I wish that I could see you there
Right beside your rocking chair
Recite your poetry
Oh Danny
Your stories in the Bible
Your mind was never idle
What are you telling me
Said you'd be surprised that the window
Of opportunity
Is never as wide or so narrow
As you expect it to be
Oh Danny
You always had such good advice
Except for when I wanted it
Like I want it now
---
Softly stirring and sweetly soothing, Gardenview is truly a beautiful experience.
An indulgence, immersion, and escape all in one, Nataly Dawn's new LP aches with a radiant glow: The artist imbues her music with the strength of a resilient spirit ready to meet the darkness head-on, and make it through to the light.
"I hope listeners feel relieved," Dawn shares. "Like they don't have to try so hard to be loved. Like someone else gets what they're going through."
Listen to the full record via our below stream, and peek inside Nataly Dawn's Gardenview with Atwood Magazine as she goes track-by-track through the music and lyrics of her fourth solo album!
— —
In addition to her new LP, Dawn also recently released an "immersive EP" containing 3D mixes of five tracks from Gardenview that create an aural journey that is "simultaneously vast in scope and intensely intimate" – essentially, further enhancing the album's already singular experience. Listen here.
— —
Stream: 'Gardenview' – Nataly Dawn
:: Inside Gardenview ::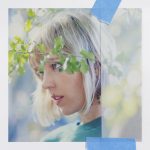 — —
Have You Heard
"Have you heard that the Rapture is coming?" I was raised a Pentacostal Evangelical, in church at least three times a week. When I was a kid, I would panic anytime I found myself alone, especially if I expected someone to be home. I was convinced that "the rapture" had happened and all the Christians had gone to heaven, and I'd been "left behind." I wanted to rewrite that story. I wanted to sing about a different kind of rapture – a homecoming, a reunion – not a terrifying end-of-times situation. That said, this "hymn" is more about acceptance than faith. It's about believing that you belong, that you are worthy of love just as you are.
All Bad
"I just can't believe you're all bad." Insomnia is a bummer. I've been seeing a therapist about it for the last couple years, and that's helped a lot. Turns out it's linked to fear (who knew!), and a bunch of other stuff, but the point is that I started to really look at my demons. Like really investigate them and where they came from and what they need. There's this Taoist story about a monk who goes to get firewood, and when he returns to his cave he finds it full of demons. He tells them to leave and they ignore him, so he preaches at them and they laugh in his face, so eventually he gives up and makes tea. One by one, the demons sit with him, have tea, and then leave. I've been having tea with my demons for the last couple years, and this song is for them.
Over the Moon
"Was it as good as I recall? Just can't get over the moon." The first song I wrote on baritone ukulele. I got it when we were traveling between Cotati and San Francisco every week. Our home in Cotati was about an hour and a half north of the city. Jack had started a company in San Francisco called Patreon, but we weren't living in the city full-time yet. We had a foot in each place, physically and mentally. One foot in the countryside-musician world and one in the urban-start-up. It was a real identity crisis for both of us – very unsettling. I wrote this song in the midst of that. The back-and-forth. Losing your "moon," feeling totally disoriented and missing home.
Danny
"The window of opportunity is never as large or so narrow as you expect it to be." A song about my great-grandmother, Danny. She was a brilliant woman, and especially liked to recite poems, stories and riddles that she'd memorized. So the chorus of the song is a riddle in her honor. It doesn't make a ton of sense, but I like the idea that paradox is the closest we'll ever get to truth. In other words, you have to believe the thing and its opposite. The "window of opportunity" is both large and narrow. It's a huge, lofty goal, and a small, tiny moment. Side note – Kyle Crane's percussion playing on this one is magic. It makes the song.
Joy
"You'll know when you found Joy." Every month we go to LA to record. That's where all our musician friends live, so we drive down once a month to do a Pomplamoose session. On one of those trips, I asked to borrow a friend's guitar. He dropped it off and when I strummed it, I discovered that it was in a different tuning. Rather than tune it to something familiar, I started to play around. Something about the "joy" of messing around with a new tuning – the playfulness of it – led me to this song. Of course it isn't that happy. It starts with the line "Oh you don't need to worry about life going too easy on you." But it's about letting yourself feel joy – really letting it in – whenever it's there. I need that reminder.
Follow the Light
"Does my optimism drive you up the wall?" This song feels really good…mainly because it just hangs out on a couple chords like Neil Diamond would. It's about those people who pull you out of your darkness.
Afternoon Tea
"Oh glorious afternoon tea! You pull me out of the ground." This one was inspired by Joy Harjo's poem "Praise the Rain." What a poem! It's one I come back to again and again. Every time I read it, I feel a surge of life! It prompted me to take note of some praise-worthy tiny, beautiful things in my own life. The things that make life worth living. So the song begins with "oh glorious afternoon tea," and then "oh glorious silver-blue sky" and then "oh glorious telephone ring." Just noticing the little things that lift me up for whatever reason. And then ending on "where is the glory in me?" Because it's just a lot harder to see that part. Celebrating the glory in ourselves is just…counterintuitive, I guess. But it's something I've been working on for the last couple years – being more of a friend to myself.
Every Second Day
"I don't want to spend every second day of my life wondering if I could've done better." I spend a lot of my time wondering if I'm doing what I should be doing. In fact, even as I'm writing this, I'm thinking "Should I be practicing guitar? That's what's on the calendar." I second-guess myself a lot and end up rushing or multi-tasking or doubting whether I did the right thing. This is a love song about that feeling – not wanting to feel second-guessed by the other person. Not wanting to wonder if they think you're good enough.
The Only
"So far away now. What's on your mind?" Ross Garren composed this beautiful piano ballad. I didn't want the vocals to step on the piano melody, so I wrote around it. It's like the piano and vocals are on a walk together. The lyrics came to me on a walk. Something about the preciousness of small moments – how this moment right here is the only thing that matters.
You Belong
"Where do we get what we need?" I've spent a lot of my life on the move. My parents were missionaries, so we moved every few years. And now as an adult I still manage to change homes pretty often. I wrote this song at Hotel Covell in Los Angeles. We were living out of hotels in LA for a third of the year in 2021. It wasn't all bad, but there's a missionary kid in me that really wants to stay put – to feel a sense of belonging and community.
The Garden
"You were born in the Garden and they left you there. Who would've known?" Another retelling of an old biblical story – the one about original sin. It's about Adam and Eve's first daughter. I imagined that she never got banned from the Garden. Her parents left and she grew up there, close to God, without any notion of needing to be better or "work for love." It's amazing (and encouraging) to me that so many cultures were spared the origin story of "you're not good enough." It doesn't exist in Buddhism for example. A reminder that we don't have to think of ourselves that way. We don't have to believe that there's something inherently wrong with us.
The Void
"Whatever you think you know about the void…" This is a weird one. I think it's about as close as I can get to describing what I believe. You know the quote, "writing about music is like dancing about architecture"? Writing about what you believe is just as strange. Using words to describe notions around the divine and our place in the universe?? Anyhow, that's what "The Void" is. Also, it's really dreamy. Props to John Schroeder and Ross Garren for creating a soundscape that feels as vast as the universe.
Waking Up
"When I woke up today, everything was fine." This is the last track on the record, but it's one of the first songs I ever recorded. You can watch a video of me playing it on the piano back in 2008. It's a pretty bad recording, but I've always liked the composition, so I wanted to try it again, this time on guitar. John Schroeder's guitar playing is faithful to the original piano part, but it ebbs and flows more than mine. It feels a bit more like you're riding a wave. The feeling of "everything was fine" – that line felt new to me in 2020. Worth reinvestigating. So I'm glad we ended the record on a song that feels very nostalgic and surreal to me.
— —
— — — —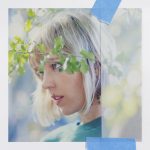 ? © 2022
:: Stream Nataly Dawn ::
---