Nik Freitas' new album 'Day & Dark' is an in-depth exploration of life during turbulent times bursting with a vibrant, lush mixture of folk, rock, and pop.
— —
Nik Freitas' new album is a reaction to these troubling political and social times: It's a record full of despair, anger, and fear, certainty and doubt, conviction and resolve. Yet to call Nik Freitas' Day & Dark "protest music" would be a disservice both to Nik Freitas, and to Day & Dark: For this record is so much more than that. Bursting with a vibrant and lush mixture of folk warmth, rock angst and pop energy, Day & Dark is an in-depth exploration of life during turbulent times. Freitas calls us to stand up, but to know what we're standing for. He asks us to speak up, but to know who and what we're speaking for.
Somebody ripped my heart out
somebody turned this world around
I feel its only natural to call him out
and stuff back those words you said
in your mouth
what a mess…
The morning news is old by 10 AM
My children dream of ice-cream and a new swing set
in the evening sunlight
– "What a Mess"
Listen: 'Day & Dark' – Nik Freitas
[soundcloud url="https://api.soundcloud.com/playlists/527387937?secret_token=s-jZHZ6″ params="color=ff5500&auto_play=true&hide_related=false&show_comments=true&show_user=true&show_reposts=false" width="100%" height="350″ iframe="true" /]
---
Atwood Magazine is proud to be premiering Nik Freitas' new album Day & Dark, out everywhere this Friday (6/29/2018). A multi-instrumentalist singer/songwriter from the Los Angeles suburbs, Nik Freitas is a member of Conor Oberst's Mystic Valley Band, was a live performing member of Danger Mouse and James Mercer's Broken Bells, and has toured with Jenny Lewis, Johnathan Rice, and M.Ward at various points in time in his career – sometimes playing bass, at other points taking over drums.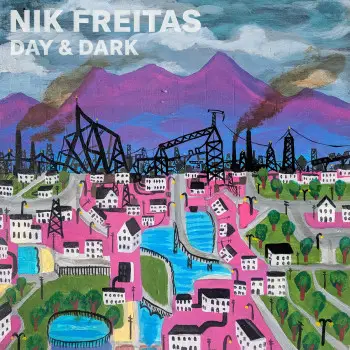 But in spite of all these noteworthy names, Freitas' colorful artistry is itself reason enough to give him your undivided attention. Day & Dark is the prolific songwriter's eighth studio album since 2002, yet Freitas tackles his music with the tenacity and excitement which one might expect of a debut. In some sense, though, Day & Dark is something very new: It's an inner awakening for an artist learning what he stands for and represents, all over again.
"The album is happening right now because of everything that is happening right now," Freitas tells Atwood Magazine. "I needed to get it out of my system." The struggle for Freitas, and for all of us, is learning how to live our everyday lives whilst fighting back against something as pervasive as prejudice and incompetence at the highest levels. We are but individuals; throughout all this disarray, we have to live a semblance of normal life: Laundry, cooking, cleaning, and so forth.
"I'm running out of words to say my friends," Freitas sings, exasperated, in album opener "What a Mess." "The hopeful and the hopeless playing tricks again, in the evening sun…" From the very beginning, we can connect with this strand of individual stagnation and trepidation. How does one know what to do?! How many times must you say the same thing, and expect a different result? (Once upon a time, this was supposedly the definition of insanity.) Right off the bat, Freitas invites us to come together and figure out how we, as individuals, fit into this mess.
"I was compelled to write 'What A Mess' after spending the last year living in a country whose commander in chief has shown himself to be incompetent, uncompassionate, and a completely irrational human being in every possible way," Freitas explains. "The incredibly talented Lucius and Greta Morgan of Springtime Carnivore graciously lent their voices to help me convey this feeling and take the damn song to church. Amen." The artist's appall and disbelief shine brightly from the start, setting the scene for the struggles to come as he, along with everybody else, reckons with these trying times.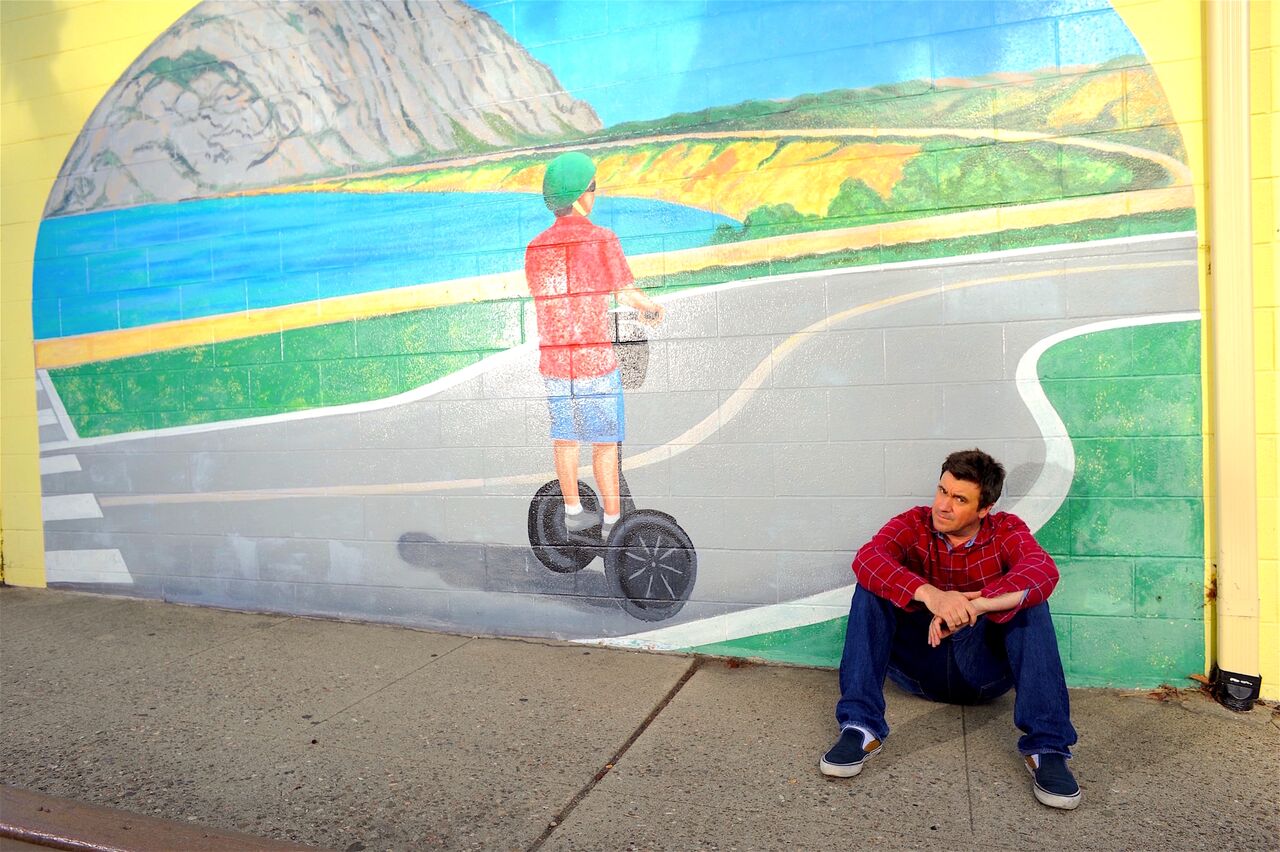 Day & Dark offers an engaging and sonically diverse array of songs that connect on both physical and emotional levels. The record finds Freitas himself on a number of instruments, but he's never afraid to bring in a friend or two when the songs call for something he can't offer. Collaborations with the likes of Maria Taylor (of Azure Ray) on single "Listen" help Freitas' music radiate with communal strength as he creates something much larger than himself.
In fact, "Listen" is one of the most important songs on the album – a message of patience and persistence, but most of all, engagement. "We need to do more with everybody," Freitas remarks of the song, diving deeper into its story and underlying meaning:
We live in a very self centered culture and its becoming harder to disconnect from everything, including yourself. My oldest daughter started preschool this year and when I'd pick her up in the afternoon she had so much to say about her day, just tons of words trying to explain herself. I had to stop everything i was thinking about or doing and really listen to piece it all together. Its been so refreshing stopping everything to listen and I try to apply it in more conversations now with everybody. Maria Taylor is a good friend and mother of two and I knew she'd get what the song was about, so I asked her to sing backing vocals on the song. I think her performance helped give it a softer and more inviting tone and really brings the point across.
"Listen" – Nik Freitas
How do you feel, at the end of the day
when nobody heard a word that you said?
Talking can change, starting right now
no feeling is felt until you say it out loud
My ears are wide open my mind is the same
Im going to listen until i know you're OK
– "Listen"
It's important to remember that, while Day & Dark is theoretically the result of this moment in time, its messages are far more universal, and they will continue to carry meaning far beyond 2018. "Rita Starpattern" is a beautiful, psychelic rock-influenced song about the "utmost compassion for another human being's life," says Freitas. "I watched the documentary "Tower" about the first school mass shooting in America in the 1960s at the University of Texas. A student by the name of Rita Starpattern sacrificed her own life by running to lay with another student who had been shot and was pregnant bleeding to death. She risked being shot to help save another human's life. She didn't even know her. And the student lived. She never saw Rita Starpattern again." That truth resonates far beyond today or tomorrow, speaking for a greater truth about life and what we're willing to do for the greater good – or whatever else we hold true.
"Standing on the corner in the middle of the world, do we stop and try to help or watch it burn?" Freitas sings on the high-octane "Machine," a propulsive song about being an adult in the modern age. Those words don't have an easy answer, but they do spark the question we're most ill-equipped to answer: What would we sacrifice for another? What would we sacrifice for ourselves? While it's hard to glean any one thing from an album this heavy and sincere, perhaps an overarching lesson we can take away from Day & Dark is to persevere: Keep believing in what you believe in, however hard it can be.
How do we carry on when parts of our world are falling apart? There is no single answer, but as Nik Freitas relates in Day & Dark, you have to keep going. Life can't turn into one endless protest, nor can we turn a blind eye; each of us will have to find our own balance between "day" and "dark," figuring out what works best in our lives, should we have the privilege to choose.
Stream Day & Dark this week, exclusively on Atwood Magazine! Nik Freitas' new record is out everywhere this Friday, 6/29/2018. Catch him at Bootleg in Los Angeles this Thursday for his album release show.
— —
— — — —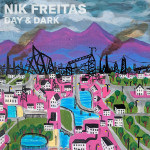 ? © Eric Ernest Johnson
:: Stream Nik Freitas ::