Nina Nesbitt is making one hell of an entrance to the pop world, weaving poetic lyrics through pop melodies to create the perfect storm of sensibility and likability.
— —
Nina Nesbitt is making one hell of an entrance to the pop world. This 23-year-old Scottish songwriter weaves poetic lyrics within pop melodies to create the perfect storm of sensibility and likability; Nesbitt tells her stories like she's speaking with a friend. Most recently she released a music video for the snappy and introspective "Somebody Special". The track questions certain relationships – more specifically, what sets quality relationships apart from the bad ones. The video also beings in an added dimension surrounding the importance of self-love above all, but Nesbitt sees that another person's support exists as an essential element of achieving self-confidence once again.
Atwood Magazine was able to sit down with the rising pop star to talk about her love for Kehlani, the benefits of being an independent artist, and bringing personal back to pop.
Watch: "Somebody Special" – Nina Nesbitt
A CONVERSATION WITH NINA NESBITT
Atwood Magazine: What made music stick for you? You obviously have other passions so what made you realize that music was the career you wanted to pursue?
Nina Nesbitt: I always loved writing music since I was literally 10. I thought I'd give it a try right about the time everyone moved from Myspace to Facebook. I put a few covers up of songs that I liked while learning guitar from this website I found. Somehow it developed into a small fanbase while I was at school; all my videos kept getting more and more views. I eventually got signed and started touring. Now here we are several years later.
I know that you've been signed to a major record label before, but now you're pursuing your music entirely independently. This seems like a trend for many artists and it's sometimes been a successful move. How is it for you, being an independent artist? What is your take on that movement?
Nesbitt: For me, being an independent artist right now definitely feels like the right move. When I was younger, Island [Records] really helped me out; they got me on radio and to headline shows. They also had signed many artists that I grew up listening to and at that moment signing with them felt like the right choice. Later on though, working with the label became a challenge. I worked on an album for two years that kept getting put on the shelves and I wasn't communicated with very well. I didn't want my sound to be controlled by how many artists are similar to me on the label or how many are different. Then when I wasn't signed anymore, I was kind of like what am I going to do? So I let myself be sad for a minute – chuckles – and then I started song writing for other artists. After I got a few cuts from other artists and started building my confidence back up, I realized that maybe I wasn't total shit. I ended up writing my new album while trying to write songs for other artists. I signed to a UK indie label and they've let me really take charge of all the creative side. It's be great and I'm still waiting for the catch!
---
I'm so happy that you are now independent and in control of your art once again. All of your new singles feel like only Nina Nesbitt could have written them - especially "The Moments I'm Missing." It's so personal and specific which seems to be a shift within your songwriting. How do you think about songwriting now?
Nesbitt: Like I was saying earlier I wrote songs for other artists for quite a few months. For a long time, I would write every day about someone else's life and someone else's experience. I got to this point where I needed to write something about my life. "The Moments I'm Missing" happened in my bedroom studio that I call Midnight Studios because all my writing happens after midnight when no one else is awake. Also I started listening to different artists like many rap and R&B artists including Kehlani –
Ah I love her!
Nesbitt: Yeah she's amazing. A lot of times she puts her life into songs and I just found that so interesting. She's a completely different artist from me but I love her songwriting style and the R&B element.
That's awesome to hear. So I know you haven't put out a full-length album in a few years. How was it for you getting back into album mode and thinking about a longer piece of work?
Nesbitt: Pretty difficult actually. When I originally started I wanted to make a really personal album, but I also wanted to make pop songs. I had to learn how to make those work together. I wanted songs that people could sing along to but also songs that meant something to people. So I decided to make like three fun, upbeat songs and the rest will be just for me. You definitely have to include a mixture.
I love how you have embraced pop more. I am a believer that pop can be personal. How has it been for you trying to make pop music that "matters?"
Nesbitt: It's been quite weird for me because as much as I love pop music like Christina and Britney, I've never seen myself as a pop star. I see myself as a songwriter. As I've gotten older and done more writing, I've realized that to write a great, simple pop song that still feels personal is really hard. That's one reason I'm really proud of "The Best You Had" because it's definitely a pop song that's really simple but it still pulls at my heart strings. To me, pop can be personal and it can be good. Pop can still have meaning to it.
I definitely agree. So sometimes at Atwood we chat about different topics within the music industry. The other day we were discussing whether or not genre still has a role to play in the industry. As an artist that pulls from a variety of genres, do you think that genres are becoming obsolete or do you think they are still necessary for both making and listening to music?
Nesbitt: I think genres are definitely blending more. People are realizing that they can like rap but they can also like folk. My new music is inspired by different samples that I found from all different genres. I actually used trap beats for some of my songs. Everyone takes from places that inspire them and the genre doesn't matter.
To me, pop can be personal and it can be good. Pop can still have meaning to it.
That's great to hear. I know that you are inspired by artists across many genres, but who's one artist that you love that you think no one would ever guess?
Nesbitt: Brian Eno. He makes like relaxation music. I wanted to put a meditation track on my album inspired by him actually but I didn't have room.
Well maybe we can get a Nina Nesbitt meditation track on the next album, haha!
Nesbitt: Yes, one day.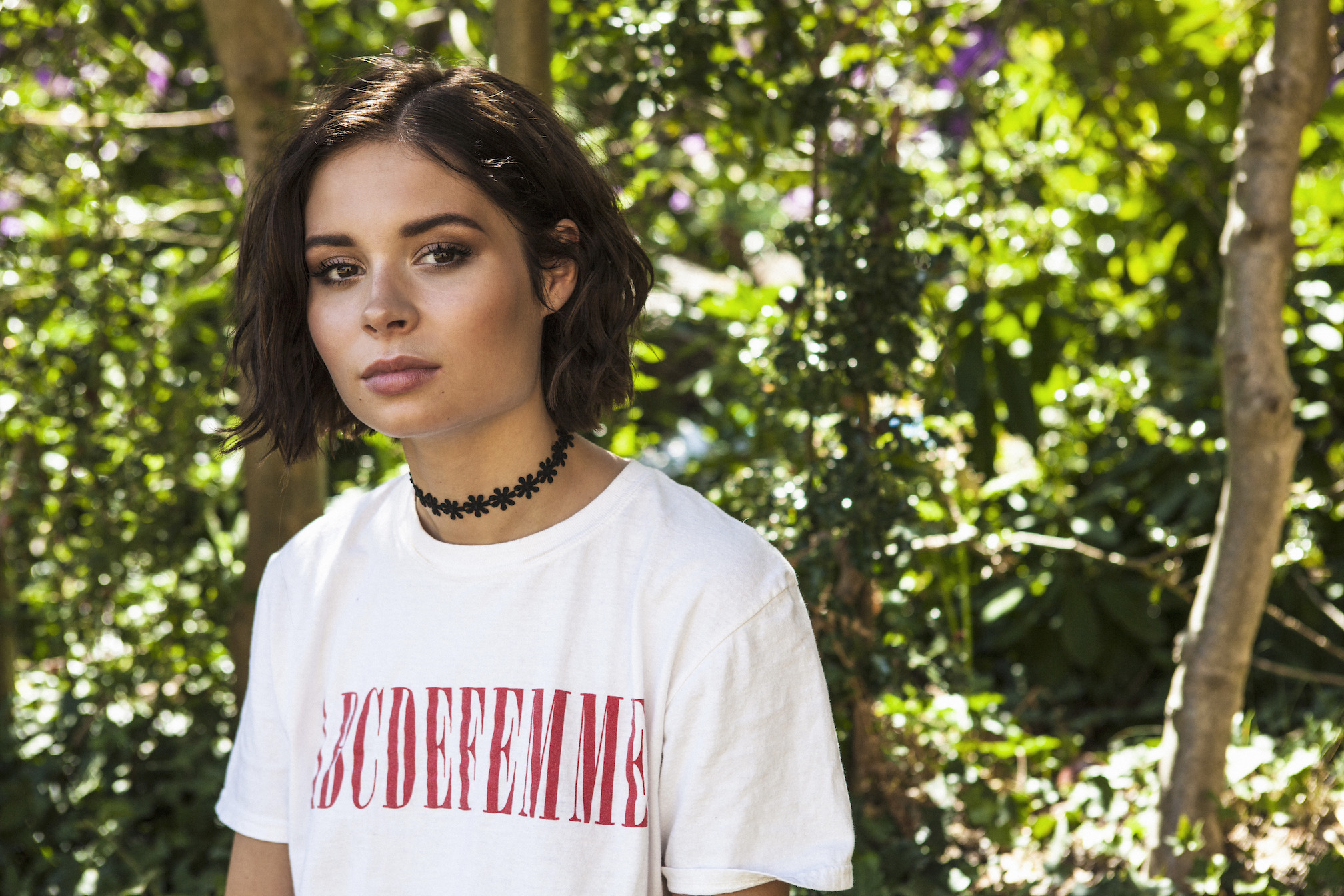 What's an album that you know forwards and backwards? An album that really speaks to you?
Nesbitt: Hmm can it be within the last year?
Yes totally!
Nesbitt: I really love the new Camila Cabello album. I absolutely love that album. I adore Kehlani's SweetSexySavage and I've recently been listening to Sabrina Claudio. Probably those three.
Those are three amazing picks! So you've toured a few times in America but only in LA and New York. I know you're coming with Jake Bugg this year. What are you most looking forward to about North America?
Nesbitt: I'm so excited! I've never been anywhere besides LA, NYC, and Nashville. I'm excited to go to places that I would never go like Salt Lake City. It's going to be a nice traveling trip and see how America reacts to my music considering it's such a big place.
That will be awesome! Good luck on the tour and with your 2018.

photo © Julia Underwood
:: Nina Nesbitt Tour Dates ::
03/26 – The Observatory North Park – San Diego, CA*
03/27 – The Theatre at Ace Hotel – Los Angeles, CA*
03/28 – The UC Theatre – Berkley, CA*
03/30 – Wonder Ballroom – Portland, OR*
03/31 – The Showbox – Seattle, WA*
04/01 – Commodore Ballroom – Vancouver, BC*
04/03 – The State Room – Salt Lake City, UT*
04/04 – Bluebird Theater – Denver, CO*
04/06 – The Heights Theater – Houston, TX*
04/07 – The Parrish – Austin, TX*
04/08 – The Kessler – Dallas, TX*
04/13 – Mr. Smalls – Pittsburgh, PA+
04/14 – College Street – New Haven, CT+
04/17 – Brooklyn Steel – Brooklyn, NY+
04/19 – 9:30 Club – Washington, D.C.+
04/20 – Trocadero – Philadelphia, PA+
04/21 – The NorVa – Norfolk, VA+
04/23 – The Fillmore – Charlotte, NC+
04/24 – The Loft – Atlanta, GA+
04/26 – State Theatre – Tampa, FL+
04/27 – Revolution – Miami, FL+
04/28 – The Beacham – Orlando, FL+
*Supporting Jake Bugg
+Supporting Clean Bandit