Nashville's Roanoke cultivate a spiritual journey in "Where the Heart Runs," a love song of love full of wonder and life, pure light and sincerity.
Stream: "Where the Heart Runs" – Roanoke
[soundcloud url="https://api.soundcloud.com/tracks/666324656?secret_token=s-tdbVg" params="color=ff5500&auto_play=true&visual=true&hide_related=false&show_comments=true&show_user=true&show_reposts=false" width="100%" height="300″ iframe="true" /]
---
What if love was a place? A sensation brought to life in ways almost unimaginable to the naked eye; a feeling exposed for all its complexities; a truly shape-shifting landscape full of tragedy and revelry, euphoria and intimate knowing. Nashville's Roanoke cultivate a spiritual journey in "Where the Heart Runs," a love song of love full of wonder and life, pure light and sincerity.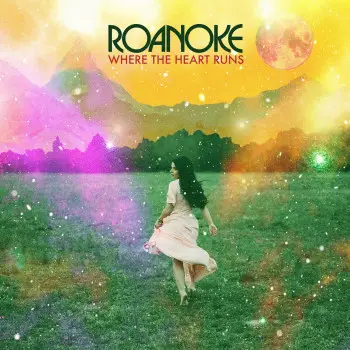 Stronger as a part of you
So I'm never going back
Treat my affection as a state of mind
My heart holds on to you
For everything it lacks
Keep my attention, keep our signs aligned
Atwood Magazine is proud to be premiering "Where the Heart Runs," the lead single off Roanoke's forthcoming and long-anticipated sophomore album. Following 2016's self-titled debut album Roanoke and 2018's marvelous EP Where I Roam, "Where the Heart Runs" finds Roanoke intricately spelling out that universal language of love through another universal language: That of song.
"'Where the Heart Runs' is our best attempt at describing a love that lasts through lifetimes, despite the dark times, by inviting the listener to come away with us to a magical dream world," Roanoke's Taylor Dupuis tells Atwood Magazine. "I've been writing for years, but this is actually the first love song I've written. I find it really difficult to write about love. I generally lean more towards the darker deeper content. I wanted to write a love song, but still maintain a little bit of the heaviness and darkness that comes along with love. The verses hold the darkness, while the chorus holds the light."
Better run run run, run
past the river and
run right into my arms
Better run run run, run
past the river and
run right into my arms
She continues, "'Where the Heart Runs' is about how being in love can sometimes be burdened with co-dependency, fear, infatuation, and fantasy, and can sometimes be consuming. Along with the darkness there is an equal balance of light. Being in love is like being in a dream world. It's something you can never put into words, sometimes it doesn't make sense, and the best way to show someone you love them, is to take them to the most beautiful and magical parts of your mind, filled with oceans, and mountains, and endless skies. True blissfullness is hard to come by. It comes in moments and It comes from feeding the soul. I find it in nature, and music, and spirituality. For me, that's where my heart runs, and whatever makes your heart run, that is where you will find true peace and love, whether it be for yourself or another being."
Not only is "Where the Heart Runs" a love song; it's also a song about love itself, and feeling so fully that overwhelming, beautiful and all-consuming sensation. With roots in folk and Americana, the Nashiville five-piece of Taylor Dupuis (Vocals, Guitar), Joey Beesley (Vocals, Lead Guitar), Zach Nowak (Mandolin, Vocals, Guitar), Kyle Breese (Percussion, Harmonica), and John Fiorentino (Guitar) have always had a knack for bringing our most intimate feelings to life: In premiering Roanoke's video "Silent Films" last year, we noted how "their songs can act as soundtracks to the days and nights of our lives, the highlight reels we carry within ourselves."
Where the heart runs into the ocean
And the sky ties the moon to the trees
Where the mountains move in slow motion
I wanna take you there
Where the heart runs I wanna take you there
Where the heart runs I wanna take you there
"Where the Heart Runs" continues in this same vein as Roanoke dive ever-deeper into themselves, uncovering new dynamics and levels to their stunning artistry.
Dupuis notes, "The writing process was very unlike anything I've ever done. I was at the house, sat down at the keyboard, and started messing around with a melody I had been working on. Joey came over and we came up with the chorus together. It was slower and more melancholy in the beginning stages. I started to work on it weeks later and remembered a pre chorus I had worked on years ago, and they fit perfectly together. When trying to think of a chord progression for the verse, I had remembered a track Kyle had sent me a while back. I tried the chords and they fit. I called Joey into the room and he helped me finish up the verses. It was sort of crazy how everything fit together so well. I've never written a song in so many pieces. This song was very new territory for me and the rest of the band, so I wasn't quite sure how it would pan out, but I knew I felt strongly about it. We demoed it out here at the house and once the band all came together to create this sound, I knew it was something magical. We all knew we wanted to grow sonically as a band, and this song was a turning point for us."
This song is intense – a sonically diverse number full of colorful instrumentation, yet still one that rings true to the Roanoke name. Soak in the love and sit back with one of Nashville's brighter stars as "Where the Heart Runs" whisks us off into another world – streaming exclusively on Atwood Magazine!
—
Stream: "Where the Heart Runs" – Roanoke
[soundcloud url="https://api.soundcloud.com/tracks/666324656?secret_token=s-tdbVg" params="color=ff5500&auto_play=false&visual=true&hide_related=false&show_comments=true&show_user=true&show_reposts=false" width="100%" height="300″ iframe="true" /]

— — — —
? © 2019
:: Stream Roanoke ::