With her haunting-but-beautiful combination of breathy vocals and airtight lyricism, Phoebe Bridgers' "Garden Song" taps into the feelings of pure nostalgia that lie dormant in most of us, but bubble to the surface the second the first note begins.
Stream: "Garden Song" – Phoebe Bridgers
---
There is truly no better way to experience any track from singer-songwriter Phoebe Bridgers' repertoire than alone in a dark room, which was exactly the tradition I continued for her newest single release for "Garden Song." It's a unique thing that not many artists besides Bridgers are able to do — have each and every individual lyrical body of work take up just the right amount of space. Her latest song proves she doesn't have any plans to stop this brilliant phenomenon any time soon, and we are totally okay with that decision.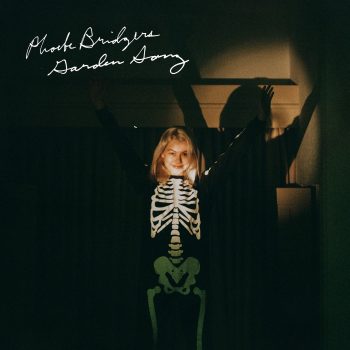 "Garden Song" is Bridgers' first solo release since her debut LP, 2017's Stranger in the Alps — a heartbreakingly cohesive masterpiece that breaks your heart, puts it back together, and breaks it a little bit more before the eleven tracks are finished. If you haven't heard this record, or of Bridgers at all, consider this your first introduction and a great place to start this emotional journey you're about to embark on.
Although her album was released three years ago, Bridgers hasn't been laying dormant in the music industry. In 2018, she formed an indie female supergroup-of-sorts with Julien Baker and Lucy Dacus known as boygenius and they dropped an EP. The following year, Bridgers joined forces with Bright Eyes' lyrical legend Conor Oberst to form Better Oblivion Community Center and release their first album. Within a three year span, Phoebe Bridgers hasn't slowed down, and she doesn't seem to have plans to stop anytime soon.
Now that you've caught up on the backstory, let's dive into the weeds of the song that is "Garden Song." (Which, if you've seen the music video, this first sentence has a hidden pun. Got it yet?)
Bridgers can do a lot well when it comes to creating her musical masterpieces, however, the one thing she does best is her ability to draw listeners in to a state of self-reflection and analysis of past memories.
This is exacerbated by the song's dizzy, hypnotizing beat that starts off the track, then hides behind Bridgers' vocals subtly once the first verse begins.
Someday, I'm gonna live in your house up on the hill
And when your skinhead neighbor goes missing
I'll plant a garden in the yard.
Okay, so perhaps you've never had a skinhead neighbor go missing. The line is ironic and humorous, but still has a poised place in the poetics of the song. There's something to be said for Bridgers' capability to simultaneously look towards the future and at the past under a four minute time constraint.
Hypothetically, if we did have a skinhead neighbor, it's 2020 and we fully get where Bridgers is coming from: There's no place in the world for that kind of bigotry, intolerance and hate. She balances out this hate and their disappearance by planting something beautiful like a garden to fill the empty space: A spark of good replacing for one less bad thing in the world.
The song's chorus arrives as a lyrical and emotional climax, finding Bridgers staring down the past and present with stunning imagery. It feels meant to be as she sings:
I don't know when you got taller
See our reflection in the water
Off a bridge at the Huntington
I hopped the fence when I was seventeen
"Garden Song" feels nostalgic and heart-wrenching, but completely open to each listener's individual interpretation.
The first lyric within the chorus is a primarily universal experience — one of seeing someone you haven't for a long time, and seeing characteristics about them change as time goes on. Even if again, like the skinhead example, we haven't looked off a bridge in what is presumably a reference to California like Bridgers has, we still feel the gutting emotions as if you were there. There's something commendable to be said for a songwriter's ability to immerse us in their world, taking us with along their emotional journey. Bridgers' work here is sublime.
"Garden Song" continues to grow in the second verse, where Bridgers smoothly makes references to movies and how "the screen turns into a tidal wave." If you're watching the accompanying music video that goes with this track, you were likely pulled into a dreamlike state as these visuals started appearing on screen: Giant colorful monsters join Bridgers in her bedroom. Comedian Tig Notaro joins in the background, dressed like the grim reaper.
"Garden Song" came to fruition at Van Nuys' Sound City Studios and was a collaborative production process between Bridgers and her longtime Alps producers Tony Berg and Ethan Gruska. As for the music video, the majority of visual surprises and somewhat strange creatures came from Bridgers' younger brother Jackson Bridgers, who directed the video and was told to surprise her when it came to her stoned experience. Whether or not you smoke or get high, our sober selves would be just as surprised if we saw Tig Notaro as the omen of death – followed by a well-earned fit of laughter, a means of cutting the drear with levity.
Following the release of "Garden Song," Bridgers will be hitting the road and likely stopping by a city near you. In mid-March, she heads on tour with The National in Japan, Australia, and New Zealand, before making her way back to tour North America in support of The 1975.
If we can take one thing away from "Garden Song" and Phoebe Bridgers as an entirety, it's that she is unabashedly spilling her insides and sharing them sonically: Her memories and inner thoughts are all present on this track.
Having provided an emotional first taste of what will likely be her second solo LP, Bridgers is strapping herself and listeners in for quite the ride. Her stunning songwriting and vocal chops that can only skyrocket from here. For now, stream "Garden Song" below!
— —
Stream: "Garden Song" – Phoebe Bridgers
— — — —
? © Olof Grind
:: Stream Phoebe Bridgers ::
---