Every other week, Anthony Kozlowski pens the Atwood Magazine column Tunes & Tumblers, pairing new and classic albums with cocktail recipes. He quickly found however that drinking alone is a sad business. So he invited his friends Pedro Isaac Chairez and Ryan James into a recording booth to aid in mixing delicious drinks and to discuss the music that they all love. Strap on your headphones and enjoy a cold one on us. 
 
Atwood Magazine's premier podcasting trio leave the world of mainstream music in the dust to chat with John Moses, co-founder of Youngbloods, about his label's latest release. Bradford Reed's What's Good for the Goose Is Good isn't what you're used to. But it's as illuminating as it is challenging, satisfying as it is baffling. Take a sip outside your comfort zone.
   
Here at Atwood Magazine, we pride ourselves on seeking out and shrinking a spotlight on fresh voices. Our tastes are as diverse as they are eclectic (not to toot our own horns), but we generally temper them and leave our stranger proclivities on the sideline. Well, no longer! This week on Tunes & Tumblers we strike boldly for the unknown, bringing the fringes to the forefront, all head-scratching be damned.
Avant-jazz isn't a phrase that usually slides off the tongue when discussing favorite genres. Nor is the word "pencilina." Over the course of this week's offering though, you'll develop a fondness for both (that's the T&T Guarantee). As streaming giants like Spotify churn out microscopically specific playlists like "Cat Dreams – Relaxing Music For Cats And Cat Lovers" and "Kitchen Swagger," it seems there's a platform for everything. Let's find it.
For John Moses, co-founder of Brooklyn-based record label Youngbloods — it all began with Superjail. If you have prior engagement at two in the morning, that's the name of Adult Swim's ultra-psychedelic murder fest of a show. It hovers at the fringes of its network's own strange taste, drawing inspiration from Willy Wonka, Schoolhouse Rock, and Yellow Submarine with a generous side of anarchic glee. Pure, uncut weird sh*t. John dove right in, latching on to one element in particular. After the visual acid trip that is Superjail, the show smashes to black and an aggressive, assaulting track roars over the credits.
It sounded like somebody throwing a metal trash can down some stairs.
John knew immediately he needed to work with its composer. Enter Bradford Reed.
Though John found him via light night cartoon binges, Reed's credits extend far beyond writing ripping thrash music for cable TV. He's been active in the New York City jazz community for over three decades, is an active member of the band King Missile III, and — perhaps most notably — invented his own instrument.
---
In doing preliminary research on Reed, John stumbled upon old YouTube videos of him playing a strange contraption around NYC in the 90's and 00's, weirding out passersby on the street. He called it a pencilina. If you're wondering whether it got its name because it was originally played with pencils, you're precisely right. It's arranged similarly to a slide guitar with a moveable bridge and so Frankensteined necks on either side. Sonically, it boasts an amazing versatility, lending itself deftly to jazz, Eastern stylings, rock music, and everything between.
Watching Reed — a master of his own creation — play this incredible machine, John knew he had to bring him into the Youngbloods smiley. He stared at an open email to the guy for weeks, but eventually took the plunge. What came of their collaboration may not immediately tickle one's pop sensibility, but Reed's unpredictable mind inspired Tunes & Tumblers' most heady conversation to date. Strap yourselves in and get ready to experience the pencilina in all its glory.
THE ALBUM
What's Good for the Goose Is Good
an album by Bradford Reed
---
What's Good for the Goose Is Good — out today on Youngbloods wherever you consume music, is not the usual Atwood Magazine fare. Born of improvised sessions over the course of one or two years, this album is a work of avant jazz, a substrata of jazz that combines the experimentation of art music with the freewheeling spontaneity of its parent genre. It converges around the pencilina and how it relates to traditional jazz ensembles. Reed is joined by famed experimentalist a on the saxophone, piano, guitar, and synthesizers rearing atmospheric pieces that push the boundaries of expectation.
"It's so many things wrapped into one," explains John. "At some points it's very minimal, ad at others it can be hits lush and dense. It's not quite jazz, but it also isn't not jazz."
Though you an't really put a pin into what you're hearing, What's Good for the Goose… excels at creating moods. Each piece manifests its own atmosphere in the air around you, using its evocative track titles like weathered road signs ("Clouds Once Fathers," "Birds of Pairs of Dice"… let those wash over you).
In a way, listening to this album comes close to synesthesia. Some tracks sound like audio manifestations of colors, others like lush scenery, and others still like smells and tastes. Lucky then that it found its way onto the  Tunes & Tumblers desk. To heighten the multi-sensory experience, Pedro brewed up a cocktail as wild and delightful as the music itself. Please enjoy the pencilina responsibly.
THE DRINK
A Pencilina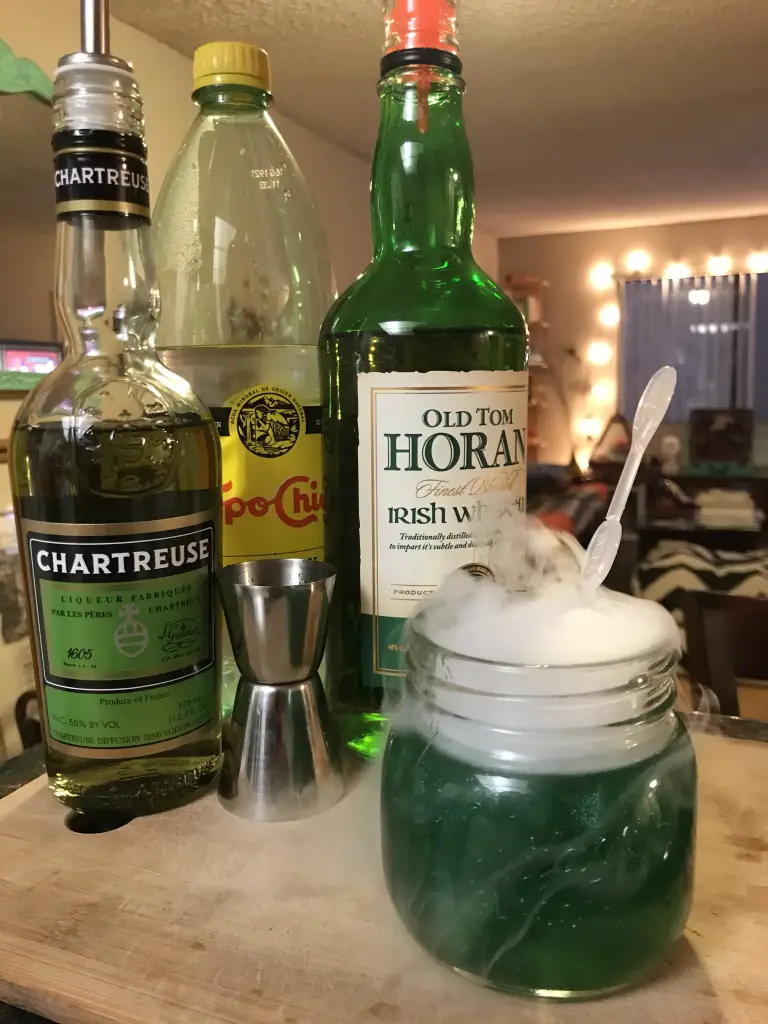 2 oz Irish whiskey
1 oz chartreuse
Mineral water
¼ tsp green pearl dust
Drag ice in a swizzle stick for garish (handle carefully)
Instructions
Pour whiskey and chartreuse over ice into mixer. Stir. Strain into a glass.
Fill glass with mineral water and mix in pearl dust.
Place pellet of dry ice into specialized swizzle stick (handling carefully), drop it into the cocktail, and watch it go!
Cheers, Lovelies!
Brainstorming the right pairing for Reed's sprawling opus is by no means an easy task. The pencilina itself demands a great deal of attention when first encountered. It's jazzy for sure, but sometimes it rattles with noise. In either instance, it still seems to make sense though.
Listening to it can conjure a host of different scenes. For Pedro in particular, images of a cool, lush forest best by early morning fog swam into view. He wanted to capture that apparition with this week's eponymously named drink.
The Pencilina cocktail uses Irish whiskey as a solid base. To that, we add chartreuse – an herbaceous liqueur enriched with over 130 different plants and herbs. It's sweet, but simultaneously spicy, and very aromatic. Adding just a little to the whiskey lends it that fresh element suggestive of nature.
The mineral water topper calms the production down a bit before introducing a cloudy, storming component reminiscent of roiling fog. Just a pink of mineral dust (available at any craft store or baking aisle) deepens the green hue and lends an added texture to the teeming liquid.
Finally, the fog itself. To really complete the experience, Pedro hoofed it to the nearest party supply store (admittedly one is never far away in the San Fernando Valley) and picked up some dry ice. Handling it carefully, he placed pieces in encapsulated stirrers and submerged. BE CAREFUL NOT TO LET THE RAW ICE TOUCH YOUR LIPS.
But the effect is immediate. The drink boils over with mist, churning like a storm in a glass.
Like What's Good for the Goose… the Pencilina cocktail isn't what you would expect. Yet all the elements bind together harmonically. Take a sip and prepare to enter the unknown.
THE SHOW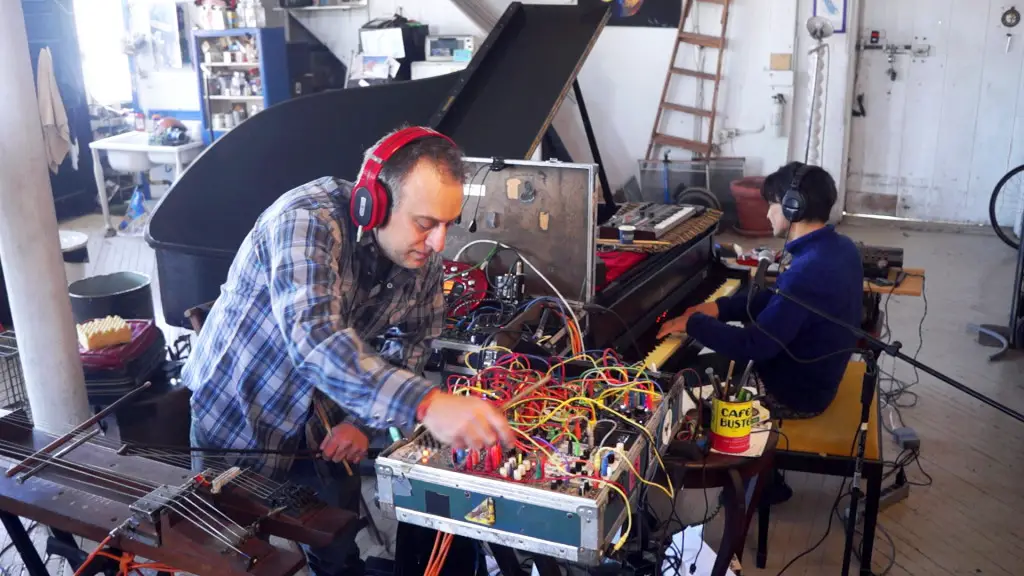 Tunes & Tumblers seems to exist in an odd liminal state. Time has no meaning in the studio. It could be early summer or it could be a school night earlier this week. It's hard to tell in our little TARDIS of a recording booth. Oddly enough though, today's episode was recorded a mere fortnight ago, lending the references a rare prescience. The gang make reference to Halloween festivities and give Kanye West's Jesus Is King a fair shake. Spoiler alert: Ryan's one syllable review isn't kind.
Though Reed's album takes center stage for most of the show, John also shines a light on the ins and outs of running a record label. Youngbloods is a work of passion for him in the purest sense. He and his label partner Nick find and curate a selection of artists that they vibe with on all ends of the spectrum. Ethereal brands of hop-hop, jazz, dance, and headphone music of all shapes and sizes find their way into the Youngbloods family. Reed's record may not sound like much else, but it's among excellent company.
To hear John describe it, "His ability to straddle both the extreme avant-garde where he's creating his own instrument… and able to work on cable TV shows is a dream." Reed, like his pencilina, is truly a versatile talent. If you're feeling adventurous, What's Good for the Goose Is Good is a great place to begin your art music journey. Or just flip on Superjail and see what all the fuss is about.
Tunes & Tumblers 012:
Bradford Reed and a Pencilina
---
Catch up on Tunes & Tumblers wherever you listen to your podcasts!
If you want to add any of the music discussed to your library, check out the full episode playlist below:
Have your own idea for a Tunes & Tumblers pairing? Let us know in the comments, or hit us up on Twitter.
 © Pedro Isaac Chairez