Every other week, Anthony Kozlowski pens the Atwood Magazine column Tunes & Tumblers, pairing new and classic albums with cocktail recipes. He quickly found however that drinking alone is a sad business. So he invited his friends Pedro Isaac Chairez and Ryan James into a recording booth to aid in mixing delicious drinks and to discuss the music that they all love. Strap on your headphones and enjoy a cold one on us. 
 
The gang caps off a killer first season of Tunes & Tumblers this week by celebrating with one of their own family members. Producer Drew Franzblau steps up to the mic to toast the season with three different eggnog recipes and the holiday music that warms our souls this time of year.
   
The air outside drops to a crisp 55 degrees. The palm trees wilt as carolers burst into coffee shops with off-key renditions of seasonal favorites. The outdoor bars throw canvas tents over their beer gardens to shield from the bitter cold.
It's Christmastime in Los Angeles.
We trade in our shorts and flip flops for jeans, Chucks, and maybe a beanie (if we're lucky). Rain wets the luminous tree in front of the Staples Center. We gather around our Netflix yule log. It's the perfect time to dive into Tunes & Tumblers once more before the ball drops at a convenient 9PM pregame.
In planning the T&T holiday episode, we wondered who would be the best guest to capture the spirit of the season. This time of year is always a family affair, full of food, laughter, and more than a little drink. We realized that one of our family members has been sadly silent since day one. So on this cool, dry Hollywood Christmas Eve, we give him his voice.
He has sweat and slaved to bring Atwood Magazine's premiere podcast to life, turning our nasaly voices into smooth audio chocolate. And when he isn't serving succulent helpings of T&T to your hungry ears, he's crafting the equally scrumptious podcasts Pasta Talkins, Fucqboi Bookclub, and the pulp audio drama Tales of the Liberty Flyer (all big recommends), while engineering for YouTube pop philosophy channel Wisecrack. It's our own Professor Producer Drew Franzblau.
For his holiday gift, we doubled his work load, forcing him to both mix and put on the charm for all you listeners out there (you're welcome, Drew).
In keeping with the spirit of giving, we tripled the pairings too. Each member of the team bring their own take on a seasonal mug of eggnog into the studio with album or song to match. Hope you've come thirsty this week because the holidays are about to get saucy. Please celebrate responsibly.
THE PAIRINGS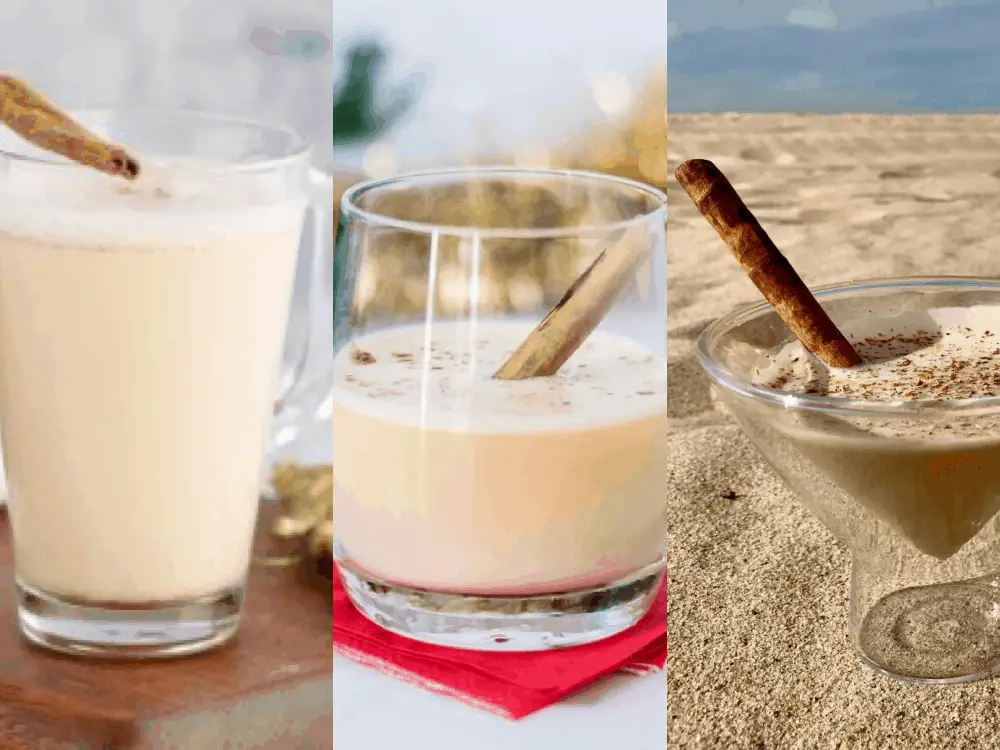 Pedro
Cherry Whiskey Egg Nog and "Christmas Tree (feat. Space Cowboy)" by Lady Gaga
---
1 1/2 oz Cherry Whiskey
1 oz Amaretto
3 oz Eggnog
Cinnamon
Nutmeg
Cinnamon Stick (optional)
Instructions
Pour ingredients into shaker with ice.
Shake well. Strain into tumbler.
Sprinkle cinnamon and nutmeg on top. Add cinnamon stick if desired.
For Pedro, the holidays aren't just about family. He associates them with returning home to link up with old friends and do stupid things like they used to.
Most holiday hits are polished, squeaky clean, and almost anemically wholesome, but that doesn't capture the spirit of youth run amok. When the chestnuts are finished roasting, it's time to get your freak on. Who better to embody the naughty side of Christmas than Mother Monster herself? On this throwback, she uses the evergreen symbol of yuletide cheer as a euphemism for… things. And it calls for a sweet and sassy companion of its own.
With a wink and a suggestive smirk, Pedro spikes his eggnog with cherry whiskey (really a closer cousin to moonshine than the barrel-aged spirit your mustachio'd ex orders neat) and a sweet twist of Amaretto. It's a playful take on the fireside aperitif sure to get the blood pumping and the Christmas sweaters shed to the floor.
Transform Mr. Grinch into Daddy Grinch and see how quickly your childhood is ruined (or deliciously improved). The pants stayed on at T&T headquarters, but if Lady gaga has a firmer grip on your holiday kicks, give this pairing a disco stick ride.
Ryan
Island Eggnog and the Trojan Records Christmas Box Set
---
1 part Meyers Rum
1 part Eggnog
Casali Choco Banana
Instructions
Pour ingredients into shaker with ice.
Shake well. Strain into tumbler.
Garnish with Casali Choco Banana. Take in how appetizing it looks.
If a kinky Christmas isn't your scene, Ryan has a tropical alternative. As a kid, he envied the people blessed enough to escape to the Caribbean for the holidays, trading the snowmen and black ice encrusted roads for Carnival Cruises and rum straight from the coconut. To bottle this island getaway, he turns us to the Trojan Records Christmas Box Set, a three disc stocking stuffer full of reggae and dancehall twists on holiday classics. Whether it's Yellowman's "Breadfruit Raosting on an Open Fire" or the unforgettable "Santa Claus is Ska-ing to Town" by the Granville Williams Orchestra, this collection has all the tunes to set your thermostat to Jimmy Buffet sweltering.

Forget the nutmeg and cinnamon in your mug on this one. Ryan cuts the cream with a generous dollop of rum and garnishes with a Casali choco banana, a luscious nougat treat to tickle the sweet tooth. Floating in the drink, it might look more… suspect than a traditional mug of nog, but it's far more palatable than meets the eye. In fact, it's a steel drum away from an all-inclusive island getaway. Merry Christmas, mon!
Anthony
Bourbon Eggnog and A Charlie Brown Christmas by Vince Guaraldi Trio
---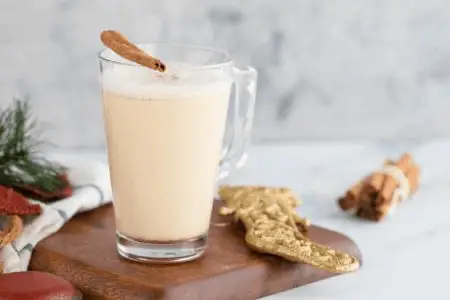 4 oz Eggnog
2 oz Bulleit Bourbon
1 oz Cognac
1 oz Cointreau
Cinnamon
Nutmeg
Cinnamon Stick (optional)
Instructions
Pour ingredients into shaker with ice.
Shake well. Strain into tumbler.
Sprinkle cinnamon and nutmeg on top. Add cinnamon stick if desired.
FULL CONFESSION: I will put bourbon in anything. The smoky, cozy flavor of a good bourbon is my opiate. I will knock over whatever rubbing alcohol-flavored vodka pushed my way and infuse that Kentucky good-good instead.
In that spirit, I took my comfort drink and paired it with my comfort album, Vince Guaraldi Trio's December masterpiece A Charlie Brown Christmas. Though I could recite every line of the 1965 CBS special since I was basically in utero, I didn't come around to the genius of Guaraldi's soundtrack until I was at least fourteen. To me, Christmas means white Minnesotan nights huddled in a swim parka outside the high school, waiting for my mom to pick me up in a rented mini van. My only warmth was the soothing plink of Guaraldi's keys, though if I were to recreate the scene today, a toasty class of Blantons would suffice (if you can find one).
In my take on a bourbon eggnog, I shaped the base a bit with a nibble of cognac and the citrus zest of Cointreau. To quote Pedro:
"You could probably light this drink on fire."
Keep the open flames at bay, put on Guaraldi's lullaby jazz and the Christmas coma will hit like the Polar Express.
THE SHOW
Though we hosts associate the holiday season with the Christian, the commercial, the Pagan appropriation that is Christmas, that isn't 100% true for TnT's Jewish representative, Drew. "You guys invited me to partake in this goyish nonsense, so here I am," he says. But with a mixed-faith background of Judaism and Catholicism, his holiday traditions bridge the gap. He regales the pod with fond memories of both How the Grinch Stole Christmas and the Rugrats Holiday Special (one of the few youth-oriented depictions of Hanukkah in mainstream media with no offense to Adam Sandler and his 8 Crazy Nights).
He and the gang dive into their ghosts of holidays past from Pedro's memories of midnight mass to Anthony's ill-conceived booby traps to catch the tooth fairy, to young Ryan ghost riding the whip past the LA Christmas light displays.
It's a family affair this week on Tunes & Tumblers, the insightful journalism you love left under the tree while we gab over one too many mugs of eggnog. What better way to cap off a winning first season of Atwood Magazine's premiere podcast?
Fear not, lovelies. Mark your calendars for January, when we will return with more guests, bigger laughs, and boozier cocktails. For now though, let us celebrate the journey we took together. No one better sums up the holiday spirit than our own DrewBear:
"This time of year for the Hebrew people is called the Festival of Lights. So, we hope your holiday season is bright, merry, and full of love and laughter, and Epstein didn't kill himself."
Tunes & Tumblers 015:
Holiday Classics and Eggnog (feat. Drew Franzblau)
---
Catch up on Tunes & Tumblers wherever you listen to your podcasts!
If you want to add any of the music discussed to your library, check out the full episode playlist below:
Tunes & Tumblers will return January 21, 2020 with a brand new season!
Have your own idea for a Tunes & Tumblers pairing? Let us know in the comments, or hit us up on Twitter.
 © Pedro Isaac Chairez