Every other week, Anthony Kozlowski pens the Atwood Magazine column Tunes & Tumblers, pairing new and classic albums with cocktail recipes. He quickly found however that drinking alone is a sad business. So he invited his friends into a recording booth to aid in mixing delicious drinks and to discuss the music that they all love. Strap on your headphones and enjoy a cold one on us. 
 
This week, the Tunes & Tumblers regulars sit down with Magnolia Park's Tristan Torres to chat about the band's twin EPs, 'Mooneater' and 'Souleater'!
   
words by Anthony Kozlowski
In the midst of their annual "eater" EP series, Magnolia Park's Tristan Torres joins the Tunes & Tumblers regulars to chat about their dual-EPs Mooneater and Souleater. All the while we sip on Kaylyn's strongest beverage to date, a drink that does exactly what it says on the box, "The Passion Eater." Tune in for talks of Anthony's obsession with the Everworld series, Magnolia Park's innermost traumas, and the 100 gecs origins of a beloved MP tune.
Check out our newest episode of Tunes & Tumblers on Spotify and Apple Podcasts. Cheers!
Wanna drink with us? Then you've gotta do it responsibly. Here's Kaitlyn's recipe for a "Passion Eater"!
•• ••
The Passion Eater
Ingredients
¾ oz Hennessy Cognac
1 oz Passion Fruit Liqueur
1 oz heavy cream
1 oz coffee creamer
¾ oz Amaretto
Instructions
Blend heavy cream, creamer, and passion fruit liqueur to make Passion Fruit Creme
Pour Amaretto into a shot glass
Use a bar spoon to layer on3/4 oz Passion Fruit Creme
Use the bar spoon to layer on the Cognac
Have your own idea for a Tunes & Tumblers pairing? Let us know in the comments, or hit us up on Twitter.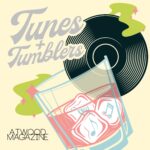 © Kaylyn Wiggenhauser & Jamie Kahn
design by Kaylyn Wiggenhauser
---