Próxima Parada's fourth album 'Kind Reminder' is a Post-it Note memo to drink up the summer vibes while you still can, Corona bottle and all.
Stream: 'Kind Reminder' – Próxima Parada
[soundcloud url="https://api.soundcloud.com/playlists/826414586?secret_token=s-cN3xC" params="color=ff5500&auto_play=true&visual=true&hide_related=false&show_comments=true&show_user=true&show_reposts=false" width="100%" height="450″ iframe="true" /]
---
Often I've wondered about the what my favourite season is — I can't help it, I play favourites for most things: comic characters, video games, painters, flow artists, and yes, that includes musicians, singers, songs, albums.
Even mundane stuff finds my fancy: colours, numbers, the route to work, times of the day, days of the week, seasons of the year. I was born in Spring, so that has a natural inclination, right? Not so, I lived in Australia where the seasons are flipped and so familiarized myself with April carrying the scent of fallen leaves on the brisk Autumn air. And yet, my fondest memories from college happened in the summer. And even if I can't decide on a season, it's summer when one of my favourite friends, Peter, and I discovered one song on which we could agree:
"Valerie" by Steve Winwood.
The song is a repeat machine, starting up again as soon it as ends. We must have listened to that track for hours, sitting on the couches on the roof of our fraternity deck, putting the tune blast from my soundbar as we gazed upon the lawn and smoked to the trees of our pleasure palace, our fraternity house. It may have been a quieter summer from the constant kickback of 2015, but that didn't mean we couldn't get loud. Roof decks are a wonderful thing, aren't they?
Forget about Amy Winehouse; Steve Winwood's "Valerie" is Eighties rock n' soul perfection, ladies and gents. And you can't improve on perfection, right?
But you sure can mine it for inspiration. And at times I wonder if Nick Larson isn't trying his best on Próxima Parada's new album, Kind Reminder, to find somesuch harmony with Steve Winwood. But he's working that Lionel Richie lothario extraordinaire angle all record too; he's wing-manning it for all the people looking for love for one night or forever. Because half of these songs are slow dancer for you and ya girl/man/person, and the other half are for dancing in the moonlight, swinging with the fireflies. Atwood Magazine is proud to be premiering Kind Reminder, the fourth album from San Luis Obispo, California-based band Proxima Parada (out 9/27/2019 via AntiFragile Music).
Of course, the keyboard doesn't take center stage much on Próxima Parada's record — they are a garage band, still — but lead singer Nick Larson does his best Steve Winwood impression while Josh Collins tops most tracks with Mayer-esque R&B fills and bassist Kevin Middlekauff struts the lower frequencies in Gucci boots, all tandem to Aaron Kroeger's four on the floor beatwork. No more evident than on Próxima Parada's best cut off the disk, "Musta Been A Ghost," the band is locked into form for Cali soul.
Yet, what could have been such cut and dried good vibes also finds time to shake it up a bit, there's some psych-rock silliness to Collin's riffwork on "The One Inside" (it's timbre sounds like it was pulled directly from a Khruangbin record) as well as adding a violin coda to "Feel You Slipping Away" or Timbaland snaps to the bridge of "Not Much to Say" or even a light Eltonian rock boogie underneath all of "Kind Reminder."
"Our new album, Kind Reminder, is 10 songs that share helpful insights or teachings or soothing reminders in a way that's approachable and attractive," the band tell Atwood Magazine. "These are songs that help us overcome personal struggles, affirm life, access joy in the present moment, and find peace. A lot of these songs are about acceptance and vulnerability in one form or another. In every song, the music says just as much as the lyrics."
A lot of these songs are about acceptance and vulnerability in one form or another. In every song, the music says just as much as the lyrics.
Kind Reminder is a tub ice cream, if nothing else it is made to be comfortable, to be "Grateful," not to scat (though Larson does find time for that) and reggae rap it like Sublime, but to work a California Honeydrops angle; both the Honeydrops and Próxima Parada are vanilla berry swirls, but if the former is blueberry and the latter is marionberry, I'll much take the latter.
And people like to think in terms of The Mamas and the Papas when it comes to coming to California, but let's be honest, if you were roadtripping to Chuck Berry's Promised Land, perhaps to the House that Nat Built, you'd be bumping Próxima Parada's Kind Reminder like no tomorrow as the west coast bouquet whips a smile on your face and the sun sticking on high tans your arm and your digits dote on the shape of that wind streaking past your car.
You'd mold your hand to every keyboard chord played and every guitar note strummed, and you'll hardly know if it was you or the gust trying to play along to your favourite song.
Experience the full record via our exclusive stream, and peek inside Próxima Parada's Kind Reminder with Atwood Magazine as the band provide go track-by-track through the music and lyrics of their new album!
Stream: 'Kind Reminder' – Próxima Parada
[soundcloud url="https://api.soundcloud.com/playlists/826414586?secret_token=s-cN3xC" params="color=ff5500&auto_play=false&visual=true&hide_related=false&show_comments=true&show_user=true&show_reposts=false" width="100%" height="450″ iframe="true" /]



:: Inside Kind Reminder ::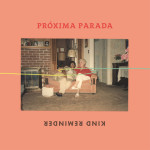 — —
Dusty Seats
Acknowledging lost connections from the past and how they never truly go away. The relationship can change, people "move on", people stop speaking to each other, but that person can never be erased or destroyed. People who have been important in our lives always have a place within us, whether it be a childhood friend or lost love.
The One Inside
A simple mantra to affirm ourselves, trust our intuition, move away from judging ourselves and from letting others judge what's right for us. Ultimately, we are choosing to orient ourselves in the direction of becoming our truest/most beautiful selves and we accept that it will take a lot of time, learning, and undoing.
Beneath Habits
Again, we're choosing to act and do our personal work, look into our habits and see how they've affected us. We decide that we have the power to look deeply enough to see the causes of our habits and that we can transform ourselves if we are willing to. The third verse is a reflection on Mac Miller and his overdose.
My Mind Is On One
This is a meditation on struggle, painting the landscape of what a struggling mind looks/feels like. It's about accepting that, since we've decided to take responsibility for our lives, we must accept that we will encounter struggle. We will lose control sometimes.
Paying For It
Although this song is highly personal to Nick's experiences, we find that the more personal we get, the more universal our songs become. We acknowledge the suffering that we've experienced, but we know that our suffering is much older than us. For example, while we might say that our parents brought us suffering during our childhood, it's not that simple. They are a response to the suffering that they experienced in their own lives, and so on and so forth back to the beginning of humanity. We are not victims of our past; we have the ability to use our past as fuel for transformation and create our own present moment. Regardless of what's happening in our world, there is an underlying peace and joy that we can choose to tune into right here, right now. We just have to get out of our own way.
Musta Been A Ghost
When we feel a connection with someone, we put ourselves out there and express our interest. Sometimes, people would rather say nothing than show up and say that they're not interested or that there is someone better for the job. We can be afraid to disappoint or disagree with people directly, so we'll avoid the conversation/other person all together. This song is an invitation to show up and share your truth with people, even if it may be difficult for someone to hear in the moment.
Grateful
We are trying to grieve experiences that have happened in our lives and make peace with those things without having closure with the other person, without involving them. Being able to forgive circumstances. In the end, we're trying to be grateful for having human experiences and knowing that they shape us into who we are.
Feel You Slipping Away
This song was written by Nick's mom, Linda O'Connelly, when he was a kid, and it's about wanting to mend her failing relationship with Nick's dad. On the album, Nick and her mom sing together as a duet.
Not Much to Say
We often choose surface-level conversations, as opposed to sharing the deeper, more beautiful truths living inside of us. Sharing who we truly are is a learned skill. If we're not able to be vulnerable with people, we run the risk of feeling disconnected, isolated, and misunderstood.
Kind Reminder
Numberless ancestors had to suffer and withstand unknowable difficulties so that they could finally have children, and this happened throughout time to finally arrive at us. We all need a kind reminder sometimes to bring us back to this realization of how miraculous our lives are. Thinking about the odds that we've become who we are and all of the stories that live inside of us from our ancestors. A part of us today connects to the Middle Ages, ancient times, the beginning of humanity. How would we treat others if we say them from this perspective?
— —
Stream: 'Kind Reminder' – Próxima Parada
[soundcloud url="https://api.soundcloud.com/playlists/826414586?secret_token=s-cN3xC" params="color=ff5500&auto_play=false&visual=true&hide_related=false&show_comments=true&show_user=true&show_reposts=false" width="100%" height="450″ iframe="true" /]





— — — —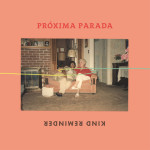 Connect to Próxima Parada on
Facebook, Twitter, Instagram
? © Carolyn Eicher
:: Stream Próxima Parada ::
---