Angular and accentuated, Personal Space's 'Still Life' EP is a record ruminating life on pause: A nuanced set of indie rock songs borne of the endless reflections, stir-crazy energies, and feverish emotions we've all experienced over the past 2.5 years.
for fans of White Denim, The Rare Occasions, Surf Curse
Stream: "Enron's Trip" – Personal Space
---
Angular and accentuated, Personal Space's new EP is a record ruminating life on pause: A nuanced set of indie rock songs borne of the endless reflections, stir-crazy energies, and feverish emotions we've all experienced over the past two and a half years. Like it our not, everyone's lives have been in some kind of upheaval ever since March 2020 (if not well before then), and it's best we face our collective trauma head on than bury it deep down inside and let it fester. Colorful and cathartic, Still Life holds the mirror up and shines a bold light on all the things we might otherwise sweep under the rug. It's a welcome beacon of restlessness and release, and it could not have come at a better time.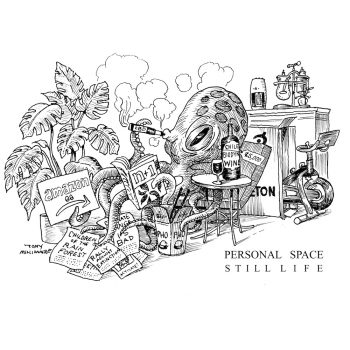 Lights in your financial service firm were burning bright
Dolphin decal punched on paper took you into the night
Omega's stopped, or so you thought, man, what even is time?
Man what even is time?
Own what you have done
Spare me the storyline
Spare the song and dance about everyone else
Just chill, it's fine
You asked if I could stay for a while
I thought it easier not to decline
I can't change the way that your mind's made
It's not my place to carry all that weight, man
– "Enron's Trip," Personal Space
Atwood Magazine is proud to be premiering Personal Space's Still Life EP, out June 3rd via Good Eye Records. The NYC/DC-based band of Sam Rosenthal, Alex Silva, Jesse Chevan, and Justin Gonçalves, Personal Space have been together in various shapes and forms since the mid aughts, and finally introduced themselves in their current form some six-plus years ago. Following 2016's debut LP Ecstatic Burbs (Tiny Engines) and 2021's sophomore follow-up A Lifetime of Leisure (Good Eye Records), Still Life is a tight four-song tour de force brimming with wily, radiant guitars, honest and unfiltered lyrics, and an undeniable agitation – one brought on by the past few years' homebound stasis.
Peaceful, so comfortable
In a cool blue dream again
Headlines pushing through
Alert the latest news
So au courant
Shook up and uncomfortable
Pulled from between again
Headlines pushing through
Alert the latest news
Too au courant
Is this denouement?
All day, unbroken
Calamitous views, futures stolen
In gray disarray
Nothing but woes today
– "Long Live the New Flesh," Personal Space
---
The band fitfully describe Still Life as the soundtrack to them "crawling out of their pandemic cave with four new songs that celebrate the weird, alienating, banal day-to-day of life on permanent hold." Every song has its own focus – from old friends cut out of their lives ("Enron's Trip") to the pandemic's endless cycle of emotional mood swings ("Long Live the New Flesh"). Throughout, Personal Space deliver a charming DIY energy, meshing math rock with garage influences and just a bit of grunge for a sound that soars sweetly and hits hard all at once.
Experience the full record via our exclusive stream, and peek inside Personal Space's Still Life EP with Atwood Magazine as the band goes track-by-track through the music and lyrics of their latest release!
— —
Stream: 'Still Life' EP – Personal Space
---
:: Inside Still Life ::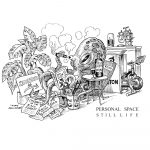 — —
Enron's Trip
This tune is very loosely based on a time when PSpace LLC had more contact with the denizens of the world of investment banking and financial services, and maybe even called a few of these miserable goblins friends and acquaintances. Many are very nice people on an individual level, but are collectively engaged in, alternately, demonically horrific and utterly superfluous work. Anyway, one of us had a friend who worked at a very well-known financial services firm and the whole workforce there was sustained by a cocktail of uppers, downers, psychedelics, and the ambient intoxication that comes from moving giant, imaginary chunks of money from one place to another. So then these people show up at parties and generally act a fool and it's somehow *your* responsibility to clean up the social mess for them. And this song is about one of the nights one of the members of PSpace LLC said, no, fuck it, I'm not going to clean up after you this time, and the attendant guilt that comes with trying to take a principled stand like that against a dude who is really just angling for social connection, but in the most toxic way possible.
Long Live the New Flesh
Lots of the early pandemic for me was getting stoned, feeling good at first, but then entering this k-hole of bad vibes by thinking too much about "what's going on" (usually provoked by flipping through my apps for too long). I'd end up feeling guilty and a little stupid, but then calmed by the decision of have a treat, like a nice glass of wine or putting on a chill record. So this song tries to illustrate that cycle. I also obviously had just seen Videodrome for the first time.
Ceviche from Kew Gardens
Let me preface this by saying I'm a married man, but I remember there being a slew of pandemic articles and op-eds about dating during Covid times, about all the anxiety and apprehension, etc, so it felt like a good and timely subject for a song. There's no explicit references to a pandemic or anything, just this lonely person who's bored and kinda down on the world, texting and DM-ing with a prospective lover, dreaming about getting to see them in person. It shows the ordinary aspects of any courtship, like the constant questioning insecurity (Are they seeing other people? Do they feel the same way I feel?), but there's also that added shittiness of feeling stuck indoors and in the digital realm that speaks more directly to these past couple of years.
Tandem Nights
There are no surviving regulars from the bar called Tandem, tragically. But some will remember a vague acquaintance with this Brooklyn hellhole. The song is not really about Tandem at all, it's just a classic missed connection story. You harbor the idea that you're going to connect with someone when the time is right, but then realize that you've actually both moved on and the right time will be never. Erykah Badu did this feeling way better in "Next Lifetime." Probably, you can just listen to that song instead?
— —
Stream: 'Still Life' EP – Personal Space
---
— — — —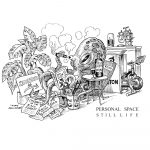 ? © Tom Bell
:: Stream Personal Space ::
---