A world of warmth and wonder comes to life on PYNKIE's sun-soaked third album 'Songies,' a summery, blissed out indie rock daydream.
Stream: 'Songies' – PYNKIE
---
So turn your dreamin' eyes to the world, and tell me that it doesn't matter…
Summertime deserves a soundtrack that captures its seasonal heat and beauty,
and PYNKIE's third album does all that and more. A world of warmth and dreamy wonder comes to life on Songies, the New Jersey-based artist's soul-stirring third studio album. Radiant vocals glisten and glow around a wash of wondrous guitars and steamy drums as the artist comes to life with vivid passion and verve, inviting us deep into her sun-soaked reverie.
Please don't make me cry
I don't wanna have to hide my eyes
We're at a party
And you got me so high
Here comes another feeling
That I can't explain
Like there's another person
In my brain
He looks at me like I'm insane
He always proves me wrong
Don't know how we get along
But if he was a song then
I would listen to that same
song again and again
Until it's stuck in my head, forever
– "Plz," PYNKIE
Atwood Magazine is proud to be premiering Songies, a tender tempest full of vulnerable reflections and visceral atmospherics. Independently out August 18, 2023, PYNKIE's hypnotic third album arrives five years into a career that has seen New Jersey's Lindsey Radice, a full-time Registered Nurse, emerge as an indie rock dreamweaver and cult favorite for blogs and critics alike. Following 2018's neoteny and 2020's #37, the twelve-track Songies finds PYNKIE at the height of her artistry, embracing new sounds and experimenting with fresh styles while delving ever deeper into her own mind's for some of her most intimate and diaristic lyrics to date. The result is a soothing, dreamy indie rock daydream.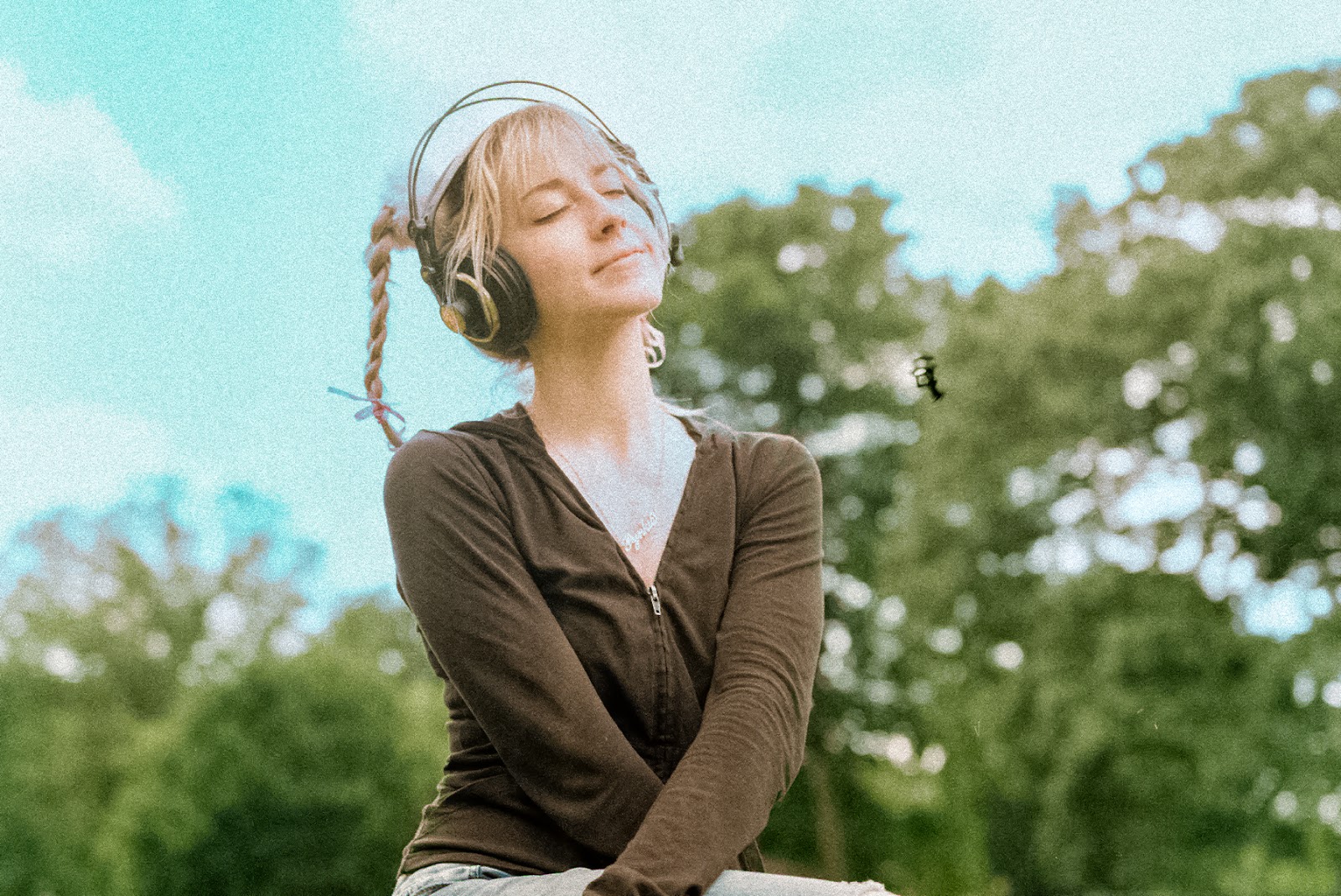 "I've been calling my songs "songies" since I first started making them!" PYNKIE tells Atwood Magazine. "It started out as a joke and just a cute little name for them lol, but more recently I've come up with a definition for "songies" which is reflected throughout the album: songs that are relatively short, sweet, and to-the-point with the classic pop structure while also having elements of weirdness. The "weirdness" I'm referring to could either be use of an alt guitar tuning, unusual time signatures, unexpected structure changes, or just unique melody choices."
"This record was the product of me spending a lot more time at home by myself in 2021/2022 than I ever have before thanks to COVID! Since I was at home more often, I spent a big chunk of my time writing and recording demos in my bedroom, diving into my psyche and mostly writing via flow-of-consciousness. I love just becoming a meat radio and picking up on whatever it is that flows through me and out of me in the form of words and melodies."
"I also have been becoming more and more interested in theoretical physics and the concept of time itself," she adds. "I love that music is the artistic combination of sound and time, and really wanted to play with both of those ingredients in new and creative ways in this record! And that remained the goal throughout the making of the album."
PYNKIE – named as such because Radice's pinky finger "usually starts hurting" after she plays guitar for too long – credits this record as the product of sound, time, and creativity.
"I think "third time's a charm" definitely applies to this third album!" she laughs. "That is mostly thanks to my wondrous band members and peeps I worked with to really bring my songies to life! Namely, John Messina (my bf) did an amazing job with production and adding amazing ethereal synth soundscapes throughout, and Eric Holsten mixed and mastered it all so perfectly! I'm also proud of my songwriting on this one and feel like I definitely got a little more creative and experimental while also making this record more cohesive and album-like than my previous records."
The internet is getting boring; I can see through the veil of perception…
From the gentle, incandescent glow of "Time_60bpm" to the sweet, smile-inducing jangle of "Be Good," Songies proves as immersive as it is enchanting: A world full of sonic delights, jazzy segues, and poetic a-ha's. The lush "Plz" is an instant standout; full of churning beats and charming vocals, the driving track rises and falls in waves of cathartic, beachy euphoria. The moody alt-rock outpouring "Unsee," comparable to late '90s tracks from Goo Goo Dolls, is another crafty piece of musical magic, engulfing the ears in the artist's unfiltered angst and fervor:
Gotta leave,
Some things I can't unsee and
I wanna let them go, but I can't
Had a feeling that I knew
But don't know anymore
'Cause every time I try,
I can't remember anything at all
No, I can't remember anything at all
And now…
Now or never
It's right around the corner
I wanna make it there, but I can't
Feeling's comin' on strong this time
I really wish I could hang out
In the back of my mind
---
Lead single "Crushed Out," originally released in March of this year, is a full-bodied fever dream brimming with smoldering guitars and emotional vocals that ache with an intimate intensity. PYNKIE describes it as a song about being insecure about a crush, while also feeling like you have some kind of extra-dimensional connection with them in a dream state.
"Personally, I have had dreams with people in them only to find out they had the same dream on the same night," she says. "The fact that dreams could be a shared reality between dreamers is one of the most intriguing aspects of life!"
I wish I could chase all the girly girls away
I wish I could take your eyes off of her curls
Okay, you had big blue eyes
And I had little tiny ones
It was no surprise that I'd fall
under your spell
At that age
So turn your dreamin' eyes to the world
And tell me that it doesn't matter
---
"I would definitely say that the song I'm most proud of on this record is 'Lately,'" PYNKIE says, highlighting the record's impassioned, dynamic third track. "I just love the flow-of-consciousness lyrics that just freely flowed out of me while I was writing it and the crazy weird vocal melodies. I also love playing that one live! My drummer (Josh) and bassist (Alex) came up with amazing drum/bass parts for that one!"
"My lyrics also tend to be very vague or have multiple meanings," she notes, "but one lyric that sticks out to me would be "So turn your dreamin' eyes to the world // And tell me that it doesn't matter" in the chorus of "Crushed Out." When I wrote that lyric, I was thinking about a lucid dream I'd recently had at the time in which I was looking around and recognizing the dream world as more of an objective alternate reality as opposed to a subjective creation of my mind."
Songies is a blissed-out dreamland for all those in search of an escape, an indulgence, or a sweet, summery seduction.
"I really hope Songies can serve as a 28-minute little vacation through 12 alternate realities (one for each song) and that people can just really get absorbed in it while also being able to relate to the lyrics in some way!" PYNKIE shares. "Through creating it, I've been able to sublimate negative memories and emotions from my past into a playful exploration of sound and time. Making songs is my favorite thing to do and I feel like this record reflects growth and evolution in my songwriting."
Prepare to bask in the heat of PYNKIE's singular, stunning artistry. Experience the full record via our below stream, and peek inside PYNKIE's Songies with Atwood Magazine as shes goes track-by-track through the music and lyrics of her third LP!
— —
Stream: 'Songies' – PYNKIE
:: Inside Songies ::
— —
Time_60bpm
"Time_60bpm" is the product of me wanting to write a song to the ticking of a clock. As I often do in my songwriting, I pretended I was a fictional character: a girl sitting in her room staring at a clock and singing/playing guitar, thinking about her long lost lover or someone she really missed. I later made a music video with videographer/director Kelli McGuire who brought my daydream to life. The original demo of the song was just guitar, clock, and vocals, but my brilliant keyboardist/synth player/bf (John Messina AKA "Social Media") ended up adding a bunch of cool synth parts throughout, as well as bass and drums only on the choruses.
Crushed Out
"Crushed Out" is one of my earliest written songs on the record. I wrote it sometime in 2021 and actually posted the demo of it on SoundCloud in January, 2022. This was one of the songs we partially recorded at a cool homemade recording studio called The Cocoon in Jersey City, NJ. We recorded all live drums, bass, and rhythm guitar tracks there. The rest (i.e., synth tracks, vocal tracks, lead guitar, etc.) were all recorded by myself and John at our apartment. Our bassist, Alex, also came over one day and added that distortion-y guitar you hear on the choruses.
Lately
"Lately" is actually my favorite track on the album and the one I'm most proud of songwriting-wise I had a lot of fun writing the vocal melodies and love the way it builds toward the end (which is especially thanks to my drummer, Josh)!
Scared
"Scared" was the most last-minute addition to the album. It was a demo I made in like November or December of 2022, when my friend Eric Holsten (the mix/master engineer) had already started mixing the album. I liked the idea for the song, but couldn't think of a 2nd verse. So I sent it to my friend Victoria (whose artist name is "april june") since she said she wanted to collab, and she quickly sent back the perfect 2nd verse! So I haddd to get it on the album, and Eric made it happen:-) He still kept a lot of my programmed drum beat, etc. to keep it as more of a demo-feel, but also added a little bit of his own production to really make it pop.
Unsee
"Unsee" is another fav of mine off the album since it really reminds me of a vocal melody Julie Doiron would write. I'm such a huge fan of Julie and have been listening to her a LOT over the past few years, so it makes sense that her songwriting style would rub off on me. I also posted a demo of this song (along with a couple other demos that didn't make the album) on all streaming sites in November, 2021 as a little EP called "3 demos?? idk lol."
Both Sides
"Both Sides" was born because I wanted to make a song using 6/4 time signature. (It also switches to 4/4 in the choruses, but yeah!) & I had a lot of fun writing it/getting in the bossanova type feelz. A large chunk of this track was recorded in The Cocoon.
Veil
"Veil" is one of the collab tracks on the album and I love how it came out! I've been a huge fan of Shallowhalo for a while now and so glad we got to work together on somethin! :,) — I wrote and recorded this one all in my apartment, and then sent it to Allyson of Shallowhalo to sing background vocals/harmonies.
Spiral
"Spiral" was the first song I ever wrote using 7/4 time signature. I love playing with time, so this one was especially fun to write. However, the subject matter is a little heavy because it was about my friend who was going through a mental breakdown and ended up running away into the woods for about 4 days. No one knew where she was at the time and my friends and I spent a good amount of time trying to find her and spreading the word. Thankfully she was found save n sound, and is doing great today!
Mutual
"Mutual" was my first song ever written using 5/4 time signature. My demo was way less cool than the final recording haha. So for this one I really have to shout out da band who recorded most of this song with me at The Cocoon— Josh did an A+ job coming up with the different drum beats for the 5/4 verses and 4/4 choruses; and I reeeally love the cool bass line Alex came up with for the choruses! John also did a great job with the synth soundscapes and other production he added later~ P.s. we only practiced this song a handful of times before recording it together as a band, and then never really played it again (yet)!
Plz
"Plz" was the final single before the album dropped and the music video for it is one of my best for sure! It was directed/filmed/edited by a coool human named Evan Deng. During the filming of the music vid, an ice cream truck guy saw us filming by his truck and decided to give me a free ice cream cone. This allowed us to get some ice cream shots in the viddd and some cute pictures too 🙂
Be Good
"Be Good" was based off a demo I made in 2021. One weird fact about it is that I wrote the chorus based off of chopped up segments of other vocal lines in the song. I was just weirdly experimenting and thought it would be fun to copy n paste random parts of vocal lines and stitch them together to see what they make. The result was something I actually used for certain parts of the song 🙂 ~John also did a lot of cool production on this song that really colored it up.
*Wind Chimes*
"*Wind Chimes*" is a collab with my wondrous aforementioned friend & mix/master engineer, Eric. His artist name is "Shocking Twist" and he's the bessst! I had a voice memo on my phone that I'd recorded of pretty-sounding wind chimes. I asked him if he thought he could make it into an outro, and he went above n beyond with it! He made it into such a coool thing and made sure it was 37 seconds long (aka my magical lucky number and the name of my last album;).
— —
Stream: 'Songies' – PYNKIE
— — — —
 © courtesy of the artist
:: Stream PYNKIE ::
---