When it comes to Rosie Carney's music, you can't not mention vulnerability. Carney's gentle-yet-powerful song "Awake Me," touching on her own past, showcases the beautiful things that happen when an artist opens up. The response to the song and to Carney's efforts to bring mental illness to light have been phenomenal since its January release.
And now Carney has recorded an acoustic session of her song that both complements the song's message and displays her understated skill as a musician. Atwood Magazine is proud to premiere the video for Rosie Carney's acoustic session of "Awake Me."
Watch: "Awake Me" (Acoustic) – Rosie Carney
---
Unlike the formal music video, which draws out the song's sense of vulnerability and highlights its natural imagery, Carney's acoustic session puts the focus on her and her mastery as a musician. Both her lyrics and her abilities as a musician come into play in the acoustic video, reminding us that despite her age, Carney is as talented as her success suggests.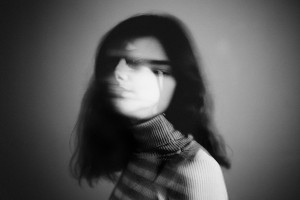 As she sings, the camera doesn't pan over Carney's face as much as it does her hands. Running over weathered keys, we see each and every movement Carney makes to create her song. From the keys to the actual wood hitting the strings, it's a very intimate process. Coupling a song about opening up with images of the insides of a piano as Carney plays it might seem like overstating the idea, but the result is far from it. It's quite physical and personal, and reminds us as viewers that Carney is, with every movement, steering us on this journey with her.
Carney's voice complements her gentle piano playing. Perhaps even more confident than in the studio recording of the song, her voice washes over us, measured by each note she plays. As we see Carney physically guiding the piano keys, her voice rises up naturally to meet every note. None of it seems manufactured–she's simply playing her song, and the result is a completely organic session that rivals its studio version.
Carney's complete comfort in her abilities, along with the video's natural environment, enhance the session overall. Soft natural light shines in from the windows, illuminating both Carney and the piano she plays, right down to the well-loved keys. In several frames, we see the room Carney sits in–clean, but with signs of life just in frame. Candles, a television just out of frame, house plants on the balcony, the hair tie on Carney's wrist–it all fits aesthetically, but creates a feeling that Carney has invited us into the sanctum with her, personally. If, for some reason, her natural sound doesn't help convince you of that, maybe the cat darting across the frame about two minutes and fifteen seconds in will.
Throughout the video, the focus is on Rosie Carney and what she can do as a musician. Shots from various angles of her striking the piano keys and the piano responding to her touch dominate the video, showing us the bare bones of what Carney is capable of creating. It's stunning in its simplicity, making us wonder why some artists bother to dramatize their acoustic videos to the point of excess. Carney's acoustic session most importantly establishes mastery of her own music. Never once does she misstep or lose control–she simply plays and sings the lyrics, offering this version of her song up to her listeners. It's a measure of how her own confidence has grown since even writing the song. And that's where the beauty of "Awake Me" lies: In Rosie Carney's own ease and comfort in guiding us through her song with her.
— — — —
:: Rosie Carney :: Tour 2017 ::
April 19 – Dublin, Ireland – Futureproof @ Belo Bar
April 27 – Belfast, Northern Ireland – For Emma, Forever Ago – Revisted @ Oh Yeah Centre
April 28 – Inishbofin, Ireland – Inishbofin Arts Festival
April 30 – May 7 – Belfast, NI – Cathedral Quarter Arts Festival – Artist in Residence
May 18-20 – Brighton, UK – The Great Escape Festival
May 21 – Paris, France – Maison Sage w/ Haux
May 23 – Cologne, Germany – Yuka w/ Haux
May 24 – Berlin, Germany, Music & Frieden w/ Haux
May 25 – Belfast, NI – Womens Work Festival
May 30 – Bristol, UK – Louisiana w/ Saint Sister
May 31 – Birmingham, UK – Ort Café w/ Saint Sister
June 2 – Manchester, UK – Gullivers w/ Saint Sister
July 8 – Mitchelstown, Ireland – Clonmel Junction Festival
— — — —
"Awake Me" (Acoustic) – Rosie Carney