Buoyed by the recent dismissal of former figurehead Jann Wenner, and performances by legends including Chaka Khan and Missy Elliott, the Rock and Roll Hall of Fame crackles with a renewed energy in its 38th year.

text and illustrations by guest writer Aidan Moyer
In 1966, an aspiring journalist and rock enthusiast named Jann Wenner set his sights on marrying his two loves into an empire.
At the helm of Rolling Stone magazine, eventually his ego metastasized into the flawed but beautiful institution that is the Rock and Roll Hall of Fame. And in August 2023, he put his foot in his mouth for the last time, claiming that the women and Black artists of the 70s were not as "articulate" as their male counterparts. Within hours, was ousted from the organization.
So how did the first post-Wenner Rock and Roll Hall of Fame ceremony go?
In a star-studded, extremely dense, politically charged four-and-a-half-hour procedural, the Hall was rocked by two women of color in what feels like the beginning of a paradigm shift.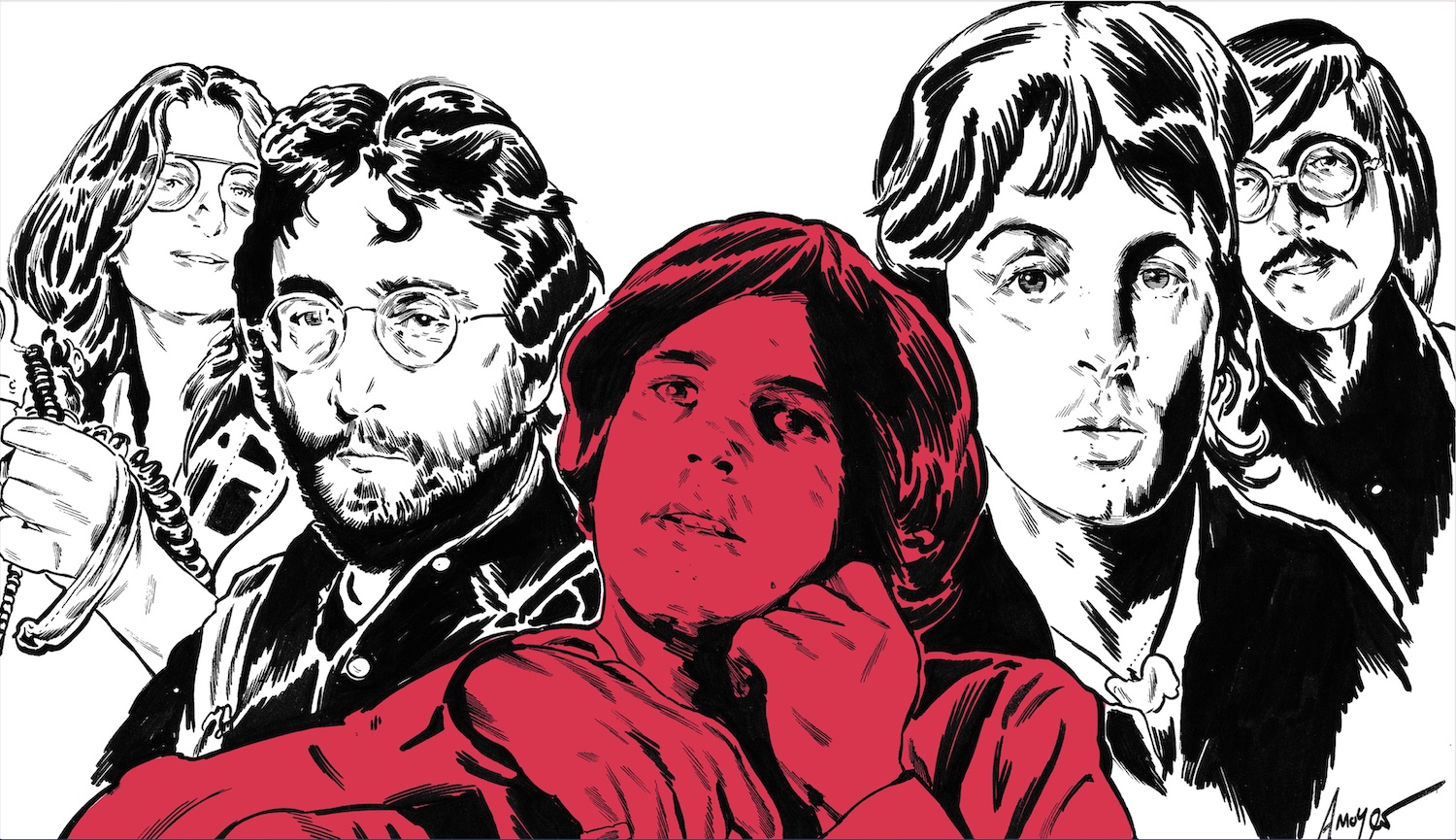 As an amateur rock historian and massive enthusiast of the "Who Cares about the Rock Hall" podcast, I'd been primed for this ceremony for months.
The Rock Hall is the stuff of legend for classic rock-heads, as infamous for its celebrity faux pas as it is for its once-in-a-lifetime reunion performances. Founded in 1986, the Hall has had some inclusivity issues in its delayed acknowledgement of women and artists of color who have pioneered the genre. A brief rundown of some highlights and lowlights:
1988 Mike Love, seething with anger after the Beach Boys induction, claims that the Rolling Stones and Beatles are too "chickenshit" to get onstage with his band.
1993 Mired in legal battles over songwriting royalties, John Fogerty refuses to take the stage with his former Creedence Clearwater Revival bandmates, who are in attendance and expecting to play. Tom Fogerty's widow, Tricia, clutches her husband's ashes in the audience.
2004 In a tribute to the late George Harrison, former Traveling Wilburys Jeff Lynne and Tom Petty are joined by George's son Dhani and, as a surprise guest, Prince. The Purple One plays an extended solo on "While My Guitar Gently Weeps" which could only be described as "facemelting," drastically shifting the tone of the eulogy.
Over the course of four years, hosts Joe Kwaczala, expert, and Kristen Studard, woman of the people, have spun the legends of the Hall and speculated on prospective ballots, vouched for snubbed inductees and interviewed behind-the-scenes former and current Hall staffers. The podcast provided the perfect primer for the in-person ceremony, hosted at the Barclays Center on the evening of November 4th. With my parents in tow, I entered the throng and was delighted to see a crowd of mostly fifty-somethings in their finest; flashes of green leather pants, rhinestone jackets, vintage Wham! t-shirts and full-blown Missy Elliott music video cosplays. As we took to our seats and received complimentary wristbands for a promised "special audience participation," the stadium buzzed with enthusiasm. From the rafters, we could see the star-studded center tables populated by Rock Royalty; Stephen Van Zandt's "Pirate Chic" and Flavor Flav's unmistakable pearlescent suit shone like beacons.
And the legends took to the stage.
If Dave Grohl is the patron saint of 'DadRock,' surely Sheryl Crow is a contender for She-E-O of MomRock.
She began the evening with a rendition of 'If it Makes You Happy,' paired with bona fide rising Gen Z star Olivia Rodrigo. Crow was a massive mainstay of 90s alternative radio, and my parents have followed her career trajectory since her Tuesday Night Music Club debut. My father, who once chased Fleetwood Mac's limo, wailing "I love you, Stevie!," was particularly delighted by the duet between Stevie Nicks and Crow on 'Strong Enough'. It was a very emotional full-circle moment for my family as the songs which once filled our living room echoed through the hall. Peter Framtpon "Came Alive" and provided some deft guitar accompaniment on "Every Day is a Winding Road." Former roommate Laura Dern provided the induction speech, and Crow's acceptance delighted the Gen Xers in our row ("it's true, Sheryl, the kids really DON'T look up from their phones!").
Since the initial inductions of hip-hop artists into the hall, a vocal contingent has pushed back against defying the definition of "rock." However, as the opening speech by Hall Chairman John Sykes affirmed, there is a concerted effort to broaden the scope of "rock" as a general musical term for genre-shaking and trendsetting. No nominee better fit this definition than DJ Cool Herc, who, as an informative video package informed the crowd, became the first hip-hop MC at a Bronx when he extended the breaks of funk records at his sister Cindy Campbell's back-to-school block party fifty years ago. Herc, age 68, was a bit unsteady taking the stage as inductor LL Cool J and his sister grasped his arms, but he seemed humbled to the point of tears as he shouted out forebearers including James Brown. His tears were infectious; it is of paramount importance that Herc received his flowers, in-person, during his lifetime. Half a century of global music is forever indebted to his time at the turntables.
Formerly of the band Rufus, Chaka Khan has been nominated thrice as a solo artist and four additional times with the band.
Her induction this year was in the Musical Excellence category, a nebulous catch-all which can bypass the requisite votes for induction by committee. None of this mattered once she took the stage. Khan's vocals carried tremendous power, resonating as they did nearly half a century ago. Accompanied by guitarist HER on a medley of "I Feel For You/Ain't Nobody/Sweet Thing," Khan commanded the stage and stirred me to attempt the best audience backing vocals I could muster (Ain't nobody/loves me better/makes me happy/makes me feel this way!). Perhaps the sole discordant note was a cameo by SIA for "I'm Every Woman," as the latter's technicolor dress and face-concealing wig provided visibility and mobility problems which proved distracting. However, Jazmine Sullivan's touching speech invoking Chaka reaching out to her family as Sullivan's mother battled cancer, and a cameo by Rufus guitarist Tony Maiden, affirmed what Joni Mitchell said in a highlight reel prepared especially for the evening.
"Chaka is the GOAT!'- Joni Mitchell, 2023
A major inflection point came with the induction of pop icon and songwriter par excellence George Michael. Taylor Hawkins, late drummer for the Foo Fighters, stumped for Michael in 2021, and it cannot be understated how much Michael earned posthumous the distinction. Wham! performed their farewell concert a week after Michael's 24th birthday; his stratospheric Faith fame and an unprecedented legacy as an out gay performer and activist lay before him. In a career montage, Elton John mentions Michael in the same breath as Lennon and McCartney and it wasn't hyperbole. Furthermore, the elusive Andrew Ridgely, the other half of Wham! and Michael's childhood best friend, made a rare public outing to lovingly shout out "the second-most handsome member of Wham!" In light of Michael's tragic passing on Christmas day in 2016, three tribute performers had massive shoes to fill.
Bookended by stellar if understated tributes by a Miguel-Jake Clemons (E Street Band) duo on "Careless Whisper" and a Carrie Underwood rendition of "One More Try," the one true dud of the evening came in the form of Maroon 5 frontman Adam Levine. Clad in a floor-length trench coat and sporting an unplugged electric guitar, Levine neutered "Faith." In a truly head-scratching selection, especially in light of the decades of queer performers in Michael's wake, "serviceable" should not be the word to describe a George Michael tribute at the Rock Hall. Perhaps it is a testament to how trailblazing and inimitable Michael was in the "Faith" era that no tribute could compare.
Bringing the lifeblood back into the evening, a hit-filled video package for Motown Philly legends the Spinners included pre-recorded acceptance speeches from surviving members Henry Farmbrough and John Edwards, both of whom were thankfully in the audience. Tribute performers New Edition brought the vocals and certainly the moves to a rapid-fire medley of "I'll Be Around/Could It Be I'm Falling In Love/ Rubberband Man," as a faux Soul Train dance line rapidly assembled onstage. This seamless  transition is the perfect opportunity to shout-out the technical crew, who managed full-blown shifting production numbers and an unprecedented simulcast on Disney Plus. Apart from some comically low microphone placement and some hilarious teleprompter mishaps, the evening was technically unmarred. As stagehands transformed the stage for the Kate Bush tribute, a brief tribute to Soul Train host Don Cornelius- which highlighted the indelible impact of the show but omitted later personal controversies- signaled a brief bathroom break for some in our row.
The inimitable, enigmatic Kate Bush, fresh off a re-entry into the #1 Billboard Chart position when Stranger Things resurrected "Running up That Hill" last year, would have been a seismic draw for the evening. Bush has rarely performed in the last few decades, and her last shows were in the UK; alas, it was not to be. While St. Vincent delivered a faithful cover of Bush's revitalized hit, the true highlights emerged from inductor and, as it turns out, massive Bush devotee Big Boi of OutKast. Witty and brimming with enthusiasm, he took umbrance with the teleprompter – "yo, what does that… did you go to class?" – and said he felt honored to be "the White House Press Secretary for Kate Bush!"
On the other end of the "Musical Excellence" spectrum, chameleonic session man Al Kooper won the "best history lesson of the night" as the crowd at Barclays learned his fingerprints were all over the hits of the latter 20th century. The organ intro on "Like a Rolling Stone?" Kooper. French Horn on "You Can't Always Get What You Want?' Kooper. Keyboards on George Harrison's "All Those Years Ago," founding vocalist of "Blood Sweat and Tears," the man who discovered Lynyrd Skynrd? Kooper, who graciously accepted via pre-recorded message!
In a surprisingly early shift, perhaps because he is 90 years old, Willie Nelson was inducted, guitar already in hand, around 10:30 PM. Nelson's musical accomplishments are innumerable, his wit unending- "it's my pleasure to be indicted! Er, inducted…"- and in perhaps the shock of the evening, a requisitely stoned Dave Matthews delivered a beautiful, lilting "Ain't it Funny How Time Slips Away" and the most charged political commentary of the night. The stars gathered around their beacon as Chris Stapleton, Sheryl Crow, and Matthews surrounded Nelson to honor his decades of humanitarian efforts and ironclad country classics. As a one-two punch, "Rumble" scribe Link Wray's subsequent induction was underscored by the first public appearance of a guitar hero who hasn't made a public appearance in a decade. After a fakeout pre-recorded clip describing Wray's early influence on his guitar stylings, Jimmy Page shocked the crowd with a note-perfect rumble on his unmistakable double neck guitar. A dazed audience gawked as Elton John gave Page a nod and a smile, two former  teenage session players from England who made it very, very big.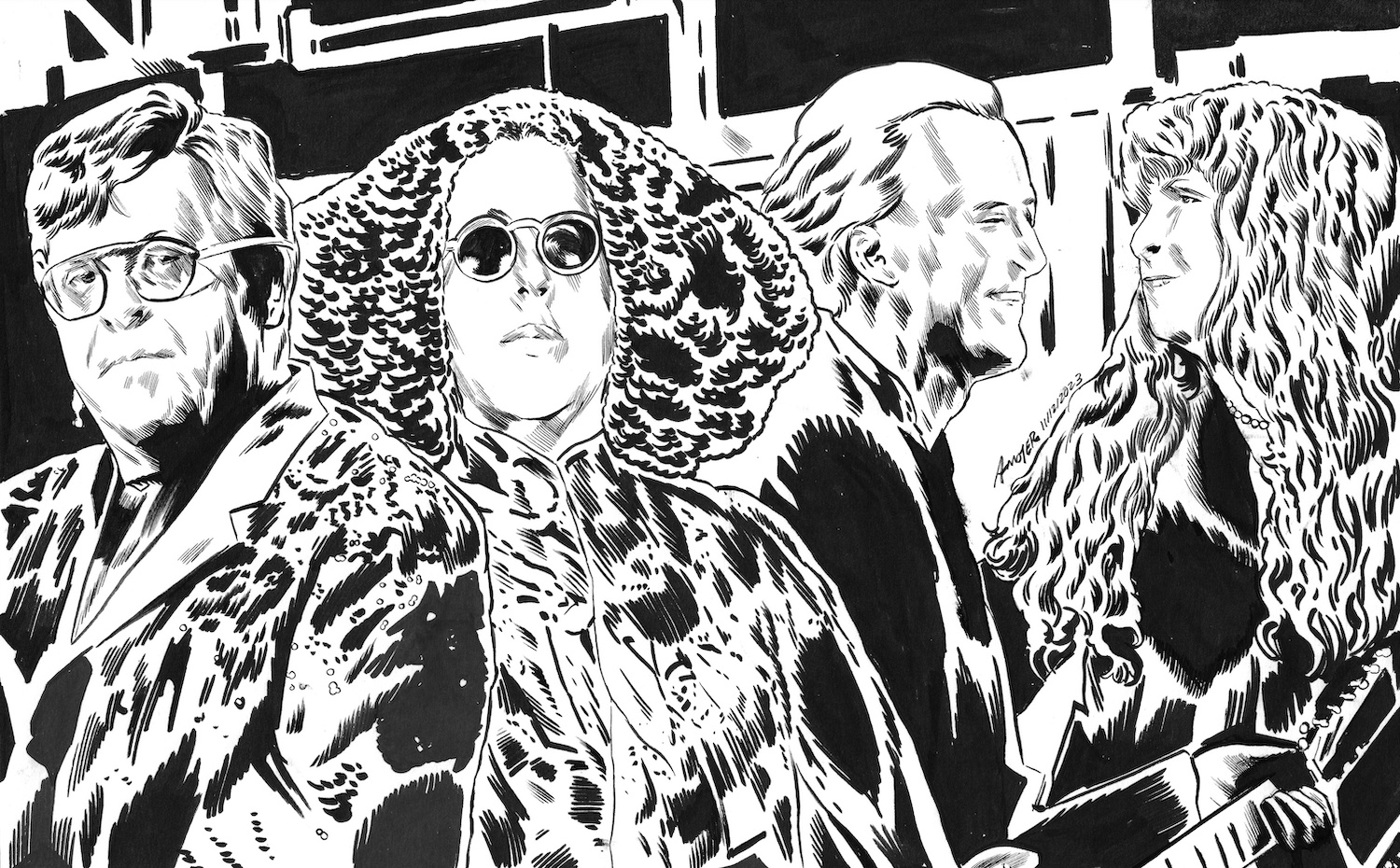 Though John announced his formal retirement from touring earlier this year, there was little doubt in anyone's mind who would induct Bernie Taupin.
John famously handed his 1994 trophy directly to Bernie, saying "this truly belongs to him." To hear a solo rendition of "Tiny Dancer" as Taupin's handwritten lyrics were projected onto a screen instantly made my eyes well, commemorating one of the greatest songwriting duos of the 20th century. Taupin was not to be outdone; his speech provided the only direct callout of Wenner's controversy. "I am honored to be included alongside articulate Black artists and articulate women," Taupin sneered, vindicated in his advocacy for Wenner's removal in an open letter several weeks ago. John returned to the stage for the supergroup "In Memoriam" rendition of "The Weight," honoring Robbie Robertson alongside Stapleton, Crow, and powerhouse Alabama Shakes frontwoman Brittany Howard.
Tension began to cut through the air- Rage Against The Machine had yet to be inducted. As Ice T took the stage, someone in the crowd shouted "f*** Disney!" T laughed, "see, that's rock and roll!" As a video montage lauded Rage's power to move audiences to action in times of political strife, energy surged through the crowd… "F*** you I won't do what you tell me…. F*** you I won't do what you tell me…" yes!! Their time is now!! Come on, fiftysomethings, let's mosh! And…
Tom Morello, clad in a baseball cap, took to the stage solo. "As a band, we disagree about many things… including being here tonight."
Damn.
Morello's speech, diplomatic but firm, urged fans "if you're pissed rage didn't show up tonight, start your own band tomorrow! Follow your conscience instead of your orders!!" The next morning, frontman Zack De La Rocha was protesting in Washington, DC. Despite the divide in member enthusiasm and the absence of what would surely have been non Disney+ friendly antics, one inductee had yet to take the stage.
Our wristbands began to gleam gold. And in just shy of five minutes, Missy Elliott condensed her entire career into one massive medley of "Get Your Freak On/ The Rain/Work It/Lose Control." At this point, the entire stadium erupted and I realized many in attendance were here for this very moment (especially Flavor Flav who rushed to the front of the stage and didn't budge for the rest of the night). Hundreds of dancers took to the stage in the largest-scale production number in Rock Hall history. When the "rump shaking, both ways, make you do a double take" subsided and everyone returned to their seats, Elliott accepted following Queen Latifah's introduction in a tearful speech. Acknowledging the enormity of the moment, Missy Elliott became the first woman hip-hop artist inducted into the rock and roll hall of fame.
Ending the evening on this speech felt like a crucial changing of the tideThis is the hall's direction moving forward, broadening its scope and bringing women of color to the fore.After 38 years, it is shocking what highs of levity, legacy, and earnest tear-wrenching a Rock Hall Ceremony can achieve. Congratulations to the class of 2023 (from left to right):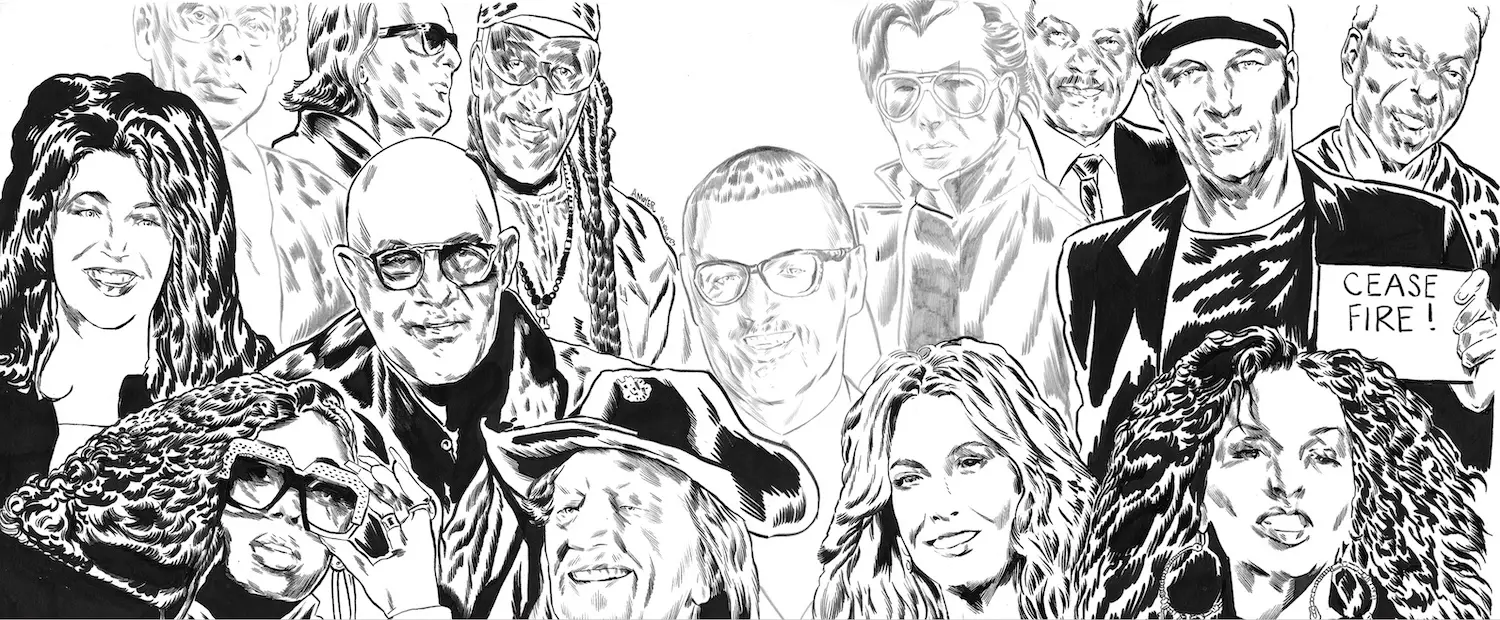 Top Row: Kate Bush, Don Cornelius, Al Kooper, DJ Cool Herc, Link Wray, John Edwards (the Spinners), Tom Morello (Rage Against The Machine), Henry Farmbrough (the Spinners)
Second Row: Missy Elliott, Bernie Taupin, Willie Nelson, George Michael, Sheryl Crow, Chaka Khan
— —
Aidan Moyer is a Philadelphia-based freelance writer, illustrator, comics and music historian, and graduate of Pratt Institute. He spends time in Brooklyn as a backing vocalist and drummer in a garage band, and is currently illustrating a graphic novel history of Paul McCartney and Wings. Illustration Instagram: @mccartneyartist // TikTok: @aidanmoyer // Email: aidanmoyer99@gmail.com
— —
— — — —
 © Aidan Moyer