A radiant record full of lush warmth and cool vulnerability, Snowy Band's sophomore LP 'Alternate Endings' shines with dreamy wonder as existential wanderings and intimate unveilings coalesce with passion and purpose.
Stream: "Call It a Day" – Snow Band
---
Sweeping and vast, subtle and soothing, Snowy Band's sophomore album is a vivid embrace of space, sound, and feeling: A radiant record full of lush warmth and cool vulnerability, Alternate Endings shines with dreamy wonder as existential wanderings and intimate unveilings coalesce with passion and purpose.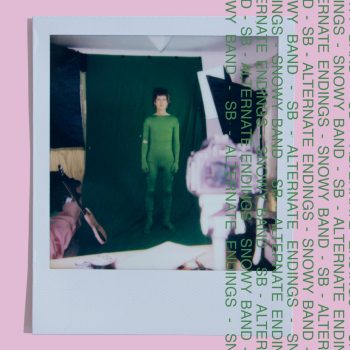 I've got a history that cannot help repeating.
Don't stop to notice inconsistencies.
I would still do whatever you ask me to
But it won't help me land the parts I'm already sleeping on.
I've seen the Air B'n'B where I die in my sleep
'Cause it plays on repeat –
An eternity of deleted scenes.
Swore I would kill for you,
Whatever you ask me to.
I would still do anything,
Just tell me what you want
I would still do whatever you ask me to.
I would still do whatever you want.
– "Whatever You Want," Snowy Band
Released August 27, 2021 via Spunk Records, Alternate Endings is a richly muted musical world unto itself.
The follow-up to Snowy Band's 2020 debut album Audio Commentary is more than just a sophomore effort or the "next in line": True to its name, the record is conceptualized as an alternative finale to its predecessor – albeit one that's 43 minutes long, with eleven stirring, cinematic cuts along the way.
"Our debut album was titled Audio Commentary – which is one half tongue-in-cheek tautology and one half tongue-in-cheek homage to the outdated, novelty bonus feature that came on certain DVDs in their heyday," Snowy Band's principal singer/songwriter Liam "Snowy" Halliwell tells Atwood Magazine. "Alternate Endings continues this Special Features theme. On the surface it's a reference to deleted scenes – considered then discarded endings to a film – but the title fits conceptually with the album. 'Don't Want To See You (Again)', the album's opening track, is a re-recorded version of Audio Commentary's closer, which leads into the album proper – the entire second album is the alternate ending to the first! Thematically also, each individual track across the album speculates on hypothetical futures. There's this push and pull between biting the bullet or kicking the bucket, giving up or giving in, seising the moment or calling it a day. Maybe it never lands anywhere definitive but the alternate realities are at least imagined."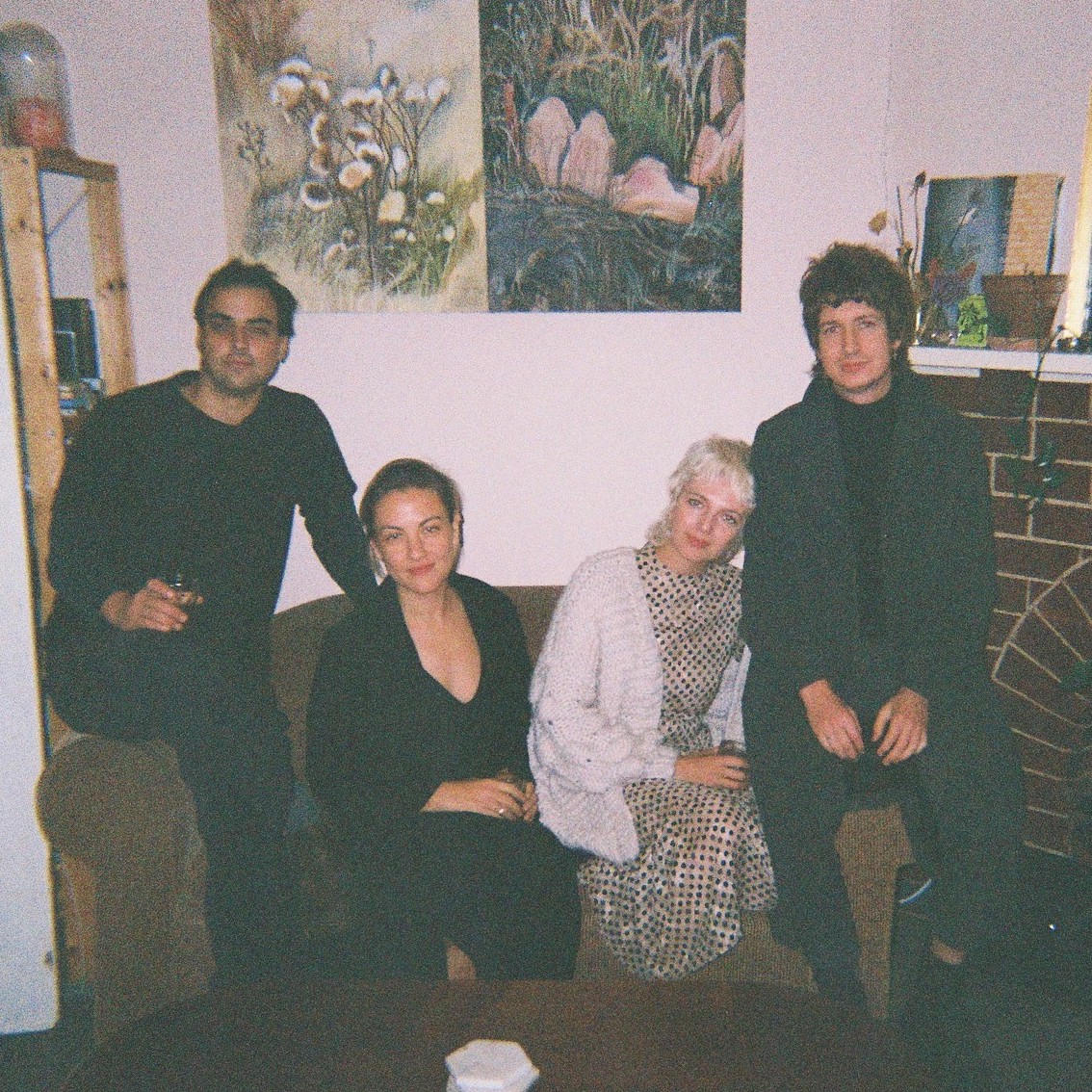 Formed in 2019, Melbourne-based Snowy Band finds musician and songwriter Liam Halliwell (formerly of The Ocean Party and countless other Australian groups over the past decade) collaborating alongside "longtime friends and collaborators" Emma Russack, Nathalie Pavlovic, and Dylan Young. The genreless band's smoldering debut album – a gentle, soft, guitar and saxophone-infused affair – earned them early support and praise from a slew of Australian and British outlets, including NME.
"I'm really proud of our debut album Audio Commentary. I really enjoyed writing and recording it and I still enjoy listening to it," Halliwell says. "I'm really grateful that people have listened to it and occasionally said some really nice things about it. I generally move onto the next thing pretty quickly and once Audio Commentary was out in the world I instantly started thinking about a follow-up. People have said that a second album is the hardest to make (Sophomore Slump, Second Album Syndrome, etc) and I've played in insufferable bands in the past that took years and years before releasing follow-ups (or simply never did) after a very minor degree of success from their debut. Instead of self-importantly trying to make something bigger or better I thought it could be more interesting to try and write the exact same album again, with very little ambition, in direct response to the first. So Alternate Endings ended up being a semi-sequel or a re-boot of Audio Commentary – an alternate version. It has track listing, artwork and instrumentation that's deliberately a mirror image of the original. It was recorded the same way and it even has some of the same songs on it! I suppose that the 'vision' was to see how a year of time passing and a year of growing as a songwriter and as a band would affect the result without trying to make a bigger, bolder or even different artistic statement."
"I have always loved albums that function as a snapshot of a songwriter or a band at a particular time," he adds. "I wouldn't choose to write the same sorts of songs today and I couldn't have two years ago. In that sense it captures my songwriting, but more than that I hope it captures how each member of the band was playing on the day it was recorded. Each member of Snowy Band is an absolute natural who plays and sings effortlessly – it's my perfect band and I feel incredibly lucky to get to play with them. Alternate Endings is something of a snapshot; it's curated recording of songs that I've worked on… but the definitive Snowy Band for me is when we get to play together live. I think as soon as we get a chance to properly play shows again then I would love to make a live album. That would be the perfect introduction to the band and would capture more honestly what we really do."
---
'Alternate Endings' is something of a snapshot; it's curated recording of songs that I've worked on… but the definitive Snowy Band for me is when we get to play together live.
Snowy Band's music is decidedly difficult to categorize: Pop tropes certainly play into Halliwell's songwriting style, but they're not a pop band. Rather, they're some kind of jazz-inflected experimental indie folk chameleon.
Written and recorded while Australia came out of, and then back into its own COVID-19 lockdowns, Alternate Endings is a lot of things – a "Part Two," perhaps; a second effort, surely; but more importantly, it's a more flavorful showcase of all that Snowy Band has to offer. Highlights abound throughout the effort – from soft, filmic tracks like "Whatever You Want" and "Old Man One Day," to irresistibly catchy pop tracks like "Living with Myself" and "Call It a Day," whose earworm hooks and sweet choruses play on repeat long after the music fades.
"At the moment my favourite track to listen back to is 'Bitter Pill,'" Halliwell says in reference to the driving mid-album tune – itself a heated, pulsing number that seems to push and pull us forward. "I like the energy and group vocals and I love the drumming and bass. It's the one that makes me most excited to playas a band again (very soon hopefully)."
As a lyrically forward creative, Halliwell is quick to also cite his favorite lines from this new batch of songs. "The lyrics to 'Call It A Day' are probably my favourite complete song I've written. The verses are taken mostly from notes in my phone that date back to early 2017 that I could never quite find a home for until I started writing this song. It rhymes a little less than some of the others and is more visual and colourful than what I normally write. I like the line "Fell on the buttered side." I don't really see myself as a lyricist, I'm not someone that seeks out good songs and despite some of my own songs coming across as pretty heart-on-your-sleeve type stuff I've always preferred lyrics that are more image-driven than sentimental. This one's my favourite song but I don't think that the lyrics really stand on their own as anything close to resembling good poetry. More than that I think that it's a neat combination of words and music and the band really nail this one, dropping in with backing vocals and drum fills at just the right times to keep the story flowing.
I prayed to God in a parked car.
Woke up to morning and streetlights.
Legs out the window,
the world at my feet
But I missed the little things.
On my side, on the back seat I'm spread thin
Against a lavender sunrise
And a full moon, overfilled, smeared yellow,
Fell on the buttered side.
I miss the small things.
I miss the little wins.
I prayed to God in a car park,
Waiting in the wings.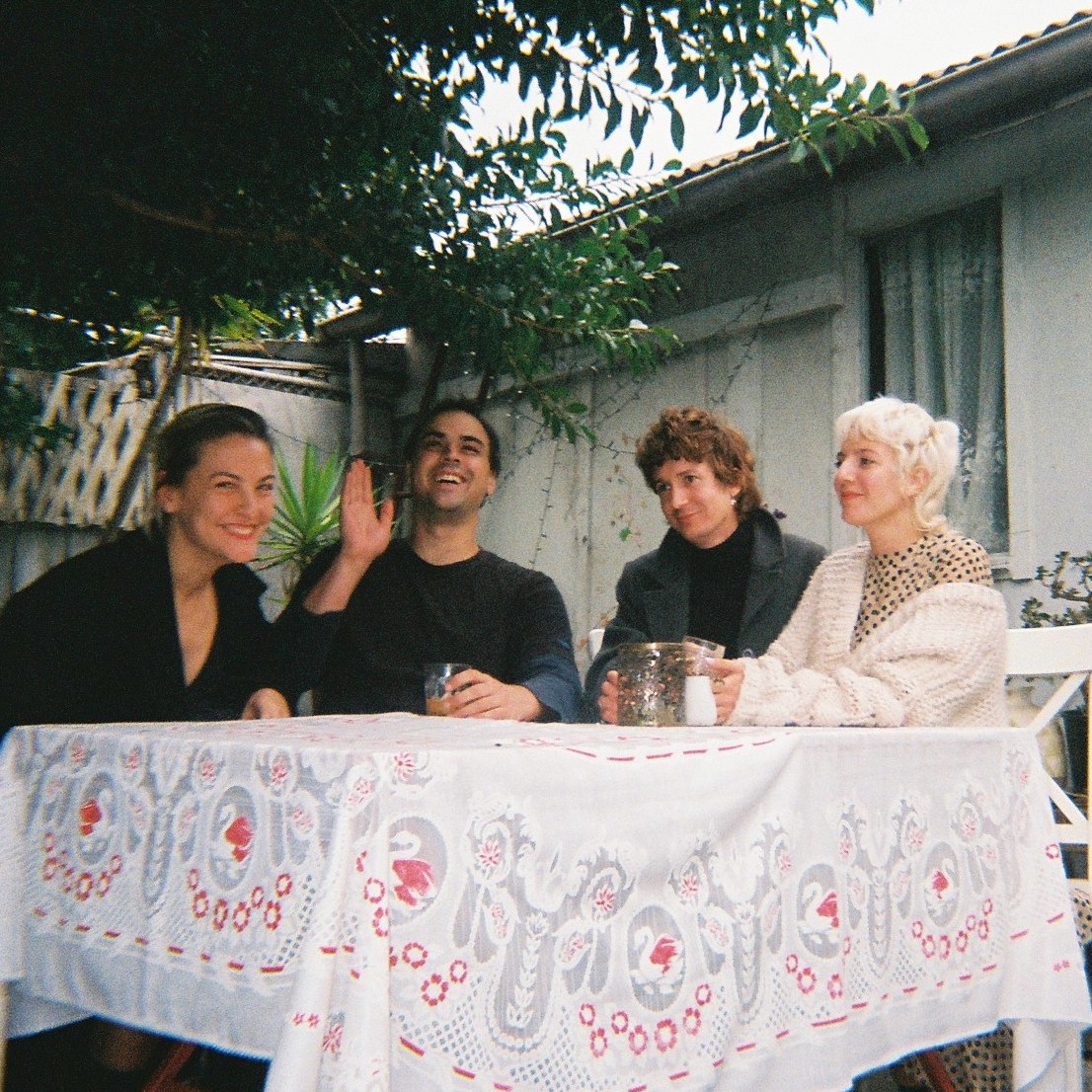 At the end of the day it's just pop music, so it's equal parts functional and abstract.
Embracing a breathtaking, rich spectrum of color and sound, Alternate Endings is a tranquil, tender affair.
Snowy Band are steadily increasing their sonic scope with tasteful flourishes and ambitious, yet overall soothing arrangements that pacify as they inspire, relaxing the mind and body in the process. The band haven't held back this time around, nor have they transformed beyond the pale into anything unrecognizable; rather, they found a way to channel introspection and the intense solitude and isolation of the past year into a wonderful soundtrack of discovery, reflection, joy, doubt, insecurity, and desire. There's a lot to ingest here, but ultimately, it would seem Halliwell and co dove deeper into themselves than ever before on this irresistibly organic album of thoughtful, restful contemplation.
"My favourite way to listen to music is through headphones, maybe on a relaxing walk. I like re-listening to albums and noticing the details that I missed the first time; the instruments mixed low in the background and learning to love the weird and wrong notes. More than taking anything away from creating the album, I just tried to quickly make an album that I could re-listen to and re-discover the happy accidents and idiosyncrasies of settling on a first or second take," Liam Halliwell shares. "All I'm personally taking from it at the moment is the want to be in the same room as the band and playing music together again. I don't have hopes for listeners to take anything specific away from Alternate Endings, at the end of the day it's just pop music so it's equal parts functional and abstract. I'd be equally happy if someone played it loud on headphones, or in the background while they cooked dinner, or used it to score their homemade parkour videos on YouTube."
Let this album be, as Halliwell cheekily puts it, "Whatever you want" it to be for you. The songs you listen to as you get to sleep at night; the ride-along to your busy, bustling workday; perhaps they can even inspire your own inner spark. Experience the full record via our below stream, and peek inside Snow Band's Alternate Endings with Atwood Magazine as Halliwell goes track-by-track through the music and lyrics of their sophomore album!
— —
Stream: 'Alternate Endings' – Snowy Band
:: Inside Alternate Endings ::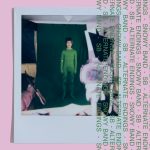 — —
Don't Want To See You (Again)
This is actually the final track of our debut album, re-recorded with different lyrics. Where it once petered out and concluded an album, this time it serves as the launching point for a whole new one. The final (and opening) scene(s) of Back To The Future 1 (and 2) could be a pretty apt comparison. If if you want to get nerdier then think of the PS2 game Metal Gear Solid 2: Sons Of Liberty. I was thinking about the prologue to that game a lot when I started writing this album. An all-time cultural moment for me.
Whatever You Want
The mirroring and twisting of Audio Commentary continues, this one flips track 2 from the previous album – "Love You To Death". Musically, its pretty similar: a single repeated chord progression that keeps the nylon string guitar front and centre. Lyrically it explores themes of unconditional love like its sister song, but in a more universal way that not so subtly implies a darker side.
Living with Myself
I'm never sure what to say about this song, but when it was released the local legend and head of Melbourne label Chapter Music slid into my DMs with this:
Is it about committing to a relationship? In my head it's you saying 'OK I'm ready to commit now, I'm not losing anything by spending all time with you, because you and I are joined, we're the same now'.

that's my interpretation anyways x

glad that you've dealt with your commitment issues and are ready to settle down now snowy x

i feel like i'm hearing variations on that theme across the album
Couldn't have said it better myself. Thanks Guy.
Old Man One Day
The companion piece to 2020's Grown Men (which is a cover of my old friend Jordan's song). This one is a simple meditation on the passing of time and ageing: first ignored, then feared, accepted and eventually embraced as a gift that not all of us are so lucky to have.
The Last Thing
Thematically this track rolls on pretty smoothly from the previous one. Where Old Man One Day is focussed on broad, blurred strokes of meaning and sound  this one zeroes in on the everyday, the day-to-day. It's a love song that grew out of the line which popped into my head first: "…As if it's the last thing that you'll say to me". Is it referencing big fight (even a break-up) and a goodbye forever? Or just popping out of the house for a few hours? Doesn't really matter but I like the gravity the grandiose arrangement gives it regardless. This song was originally an instrumental I gave as a Christmas present to my partner Nathalie.
Bitter Pill
The beginning of Side B of the record kicks off with the exact same notes as Audio Commentary's second half. This song is built around the same chord shapes and rhythmic accents as 2020's Coast Road but never settles into quite the same groove. I wanted to write a song that never really settles into the same even-numbered groupings of beats but somehow carves it's own groove into your ears. Thankfully everyone else in Snowy Band is an amazing musician so it wasn't a problem at all and I reckon this track has the deepest, darkest feel on the whole album. This song is the one moment where I gave myself permission to write and sing with a bit of attitude, spit some fire… even if it's just starting beef with myself.
Never Gonna Leave
This came out first from the new batch of songs I wrote for the album. The first line "Resign my fate/ To clashing dates… etc"  had been kicking around for years and make a secret appearance later on in the album too. It's based around two simple chords that I've used many, many times in lots of different songs. Finally the tension breaks when it gets to the chorus and the chords finally resolve, which hasn't happened for a good 10 minutes or so at this stage… Friend of the band Lyndon Blue elevated this song by recording some great string parts for this song which really hit me in the erogenous zones.
– – –
This untitled track is a repurposing of the final minutes of Audio Commentary. In that instance the original 'Don't Want To See You Again' descended into a very loose, harmonically vague improvised section. It has this magic to me that sounded as if each member of the band playing the same song but somehow saying the same thing in four different languages. This track is an experiment of what it would sound like if that moment was transcribed and the score re-recorded but a quartet of guitar and strings.
If You Need Me To Go
It didn't take long for me to contradict the sentiment of Track 7. "I'm never gonna leave…"* with a footnote: *"unless you want me to". These tracks more than others lean into the loose "Alternate Endings" concept – a direct comparison between different extremes of commitment to the concept of someone or something.
Call It A Day
I wanted to make the most uplifting, positive sounding chorus we could but actually have the sentiment of the lyrics actually be as far from optimistic as possible. This one has a great film clip made by @timeshare.vision – I highly recommend checking it out and the other clips he made for Living With Myself and Whatever You Want too!
Already Left
I like albums that end with a bang as much as I love ones that wind down and close with barely a whimper. If Call It A Day hits home as the grand finale then this track is itself an alternate ending to the album. It's quiet and vague enough that it could just as easily be ignored as taken in. It's an optional ending to the album, if it were a film then this is the end credits. Having said that, it's one of my favourites on the album.
— —
— — — —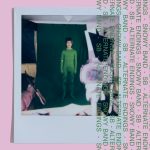 ? © 2021
:: Stream Snowy Band ::
---