Pulsing with dark indie pop power, RXC's intimate "Higher" is an explosion of turbulent energy driven by raw emotion and conflict.
— —
I was fragile like a flower, now i'm fragile like a bomb
Life is not always black and white: As RXC depicts in her latest single, there's a massive gray area where good and bad coexist, intermingling with one another. Pulsing with dark indie pop power, RXC's intimate "Higher" is an explosion of turbulent energy driven by raw emotion and conflict.
I wrap myself up in you like you're cashmere
You to me you're cocaine, to the moon and back again
There's a minute, lifetime and a timezone just to be alone
And i'm awake through the days and the nights now
They're a mess like my hair, and the bed, I don't care
Now my bodies beating quicker
with the heat from all the alcohol
Listen: "Higher" – RXC
---
Atwood Magazine is proud to be premiering "Higher," RXC's second single of 2018. An emerging artist on our radar for some time now, Bristol-based 23-year-old RXC caught our ears early last year with her song "Sleep," which we described as "a fever dream of epic proportions, a dark lament for a life and love left behind as the artist keeps her head forward and braced for impact."
RXC has released quite a few singles since "Sleep," each one featuring a slightly new blend of electronic immersion and indie pop balladry. It was only a matter of time until a song like "Higher" arrived: The bustling song is as dramatic as it is catchy, a perfect blend of musical emotion that radiates a cool blend of restraint and desire.
And I've been sinning
I've been praying
I've been hoping that one day you'll come
and call me when i'm half awake
and kick my front door in and say you're home
Ethereal and ecstatic, "Higher" builds out of a longing to reach some unattainable apex. "'Higher' is about reaching the peak and realising you're not getting any closer to the feeling you're reaching for," RXC tells Atwood Magazine. "Maybe the drugs have worn off or the love's worn out; we're not getting any higher. Alternatively, its about being so captivated by somebody that there's nowhere left to go as it's already this feeling of total euphoria. It's vulnerable, but it's saying, yes life is busy, and yes it is fast, but we are still the same no matter how many months disappear. I initially wrote the song after waking up to a drunk text I had sent, but it was one of those I never apologised for as it was probably everything I had wanted to say. It ruined quite a lot and it hurt a lot, but I was longing for something and I realised I had to look after myself now. It's me accepting that on the surface things have changed, but underneath it all they're still the same and that glimmer of hope is still burning."
Fueled by mesmerizing, trilly synths and a driving drum kit, RXC busts out of her funk in a dynamic and memorable chorus. As dark as her soundscape is, the words prove incredibly fun to sing along with:
And I wanna drive so fast
Get away for a minute
To catch my breath
Cos you're there like a vision
and I don't think we're getting any higher now
I don't think we're getting any closer now
All this noise
In the walls, in the pillow
is sinking in like the way the chemicals
Make me feel better till the feeling drops
Make me feel better till the music stops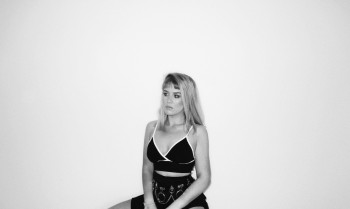 RXC explains, "Musically, I wanted to create a soundscape that was still confident, but caught you in the pit of your stomach. I didn't really think too much about it as I wanted the song to stand up on it's own and create a feeling. I kept the choruses quite high to represent the elation but I actually left the vocals that were initially just a demo take as I wanted the initial vulnerability to stay present and strong, and I felt maybe a load of vocal comps wasn't going to support that. I think people always expect too much of a perfect, shiny vocal take but i'm not about that. To me, the imperfections and grit make a vocal. I sampled mine a lot on this song which created a lot of the embellishments and weird sounds that add to the darkness so it may sound like the production is bigger than usual, but it's still all RXC."
With an evocative voice full of warmth and an equally strong lyrical skills, RXC is a need-to-know artist who just keeps getting better and better. "Higher" is the kind of song that takes you into yourself; you don't need to know what the track is about, in order to understand it. We can each find our own meaning in the song's passionate turmoil – and ultimately, it's that flexibility and universality that takes us higher.
I dress myself up in gold and I paint it
The city that we both love, you say I left you speechless
I was fragile like a flower, now I'm fragile like a bomb
And i'll always be your narcotic
I'm the calm to the storm, then the party til the dawn
Cos my mother-f****** girl powers never gonna win this one
Stream RXC's new single exclusively on Atwood Magazine: "Higher" is out on all platforms this Friday, 8 June 2018!
— — — —
? © 2018
:: Stream RXC ::