Vulnerable, visceral, and brimming with raw emotion, Roan Yellowthorn's sophomore LP 'Another Life' charts an intimate journey of healing and self-empowerment through beautiful reckonings – each one more dreamy and heartfelt than the last.
Stream: 'Another Life' – Roan Yellowthorn
---
For well over a year, Jackie McLean of the indie band Roan Yellowthorn has been granting Atwood Magazine's readers an inside look at the making, from start to finish, of her sophomore album. The weekly column, Breaking the Record, was initially conceived as a 10- or 15- part series – but due to a variety of setbacks and hurdles caused by the COVID-19 pandemic, the column has now spanned 60 articles over 15 months. Beyond documenting an album's writing, recording, and release process, Breaking the Record has evolved to track, in real-time, the an independent artist's journey through an unsettling period of challenge and widespread change. It's become an intimate diary; a vivid archive; and a special catalog, out of which we now find ourselves with not one, but two albums' worth of material – and a powerful story of inner reckoning, reflection, and self-discovery.
Atwood Magazine is proud to be premiering Roan Yellowthorn's long-awaited sophomore album Another Life, out May 14, 2021 via Blue Elan Records. Produced by John Agnello (Kurt Vile, Waxahatchee, Alvvays), Another Life finds the New York-based, self-proclaimed "confessional indie rock" duo of singer/songwriter Jackie McLean and multi-instrumentalist Shawn Strack dwelling in what they describe as "daydreams filled with dark confessions, self-awareness, and a tinge of fantasy that dares to imagine what it might be like to live "another life.'"
Coming three long years after the pair's debut Indigo, the record also arrives nearly a year after Roan Yellowthorn's unanticipated, yet utterly delightful covers album Rediscovered released last July.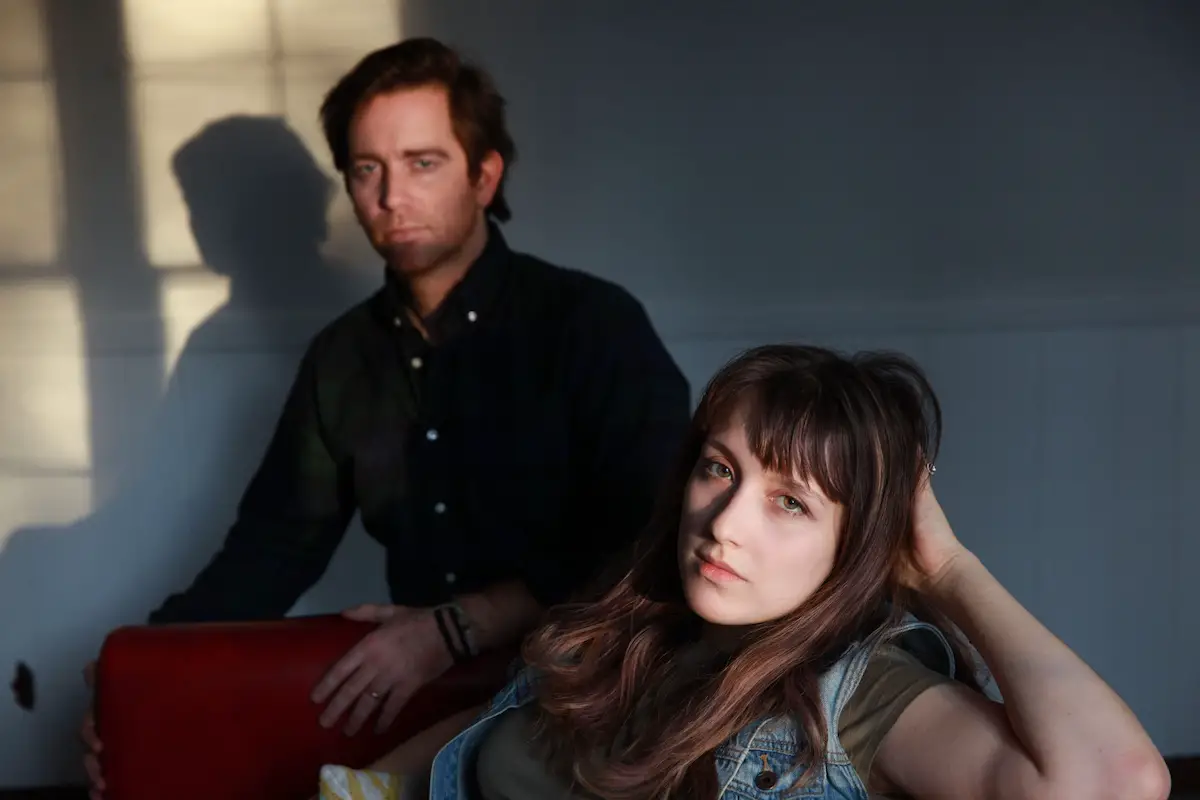 Vulnerable, visceral, and brimming with raw emotion, Another Life charts Jackie McLean's intimate journey of healing and self-empowerment through beautiful reckonings – each one more dreamy and heartfelt than the last.
Buoyant indie pop immerses the senses as McLean delves in the utter depths of herself, bringing to life a childhood whose "frequent mental and emotional abuse," which continued into her young adulthood, led to debilitating OCD by age 7 and an eating disorder at 13.
"When you're subjected to mental and emotional abuse, just hearing that person's name can make your heart pound and body start sweating," McLean says. "Psychological warfare. Mind games. Coercive control. Harassment. These elements of fear-based control can make you feel like you have no freedom and like your life is not your own."
Considering the pain that inspired it, Another Life is exceptionally tender, comforting, and tranquilizing. McLean's soul-searching lyricism looks not for vengeance, but for understanding, closure, and catharsis – and while she could definitively answer one way or another, Another Life certainly seems to find some semblance of peace within its folds. Most importantly, the album learns to look forward as Roan Yellowthorn use music to embrace, confront, and ultimately overcome their scars.
This journey begins on a high in the upbeat "Acid Trip," a rollicking and colorful groove that McLean previously described as a self-contained world of impressions and feelings. "I took notice of the feeling I was having – and watched myself feel it. It was the feeling of freedom that I always get when I travel alone. The feeling of possibility and excitement. And I noticed the impressions that passed in front of me as I looked through the windshield – feelings and colors and memories. Emotions. All in a swirl that felt bright and intense and saturated with meaning and significance."
Always thought i wasn't good enough
Cause nothings good enough for you
I tried to tell you what i was feeling
But you didn't want me to
There's a door I've been holding open
Even when my friends told me to let it go
There's a hope that I've been holding onto
In the face of everything you've shown
Yesterday I let it go
When you know you know
I've always had these strong emotions
like a compass inside my head
It'll tell me where I'm going
If i listen to what it says
I've tried all kinds of self-destruction
just to deaden that compass's glow
There's a lot that its been trying to tell me
that i wasn't ready to know
Yesterday I let it show
When you know you know
Out of this dazzling grows a record of depth and charisma. Prerelease singles like the achingly evocative, poetic song portrait "Stranger" and the warm and wistful "Little Love" remain early album highlights, but deeper one dives into music, the more the music gives back. Of particular note is the stunningly bittersweet "Bloodline," a dramatic overhaul of the self that juxtaposes uncompromisingly dark and brooding self-reflections with upbeat, bouncy pop melodies. Roan Yellowthorn stop us in their tracks as they plunge headfirst into an emotional, personal abyss:
I haven't felt this bad in a long time
Nothing numbs the pain
Everywhere I run to it comes back again
Haven't felt this sad in a long time
Feel a little insane
All my friends they tell me it's in my brain
I'm fucked in the head, I've always been
Everyone in my family pretty much is
I try to be happy but I'm not fine
Something's there in my bloodline
Something's there in my bloodline
Past the rich, expressive harmonies of title track "Another Life" and the storm of "Bad Things," Roan Yellowthorn conclude with the stirringly sweet, raw reflection "Mother" – and with this calming rush of melancholy repose, Another Life finds its serenity.
I grew up in the woods by an ocean
My brother and my dog were my best friends
I knew the rhythm and the motion
Of the seasons as they flowed through my hands
There were things I took for granted
The butterflies and the bees
No matter what I was feeling
They were always there for me
They were always there for me
Through the years I became more disconnected
From the waters ebb and flow
Always felt a hidden emotion
That was threatening to show..
It pained me to be far from the river
It pained me to be far from the trees
In the woods I never felt lonely
They were always there for me…
All the chemicals they're pouring now
All the pesticides they spray
Oh, my beautiful beautiful mother
Wasn't meant to be treated this way
Oh my beautiful beautiful mother
She isn't meant to be treated this way
Jackie McLean poured herself into Another Life, and now Roan Yellowthorn present those eleven songs to the world as a moving soundtrack to healing and renewal.
Dive deeper into Roan Yellowthorn's sophomore LP in our interview below, and stream Another Life exclusively on Atwood Magazine!
Another Life is out May 14, 2021 via Blue Elan Records.
— —
Stream: 'Another Life' – Roan Yellowthorn
A CONVERSATION WITH ROAN YELLOWTHORN
Atwood Magazine: Jackie, you've been writing Breaking the Record with Atwood for over a year now! Upon reflection, how has this experience affected you, and what have you been able to take out of it?
Roan Yellowthorn: Hi Mitch! Wow. It's hard to believe it's already been over a year. Incredible. I can't overstate how much of a gift it's been to have this space and platform. It feels like such a safe space for me to really express myself and talk about things that matter to me. Social media is fine but it's generally not a place where you can really write a lot. I feel that I'm a writer at heart and I have a real appreciation for long form content. Being able to have this place where I can write as much as I want about something and really go in depth has helped me feel like I have a true landing spot. And it's definitely helped me to hone my own voice and become a better writer.
We never expected our Breaking the Record series to run this long, but I'm honored that it has. One of the reasons for that was the delay of your studio album. Instead, you released Rediscovered last year. What was that experience like?
Roan Yellowthorn: I'm honored, too. Isn't it funny, I pitched this idea to you initially as maybe a 10-part series and we are well over 50 parts now. It's been a very positive part of a very long lockdown and a silver lining to the disappointment of having to delay my album release for almost a year. Having this column has given me structure and writing it every week is always something to look forward to. It's helped to break up the long fog of days that have the tendency to run into one another. It's definitely helped my overall mental health.
Recording 'Rediscovered' was a joy in every way. It was a joy to choose songs that I loved, songs that felt really special to me, and to be able to choose anything I wanted. It was a joy to have that freedom. There were no restrictions in place – I was able to pick and choose from all eras and genres. It was a joy to go to LA and record. We took two separate trips and did the songs in two batches. Initially, it was supposed to be just one or two cover songs and then, by the end of the first trip, we were all like 'we have to make this into an album.' The people we worked with to record these songs made the experience so special. We had the most wonderful team of musicians. The best producers. Our friend Kirk, who is the founder of our label, oversaw the whole thing and came up with lots of great ideas. The whole vibe was just so joyful and fun and creative. It was a unique experience and, because of that, the record is really special to me. I love how all of the songs turned out. And I love that, when I listen to them, I'm reminded of the beauty of the time we had together, making them come to life.
It was also really fun to make the artwork for the album. The physical version has a pull-out poster and lots of original art. I think it goes with the theme of handmade with care – because that album really was. Putting out the album was great. It was wonderful to be able to share it and also really nice to have something to release while waiting for my studio album to come out.
How does recording covers with the intent to release them change your relationship with those original songs?
Roan Yellowthorn: I love music. I love listening to music and I love singing. Some songs just hit you a certain way, emotionally, whether it's because of the sound of the melody or the content of the lyrics or the memory that you associate with it. When I love a song, it's because I have an emotional connection to it. And, for me, singing is such an emotional and creative act. When I sing, I really put my soul into what I'm singing. So being able to embody songs that really mean something to me and being able to give something of myself to them – it almost feels like a collaboration with the music, itself. It's so rewarding. I love the process of making covers. Releasing them is almost a separate experience. When it comes to covers, I really do them for myself. It's a process I enjoy so much. Knowing that other people are listening is pretty much a bonus.
Now, we're in the run-up to your long-anticipated sophomore album. Do you feel like the end product is different than it would have been, had this pandemic not happened?
Roan Yellowthorn: Finally, it's approaching! Luckily, we were able to get all the recording done before any of the lockdowns so the album has been complete since right before the pandemic started. In a technical sense, the songs aren't different than they would be. But I do think that the end product is different in the sense that the long wait has only intensified my hopes for the album's reception. And the break gave me some time to get my ducks in a row, as far as release plans and everything like that. There are so many unknowns always when releasing music and this situation makes things even more unpredictable. But I like to think that the extra time helped me set the record up for success, as much as I could. I really want people to hear it. It's so important to me. It feels like an offering. And I want to see it be received.
Can you talk about this change from the album's vision and conception to the end product?
Roan Yellowthorn: It's funny because, even with the long wait at the center of everything, I feel like the process from start to present has been really pretty linear. Part of that is thanks to the people I've had the privilege to work with this time around. Our producer John Agnello, our project manager Mary Jurey, our PR team at Lucky Bird, our editor Dee Galipeau, our video director Jake Bradbury, our social media guru Theresa Lopez. Everyone really knows what they're doing. And I feel comfortable doing my part and knowing that other aspects are in safe hands. Recording the album was as smooth as it could have been. Our collaborators, Emil Amos, Jesske Hume, Andy Burton, and Mary Lattimore along with our engineer Jeremy Delaney, all are masters of their craft. I just got to watch something be created around me. Like Wendy in her little Neverland house. It just suddenly was there.
And John is the best of the best in every way. So the creation of the album was so smooth. And then the execution of the release has been as smooth as could be, as well. Everything is just moving along. One thing that might not have happened in an alternate timeline was the black and white aesthetic of the artwork and press assets. My mom is a professional photographer and I grew up being photographed by her. When I was a kid, she really focused on black and white portraiture. She came to visit me in November and took about 400 photos of me. We drew from those for all of the album artwork and press photos and that really informed the feel of the final product. It was also an added element of loveliness to have my mom be involved, especially considering how personal and intimate this whole album is to me.
Why title your album Another Life? What is the relationship between this title and the songs within?
Roan Yellowthorn: "Another Life" was a song that I wrote really early on in the process, before most of the other songs on the album. For me it really encapsulated a feeling that I live with – a near constant feeling of longing. Longing for the past, for a future I can imagine, or for alternate realities in which I live another life. I think that, at its core, it comes from a tendency to dissociate. Difficulty living in my actual life. It's the source of a lot of pain and, at the same time, it's a coping mechanism for pain.
Early on in the writing process, I went to an aquarium with my family and we saw a jellyfish tank that held these creatures that are immortal jellyfish. They rebirth themselves when they come to what would otherwise be the end of their lives. The imagery of that hit me really hard. And it brought together the theme of the album – the idea that another life can also be a kind of rebirth.
"I'm Enough" remains a stirring, deeply personal and intimate release. How did writing that song affect you?
Roan Yellowthorn: I really loved writing that song. It started as an assignment from a friend, to write a sequel to the Kasey Chambers song, 'Not Pretty Enough.' I really didn't expect it to become as personal a song as it ended up being. The initial idea was to imagine the character in the original song as she might be once she'd grown into herself and gained confidence and then to write from her perspective. Through the process, I kind of tapped into an imaginary version of myself who had evolved to a place of confidence and self-assuredness. It allowed me to visualize how that would be and how it would feel. And it turned out to be a really honest and intimate song – kind of like having a conversation with an older version of myself. I really like singing 'I'm Enough' because it gives me a sense of confidence. It feels like a reminder that I can be my own cheerleader and my own friend. That I've been through a lot and am capable and strong. And I hope that, when other people hear it, they feel reminded of their own power and strength.
You've already made a statement this year between "Daisy Jane," "Little Love," and now "Vampire" – which have essentially helped jumpstart this year's lead-up to the album. How do you feel these songs capture the essence of who Roan Yellowthorn is?
Roan Yellowthorn: Roan Yellowthorn is me. And, in a lot of ways, I'm still figuring her out. As I grow and develop as a person, Roan Yellowthorn evolves, too. I created the name so that I could feel free and safe to create whatever I wanted, whatever felt most urgent and authentic and real to me. A safe space. It's become a way for me to discover and define who I am as a person, since it's kind of an alter ego to me as an individual. There are no limits or definitions on who that is except for what feels right. And I love that. I love to have that creative freedom. I love to experiment. And I love being able to do different things that are all connected and part of the same universe. I think that, the more that I create, the more defined Roan Yellowthorn will become. I'm curious to see how that will evolve. It's like an external projection of the part of myself that's very much essential and internal. It's interesting to see it outside of myself, like a twin made of music.
You open the album with "Acid Trip." How did this song come about?
Roan Yellowthorn: I started writing this song with the first line. Putting one thought down in words. And I wove that together with this feeling I'd been having about how intense and overwhelming life can be. How everyday life can feel psychedelic. It turned into an exploration of the macro and the micro experience of being alive – the specific and the broad – and what that can feel like.
"Little Love" soars with its own light. Can you share more about the experience that inspired it, and what that represents for you today?
Roan Yellowthorn: Thank you. I had an abortion when I was 20 and thought about it a lot afterwards but never really felt able to write about it in a song until I wrote 'Little Love.' The time in my life was tumultuous. And the feelings were really intense and consuming. It wasn't the termination of the pregnancy, itself, that was so difficult to write about. It was really the termination of the relationship that surrounded it. I think that, the more intense an experience is, the longer it takes to be able to confront it objectively enough to write about it. It took me 10 years to write this song. But it captures everything I wanted to convey – the feelings of love and hope that marked the relationship, and the way those feelings were mirrored and distorted by the reality of what our lives and situations would allow. I meditated for a long time on the memories of that time period and the feelings that they evoked. It felt like time travel. And 'Little Love' is what came out.
Your single, "Vampire" is about "a human figure who has the ability to drain the physical and emotional energy of their prey." Why was this topic compelling to you?
Roan Yellowthorn: I've had experience with this kind of figure. It wasn't something I was able to write about until I started writing the songs for this album and the writing process was really cathartic and healing in its own way. When you have an experience that's hard to categorize or integrate into your own psyche, being able to compare it to something that exists in the realm of shared consciousness really helps to understand it. In this case, I started writing and the whole song became about a vampire. I realized through the writing that there were so many elements of the traditional vampire trope that applied to my situation and experiences. It was an easy song to write in the sense that it flowed out. It was a difficult song to write because I had to put myself in a place that felt dangerous – where I was reliving trauma. I like to say that, when the thoughts are clear, the words will follow (quote borrowed from Cato the Elder). In this case, my thoughts were very clear.
The full-circle element of it is that the process of writing about my experiences with a vampiric figure is what propelled me to write about it, explicitly, in one of my Atwood column installments. That experience was one of the most frightening of my life and also the most freeing. I'll always be grateful to you, Mitch, and to Atwood for the space and opportunity to do that. It's been life-changing for me in many ways.
"Vampire" is also compelling from a sonic standpoint – it's particularly raw and visceral in its display of feeling. Can you talk about the process of capturing this energy in your music?
Roan Yellowthorn: Thank you. I am very much inspired by images and emotions. I meditate on images and feelings when I write and I believe that my writing is an extension of that. It's a pretty direct relationship for me. In this case, there was only so much I could do to flesh out the sound on my own, although the lyrics and melody were a good start. But I had a strong impression of what I wanted the song to sound like, once it was produced. The closest thing I could think of was a True Blood vibe – the dark, ominous feeling and sound. This is where I felt really lucky to be able to work with John Agnello. I was able to convey this idea to him and he, along with the group of musicians we had working with us, were able to bring the sound to life and really encase the song in the layers of sound that it needed to be in to be truly complete.
How do you feel the "Vampire" music video changes and adds to the experience of the song?
Roan Yellowthorn: With our label, we were only supposed to make one video. That's the video for Acid Trip. All of the other videos we made were kind of self-directed. In this case, I worked with a friend to come up with a concept. We wanted to make it reminiscent of horror movies from the 90's, like 'Scream.' We also drew inspiration from Nosferatu and the book Dracula. It ended up being kind of a mishmash of vampire-inspired cultural material. I think it worked. I liked the idea of me being alone at home, kind of just chilling out in an analog way, and being hunted by something supernatural. That's a pretty classic movie concept that never really gets old. It's scary no matter how you portray it. And it's a little bit campy and playful.
How has Roan Yellowthorn's sound has evolved over the past three years?
Roan Yellowthorn: I like this question. At the center, the emotion has always remained constant. I feel like I can experiment with production and song structure because the kernel at the center never really changes. It's always my feelings. I do think that my songwriting has become more free – I'm loosening up on ideas I started with about structure. In this album, some songs have a refrain instead of a chorus. Some don't have a bridge. It's kind of a situation I think where I'm really aware of the constraints and have operated within them for a long time and so now I feel a little more comfortable deviating from them.
The other thing is the production. Production really matters. You can have a great song and, if it's produced badly, it's going to be bad. The opposite is probably also true. In our case, this is the first album of original material we've done with a really professional and A-game producer. And I can't overstate what a difference that's made in the sound quality of the final product and in the ease and enjoyability of the process. It's just a real joy to work with people who really know what they're doing. It allows me, who doesn't know how to produce at all, to hand that part over. I can do my part, which I'm confident that I do well, and leave the other elements to the people who can do those with a high degree of competence and care. It's really a relief. It's allowed our sound to become fully realized and reach an entirely new level.
When people think of your band Roan Yellowthorn, what do you hope they associate it with?
Roan Yellowthorn: I hope they associate something unique and intangible. I think that the best bands and musicians have something about them that can't be defined but that makes them stand out in their own way. It's almost like a certain flavor or image or color. It's something that makes them special. I want our music to feel special to people. I want it to hit them in a way that feels new. That's the amazing thing about art and music – you can listen to a hundred different songs by a hundred different people and each one will activate something different inside of you. I want our songs to be loved. I want them to be remembered. I want them to help people to feel seen and less alone. I want someone to be able to drive down the road in their car with the windows down and sing along to our music and feel something. To feel inspired in their own lives. Music, for me, is a way to connect – to myself and to other people. So I really hope it helps people feel more connected – maybe to the songs, maybe to others, but, ultimately, to themselves.
Who have you been listening to this year, that you would recommend to our readers?
Roan Yellowthorn: To be honest with you, I like to listen to the same things over and over again. So most of what I've been listening to is probably old news. I always love ABBA. I recently got the soundtrack for 'A Mighty Wind' on vinyl. I think the music that comes from all of the Christopher Guest movies, especially this one, is really just amazing. I don't know how it's able to toe the line of parody and sincerity so flawlessly. But it does. And it's pretty amazing. I also have been listening to Parker Millsap's new album, which I got to sing on, and Azure Ray's new release. I've been a fan of Maria Taylor for a long time and keep coming back to her. Aside from that, I like podcasts. This American Life is my old standby and Smartless is one that Shawn introduced me to.
Ok fine, I've also been listening to Phoebe Bridgers and Taylor Swift.
Lastly, what's next for Breaking the Record – where do you see yourself and your column going from here?
Roan Yellowthorn: I would love to keep doing this column. It's such a joy. I can imagine it turning into a space to talk with other artists about their journeys. I can never get enough of learning about what other people in the music space do and how they're doing it. No two stories are the same. And I love learning about what brought people to this path and, more importantly, what sustains them to allow them to stay.
As for me, I would just like to keep doing what I'm doing. And maybe make more time to rest and read because I'm pretty much always stressed and tired.
What, if anything, do you think your personal biggest takeaway is from this column?
Roan Yellowthorn: It's truly given me so much confidence. To feel like I have a place that's mine, where I can write about anything I want, has been such a gift. It's helped me to remember the importance of writing as a tool to organize thoughts and feelings. And it's helped me to realize that my voice matters and can be heard. It has also helped me to feel more connected to others, which is something that I continually seek. It's been one of the highlights of my artistic life. I can say that honestly. And I hope that it's added something to the people who have been part of the journey.
— —
— — — —
? © Patrisha McLean
:: Breaking the Record ::
---