Raye Zaragoza is an artist on a mission, and her latest single "Fight Like A Girl" is helping her to change the world one song at a time.
— —
Singer-songwriter Raye Zaragoza is an award-winning artist championing impactful causes. She's famously known for her song "In The River" which was written in response to the construction of the Dakota Access Pipeline. The poignant track reached half a million video views and garnered national media coverage.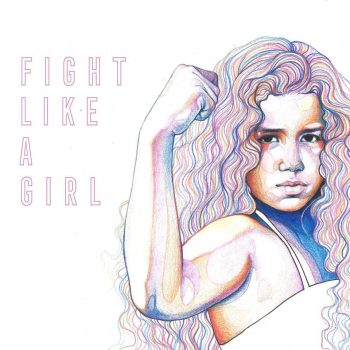 It not only made a name for Zaragoza but also pushed this important issue to the forefront. Now she is shedding light on a topic that's been examined throughout history, but still prevalent in society today. "Fight Like A Girl" is a profound look at equality for women and what defines feminism. Her kindness and compassion for women of all backgrounds radiate throughout the track, creating an anthem of inclusivity. From her stunning folk voice to her colorful instrumentation, the song soars with determined grace.
Being from a multi-cultural background, Zaragoza has faced some adversity in life. It is because of this, she strongly voices her beliefs and is an advocate for change. Battling for justice and equality, Zaragoza is a true warrior and even has a song title as such. It's that inspiring track to other impassioned releases such as "American Dream" that have gained her a large group of loyal fans who appreciate her direct and empowering messages. 
Atwood Magazine interviewed Raye Zaragoza, discussing her inspiring new single, social activism, and how she connects in an uncertain world!
Listen: "Fight Like A Girl" – Raye Zaragoza
A CONVERSATION WITH RAYE ZARAGOZA
Atwood Magazine: Your new single "Fight Like A Girl" is an inspiring anthem of strength for every identifying female out there. What motivated you to create such an empowering track of resilience?
Raye Zaragoza: I wrote this song because I wanted to write an anthem with marginalized women at the center. The voices of women of color have not historically been at the forefront of feminism, and I think 2020 is an important time to change that. I wrote this song around the time that I met Deb Haaland, one of the two first Native American women in congress.
It's women like her that remind me that women are capable of anything. I also interviewed a bunch of young girls recently about what it means to them to "fight like a girl." Pretty much all of them had something positive to say. I'm excited to reclaim the term "fight like a girl" as a good thing rather than what it meant on the playground when I was a kid.
"Fight Like A Girl" was produced by the incredible Tucker Martine (The Decemberists, Modest Mouse, Camera Obscura). What was your experience like working with him?
Raye Zaragoza: Working with Tucker was an absolute dream. I can't even imagine how, but it exceeded my expectations. I've been a Blind Pilot fan for a while and made a pact with myself about 5 years ago that I would work with Tucker Martine one day. It's really wild to have seen that dream come true, and now get to release a Tucker Martine record into the world! Tucker is one of the most creative people I've ever met in my life. I call him a wizard. He understood my songs on a deep level and really brought them to life.
You are often in the studio recording various releases, any fun studio stories you can share with Atwood Magazine?
Raye Zaragoza: We recorded my upcoming album fast but furiously. We spent only 2 weeks in the studio, but were there for about 10-12 hours every day! I think the best stories from this particular studio experience would be dancing to the first mix of "Fight Like A Girl" with Tucker at midnight after a 12-hour day and recording vocals for another song and Tucker saying I sounded like Stevie Nicks!
Your idea of feminism is that it should include all women including Trans etc. What can others do to make a change and lead in the fight for a positive movement?
Raye Zaragoza: As artists, event organizers, publications, anything really with a public voice, we have to be very mindful of diversity in representation. I hope to see more black, brown, trans, disabled, indigenous, Muslim, etc women in leadership roles, on boards, and having their voices heard. It's not enough to include women; you have to include all women. I can't tell you how many times I've attended an event, even a feminist event, to find not a single woman of color speaking. It's a problem, and I hope to see more diverse voices at the center. Additionally, we can all work on diversifying the media we consume — take it upon yourself to read a book, listen to a podcast, or read an article from a diverse female voice.
Besides feminism, what are some other causes that are near and dear to your heart?
Raye Zaragoza: I am very passionate about the rights of Indigenous peoples and Immigrants. I am of Indigenous descent on my father's side, and my mother is an immigrant from Japan. Growing up, I truly felt like a misfit. I felt ashamed of my heritage because of the racism we faced. I am very passionate about empowering marginalized youth and showing them through music that they are worthy and capable of achieving whatever they want to do.
I understand you've spoken on panels at Bonnaroo and SXSW on subjects ranging from preventing sexual violence to cultivating a fanbase. Can you briefly share a bit of this knowledge?
Raye Zaragoza: Speaking at Bonnaroo with Calling All Crows on Sexual Violence was a really life-changing experience. Honestly, I came to many realizations while sitting on stage during that panel. I realized truly how different women are treated in the music industry. So many things that I let pass as "normal" were actually sexually violating occurrences in my career.
Speaking at SXSW on cultivating a fanbase was a lot of fun. I am so sad that I wasn't able to speak again on the same topic this year! I always preach about how the word "fan" is a bad word. Treat your fans like people. Treat them as equals. There's no hierarchy in my artist / "fan" relationship. It's just community.
Having toured with major talents such as Dispatch and William Elliott Whitmore, do you have any tour stories you can share with us?
Raye Zaragoza: Ah! Stories for days… Touring with Dispatch and WEW were both like touring with family. They both immediately adopted me as a little sister of sorts, and it was a total blast. One of my favorite memories of touring with Dispatch was really just getting to sing with them every night. Before touring with Dispatch, the most people I had ever played for was a few hundred.
My second show with Dispatch, we played at Red Rocks. They asked me to sing "Don't Let Me Down" by the Beatles with them at the end of their set. I walked out and sang "Oh I'm in love for the first time…" in front of over 8K people. It was surreal. It was scary. It was amazing. I have goosebumps just thinking about it.
Watch: "Fight Like A Girl" – Raye Zaragoza
Are there any artists you're currently listening to that you can recommend to our readers?
Raye Zaragoza: Right now, I've got Field Medic on repeat. I love how raw and vulnerable his music is. I also have been listening to a lot of Samantha Crain, Rising Appalachia, Delta Rae, Gang of Youths, Abraham Alexander, Yola, and Vagabon!
During this time of social isolation, how are you connecting with your fans?
Raye Zaragoza: Honestly, I think I've been connecting with them now more than ever. Because truly, I need them now more than ever. And they need me. My fans are an extended part of my family. When I'm sick, they send me "get well" messages. When I'm sad, they're there for me. They really are my rocks in so many ways. My main way of connecting with my hardcore supporters is on Patreon. It's about 220 of my most dedicated warriors, and I know each and every one of them by name.
Now that I've got a lot more time at home, I've been spending a lot more time on Patreon and getting creative with ways to connect. I've been doing way more live streams too! I've got this thing going called "The Studio Apartment Tour!" Every Thursday, I play a show live on StageIt from a different location in my studio apartment. It's fun. Next Week (April 16) is "Live from The Closet." I'm excited about the acoustics for that one.
Lastly, how do you hope your music and message inspires listeners?
Raye Zaragoza: I'm just looking to grow flowers. I believe we've all got seeds inside of us. Seeds of hope, action, love, desire for change, etc. If my music can be the water that grows some of those lonely seeds into flowers, that's the dream. I'm just looking to let people know they're not alone. On some level, everyone must feel like a misfit like me. Whether it's because of racial marginalization or whatever it may be for them. I don't need to change the world or be a politician — I just want people to know they're not alone.
— —
? © Cultivate Consulting
:: Stream Raye Zaragoza ::
---