Midwestern band Social Cinema dive into their sonically and emotionally charged three-track EP 'Get Along,' a feverish, impassioned alt-rock reverie.
Stream: "Get Along" – Social Cinema
---
Within the roaring guitars and heavy beats of Social Cinema's latest EP is an undeniable, unabating free-spiritedness.
It's the feeling of five friends letting loose, channeling their passion, pain, and everything in-between into a cathartic exhale of sonically and emotionally charged sound. A feverish, impassioned alt-rock reverie, Get Along is eleven minutes of searing, soaring, cinematic fun.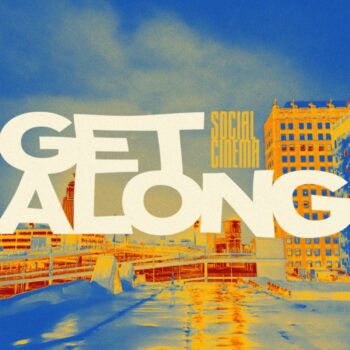 She came to me with following eye
and a "wheres my drink?"
And they say that love is blind
but she makes you rethink.
And then he walks left, right,
dogs will bite, mouthing off like "la, la, la"
I said I've had a nice night, don't kill my vibe,
you and your friend can go run off
She knows, she holds no matter what room.
I know you get that feeling too.
I know, I don't know how were gonna
but I want you and I…
How come they're talking like they want through,
that's just so rude and I…
– "Get Along," Social Cinema
Released April 21, 2023, Get Along is as intense as it is exhilarating. The follow-up to last year's six-track EPs Causing Scenes and Repeat finds Social Cinema continuing their ascent on the midwestern alternative scene through three stinging rock songs, each of which hits hard and leaves a lasting mark.
Comprised of brothers Griffin (guitar/vocals) and Logan Bush (drums) and Austin Engler (bass) – all formerly of Wichita, Kansas trio Kill Vargas – together with lead guitarist Reed Tiwald and synth/backing vocalist Mari Crisler, Social Cinema formally debuted in late 2021 and have been spreading their raw rock gospel ever since.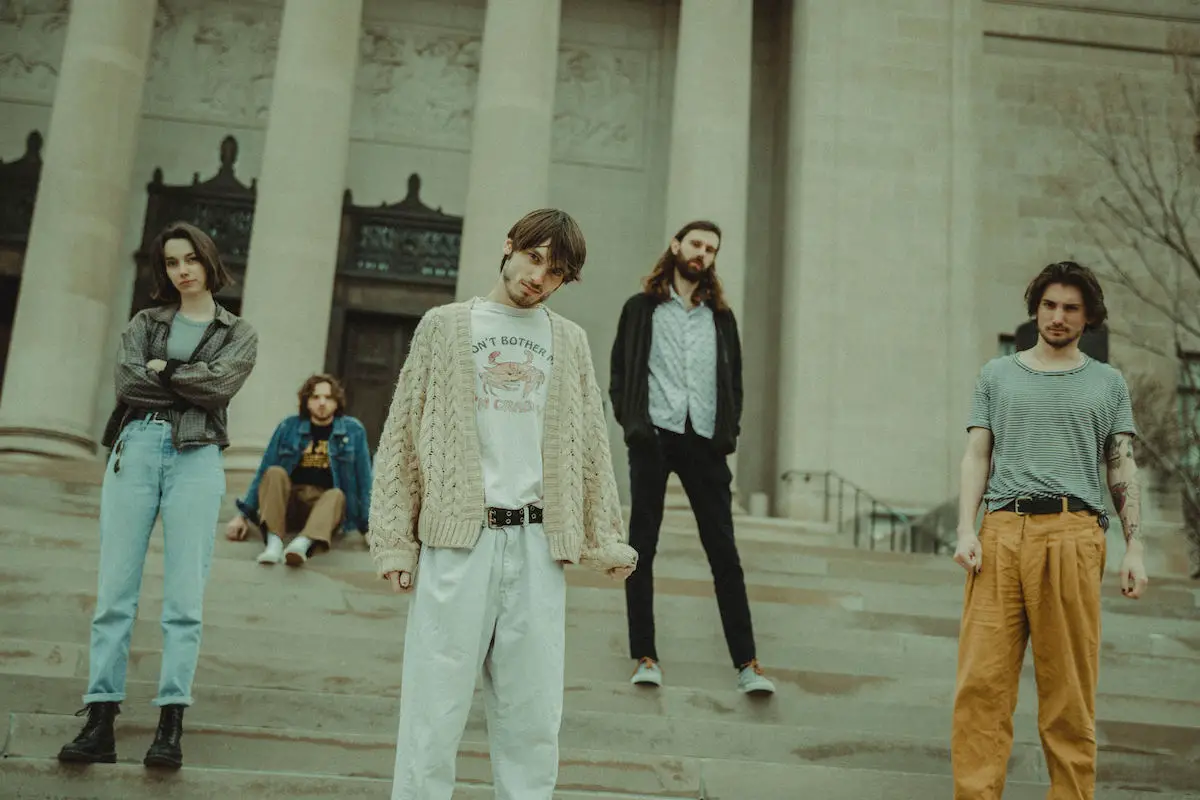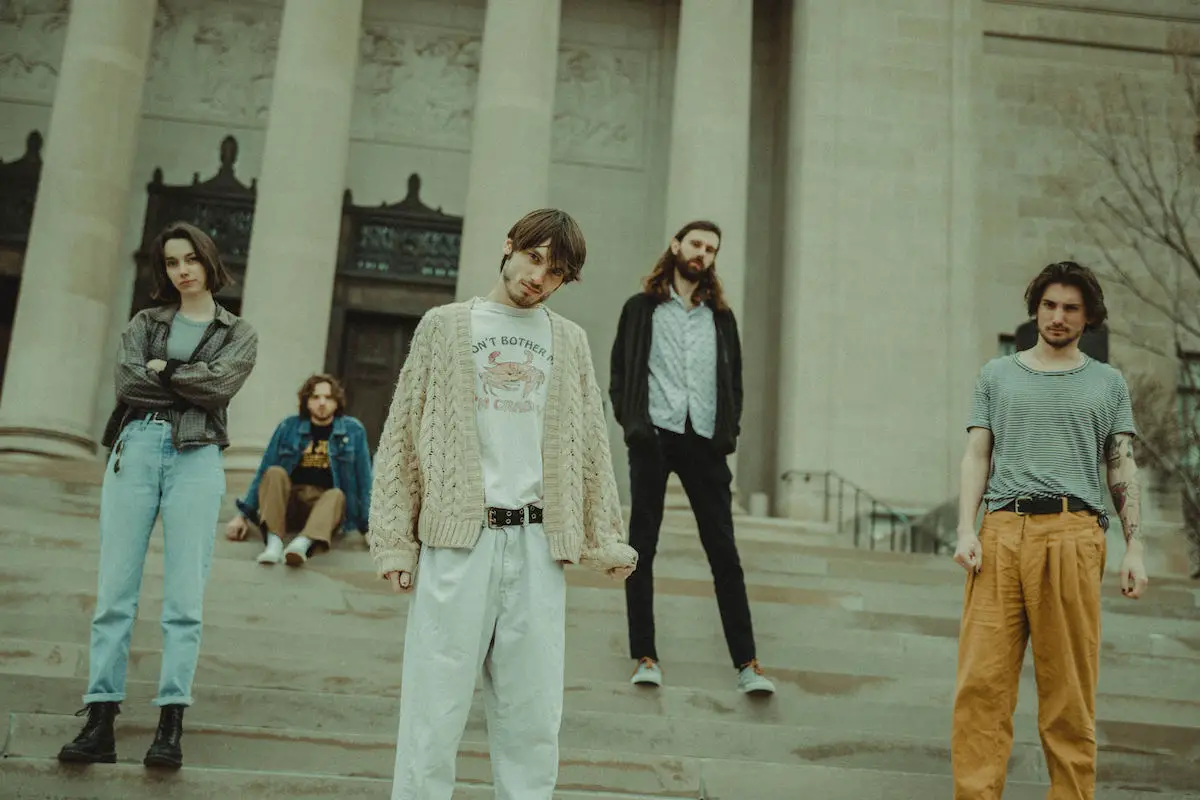 For the band, this new record finally feels like a full-throttle collaboration – a realization of their full potential.
"On the previous EPs in 2022, we all lived in different states, so Griffin did all the writing himself and brought it to the band to learn," Social Cinema tells Atwood Magazine. "For this new EP, it's the first collection of songs written after Griffin moved up to Lincoln, Nebraska to be with the rest of the band members. We felt that these songs had the first real sense of collaboration between all of the band, and we feel that the chemistry between the members comes out on this new batch of songs. Our confidence as songwriters has gone up as well, because we're all together sharing ideas and helping each other with the vision for the project."
"The vision for the EP was to channel the feeling of springtime. We kinda wanted to go for something less aggressive as well. Our last release was a pretty heavy rock track, and we like to show that we can also write some cool pop songs. These are lighthearted, fun sounding, easy going songs that we thought fit together very well. We're hoping it's kind of a shock to the listeners to go from a super heavy-riffing song, to some sweet soft love songs the next release."
"Compared to Causing Scenes and Repeat from 2022, we feel like we have a nice balance of natural instrumentation and production elements," they add. "The past EPs used a lot of samples while the Get Along EP was 100% real sounds. It's a lot more representative of how we actually sound when you come see us live. We went a lot deeper into it, not necessarily on the production side of things, but this time on the actual songwriting side of things. We challenged ourselves to reach the same energy and intensity of the 2022 EPs, but limit ourselves to real sounds, less post-production."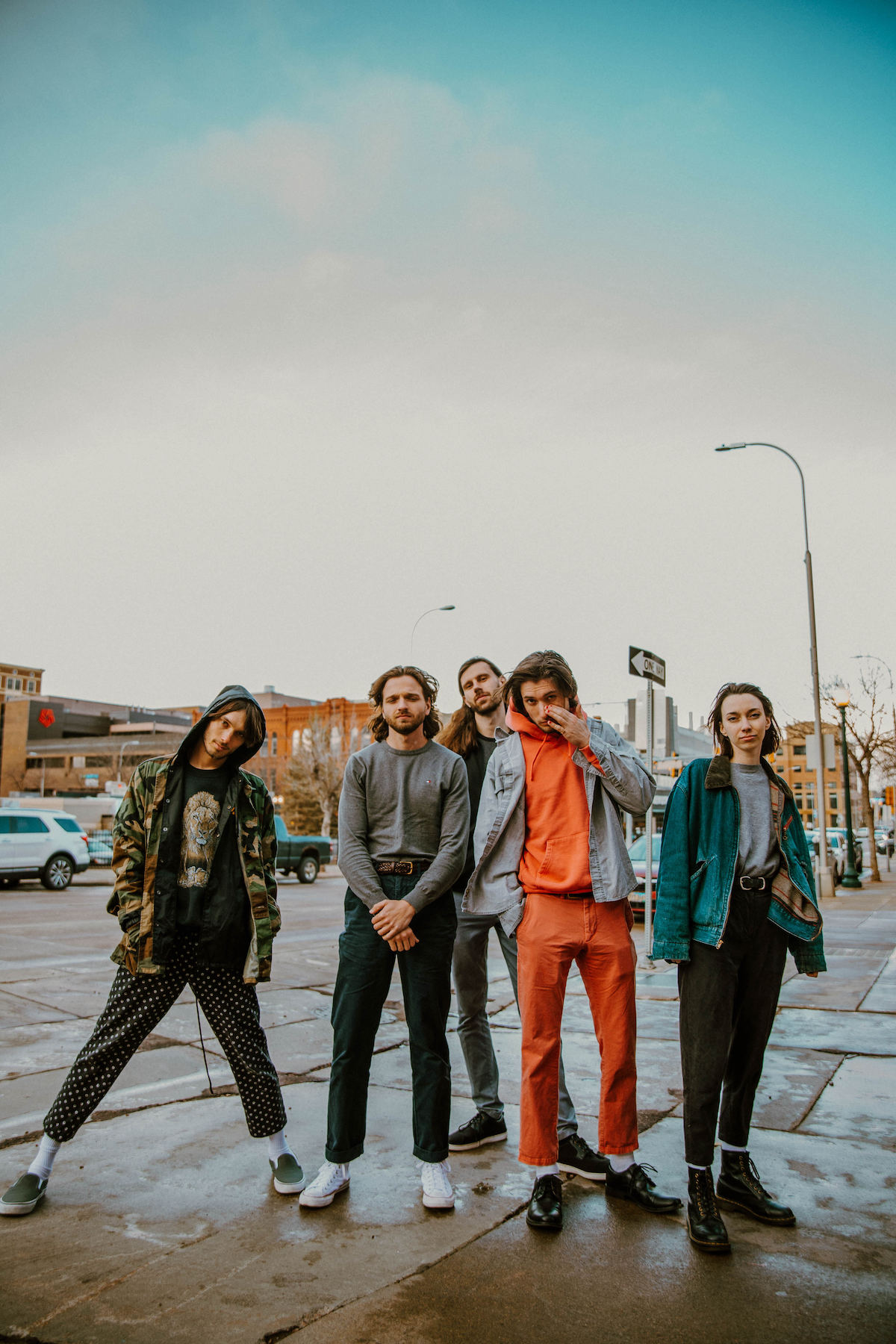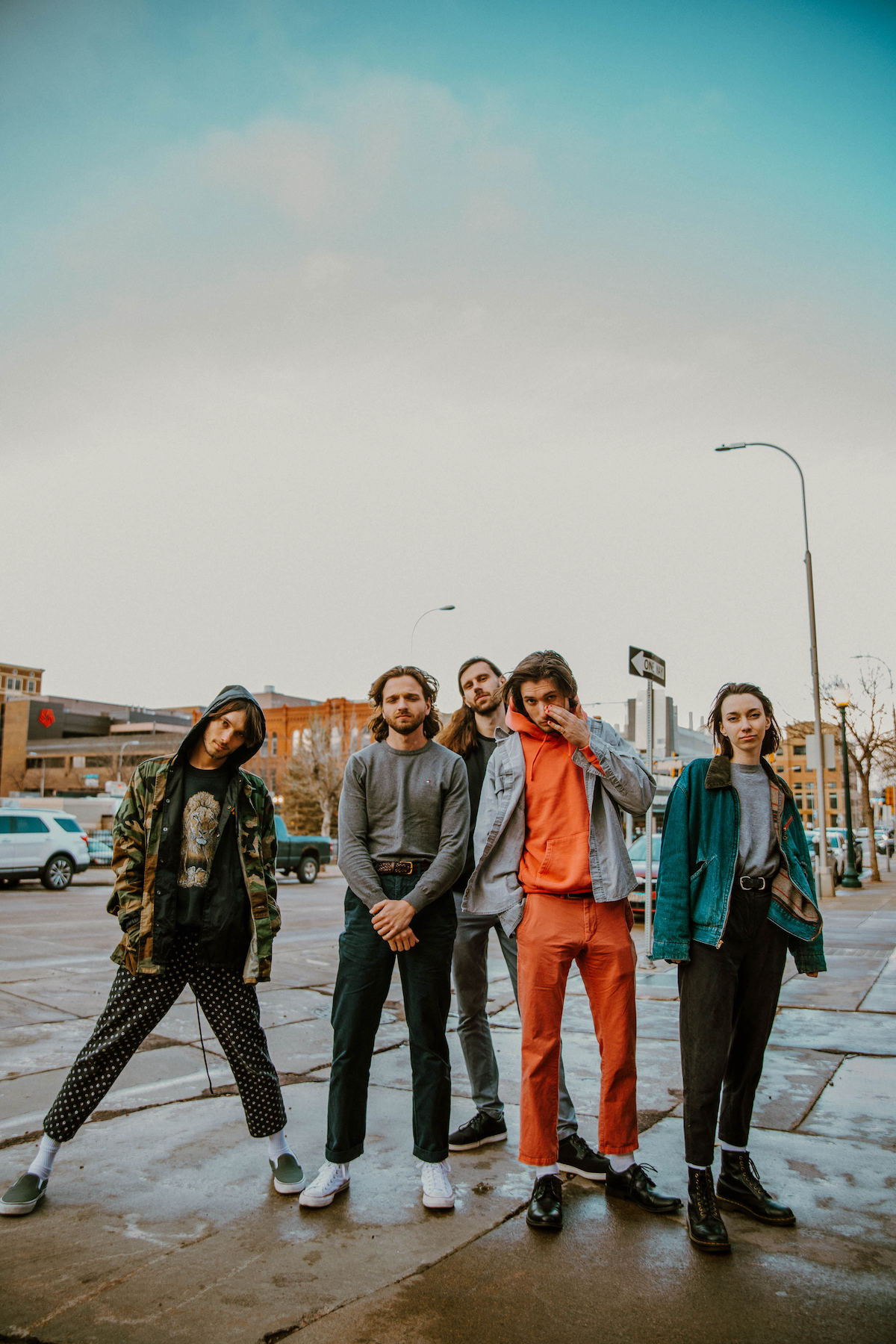 Social Cinema describe Get Along as a "chill, easy, and fun" record.
The EP is named after the irresistibly catchy first track, which features both Griffin Bush and Mari Crisler on vocals. "'Get Along' was the first song that we wrote for this EP and it really sums up the theme of the EP as a whole," they explain. "It's also the lead single that led the project. The lyrics go over friendship and relationships. We also feel like wanting to keep 'getting along' is something a lot of people can relate to. Not a super serious theme or anything, just a fun pop song!"
"Get Along" is joined by smoldering, sweltering groove "Blur" and the dynamic eruption "The Other Way," the latter of which is a lyrical highlight for the band because, as they describe, it's the most straightforward and honest: "We don't usually focus on lyrics at the forefront of our songs, but this one is a bit more poetic and romantic, and has to do with any romantic break up which everyone goes through and can relate to. The cadence that Griffin sings the vocals also helps with the fun pop vibe we were going for."
"Overall, our favorite part of this record is how all the tracks have a flow together, and how it's pretty musically different from anything we've done in the past," they notes. "In our previous bands before lockdown, it was way more punk-rock leaning, where we could hide behind loud distortion and walls of feedback and loud heavy riffs. With these songs, there's none of that to hide behind, and we have to focus and make sure the songs themselves are presentable how they're written. We feel we reached that and are very proud of it."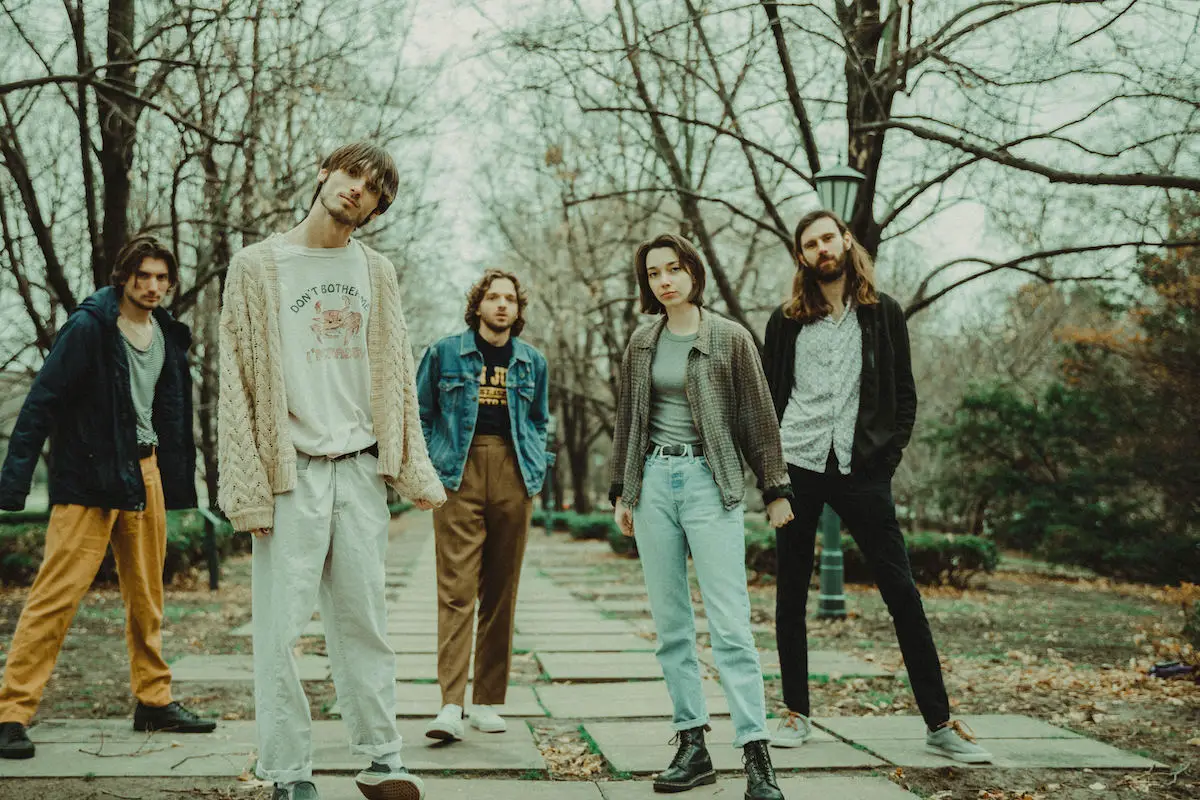 Ultimately, this is the record of a band finding their voice, and their footing in the alt-rock scene.
Social Cinema are still just starting off, but their unapologetic alt-rock sound – combined with their prolific release schedule – makes them a need-to-know band on the rise.
"Our takeaway is that our band is stronger when we write collaboratively and focus on natural instrumentation and production. We feel that we finally figured out how to use the studio to our advantage and fully craft a song. In previous musical projects, a lot of people would listen to our music and have the thought of, "this is good music, but you really gotta see it live to get it." We're trying to change that with the new music, and have songs that people enjoy just as much as coming to see them live."
Experience the full record via our below stream, and peek inside Social Cinema's Get Along EP with Atwood Magazine as the band goes track-by-track through the music and lyrics of their latest release!
— —
Stream: 'Get Along' – Social Cinema
:: Inside Get Along ::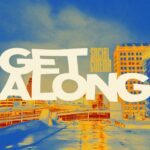 — —
Get Along
On the first two EPs, Griffin wrote every song by himself and brought it to the band, which kind of limited the songs to what he was able to come up with on his own. On "Get Along" it was the first song that Mari and Griffin wrote together which really expanded the sound. Mari had a lead vocal part on the song as well which was new. We like bands who have multiple people doing lead vocals, so we were excited to give that a try on this single.
Blur
When Reed sat down to write Blur, he wanted to challenge himself by writing a song on synth instead of guitar. After showing Griffin the demo, Griffin spiced it up by adding some groovy guitar parts on top of the synth, as well as some gang vocals on the chorus. The intro of the song is audio from the actual home demo that Reed made, and we decided to just keep it in the song because we liked how it sounded.
The Other Way
For "The Other Way," Griffin wanted to write a song that started with acoustic guitar. A lot of our early stuff is electric and fast, with a ton of studio production tricks, but the goal of this song was to not over-do the production or instrumentation. We wanted to focus on just guitar, bass, drums, keys, vocals, and not go too wild with the post-production after the fact. Because of the narrative structure of the lyrics, the piano is the source of catchiness for the song, which is different than usual, but we enjoyed the challenge.
— —
— — — —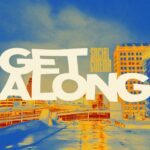 © Justin Labadie
:: Stream Social Cinema ::
---