Arms Akimbo capture the spirit of summer in their  'Seven Dollar Paycheck' EP, a vibing collection of vulnerable indie rock full of passion, warmth, and restless drive.
Seven Dollar Paycheck – Arms Akimbo
[soundcloud url="https://api.soundcloud.com/playlists/756901908?secret_token=s-wy0Ep" params="color=%23ef0f0f&auto_play=true&visual=true&hide_related=false&show_comments=true&show_user=true&show_reposts=false" width="100%" height="400″ iframe="true" /]
---
Let's focus on promotions, getting high and feeling broken; at least we're all together now.
Nothing beats the right summer playlist, and this year, Arms Akimbo have earned themselves a prime spot in our ears and hearts: The California band capture the spirit of summer in their new Seven Dollar Paycheck EP, a vibing collection of vulnerable indie rock full of passion, warmth, and restless drive.
I got a 7 dollar paycheck
and an 11 dollar meal
If we're ever gonna make it
I think we're gonna have to steal
Ok excuse my bad conclusions
I'm just tryna make a point
But I hope we kick-start soon
And I think that you and me can make it
if we just make something cool together
I hope that it starts soon
Atwood Magazine is proud to be premiering Arms Akimbo's third EP Seven Dollar Paycheck, out everywhere April 19, 2019 via CandyShop Recordings. One of Atwood Magazine's 2018 artists to watch, Arms Akimbo have been lighting up our year so far with a slew of alternative and indie rock bangers that radiate visceral energy and raw power.
In premiering the band's song "Seven Mirrors" off their 2018 sophomore EP, The Wrong Kind of Dance Party, Atwood Magazine praised Arms Akimbo's ability to "balance love and lust, hands still on their hips" in an energetic anthem that captured the core of their sound.
Consisting of Peter Schrupp, Christopher Kalil, Colin Boppell, and Matt Sutton, Arms Akimbo sound more sure of themselves than ever in their third album, striking a cool balance between introspection and action.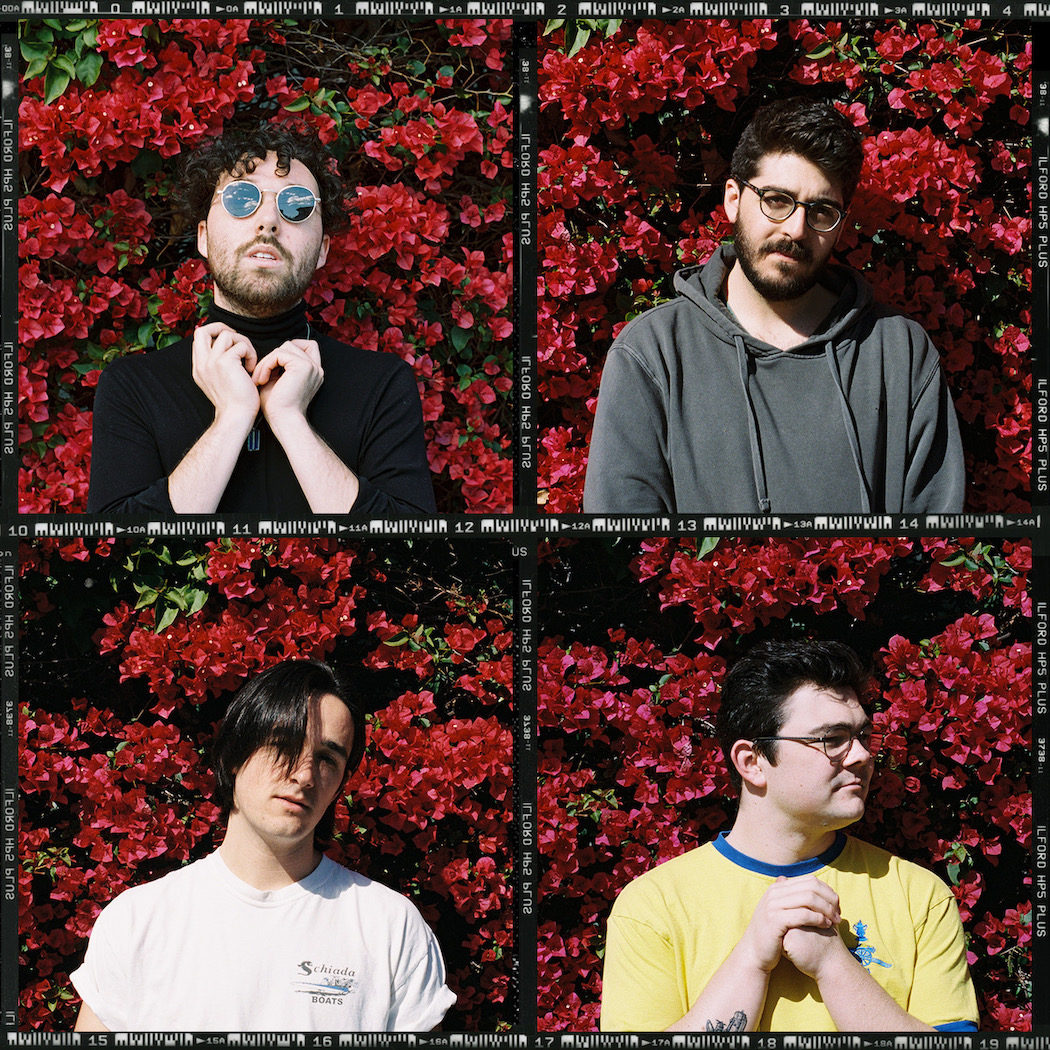 For Arms Akimbo, Seven Dollar Paycheck is the musical manifestation of a quarter-life crisis – and damn, if it doesn't sound sweet as hell.
The six-track record begins with title track "Paycheck," a catchy as hell twenty-something's anthem described by Peter Schrupp as a thesis statement for his current place in life. "I got a seven dollar paycheck and an eleven dollar meal,"  Schrupp sings in the first verse, going on to lament the tedious life of a musician in the eyes of someone seeing their friends succeed in business, corporate jobs, and so forth. Haunted by the idea of surrendering to that 9-5 lifestyle, "Paycheck" proliferates an angsty, restless hunger that Arms Akimbo cling to for survival. It's rock n' roll, in its purest, truest form:
Maybe summer's gonna pick me up,
'cause I'm spitting venom
in every single word,
and I lost my chance at being free
the day I started using my degree
I just want to do something right.
– "Paycheck," Arms Akimbo
"Paycheck" is just the tip of the summery iceberg: The songs that on Seven Dollar Paycheck find a band in their prime as Arms Akimbo question purpose and place, assert their own positive life-affirming philosophy, and dwell in the doubts and insecurities one can naturally expect of young adults – especially us millennials. "Nirvana" is an absolutely lush jam, and "Cruel Lovers" demands to be indulged at a volume befitting its natural intensity. "Ghost" is a tasteful run-in with love ride with a heavy West Coast pulsing and a charmingly uplifting chorus that begs for repeat listens. Finally, Arms Akimbo come to a close with "Pitchfork" as waves of overdriven guitar and raw, heated emotion wash over their audience.
This is the kind of music summer should feel like: Big, bold, and hot enough to burn us if we get too close.
With spring in full gear and summer not far behind, the time is right for stockpiling tracks for warm-weather soundtrack brimming with expressive sweet rock guitars
In their quest to rid themselves of mid-twenties stagnation, disarray, and unrest, Arms Akimbo have (unwittingly) delivered a warm-weather soundtrack perfect for the looming months to come. Experience the full record via our exclusive stream, and peek inside Arms Akimbo's Seven Dollar Paycheck EP with Atwood Magazine as the band take us track-by-track through the music and lyrics of their excitingly raw and summery third extended player!
Catch Arms Akimbo at their EP release show SLO Brew in San Luis Obispo on Friday, 4/19 with Vista Kicks,at the Che Cafe in La Jolla on April 20, and at Bardot in Los Angeles on May 13.
Seven Dollar Paycheck – Arms Akimbo
[soundcloud url="https://api.soundcloud.com/playlists/756901908?secret_token=s-wy0Ep" params="color=%23ef0f0f&auto_play=false&visual=true&hide_related=false&show_comments=true&show_user=true&show_reposts=false" width="100%" height="400″ iframe="true" /]
:: Inside Seven Dollar Paycheck ::
— —
Paycheck
Peter: On occasion you write a song that feels like a thesis statement for where you are in life. Paycheck is that song for me right now. There's a lot to relate to for a 20-something in this song, especially someone in a city or somebody pursuing an unconventional dream. We're all college graduates watching our peers around us succeeding in offices we would literally hate to be in. Every time I see that honestly I do question what I'm doing. That's probably the practicality my family instilled in me growing up in a suburb… That's what pushes me and my bandmates past that feeling that we should put ties and collared shirts back on just for a bit of "stability." Meanwhile if we compare our victories as a band to anyone else it becomes so easy to succumb to bitterness. I often have days where I ask why I'm still trying to make music, but the truth is I didn't really choose to do this. We don't have a choice. We're just going to be artists. Period. Even if it kills us.
Parts of this song are like a ballad for my bandmates.. "You and me can make it." Other parts look at the social aspect of justifying happiness – silly conversations with strangers where we just talk about career advancement and alter our reality with substance, or try to convince yourself you're happy while telling someone else "everything's great" is a weekly event for me.
The end of the song is a testament to that drowning feeling. If I stagnate as a musician at all I feel like a huge disappointment, because every second I'm not making it happen on this end is a second I could be spending trying to establish myself practically. I owe it to my band and anyone who supports of listens to us to make the best music I can. "I just want to do something right," that's all.
Nirvana
Nirvana is about the small things that we ignore when we're in a relationship with someone that we shouldn't be with. It's so easy to stay in a situation because it's comfortable or because we are scared of change that we turn a blind eye to the things that make us unhappy. There's a line that goes "you know how much it hurts to let this go because you know somebody's got it worse" — I think that's a feeling that everyone can relate to. The feeling that your problems aren't worth addressing because they seem small.  
The chorus is about making the decision to finally confront those problems and make a change, even though you might have some hell to pay for it.  & although the fallout might feel like a storm you can't escape from, the day will come when you wake and recover from it all. We all deserve to be happy and fulfilled, and if we accept any less, we are selling ourselves short.
The song took over a year to come to fruition, and definitely took a ton of re-working and revising.  Colin was instrumental (music pun) in arranging the harmonies and Peter's guitar lick intertwines with Matt's shuffle-beat and Colin's bass counter-melody in a way that gives us a groove that is unique in our repertoire.  
The song title comes from a tongue-in-cheek lyric in the first verse that goes: "New Nirvana shirt, but she don't know any words/"With the lights out it's less dangerous" is the only line she's heard" — it's a line that acts as a microcosm for theme of the song. I've always been annoyed by people that wear band tee's of bands they don't even listen to — but its such a small and petty thing to get upset about. Maybe I should just let it go?
Cruel Lovers
Peter: I went through a little garage rock phase and tried for ages to figure out how to put a bit of that essence in our music without sounding like a completely different band. I wrote this chorus a long time ago with an acoustic guitar, just trying to sound like (Sandy) Alex G. It didn't work…as soon I brought it to the guys we pushed it a little in tempo, I went back to that garage-y feel and something clicked. I don't know, but it came together great. And all the guys killed it on this one – it's super bass-centric for Colin, Chris shreds that solo like "Perfect Situation" by Weezer and Matt play super dynamically, which this track really calls for. We try not to write a series of songs that sound too much like each other. So when writing this record, we started with this one and it essentially ticked a box that allowed us to move on and feel satiated with our "rock song" and able to poke around in some other genre-inspired elements.
Ghost
Peter: This may be our most expensive song ever…It's the oldest track on the EP, so old that I hardly remember what it's about. This song has been through the recording process several times and taken on many lives, but we kept pushing it, saying "it needs something else" or "it's not quite right". We self-produced version, we flew out and worked on it with a producer in another state, we remixed it, etc. It never fully did the trick but fans kept asking where it was so we couldn't give up on it. Finally we revived it and brought it to our longtime producer bud Stephen Gomez and he loved it so we had yet another reason to keep at it. This time around Matt (drums) reworked the pattern a bit meaning Colin (bass) had to match him. It added whole different layer that melded well with the push and pull of the guitars Chris and I laid down.
As for the song itself, I look at the lyrics now and pull their meaning out in a super meta way cause I consider them to be about the fleeting process of creating a song and how much it takes to make it sound the way it did in your head. What I love is that there are still elements from every tracking session in the final result.
Pitchfork
I wrote Pitchfork on a non-stop drive back to LA from Austin, TX after sxsw 2018. Facing the existential dread that comes with finishing a tour, I couldn't help but think about the way that being a musician connects you with so many people while simultaneously being extremely isolating. Music is our form of communication to reach people who might be feeling the same way that we are and we use that to build a community. But functioning as a musician means being on the road and being away from the people that you care about. This dichotomy can be tough to balance.
I feel like the song is a letter to my band and my loved ones back home. I wanted to tell the people in my life that even though it's not the easiest path that we're on, it's the right path and we're not going to give up. We don't play music because we want to — we play music because we have to. And, as we say in the song; "if we're patient then we'll make it eventually"
The song was written in two parts, with the first section functioning almost like a tour diary, a vignette of our life on the road. The second part is more of a personal plea to my loved ones to stick by me on this journey. It's also my attempt to explain why I have to play music and why it's so deeply instilled into who I am.
The song is called Pitchfork, in reference to the lyrics at the end of the song. "Need to play cause I can't get your attention/without a stage and at least a Pitchfork mention/a million plays and a record deal in place/say you'll love me when I take the band on tour."
Seven Dollar Paycheck – Arms Akimbo
[soundcloud url="https://api.soundcloud.com/playlists/730107264?secret_token=s-JzDn9″ params="color=ff5500&auto_play=true&visual=true&hide_related=false&show_comments=true&show_user=true&show_reposts=false" width="100%" height="400″ iframe="true" /]

— —

— — — —
? © Mora May Agency
:: Stream Arms Akimbo ::