Sarah Dukes' "Yesterday Again" feat. Clay Agnew carries a message of hope for the who've ever felt loss.
— —
Beginning her musical journey early after taking to the piano six years old, Sarah Dukes' raw talent and passion has only grown through the years.
Her classical training, which she received up until the age of eighteen, is partly what lead her to become the inspired and accomplished musician she is now. Training was never enough for Dukes, though. Driven by an innate and unstoppable urge to express herself through art, she quickly turned to songwriting, composing her first song at the age of eight years old and by the time she graduated high school, already had a great collection of original songs, some of which were subsequently performed by renowned pianist Yaron Gershovsky and handpicked by Whisperings-Solo Piano Radio. Her second album Life Sometimes received further acclamation, earning Dukes the Silver Medal for Outstanding Achievement in Music in the categories of Album and New Age Solo, and was a winner in the Global Music Awards competition.
If it were yesterday again
I'd still be holdin' your hand
And I'd never let it go
Because I would know
That it would be my last chance
Perhaps most endearing about Dukes' music, is its ability to capture the intensity and beauty of the emotional spectrum. As her music effortlessly resonated with its audiences, it's obvious that she composes and performs from the heart. Her latest single demonstrates this quality perfectly. Featuring the silky vocals of Clay Agnew, "Yesterday Again" (released January 21, 2019) is a song everyone can relate to. We all have experienced loss in some way or another, and this song's exploration of what it feels like to lose someone we love ultimately unites listeners who have ever felt this common sense of helpless vulnerability and the headache that arises during such moments.
And you would still be here by my side
Laughin' till tears filled our eyes
I'd be so carefree
'Cuz you'd be here with me
If only it were yesterday again
Fostering strong, transformative emotions, the pop ballad hits home for many, who will find comfort in Dukes' message as they draw close to "Yesterday Again." Reminiscent of Charlie Puth's "See You Again," the ballad delves into heartbreak territory, tempered by soft, soothing piano and Clay Agnew's tastefully executed, soaring vocal melodies, before concluding on a poignant note.
Rich and nuanced, Sarah Dukes' work at large exemplifies what happens when talent meets passion and the desire to say something to the world. Music, after all, is about sharing emotions and personal perspectives that hopefully make the world more interesting in the process. It can make us feel better. It can open our hearts to healing and pull us from dark corners, allowing for just a momentary break from life's emotional clutter.
But I know you're happy now
And I'll try to be happy for you
But I'm not sure how
With my heart broken in two
I still feel you
And remember all that we've been through
And there is so much more that I would say
If only it were yesterday
I miss your arms around me tight
Tellin' me that it'll be alright
That I will be ok
The pain will go away
But it's so hard without you in my life
As "Yesterday Again" seeks to validate the emotional process we go through when facing loss, moving between tear-jerking and uplifting, it presents a raw and open look into Dukes' mindset and creative flow. Stream "Yesterday," out now:
"Yesterday Again" – Sarah Dukes ft. Clay Agney
— — — —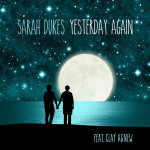 ? © Mo Ackerman
:: Stream Sarah Dukes ::