In the middle of her sold-out UK tour, Self Esteem's Rebecca Lucy Taylor stops to discuss her darkly honest lyricism, how she got this far with unfiltered creativity and ambition, and the doors that are open for her now.
Stream: 'Prioritise Pleasure' – Self Esteem
---
I've met Rebecca Lucy Taylor before:
In the back room after a packed show at Los Angeles' Moroccan Club, I was lucky enough to quickly tell her how much her music, specifically her sophomore album, Prioritise Pleasure, has meant to me. She listened intently as I rambled, then asked what my sign was. When I said I was a Virgo, she shook her head, said, "Makes sense."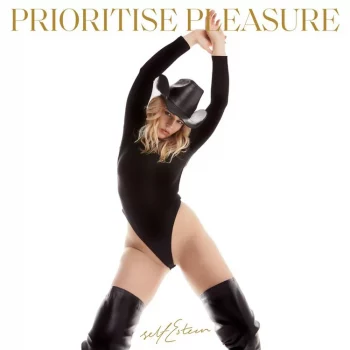 That was March 2022, six months after Prioritise Pleasure had changed my mindset and validated my belief system, which seemed at odds with the party school I was attending at the time: That it's fine if you want to stay home and read instead, and nothing is wrong with how you feel. A year later, when I speak to her over Zoom, I ask her what she thinks it is about her music that rings true so deeply with people: It's not uncommon to see people tattoo her lyrics on their bodies, or appreciate her unflinching confidence. "I think if it resonates with you, it feels like gateway therapy," she says. "All I'm ever doing is processing my own shit on my own time, and the songs reflect that."
When we talk, Taylor, known by her stage name Self Esteem, is in the middle of a sold-out UK tour promoting that same sophomore album, a year and a half after its release — practically unheard of for an artist just breaking through. The record's momentum is extremely rare, but as Taylor keeps booking gigs (UK's game show Taskmaster, or her US debut with The Late Late Show With James Corden), people keep tuning into the album and what she has to say. She's the "Bermuda Triangle of music," she says. "No one can understand what's happening. My streaming numbers are still low. My follower count is low. But I've sold out three nights in London in a place you only play once."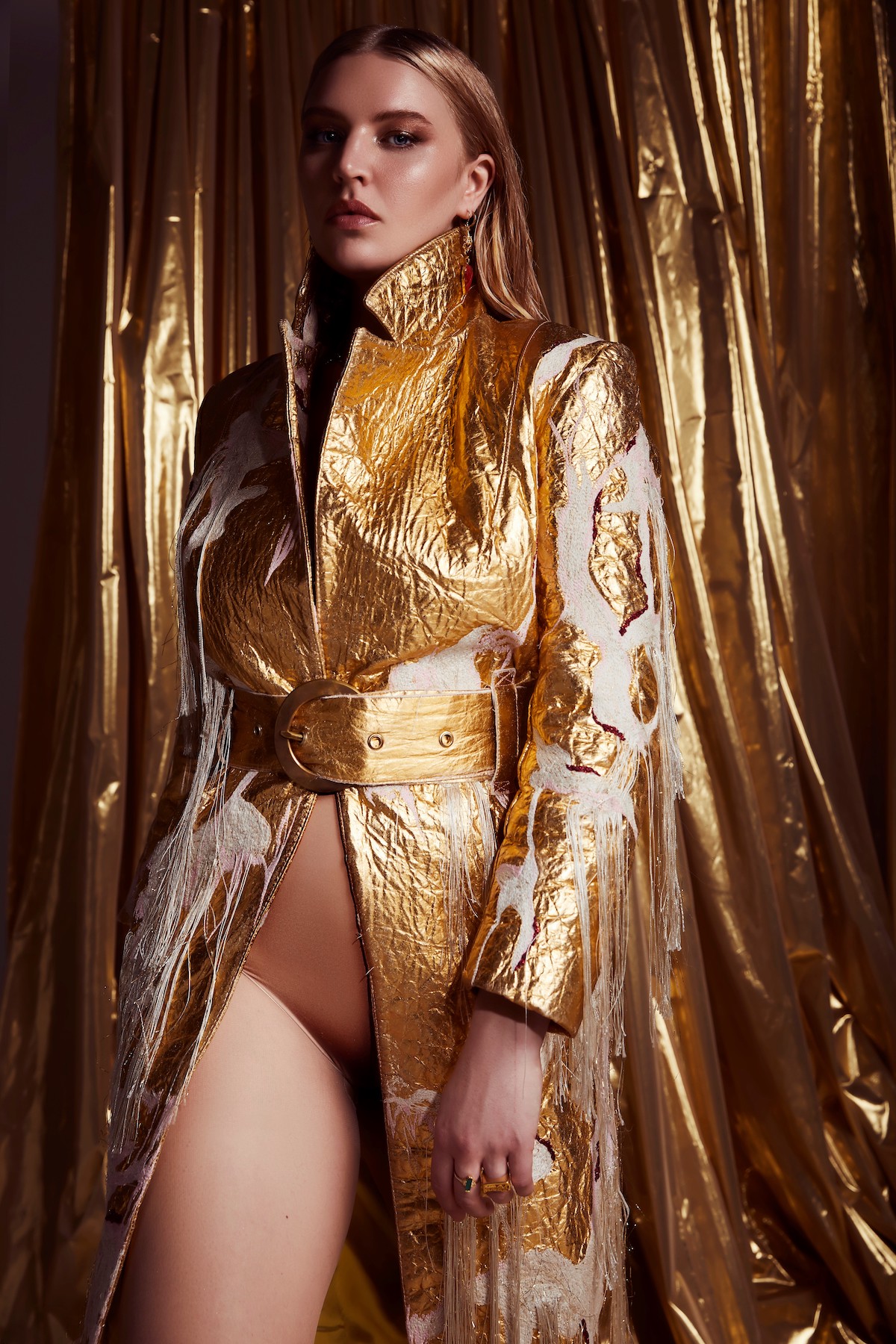 Part of the reason for her success is the spectacle of a tour she puts on for each audience member.
Last year, I traveled two hours south just to see her show, desperate to know how the gargantuan bass line of "I'm Fine" or ecstatic energy of "Prioritise Pleasure" would sound like live. It was the best show I'd ever seen — if she came back the next night to do it all again, I wouldn't hesitate to purchase another ticket. "These shows on this tour have felt, like, 'communal healing' or something, which is obviously really beautiful, but especially in the UK," she says of the current tour cycle. "It's always felt like I could never emote or it would be 'too much' or whatever, but now there are rooms full of people feeling it. It feels quite radical."
The live aspect of music is a massive portion of Taylor's act as a singer, and what fosters the most amount of creativity, she says. She references Peter Gabriel and his Secret World Tour — her dad had the concert on video, and she was obsessed. It had all the makings of a concert for a superstar — props, lightwork, enrapturing music. This current tour, she says, is "as close as I've gotten to my Peter Gabriel moment." The tour sold out even before she started rehearsing for it, which of course, is hugely validating for her new direction. "My new plan is to always have that confidence and self-assurance, whether or not there's people there," she says. "I'm working on believing in myself no matter what, because that's the best thing for the art."
---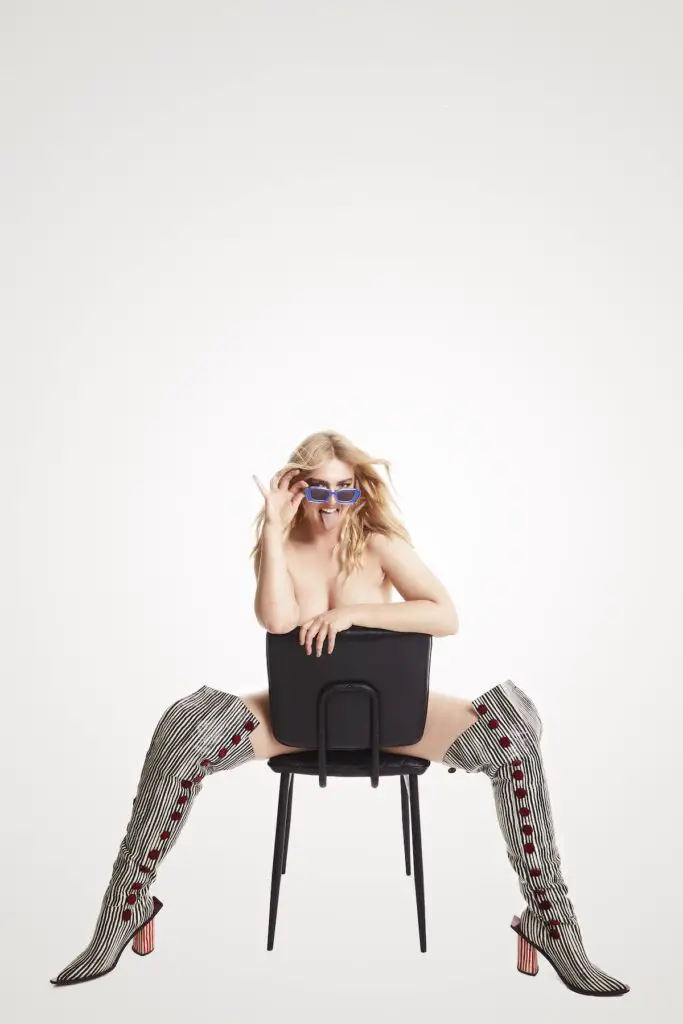 For the first 12 years of her music career, Taylor was one half of Slow Club, a Sheffield-based folk band that released five albums, which scored fairly decently among critics. If you're craving more Self Esteem-isms (deeply felt lyrics along with a personal vocal performance), 2014's Complete Surrender has them in spades. But as it was clear in the rumbling anxiety of some of her music, there was a need to break out, to explore creatively and develop her own sense of style. She released the double single "Your Wife" / "Omg" in 2017, a year after Slow Club's final album, and had a tongue-in-cheek glint at humor she has in abundance today: "Yeah, your wife thinks of me / While you're thinking of me," she opens.
Her debut album, Compliments Please, landed in 2019, and critics praised her obvious love of hip-hop with devastatingly personal lyrics. It's an inventive, endlessly fun album that discussed self-destructive behavior (its standout line is "When I fall, I like to arch my back"), bisexuality ("Girl Crush"), self-assurance ("Steady I Stand," "In Time"), and sometimes desperation ("The Best").
It does, of course, reference her previous band — on the spoken-word opener, an unnamed voice advises her that staying in a collaborative effort might not be the best way to sharpen her creativity. "You have to make a decision and not worry about hurting somebody's feelings," the voice ends, and on the next track, Taylor herself admits, "I did the best that I could, babe."
"You can hear on Compliments Please, I was so scared," Taylor says. "I was so worried of what everyone thought, and there were a ton of people mad at me, and as a Libra, that was my biggest fear. I shrouded some of the lyrics on that are repurposed feelings in a new scenario, which I never love doing, but I felt I had to do that. [There's] none of that on Prioritise Pleasure. I'm being super direct and I'm a lot braver by the time I made Prioritise Pleasure."
That sophomore album made her critics' breakout darling for 2021.
Described as "life-affirming," "unabashedly dramatic," and a "maximalist pop triumph," Prioritise Pleasure received ten perfect-score reviews and sits atop music aggregation site Album Of The Year's critic list for 2021. It is a near-perfect, colossal record, impossibly difficult for me to not recommend it to anyone. When I ask Taylor about the process of creating the record, she mentions it started out as largely monetary-based. "The record label was like, 'You're making fuck-all money, so we don't know if we want you to do another one.' That was really gutting, because it was like, 'Of course I haven't. I'm just starting. I haven't had access to all the things these huge stars have access to.'" She recalibrated, and attempted to make a Radio 1, 'poptastic' album so she wouldn't get dropped from her label, but held herself back. "I physically can't do that. It never feels right when doing that," she mentions. "My authenticity came through."
Prioritise Pleasure juxtaposes harsh realities of everyday — hookups, self-reflection, and regret — next to gargantuan themes of joy, pleasure, and self-reliance. It's rare a record makes you feel liberated while talking about dark subject matter — one of the 'poptastic' songs is "Moody," which applies a typical cutesy song structure where she spells out the song's title to the idea of comments people have made about Taylor's demeanor. It's Gwen Stefani's "B-A-N-A-N-A-S" if "Hollaback Girl" was about self-flagellation. Over "I'm Fine," she charts the politics of sexual freedom and its optics; "Fucking Wizardry" and "Hobbies 2" sets boundaries in romantic relationships; "I Do This All The Time" is a poetic love letter to her former self, telling her to "Look up, lean back, be strong"; and its climax, the title track, is an awe-inspiring meditation on the power of putting yourself first. Among a choral arrangement and an instantly propulsive beat, she details every action she takes with the sole purpose of bettering yourself. "Shave my pussy / Unfollow you / Keeping busy / And sleeping in," she shouts.
---
Obviously, people went nuts. It's music unafraid to live in the now, to explore every corner of reality in modern life and how horrible and joyous it is simultaneously.
"I've been making music for 15 years and this is the most true to me I've ever been," Taylor says of the album's success. "For this to be what's popping off for me, there's something so validating about that." The record debuted at No. 11 in the UK and was nominated for the Mercury Prize, but the most important thing that came from its success is her slew of fans, which grow larger every day. It's the kind of cult following someone like Carly Rae Jepsen has — not as large as other artists, but if they attach onto you, they'll go to war in your name.
Her unfiltered writing style is most apparent to first-time listeners: She isn't afraid to mention that she forgets friends' birthdays, engages in dead-end hookups, or sexts people after mental-health talks, all for the sake of feeling alive. "Anything to prove I'm living / Anything to prove I'm free," she says at the end of "Hobbies 2," with one caveat — "As long as I'm not busy." I compare her writing style to the author David Sedaris', who similarly doesn't admit his fuck-ups or moments where he's in the wrong. "It's important to be transparent, because being alive is hard," Taylor says. "I wouldn't want a shiny version of myself out there. It wouldn't feel like I was truly being loved, either. I feel like people who love me and come to the shows love all of it, not just a hot picture."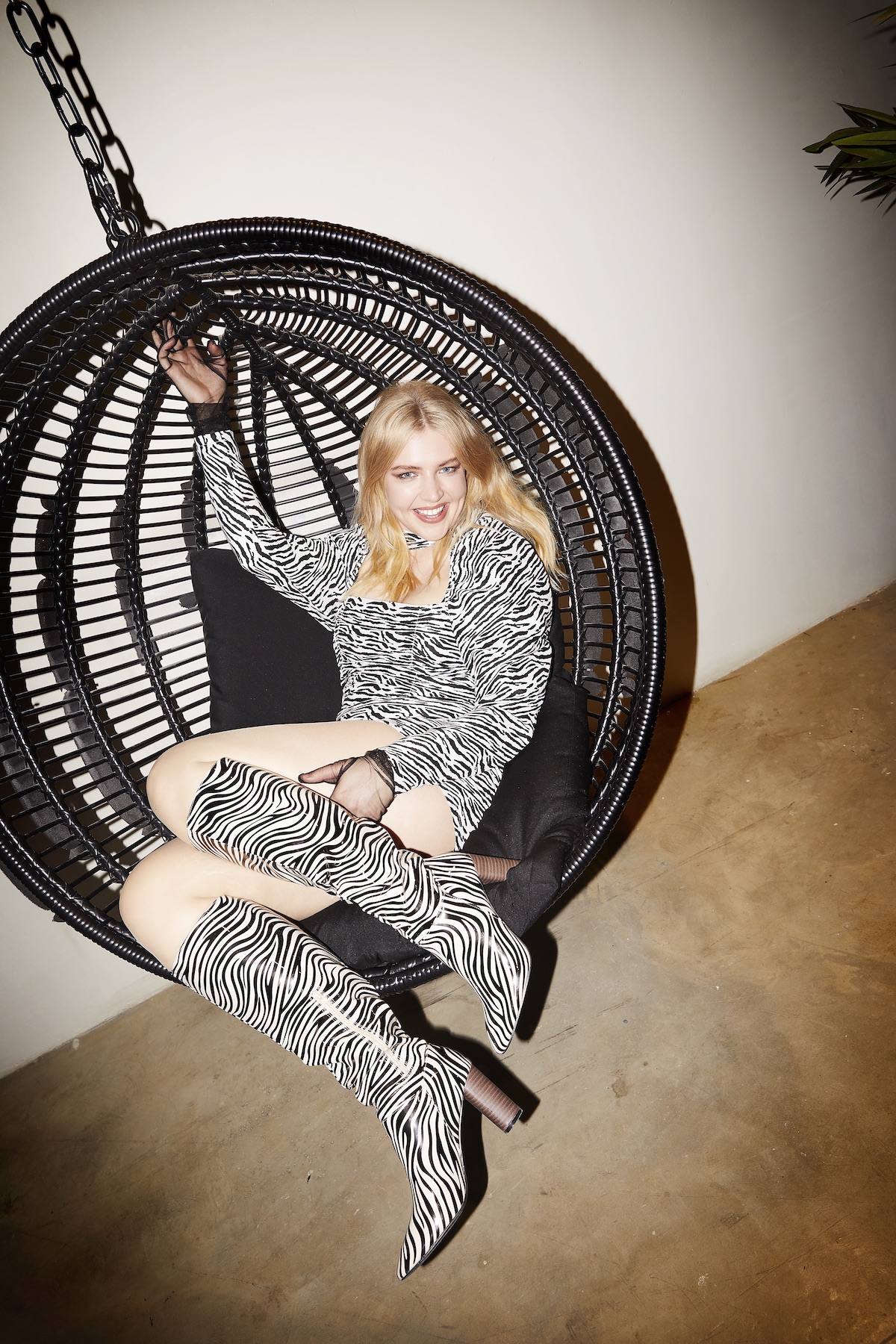 In 2022, Self Esteem's popularity skyrocketed, and immediately, Taylor was doing more gigs than ever before.
She played 36 festivals during the summer, wrote songs for TV, acted, and composed the score for the play Prima Facie, starring Jodie Comer, which plans to run on Broadway this spring. Part of her packed schedule, she says, is because of her long-time involvement in an industry where she had to fight for opportunity. "I cannot get used to the fact that I have to schedule in all these amazing opportunities and things I really wanna do," she says. "I've been in desperate fighting mode for fifteen years. Being here now, I'm letting myself enjoy it. I'm not overthinking it. Because my predisposition is to be like, 'What's the catch?' There isn't a catch. I deserve it all. All it is is like, 'Okay, these doors are open, let's work hard.'"
But even a workaholic like Taylor couldn't have survived the immense amount of pressure she put on herself, and, unsurprisingly, she burnt out. Following a tour last year, she spread herself too thin, and needed a break. "There's no point in getting here and then not doing a good job," she points out. But there's still a part of her that wants to do everything, writing songs in her head while she's getting a massage, a new habit she's introduced in her self-care routine. There's a specific motivation to this: "I want to make my career as big as possible to help other people get the chance, because it's still so governed by privilege and it's gate-kept by a certain kind of person. All creative industries are. Look what happens when you give someone a tiny bit of a fucking platform," she says. "When I get compliments on any of the theater or writing stuff, I'm like, 'Yeah, hello, I told you!' It really is blissful now that I can have an idea and someone's gonna listen."
Further into our conversation, we delve into swapping different recommendations, books, shows, etc. — something she warned me she does at the very start of our talk. "I always just want to help," she said, and then, in her very next sentence, "Have you seen that documentary Stutz?" After mentioning she posted the excellent Our Wives Under The Sea to her Instagram story last year, I ask what else she's reading. She's in the middle of This Naked Mind: Control of Alcohol, which has been essential for this particular tour, which has been alcohol-free and yoga-dependent. I compare Prioritise Pleasure to the works of Ottessa Mosghfegh, who she loves, and then implored me to check out Ocean Vuong's On Earth We're Briefly Gorgeous. (I moved it up on my to-read list, and it's as beautiful as she said it would be.)
Sneakily, I try to mine for hints on her upcoming music, asking if she has an upcoming song she's excited to play live. She pauses, and says with a smile, "…Yeah." She laughs, and then says, "I'm gonna keep it close!" She actually has given fans tiny hints of what's next by performing two new songs, "Love Second Music First" and "Mother" at a recent show. The latter is not, as I suspected, about the worshiping of pop stars and the infallibility we place on them, but the dynamic of acting maternal in a personal relationship: "I've helped boys pay their fucking taxes. Like, no, sort it out yourself," she says.
We do, though, talk about fanaticism's relationship with language, and the "mother" discourse circling around Twitter, the term of endearment usually referred to a female artist who has achieved minor cult popularity. "I always thought, 'What is it that makes a pop star mother status?' It was this thing where I was, like, 'Well, no one calls me mother…'" she laments. I bring up Meghan Trainor's new car crash you can't look away from, "Mother," a roundabout fit of irony that succumbs to the memes. "Those two songs existing at the same time, it's quite profound to me," Taylor says about her and Meghan's songs of the same name. "What they're both saying, it's a real spectrum of womanhood."
Something that catches my ear as we talk is Taylor mentioning that she's now shifting her mindset towards a career that spans upwards of 50 years, creating a slew of records. Prioritise Pleasure, she says, was the result of letting her creativity flow, unfiltered, and after all the recognition and success, why attempt any other strategy? "This is why I work so hard — I'm thirty-six, finally getting somewhere in this fucking business, and I want to make all these different types of music. I want to explore everything I've ever wanted to do." She references Antony And The Johnsons' I Am A Bird Now, which was a "defining, game-changing" album for her. It's a deeply personal album, solely surrounded by piano, about the early stages of the artist's transition. "I really intend on making a stripped-back simple piano torch-songs record. Not a beat to be seen. And then I want to make something really orchestral. I want to make 20 albums, do you know what I mean?"
She mentions that if she stuck to what her label wanted, gave them a people-pleasing pop song, she wouldn't have the platform in order to make all these future albums, to stick around for her own creative endeavors to see what she might create next, nor the fans that would inevitably latch on. Prioritise Pleasure, and by association, her own moral compass and ambition, has opened the door for her future career — something that she sees including writing (fiction and nonfiction), penning a movie soundtrack (hopefully James Bond) so she can go to the Oscars, and continue to tour and create moments and works of art. "In five years time I see us doing a new show that's breaking the boundaries of live music," she says, "If my back holds out."
At this point, with each door opening for her, she's glad to finally be looking towards the future, after so many years of her "feast or famine" mindset.
"The way people respond to [the music], it's not just pop songs, it's helping people in the way I've helped myself, in terms of, 'You're right to exist, and you're right to exist exactly how you are.' That's my point all the time," she says. These songs have helped so many with their extended reach, and now, in a compensatory way, her found audience now allow her to be at ease with herself and her trajectory.
"The shift I've finally — after so many years — I've felt this year is, I think I'm going to be okay," she says. "And I think there's gonna be people who are gonna come with me on this."
— —
— — — —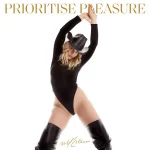 © Olivia Richardson
:: Stream Self Esteem ::
---