Forged in the fiery depths of angst and inner reckoning, You Me At Six's eighth album 'Truth Decay' is as unapologetic as it is unrelenting. Frontman Josh Franceschi takes us track-by-track through the rock band's best record yet.
Stream: "God Bless the 90s Kids" – You Me At Six
---
Why don't you crack me open, see what spills out?
Emo Night just got a bold new set of songs to spin.
Forged in the fiery depths of angst and inner reckoning, You Me At Six's eighth album is as unapologetic as it is unrelenting: The English rock band dove into themselves and their oeuvre like never before while making Truth Decay, a retrospective, introspective record that hits hard and leaves a lasting mark. Emotionally charged and achingly raw, Truth Decay is a feverish, impassioned album full of energy and love: A set of visceral, vulnerable, and undeniably human songs that find You Me At Six at their best and holding absolutely nothing back.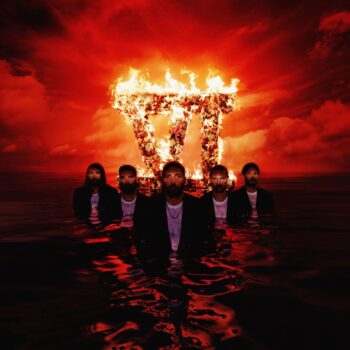 I'm not your enemy
I'm not your friend
Not your day one
I'm not your ex
A drunk text on the weekend
A decision you'll regret
I wanna fill that space between your bones
Lay you out across all the corners of the globe
God bless the '90s kids
21st Century misfits
They never know to quit
They write their own scripts
They were the king and queens of the underground
Heaven and hell bound
God bless the '90s kids
– "God Bless the 90s Kids," You Me At Six
Released February 10, 2023 via Rise Records, Truth Decay is seismic in scope and intimate by nature. The follow-up to 2021's SUCKAPUNCH sees You Me At Six's Josh Franceschi (vocals), Max Helyer (guitar), Chris Miller (guitar), Matt Barnes (bass), and Dan Flint (drums) coming together in a way that honors and celebrates their nearly two decades together as a band, capturing the essence that has enabled You Me At Six to stand the test of time.
Recorded at Black Rock Studios in Santorini with producer Dan Austin (who also worked on the band's previous two albums), Truth Decay is an all-hits, no-misses affair fueled by catchy melodies and charismatic vocals, roaring guitars, high-octane drums, and a resounding sense of tension and release – that ever-turbulent balance of upheaval and catharsis.
"The album is pretty much a reflection of the band we once were," frontman Josh Franceschi tells Atwood Magazine, calling Truth Decay a quintessential You Me At Six record full of energy, full of love, recovery, and self-doubt. "We wanted to look back at the records we'd already make and pull them into tomorrow."
He notes that the vision for this record was "just to make an album purely driven by the intention to please our fans and to maybe wake up some that have been sleeping on the past couple records by reminding them why were their favourite band."
Yeah it's true I don't know how it feels
But tell me did you take the red or blue pill
A finger on the trigger as a crutch
Time to press eject, it's a feeling in your gut
A heartache in the making, it's half past lonely
Deadbeat promises for your eyes only
Eyes wide shut you're all grown up
Oh death by a thousand cuts
A lovers touch hurts twice as much
A flesh wound got you all torn up
The first wound got you all torn up
I don't want you to live like this forever
I don't want you thinking you can't do better
You're upside down, you're inside out
I know that you would be better off alone
– "DEEP CUTS," You Me At Six
"We drew on inspiration from not only our peers in the period of 2006-2012, but also our own records from then as well. We began to look back on all the things that made us want to be in a band in the first place and we wanted to make an album that came slightly easier to us. On previous albums, we'd been in the pursuit of a challenge, but this time around it was simple – if a song didn't make us jump round the room, we weren't using it."
"Truth Decay is an honest depiction of my equilibrium and I," he adds. "Trying to find the good in bad moments. I think music should make you feel like it was written specifically for you. Ultimately, that's when a song really connects: When it hits you in feels, but sparks a sense of euphoria also."
I think it embodies both the self-assurance and bravery that we have in the band. We know what we like, what we're good at, and now we know how to present it in an interesting way without feeling dated.
The album title is an evergreen statement on personal perspective and experience – a theme that comes up throughout these thirteen songs as Franceschi and his band mates explore themes of growing up, overcoming insecurities, relationships, realizing one's self-worth, and more. "Everyone has their own version of the truth and either that illusion falls away in the face of the actual truth or it continues to play people," Franceschi explains. "I like the idea of the multiple versions and play-outs of the same inevitability."
From its cinematic opener "DEEP CUTS" to the tender, achingly emotive closer "A Love Letter to Those Who Feel Lost" (featuring English "ravepunk" artist Cody Frost), Truth Decay proves an exhilarating, dynamic, and dramatic listening experience. Memorable moments come to bear in every song, with standouts including the rousing, spirited alternative anthem "God Bless the 90s Kids," the churning hardcore eruption "No Future? Yeah Right" (featuring Rou Reynolds of British post-hardcore band Enter Shikari), the soaring pop/rock outpouring "A Smile to Make You Weak(er) At the Knees," and the heavy, in-your-face "Ultraviolence."
Franceschi lists "DEEP LOVE," "heartLESS," and ":mydopamine:" as his personal highlights, citing a line from "After Love In the After Hours" as his favorite lyric:
I trusted you like a new born
Deception was your art form
Scorsese when I'm in a rut
You used to love to fuck me up
Why don't you crack me open
See what spills out
I let you have your moment
Because that's all you care about
– "After Love in the After Hours," You Me At Six
---
"'heartLESS' was a song we've been sitting on for years knowing it would always come out," Franceschi says of one of Truth Decay's most vulnerable and emotionally charged tracks. "It's a song about feeling insecure and yet accepting of whatever may come. I wrote [it] about someone close to me in the middle ground of a break up and falling in love."
Meanwhile, ":mydopamine:" served as the album's fifth single, and is easily among its catchiest moments, with a fierce rhythm section laying strong foundations over which electric guitars sizzle and soar, and Franceschi's own voice flies higher than high. "Dopamine is the body's feel-good chemical, it's responsible for allowing you to have pleasure, satisfaction and motivation," Franceschi says. "This song is about someone being that for you, making you feel good, making you feel alive."
I am all the therapy you need
I know you don't trust anybody
But you can count on me
My dopamine
I hate it when things get complicated
Voices get raised and we're strangers
Standing in each other's way
I hate those days
A crash course in remorse
We've been through worse before
And don't drive me away
Cos I wanna take this all the way
My dopamine
---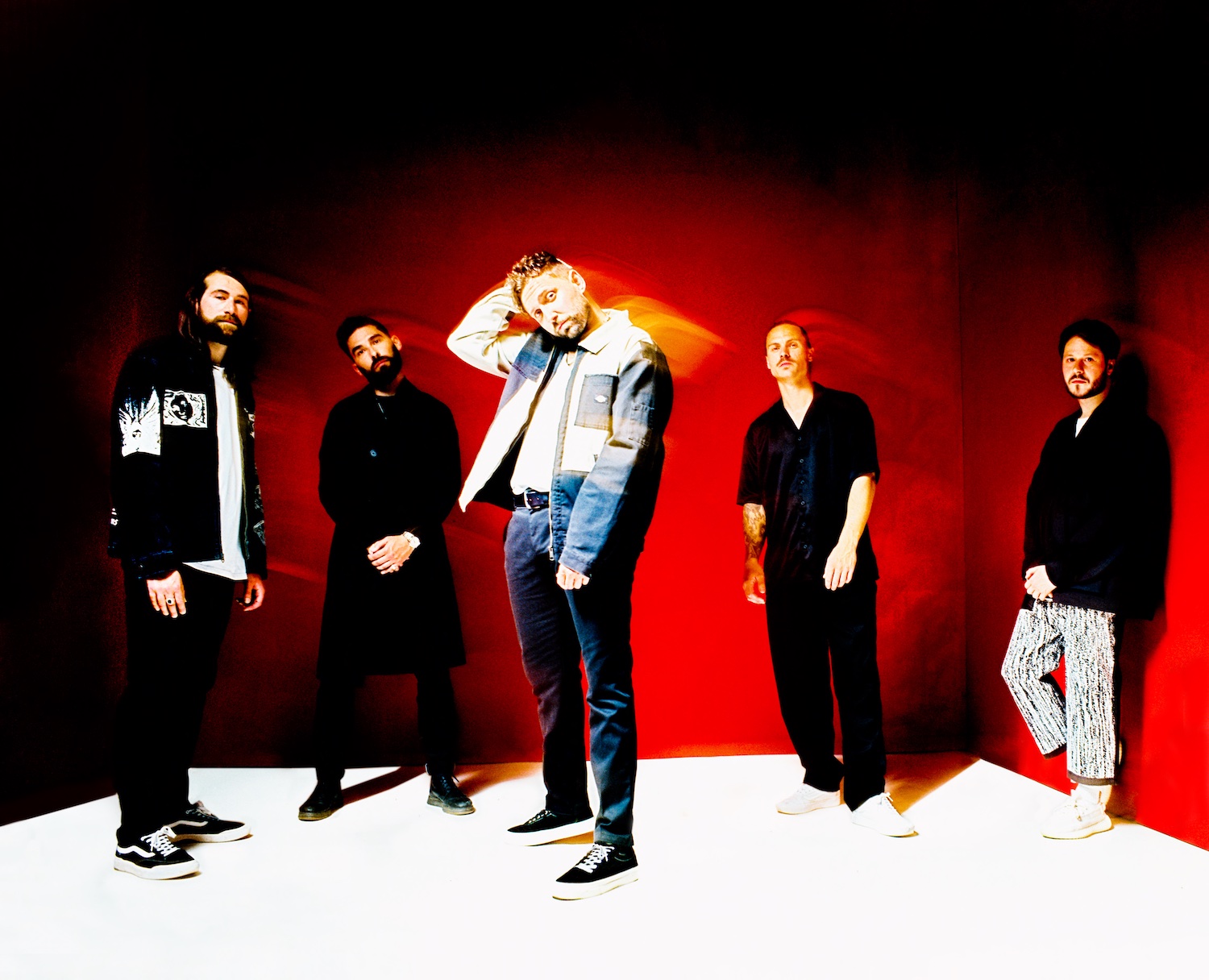 Wherever you look on Truth Decay, there's an impassioned voice piercing rays of light through the immediate darkness.
You Me At Six's eighth album takes everything fans have long loved about the English alternative, pop-punk / emo band, and boils them down to their raw ingredients: Unbridled emotion, uncompromising sound, deep-diving lyrics, and cathartic performances that demand our full, undivided attention. You Me At Six have long known how to grab a crowd, and here, they've done it thirteen times over in an album that years to uplift us, even when we're at our worst. In staying true to their roots, they've made a hard-hitting, unapologetic and unrelenting record that just might go down as the best of their seventeen-year career.
"I just hope that they feel themselves when listening to to the band, and feel connected to the songs," Franceschi says on the topic of audience impact. "If we're soundtracking the good times or remedying the bad ones, [I] just [hope] to be part of it."
Experience the full record via our below stream, and peek inside You Me At Six's Truth Decay with Atwood Magazine as Josh Franceschi goes track-by-track through the music and lyrics of the band's eighth album!
— —
Stream: 'Truth Decay' – You Me At Six
:: Inside Truth Decay ::
— —
Deep Cuts
It's about valuing and seeing the worth of two people in my (Josh's) lives, in a way I wish they could see for themselves. It's a battle cry to value themselves more and to not continue the route they are taking in the search of validation. Fully of energy and has an undertone of hope that people will love themselves the way I love them.
Mixed Emotions
This song is about the band. About how we wish we'd been able to communicate better growing up over the past over 18 years. We're well versed in each other's trauma and life experiences as we've all shared them… It's trying to take accountability and asking for accountability, shedding light on the subject of toxic masculinity. We're far better now at understanding and empathizing with one another.
God Bless the 90s Kids
Our collective favourite on the record. It's the song that embodies the spirit and DNA of Truth Decay. We wanted to take the soundscape of older YMAS and pull it into the present day. We've tried to re-find a sound from 2010-2014, Hold Me Down, Sinners, Cavalier Youth, which were very much this identity that we wanted to revisit. Using all our experience of making music in this realm and this is the result. I guess it's paying homage to our former selves.
After Love in the After Hours
This was one of the final few songs recorded for the album. It reminded us of some old school YMAS songs from the Hold Me Down era (especially the outro / ending of the song having a slight nod to The Consequence)
No Future? Yeah Right
A song in which we are taking aim at those who have told us they can control our destiny. Rou Reynolds involvement came from when we were close to finishing it, Josh mentioned he felt like asking Rou to share some vocals and that bringing some of his production would really benefit and enhance it.
heartLESS
A song written about a dear friend of mine. As we were making the record, he was explaining to us how he was struggling with the notion that he was in the middle of separating from somebody, and he felt guilty about not being out of love with them but falling in love with someone new.
Who Needs Revenge When I've Got Ellen Rae
Again this song feels like it has a slight nod to Hold Me Down with the energy it has. It was written on our second AirBNB trip that we did for the writing process of this album. When we came up with it we wanted to look at it as a relative of Underdog, which is why it has a similar feel in the chorus with the drum beat.
Breakdown
A few of us created this track back in 2020, this actually was one of the songs that was written before we'd even started talking about making a record. It just had such an angry pent up energy to it that just stuck around for ages that felt like it showed a different side to this record that maybe blended well from our last album SUCKAPUNCH into Truth Decay.
Traumatic Iconic
The way this song came about actually was a blend of 2 songs we had together, using the verse from a totally separate idea and then using the chorus from a completely different idea to make one song that had more potential. We loved the parts of these songs but in their original formats, we were struggling to find a way to make it work on the record which is something we have never really done before.
:mydopamine:
This was one of the earliest songs written for the record, it started as riff from Chewy but finished as the very last track for the album. It had a really cool energy but wasn't a stand out at first so got left towards the end. Once we got to it and started recording it all of our minds had changed and knew we wanted to try and release this song pre album drop. It's got a great blend of the 90s era of grunge rock we love but spun in our way.
A Smile to Make You Weak(er) At the Knees
This was the very very first track written for the record, which wasn't actually intentional. It was a song created when we were writing for Cavalier Youth. It missed the cut of that album and just sat in the YMAS songs vault. On one of our writing trips Chewy said that we should use this song as he has kept going back and listening to it over the years and felt right to go with this album.
Ultraviolence
This was one of the songs that crossed over from the SUCKAPUNCH campaign into this one, its inception was around the time the last album was coming out and it was a song that we kept working on over the space of 2 years. At one moment we didn't think it was going to make it over the line until the final mixing stages, you never know if a song is good enough or fits but we felt like this married up well with "No Future" and "Breakdown" as the heavier side of the album.
A Love Letter to Those Who Feel Lost
Myself and Max had written this song back intentionally for our album VI but never used it. It was from the time when Chewy suggested about us listening to songs from the vault that had been forgotten about or not used that this was once again discovered, re-worked and re-imagined from what it once was. We also had the amazing chance to bring in Cody Frost as a feature. It really elevated the song and helps send a message and make it feel like an album closing track for us.
— —
— — — —
 © Freddie Stisted
:: Stream You Me At Six ::
---