"You have this place that has all these music fans, all this great music – like, incredible music history – and very few actual shows coming through there… and it got me on this concept of New Jersey existing in the shadow of the city."
Jack Antonoff (of Steel Train, fun., and Bleachers) was born and bred in New Jersey, and he's well aware of his native state's music scene. Being next to New York City proves both a blessing and a curse: You get to take advantage of what it has to offer, but without the ability to offer those same things yourself.
But it doesn't have to be that way. That's why Jack, who most recently won the Grammy Award for Album of the Year for his work on Taylor Swift's 1989, founded Shadow of the City music festival. "I think the main thing that's different about SOTC is that it's built on this concept of being sort of a younger brother; we didn't say, oh we want to go in and have this massive festival," says Antonoff. "It was supposed to be this thing that existed… to have a bunch of artists I love and am friend with, to come together and play in a place where great music is created – Asbury Park, New Jersey."
Shadow of the City (or SOTC for short, because millennial culture is all about acronyms) debuted last year, with Jack Antonoff's own band Bleachers headlining alongside Charli XCX, The Front Bottoms, Misterwives, Cults, Bully, How to Dress Well and Sam Dew. Eight artists on one Saturday in September: Easy, breezy.
Hence Shadow of the City is back by popular demand, similarly featuring eight diverse artists from a range of genres. Interscope's The 1975, Carly Rae Jepsen and BØRNS prove an attractive group of pop music headliners, but acts like Frank Iero, Shamir and HANA throw in enough freshness to give the festival a character that is entirely its own. Antonoff will be performing in his first band, Steel Train – a true American band, if you've never heard them.
IMPORTANT NOTE: Due to unforeseen circumstances, Shadow of the City will take place at Stone Pony Summer Stage in Asbury Park AND NOT Seaside Heights!
You're guaranteed to have fun at Shadow of the City: It's a big summer party, and everyone knows it. If you haven't yet purchased tickets, they are still available via axs.com for $83.50 after tax and a (in)convenience fee – so buy them now. In addition to great music, Shadow of the City will also feature a charity dunk tank (schedule here) benefiting New Jersey LGBT youth shelters, pop-up stands, vendors and carnival games. Whether you're coming specifically for a certain act or you just want to have some fun in the hot New Jersey sun, Shadow of the City is bound to leave you with a smile on your face.
New Jersey doesn't need to step out of the shadow in order to celebrate itself, its culture and its storied past. This year's SOTC festival has several familiar and unfamiliar names. Before you take that chance and discover someone new, we have provided some background information on this year's performers. Atwood Magazine is here with (y)our guide to New Jersey's best music festival, a preview with everything you need to know to make the most of your Shadow of the City 2016 experience!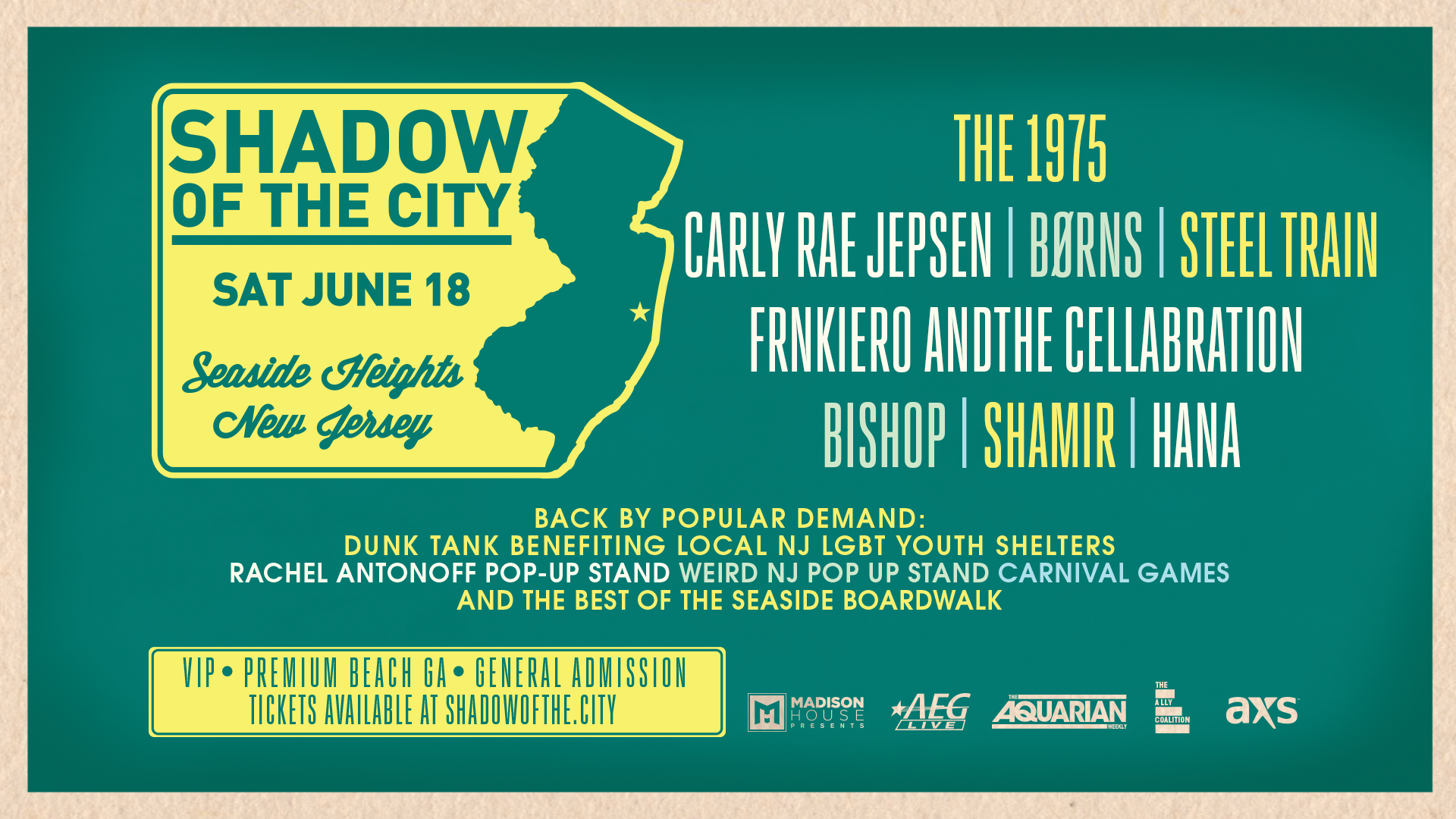 SHADOW OF THE CITY FESTIVAL
Saturday, June 18, 2016 @ Stone Pony Summer Stage
Festival Lineup
Schedule
12:00 pm
DOORS OPEN
1:00 – 1:30 pm
HANA
It's amazing how effective rebranding's can be. Since changing her moniker to HANA, Hana Pestle's success rate seems to have skyrocketed. Her debut track "Clay" – co-produced by Blood Diamonds' Michael Diamond – and captivating follow-up "Avalanche" were released last year, and she quickly went from complete obscurity to becoming one of the most buzz-worthy, up-and-coming artists around. The self-titled EP HANA was released in March 2016, and is certainly a hidden gem amongst the first half of the year's releases. HANA's haunting vocals and enchanting beats will prove a wonderful way to kick off a summer festival AND discover someone new and exciting.
2:00 – 2:30 pm
Shamir
XL Recordings-signed Shamir went through a lot of different musical genres before developing his current mix of electronic, disco and "hip house." His countertenor will stop you dead, but it's the level of creativity exuding from all angles of each song that define his true artistry. Good luck trying to put Shamir in a box; it simply cannot be done.
3:00 – 3:30 pm
Bishop Briggs
Bishop Briggs is pretty much brand new, having started a promising music career in 2015 with her debut single "Wild Horses." Her singer/songwriter dark electro-pop music is inviting and unnervingly catchy, sporting modern electronic production that mixes with rock influences to create a truly captivating experience.
4:00 – 4:30 pm
Frnkiero and the Cellabration
Yep – that Frank Iero. The NJ-born rhythm guitarist and backup vocalist for My Chemical Romance has a solo career that's been treatng him well in recent years, and he'll be bringing his music to the stage on Saturday.
5:00 – 5:45 pm
Steel Train
Indie rock band Steel Train chugged along from 2002 to 2013, but they're reuniting at Shadow of the City for what sounds like will be a one-off show. Who knows – perhaps more will come! Just in case you missed the boat on this band in the previous decade, here's your chance to get the full Steel Train experience. Think Bruce Springsteen in his heyday, and get pumped.
6:15 – 7:00 pm
BØRNS
To say that BØRNS' music is 'colorful' requires some redefining, for BØRNS paints not with red, blue and green hues, but with bright, psychedelic neon pigments. His musical tapestry is an aural sight to behold, a euphoric journey of dynamic, melody-driven indie pop. His debut album Dopamine was released October 2015 via Interscope.
7:30 – 8:15 pm
Carly Rae Jepsen
There's no pressure quite like that of coming back from a number one pop single, but "Call Me Maybe" artist Carly Rae Jepsen accomplished the feat with her head held high and her integrity intact. 2015's Emotion found a seasoned Jepsen exploring the musical and emotional depths of pop music, applying her young and in love charisma to bouncy, '80s-inspired dance-pop music with modern electronic, indie and pop production styles. In Atwood Magazine's exclusive interview last year, Jepsen noted, "This album, to me, was sort of a collection of many different emotions, I guess. There was a big key for me of really trying to bring it back to a place where it unlocks something for all of us, and it wasn't just about, like, my journal – although many of those lyrics are little fragments of that – but it was also kind of getting to something grander, where it was things that we all feel so it could kind of become hopefully everyone's album, instead of just mine."
8:45 – 10:00 pm
The 1975
The "indie" (Interscope-signed) band that catapulted its way into the spotlight with two number one albums, The 1975 channel sex and swagger through sultry music that combines everything from electro ballads to gospel pop. Atwood Magazine gave the band's 2016 sophomore record (too long a name for this space) an impressive 8.4 out of 10 rating, nothing that The 1975 "have lived up to their artistic ambitions to make songs that mean something, in terms of society, art, love and life. The record cycles through themes of elation, insanity, despair, and cocaine-fueled psychosis, with each track bursting out of the minds of a band who has put everything out on the table."
Atwood Magazine last saw (and interviewed) The 1975 at Boston Calling. Their sound translates perfectly to the festival environment and should prove an overwhelmingly satisfying way to end a day full of music.
WHAT TO BRING
Sunscreen
Hat
Sunglasses
Cash
Earplugs
Non-professional film and digital cameras
Comfortable footwear
Food
Small backpacks or bags
Windbreaker/light jacket for evening
Valid Driver's License for will-call and/or to drink alcohol
WHAT NOT TO BRING
Weapons of any kind
Fireworks/explosives
Illegal substances
Large coolers
Hard sided coolers
Picnic Baskets
Pets
Glass containers of any kind
Alcohol (alcohol will be sold at the Festival)
Musical instruments
Large Backpacks
Professional still camera equipment (no detachable lenses, no tripods, big zooms, or commercial use rigs)
Audio/video recording equipment

Be Safe and Have Fun!
For a festival pump-up, watch Jack Antonoff talk about Shadow of the City:
#####
For more Shadow of the City information, go to: shadowofthe.city
#####