As if soundtracking the universal loneliness and longing of these strange and trying times, Smallpools' new single "Simulation" captures the inner and outer turbulence of our present day. Is it the first look at the band's long-awaited second album? We'll have to wait and see…
Stream: "Simulation" – Smallpools
---
The year 2020 has felt unreal; almost like we're living through some eighth grader's twisted sci-fi fantasy.
Life had already become unpredictable and chaotic by the time the COVID-19 pandemic hit, and now with it, everything seems magnified to ten times the typical amount of "weird." As if soundtracking the universal loneliness and longing of these strange and trying times, Smallpools' new single "Simulation" captures the inner and outer turbulence of our present day. It offers a cinematic indie pop upheaval that feels fresh and timely, as those of us who can stay in our homes and await the all-clear to come out again.
The future is in the rear view
It's so far from what they tell you
So throw away your new TV
They're controlling what they feed me
I wish you could be here
You could ride along
And I can drive all through the night
Oh, I wish you could see it
Soon it won't be long
Late nights
We're living life in a simulation
Loving life in a simulation
We're all part of the information
Oh, I wish you could be here
Late nights
Independently released December 4, 2020, "simulation" (stylized in all lowercase) is the latest in a long series of Smallpools singles. The West Coast trio of Sean Scanlon (vocals), Mike Kamerman (guitar), and Beau Kuther (drums) released "Play Pretend" and "slowdown" ft. morgxn this past April, followed by "Summertime" with Local Nomad, and "cycle" – not to mention, a slew of remixes for contemporary artists like American Authors, The Driver Era, and Julietta. Atwood previously described "Slowdown" as a perfect message for the present moment: "'Slowdown' is one of those rare musical collaborations that fits perfectly into both artists' catalogs… Showcasing morgxn's smooth, sultry vocals and Smallpools' dynamic, impassioned instrumental work, "Slowdown" takes the best of both artists and catapults their strengths into a song full of resolve, vulnerability, and sincerity."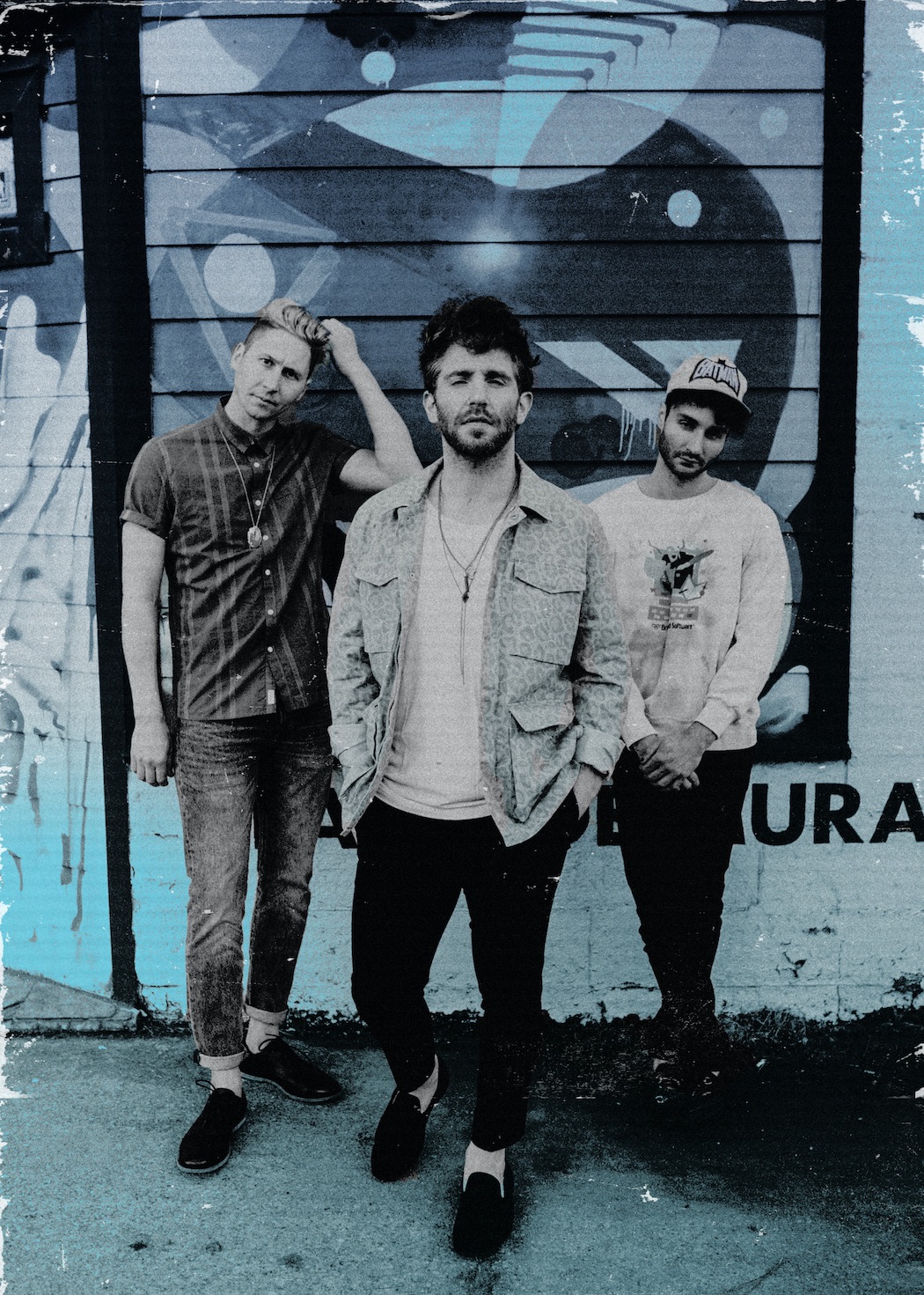 Smallpools' final release of 2020, "simulation" is a fitting cap to the year that was and wasn't: A time in modern memory that will prove a defining and pivotal space for so many of us, as we move through the rest of our lives.
"Being in such an odd time, the term "simulation" kept coming to mind," Smallpools' lead singer Sean Scanlon says of the band's new song. "Like, who is behind all of this!? cut it out! I brought the lyric "life in a simulation" to our Airbnb, and we all finessed it into what it is now. Mike added his signature '80s sci-fi production and here we are."
When the world becomes such a circus, I can't help but wonder if there's somebody logged in just pulling our strings for their own entertainment.
It's a simple, easy-to-grasp concept drenched in funky licks and a hearty '80s-esque soundscape: What's not to love?
So take another dose of what you're used to
Look away from what might be true
We're poolside on this sunny night
The watеr's draining out so come and take a dive
The arrival of "simulation" comes with an extra bit of good news: That of Smallpools' signing to ONErpm, who will be releasing the band's long overdue sophomore studio album in 2021. The band released their debut album LOVETAP! in 2015, which Atwood Magazine described as "a solid forty-five minutes of infectiously high-energy, party-ready synth and guitar-driven songs that blur the lines between alternative and pop music."
The band behind such 2010s indie pop staples as "Dreaming" and "Mason Jar" have grown sonically and matured stylistically over the past decade, and the streaming successes of more recent singles like "Passenger Side" and "Million Bucks" ("a dynamic anthem about finding your comfort zone in a strange place") suggest that their fans are still with them and ready for a full-length "round two."
"simulation" is another example of that maturity in action, finding the band drenching the soundwaves with charismatic energy while tackling today's existential and very real crisis of identity. Rather than strive to make meaning out of chaos, Scanlon goes for the jugular – recognizing that, if we're going to get through this, we need to do it together with our loved ones. "simulation" is a cry for connection in spite of distance; a relatable song of intimacy at a point of tension.
It's an impressive display of empathy and depth from Smallpools, and an exciting preview of what's to come on their immediate horizon.
While the band have yet to share any additional information about LP2, in the meantime, listeners have the groovy pulse and impassioned performance of songs like "slowdown," "cycle," and "simulation" to keep us company and immerse our senses. Whether this really is a simulation or just an unsettling new norm, it's nice to know we can still turn to art for connection, community, and emotional release.
I wish you could bе here
You could ride along
And I can drive all through the night
Oh, I wish you could see it
Soon it won't be long
Late nights
We're living life in a simulation
Loving life in a simulation
We're all part of the information
Oh, I wish you could be here
Late nights
— —
Stream: "Simulation" – Smallpools
— — — —
? © Brandon Keith
:: Stream Smallpools ::
---