Singer/songwriter Sarah Kinsley returns with her 'Ascension' EP, complete with new recording techniques and age-old themes of femininity, spirituality, and kissing someone "just to feel the air."
Stream: 'Ascension' EP – Sarah Kinsley
---
The word 'Ascension' just became so symbolic of what I was trying to attain with music.
Sarah Kinsley is getting introspective at 10 AM — after driving back to New York City from Burlington, Vermont the night before. She laughed and rubbed her eye, "It's totally fine."
"You just start to feel crazy when you're in a car for too long," she added.
The artist was prepping for Ascension's release — officially available on June 9. Kinsley told Atwood Magazine the 5-song collection is about "having a place where memories and jokes and connections that you have with every person you know are stored."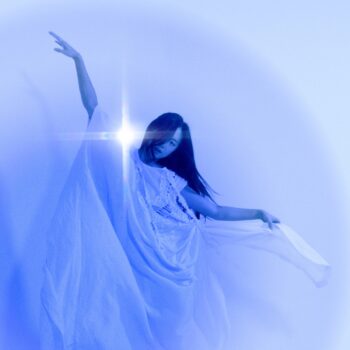 "It's like if you had a little island where all of your phrases, all of your inside jokes, all of these things would live and be personified…," she continued. "I had a lot of things happening in my life where I lost certain people or I fell out with certain people. And this idea of a place where memories and people and intangible things are alive was really fascinating. And it became really compelling after a while."
Kinsley would wake up thinking about the word "ascension." Although she doesn't consider herself particularly religious, this musician noted the relationship between "ascension," heaven, and divinity.
"I remember reading about it and and learning about certain religions [where] certain individuals get chosen by the Supreme Being to enter into heaven while they're alive," Kinsley explained. "And the idea of that, coupled with my understanding of ascension, became like — this place is a blessing and a curse, where you get to remember and re-experience life and loving with specific people in your life."
"And the remembering can either be a wonderful thing," she noted. "It can be such a dream, or it can kind of be a curse in that you can replay and experience life in a sort of bittersweet, nostalgic way. But yeah, that word just became so symbolic of what I was trying to attain with music."
Ascension features singles "Oh No Darling!" and "Lovegod." Both detail Kinsley's experience with love, loss, spirituality, and growing up.
"I was a child for a minute
Buckled up in pearls and hair
I look somewhat like a memory
When you were young and fair
Wandering the depths of nowhere."
– "Oh No Darling," Sarah Kinsley
---
Something about the collection feels like Lorde's Pure Heroine era.
It's comprehensive but, for a recent Columbia University grad, unsurprising insightful. "Lovegod," specifically, leans on religious undertones present throughout the EP. However, that's not the only message of the 2023 track.
"In my mind, ['Lovegod'] was almost the, sort of, desperation of me being on the other end of a God," Kinsley said. "I remember when I was younger, too, and I think this is something that's instilled in a lot of young women: the only thing I would dream about was being in love and wanting to — not even to be loved — to give love to someone, and to have the opportunity to share emotion and give."
"And that sort of indifference of, you know, who's ever on the receiving end of that, picking that partner, and responding to that desperation — that's totally involved with the with EP as well," she continued.
"Now I see you
For who you are
Singing holy praises
To an indifferent God
Now I want to
Just open my heart
But I am without someone
In that regard."
– "Lovegod," Sarah Kinsley
---
Kinsley's originals are known for their piano-driven, orchestra adjacent, full sound. Ascension is more than just a thematic shift. For this songwriter, it was "super natural" and "very organic" to incorporate her classical training, college curriculum, and love for late '70s rock.
That includes using a contact microphone to record vocals for the title track — a piece of recording equipment typically reserved for acoustic instruments. She shared bits of the creative process on social media, also hinting at upcoming concerts.
During album release week, Kinsley will perform at New York City's Governors Ball. Just days prior, she announced her role as the opening act for Gus Dapperton's fall tour and the opener for "Savior and Enchantress" Weyes Blood in August.
"She's just an idol of mine," Kinsley gushed to Atwood Magazine. "When I saw my name on the poster, I thought I was going to have a heart attack. I'm just obsessed with her — she's a huge influence on me. And I was kind of like, I hope she doesn't think she made the wrong choice by inviting a fan to open for her."
Until then, Sarah Kinsley's Ascension EP is available beginning June 9, 2023!
— —
— — — —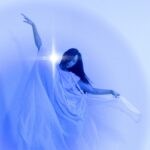 Discover new music on Atwood Magazine
 © Julia Khoroshilov
:: Stream Sarah Kinsley ::
---