Music is math — especially pop music. One of the genre's biggest critiques is its chord progressions' formulaic tendencies. In fact, four-chord schemas were always a noticeable inclusion in pop music.

---
From "Let It Be" by the Beatles to "Can You Feel the Love Tonight" from Disney's The Lion King to Jason Mraz' "I'm Yours," similar musical themes appear throughout history, beginning with Pachelbel's Canon circa 1680.
The repetitiveness inspired a medley from the Australian comedy music act, Axis Of Awesome. Their "Four Chords Music Video" debuted on YouTube in 2011 and featured over 40 snippets of pop songs, all of which used the same four chords. And, for most musicians, the well-known chord scheme isn't surprising.
---
Regarding pleasing-sounding music, there are certain chord preferences that sound the "best."
Or, at least, they feel familiar to casual listeners. This added emphasis seeps into music theory — beyond pop music of the current century.
When discussing intervals, both the IV and V are called "Perfect" instead of "major." Why? Again, because of their high degree of consonance. Conversely, the vi is a minor reflection (also known as the "relative minor") of its major chord, which is why it feels "comfortable" within the four-chord schema.
With pop music considered "formulaic" by some music theorists, the I to IV to V to vi is noticeably present in today's hits.
One of the most popular 2023 releases, Miley Cyrus' "Flowers" off this past March's eighth LP, Endless Summer Vacation, leans heavily on themes of Bruno Mars' "When I Was Your Man." Sure, the lyrics detail buying flowers and talking to someone for hours, but the chord progression also follows the same structure of I, IV, V, and vi.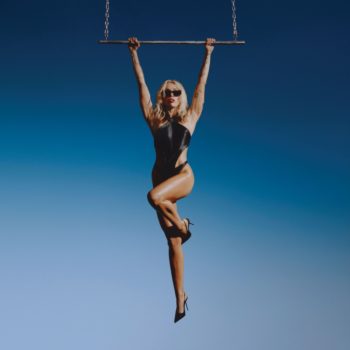 In fact, 7 of the Top 10 songs on the Billboard Hot 100 for the week of June 17, 2023, follow a four-chord structure, without varying from the I-IV-V scheme — Cyrus' "Flowers" among them.
The exceptions include "Calm Down" by Rema featuring Selena Gomez, which bounces almost exclusively between the I and V chords. The only variation is the transitional ii chord, which functions similarly to the IV.
"Creepin'" by Metro Boomin (with The Weeknd and 21 Savage) samples Mario Winans and P. Diddy's 2004 hit "I Don't Wanna Know." This song is in a minor key and subsequently leans on i, v, and VI chords.
Additionally, "Ella Baila Sola" by Eslabon Armado and Peso Pluma is described as "corrido tumbado," a trap regional Mexican music sub-genre reliant heavily on narrative-based lyrics. As a result, this chord structure differs significantly from American pop music.
Something noteworthy about the hits of June 2023: These tracks aren't exclusively defined as "pop" music. When discussing chart-topping "popular" music, that conversation includes all genres, with pop not necessarily being the most streamed.
Data from Prime Sound attributes hip-hop/rap as the "leading genre in the United States and Canada, followed by pop and rock."
Now, more than ever, different musical styles (and cultures) are pushed to the forefront of American pop culture.
Beyoncé's RENAISSANCE embodied Chicago house, "hyper-pop," and even classic '70s disco while celebrating the Black LGBTQ+ community.
With non-English speaking artists (like "Ella Baila Sola" singers Eslabon Armado and Peso Pluma) having a global impact in recent years, primarily thanks to social media, our understanding of music's audience has shifted to a more comprehensive, international scale.
Bad Bunny's Un Verano Sin Ti became the first Spanish-speaking album to be nominated for the Album of the Year Grammy Award. That collection highlighted styles hailing from the Caribbean, such as reggaeton and bomba, as well as "underground" categories like indie pop and even bossa nova.
Middle school music teacher Aaliyah Jordan highlights different music genres in her classroom. Last year, one student gave a presentation on her favorite K-pop groups. Jordan even taught kids to paint along with classical music, noting that it's "kind of funny to hear their reactions."
"Students are more and more welcoming to it," she added, "they're more willing to embrace it and to listen to it and respond to it — along with analyzing it. It's pretty cool to see that in the classroom."
Four-chord schemes will always be a theme in pop music — but it won't be the only theme.
Grammy Award "Album of the Year" nominee Jacob Collier is known for pushing the boundaries of pop music, sometimes rearranging hits like "Every Little Thing She Does Is Magic" by The Police and "In My Room" by the Beach Boys.
His originals modulate keys, change time signatures, and even operate between tonic notes. This deep understanding of music theory translated to "Erase Me" by Lizzy McAlpine feat. Jacob Collier, which now holds over 19 million Spotify plays.
---
Even Taylor Swift's "Tolerate It" from 2020's Evermore employs a 5 4 time signature and inverted tetrads. So, is trending music shifting away from "four-chord song" songs? Yes and no.
"I feel like [music is] getting more diverse in the sense that American pop music has more cultural influences that you would typically hear in other styles of music from other countries," Jordan said in the same interview. "And now you hear it in the pop music that everyone listens to today."
Still, if we're defining pop music as the genre originating from rock 'n roll, it's a safe assumption that I-IV-V-vi songs aren't going anywhere.
Of course, hip-hop/rap tracks vary sonically and structurally from pop. Whether or not there's a vocalist, the most listenable, chart-topping option would still be I-IV-V-vi. Jazz, by contrast, typically offers composers room for deviation and improvisation.
Even then, there are few alterations available in the chord progressions of a major or minor diatonic key signature.
Bottom line: Some genres offer more room for creative freedom than pop.
With other styles materializing in popular music, listeners can expect new, exciting sounds "popping" up on the Billboard Hot 100.