Fresh, indulgent, and often times abstract, Galapaghost's Sootie is a synthy semi-psychedelic trip down memory lane packed full of surprises.
— —
Galapaghost is unlike anything you'll hear all week, and that's the point. The musical project for Woodstock, NY-born, Austin, TX-based multi-instrumentalist, producer, and singer Casey Chandler, Galapaghost is a labor of love, of instinct, of feeling, and of pushing boundaries past their breaking point. Evolving multiple times since his emergence as a folk singer/songwriter in 2012, Galapaghost's current spaced-out experimental pop sound is most reminiscent of Cloud and Eden, while also being nothing like either of them.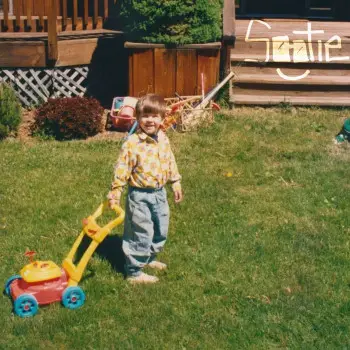 Atwood Magazine is proud to be premiering Sootie, Galapaghost's fifth full-length album (independently out August 10, 2018). A quick follow-up to January 2018's fourth album Pulse, Sootie represents a marked transition for Casey Chandler and Galapaghost as the artist fully submerges himself in electronic music for the first time.
"I wrote, recorded and mixed Sootie entirely by myself over a two month period in the beginning of 2018," Galapaghost tells Atwood Magazine. "Only having a $600 budget for the album, I recorded the whole album at home with very little equipment. This album is much different than any of my previous albums because it is entirely electronic (besides a few songs with real bass). I really wanted to feel like an amateur and explore a brand new style that I could get lost in, but at the same time have a blast creating."
Go on and have fun
with your friends on the weekend
Don't stay home all alone with your feelings
But I gotta say no
I'm not a superhero
And that's the kind of effort that it would take
For me to stay out late
And I will see you
I will see you someday
And I will love you
I will love you always
– "Bedtime"
There's an innocence about Sootie's minimalist approach that feels refreshing; it bears all the hallmarks of a debut album, and in many ways it truly is a re-introduction. Galapaghost has thrown out the playbook and started over, finding a new way to express himself not only through electronic sounds, but also through lyrical and vocal structures that fit the style.
It's Dylan goes electric, sort of.
Galapaghost explains, "That childlike feeling of discovering something new and beautiful was definitely the same type of feeling that I had while I was writing and recording these songs. I had always wanted to make an electronic album, so I bought a used Roland GAIA synth back in January and composed all of these songs using only that keyboard. Using sampled drums, I created drum loops in GarageBand, typically layering multiple drum loops on top of each other and distorting them, which gave the drums a rougher feel. Sootie was my childhood nickname given to me by my Dad, and a lot of the songs on this album are about childhood."
When you told me
you might need something more exciting
Well I guess I should get dressed
Cause I guess I got some expenses
Spending all the hours of the day
Working until you don't recognize your face
– "Jellyfish"
Fresh, indulgent, and often times abstract, Galapaghost's Sootie is a synthy semi-psychedelic trip down memory lane packed full of surprises. Experience the full record via our exclusive stream, and peek inside Galapaghost's Sootie with Atwood Magazine as Casey Chandler goes track-by-track through the songs on his dynamic fifth album!
Listen: 'Sootie' – Galapaghost
[soundcloud url="https://api.soundcloud.com/playlists/506245452?secret_token=s-CeDoc" params="color=ff5500&auto_play=true&hide_related=false&show_comments=true&show_user=true&show_reposts=false" width="100%" height="350″ iframe="true" /]
:: Inside Sootie ::
— —
Bedtime
This song is about getting older and realizing that my time is much more precious. I have less time to waste and I want to spend it wisely. Between having a 40 hour a week job, making music in my free time, running, reading and being with my wife, the other people I want to spend time with are people that I really care about. I also really love sleep.

May 25
This song is a fictional story about two young lovers, with pieces of myself as a teenager in there. I live in Austin, so I reference many places in Austin in this song. I wanted to create a very trip-hop kind of vibe for this song.

Jellyfish
This is a song about growing up and accepting that adult life can be, well, boring at times. Sometimes your face changes more quickly than your life. But life is hard because it's worth it.
Sootie
My childhood nickname was Sootie, which was given to me by my Dad, who also took the cover photo. I wanted to make a fun beat and a catchy chorus for this song, but keep it very simple. This song is about starting over as a musician and getting over my fear of being rejected again for my music. I believe that only the one who risks is truly free and this is my big risk. I only want to create the music that I want to create and not for anybody else, but of course that is scary because I'm making music that I've never made before. Rejection gets easier as you get older, though.
Verizon LG
It might come as a shocker, but I've only ever had a flip phone, so this is my homage to my flip phone (which I named Flipper). I'm a minimalist in life and especially with technology, so having a smart phone would just be wasted on me. My wife joked that she should probably remove me as her emergency contact because half the time I don't even pick up my phone. Having a flip phone means that if I text you then I REALLY LOVE you or I'm paying you for something because it takes substantial effort for me to text.
Lukewarm Love
This song is about a fictional story between two lovers. I wanted to create a cool downtempo feel for this one, but that was also dance-able as well. I had a lot of fun making this one.

Don't Frown
This one is about my fear of releasing another album that people don't care about. It's about reflecting on my career as a musician and realizing how proud I am that I went for it, even though I had many failures. In the end, even though I haven't achieved what I set out to, along the way music brought me so much in life that truly makes me happy. It brought me to Italy, which is where I met my wife Elisa and my best friend Federico that I recorded my last 3 albums with. This song is just accepting that there's always something good to come from failure and that sharing my failures with the people I love is far better than celebrating alone.

Sunfrost
This song is actually the very first song that I wrote for this album, not having any clue what I would come up with. I wanted to come up with something soft and innocent that had a very childlike feel to it. I chose to do the whispered vocals because I thought the song had a lullaby quality to it. As a child and as an adult I always loved to get lost and end up somewhere I never expected to be. I also just loved fading into the background and watching life from a distance, kind of like a spectator. The line "too soft for this world" is my favorite lyric of the entire album because it's the most honest. There's a famous grocery store in my hometown of Woodstock, NY and it's called Sunfrost.

— — — —
? © Elisa Tron
album art © Dave Chandler
:: Stream Galapaghost ::