Every Friday, Atwood Magazine's staff share what they've been listening to that week – a song, an album, an artist – whatever's been having an impact on them, in the moment.
This week's weekly roundup features music by NewJeans, Sydney Sprague, Lindsay Lou, NEEDTOBREATHE, Abby Holliday, John Paul White, Kanwal, Burr Island, moony, Jai Wolf & BANKS, Sloppy Jane, Magic Al, Riley Max, Nxdia, Aymee Weir, & AKICITA!
•• •• •• ••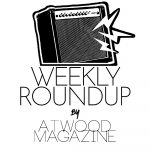 :: Get Up – NewJeans ::
Bunnies unite! These girls are talented beyond their years — especially considering they were teenagers at the time of debut (international age). As NewJeans' "maknae," or the youngest person in the group, Hyein was only 14 years old at the time.
They found success with "OMG" and "Ditto." They became one of the most highly anticipated acts at 2023's Lollapalooza Chicago. Thanks to their second EP Get Up, NewJeans cemented their reputation as the world's next big girl group. The collection features 6 original songs — each holding millions of Spotify plays.
"Super Shy" became a fan favorite, with the track detailing an unspoken crush due to the narrator's shyness. The artists say in the verse, "And I wanna go out with you, where you wanna go? / (Huh?) Find a lil' spot, just sit and talk."
It's light and fun. It's summer-y and exciting. If you're looking for a new K-pop group to obsess over, NewJeans and their second EP is definitely worth the stream.
:: "Nobody Knows Anything" – Sydney Sprague ::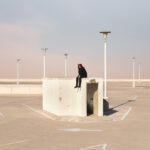 I just can't get over how tongue-in-cheek Sydney Sprague's new single is – and deservedly so. Released August 4 via Rude Records, "nobody knows anything" is the latest track off the Phoenix-based indie rock artist's upcoming sophomore LP, somebody in hell loves you (out September 15) – and like its title suggests, this song is something of an ode to societal ignorance, sung from the disenchanted perspective of someone who hope for more out of this world.
Robert Plant sang, "Does anybody remember laughter?" Forget comedy – does anybody remember trust and goodwill? Does anybody remember decency?
Never really noticed when it started
Never knew the cold-blooded condition of your heart
Now you′re painting superstitious pictures like an artist
Now you're throwing inconsistent daggers in the dark
And I guess it′s not so bad to feel so different
Not so bad to not know shit
Never said I did
Nobody Knows Anything
"I wrote 'nobody knows anything' during lockdown in 2020 when everyone became an expert on infectious disease and government response to disaster," Sprague explains. "Everything sucked and being trapped at home, all that pent-up anxiety had nowhere to go but social media. When you're face to face with someone, it's a lot easier to find common ground in normal interactions, but since all of that communication was happening online we lost the filter of social awareness and all hell broke loose. It was all extremes. I felt like I was seeing a different side of people I'd know my whole life and it was shocking. So many people I know severed friendships and even relationships with their families during that time because they just couldn't reconcile their differences."
"The internet/world is so full of conflicting information and at this point I don't really feel like there's a reliable source in the world. The only thing I know for sure is that I don't know anything for sure, and I don't think anybody else does either. I don't see the point in arguing."
I saw what you said to my mother
I guess you don't have any decency now
I guess Ohio is not just for lovers
And I guess it's not so bad to be the bad guy
Not so bad to burn your friends
It′s not so bad to live and let die as long as you never forget
Nobody Knows Anything
Sprague gets the medal for best lyric of the moment with the track's second verse and its jaded, pointed observation, "I guess Ohio is not just for lovers" – a tongue-in-cheek reference to Hawthorne Heights' emo anthem, "Ohio Is for Lovers," calling out others' bad behavior.
Sprague could have left it there, but instead she concludes on a hopeful note:
Maybe you should try staying calm and collected
What if these problems are all manifested
You′re over-invested in all of your negative thoughts
You think that you're smart but you′re not
Perhaps we can take some comfort in knowing we're all just trying our best to survive. Life gets the best of all of us from time to time, but if we keep calm and stay the course, we'll all make it out alright – and with our relationships intact.
:: "Hideaway" – NEEDTOBREATHE ::
NEEDTOBREATHE's newest song, "Hideaway" showcases the band at their most encouraging. The second single from their forthcoming album, CAVES, finds the South Carolina rockers brandishing a message of hope in the face of uncertainty, and of an encouraging and unconditional love in perpetual motion. It's a universal message with a promise of navigating life's trials and tribulations together, in service of ameliorating your loved one's ills and improving their life.
This is a tune that quickly cascades into wild abandon. The benevolence is most palpable in the lyrics and in their delivery: "But you don't have to worry, 'cause you don't know where to land / I'm everywhere you are, 'cause you're everything I am." Lead singer Bear Rinehart's falsetto does such endearing work in this song, and it helps heighten the emotion and drive the song's point home, alongside the folk-twinged, piano-buoyed instrumentation and the rootsy percussion and acoustic guitar.
There's a warmth in the air of this song, an intangible force that evokes a totally uninhibited sensation and blends the whimsical with the intense. This song is representative of NEEDTOBREATHE's epic scale of songwriting and production; it illustrates a new direction and encapsulates all the elements that have made them so revered in their nearly 20-year career, with much more yet to be unearthed and declared. CAVES arrives this September with much anticipation.
:: "Tuggin' Me Back" – Kanwal ::
Turning the pop genre on its head, Kanwal constructs a funk-fused banger that makes you want to dance. "Tuggin' Me Back" is a feel-good single detailing the feeling of being trapped by someone's gravitational pull. A lot of us can relate to the song's sentiment. Often times when a relationship is over, we believe it's done for good, only to be sucked back into a sea of intense. emotion. The sensual base lines and bright synths paired with laid back vocals make for the ideal magnetic attraction.
The Los Angeles-based songwriter and producer has coined a genre all his own. Deeming his style "Rage Funk," the sonics are a unique blend of pop, rock, hip-hop and funk. At a young age, the artist submerged himself in a melting pot of music. Listening to everything from Sufi songs and Bhangra to classic rock and funk, Kanwal found inspiration from a variety of sources. That eclectic range is reflected in "Tuggin' Me Back."
:: "Ohio Laundry Room" (Sister Version) – Abby Holliday ::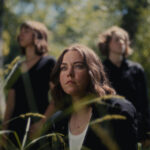 From The Staves to Joseph to HAIM and beyond, I've admittedly got a soft spot for sister trios. This song may be a one-and-done situation, but the revamped version of Abby Holliday's heart-wrenching "Ohio Laundry Room" featuring her sisters Grace and Rachel adds fresh depth, contour, and color to an already breathtakingly beautiful and achingly raw song. Featured on Holliday's recently released sophomore album I'M OK NO I'M NOT, "Ohio Laundry Room" is a turbulent reckoning with grief, love, and death written about Holliday's late grandmother, with whom she shared an especially close connection.
The song arrives a month after Holliday released another revamped version of the album's opening track, "IDK WHAT I WANT," featuring fellow Nashville-based indie pop duo Sawyer. Similarly to that track, the new version of "Ohio Laundry Room" is even more tender, more atmospheric, and – dare I say it? – more visceral and vulnerable. The glitchy dynamics are replaced by soul-stirring harmonies and gentle acoustic guitar strums, all of which create a sense of dwelling in heartache, and soaking in the full depth of a life's loss.
Weekly candy drop-offs
All hopped up for our mom
You're leaving out the back door
Drop the dogs food on the floor
Help me with my homework
Just in time for summer
Every day at the pool
You said we might as well live here
If I were you
I would have said
The same thing
If I were you
I would have said
The same thing
"After I released my record I'M OK NO I'M NOT, I knew I wanted to create some alternate versions of the songs that showed a different side of them," Holliday shares. "When I first wrote 'Ohio Laundry Room,' I wrote it by myself on guitar in a very intimate and painful moment, and the new version really reflects that. The original song was written a week or two after my grandmother passed away. My producer and I worked on it for a while without telling my family about it, and I showed it to them once it was finished. This song has felt like a gift to my family over the last year of living life without one of the most important people to us. I'll never forget how it felt to share it with them for the first time."
"When dreaming up this alternate version, I thought it would be perfectly fitting to ask my sisters to sing on it, and I was so happy when they said yes. Although I wrote the song, my siblings and I all had a very similar experience growing up within the context of what I'm singing about, and it feels like it's just as much theirs as it is mine. My relationship with my siblings (Luke, Grace, and Rachel) is something I treasure most about life. Luke captured the album art and promo videos surrounding this version. It meant a lot to have us all involved in some way. My sister Rachel has an artist project called 'Feems' and is a phenomenal writer & artist. My other sister Grace had never really sung for people before this, so it was very special that she agreed to lend her voice to this version. I get all teary-eyed when I hear their voices singing with me in unison. There's something really powerful about it. I think it may as well be called 'Ohio Laundry Room (Devastating Version)' because OUCH it hurts."
"It's been a year, and it's still painful for me to play this song live…" she adds. "I'm not sure it will ever not be. Grief, loss, and death are parts of life that we can't escape. In a way, sharing and playing this song forces me to sit with that reality. I'm so grateful for the messages I've received telling stories of how this song has helped others through similar experiences. This song is for me, for my family, and for everyone. The 'Sister Version' represents the importance of family and how suffering together is better than suffering alone."
Secrets kept in high school
Vodka water bottle
You're sleeping on the couch now
I'm just too young to notice
Make excuses for you
Think of all the bad news
I will never blame you
You were dealt a hell of a hand
If I were you
I would have done
The same thing
If I were you
I would have done
The same thing
Atwood Magazine also caught up with Abby's sisters Grace and Rachel to hear their firsthand takes on this beautifully (and painfully) intimate song.
"The first time I heard 'Ohio Laundry Room,' I immediately sobbed of course," Grace Holliday shares. "Abby waited to show us until it was completely finished. I couldn't make it through the whole song without crying for several months. I was obviously so honored when she came to me and Rachel with the idea for us to sing on the alternate version, since the song means so much to me. We recorded vocals in our childhood home basement. It was my first time recording vocals and one of my first times formally singing at all. The first time I heard the produced version of it, I was in the middle of a backpacking trip through Europe. I listened to it in the hostel courtyard in Naples, Italy and kind of lost it, haha. This version of the song did not fall short of capturing the overwhelming love and legacy we had with our grandma, and I'm so grateful to have been a part of it."
Predestined genetics
It's not fair, you said it
Weekly doc appointments
Becoming an annoyance
You want to go live your life
And you've made up your mind
Nothing's going to stop you
Even if it takes you
If I were you, I would have done
the same thing
If I were you I would have done
the same thing
Rachel Holliday is following in her sister's footsteps as an alternative/indie pop artist; she debuted her first single as feems just over a year ago last August, and has to date release three tracks – all of which are well worth the listen.
"When Abby first showed me the original version of 'Ohio Laundry Room,' it was immediately the most special song to me," she recalls. "Having someone else write so specifically about an experience you have lived through is really rare and wonderful. I still can't listen to that song all the way through without crying. Getting to be on this new and more devastating version of this song was an amazing experience to share with my sisters."
Devastation is the right word; not only do the Holliday sisters create breathtaking harmonies together, but they share in all of the agony and heartache lying at the very core of this poignant ode to their late grandmother. "Ohio Laundry Room (Devastating Version)" – yep, we're calling it that now – is an absolutely heartrending masterpiece.
I keep waiting for you
To walk right on through
That Ohio laundry room
And tell me you love me more
It would be wonderful
:: "Big Love" – John Paul White ::
John Paul White blesses our ears with his own take on the cherished Fleetwood Mac hit, "Big Love." Teaming up with Swedish production outfit Wildo DM, their cover does the original justice, capturing the essence of the 80's hit, acknowledging it's integrity and spirit and adding a unique flair to spice it up.
You may recognize John Paul White as the co-founder of the Grammy award-winning The Civil Wars. Injecting "Big Love" with his signature folky sound and whisky-soaked vocals, Wildo DM then comes in with a haunting production style, where echoing vocals and oscillating beats create an all-consuming atmosphere. John Paul White shares, "I thoroughly enjoyed revisiting a song I've loved for ages. It was especially rewarding getting to work with old friends. Very thankful I was asked to be a part of this."
:: "English Roses" – Burr Island ::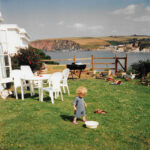 Don't be fooled by how pretty English roses are; remember the sage words of Poison: Every rose has its thorn. In the context of Burr Island's new single, those thorns come to life through small-town xenophobia towards outsiders. Released August 4, "English Roses" is a gut-wrenching, achingly raw reckoning with the racism and bigotry embedded in our societies, and how prejudice can come out in the ugliest of ways.
As a longtime lover of folk music – I grew up on the likes of Simon & Garfunkel, Bob Dylan, Joni Mitchell, and Crosby, Stills, Nash & Young – I was instantly entranced by Burr Island's tender folk sound. And yet, they are so much more than a one-trick pony. Since debuting earlier this spring, the duo of Tom England and Oskar Porter have shown themselves to be a versatile band of best friends unrestrained by notions of "genre" or "style." This is particularly apparent in their third single, which transforms three-quarters of the way through from a lilting folk ballad to a driving, dynamic folk rock reverie.
But as wondrous as these five and a half minutes of music are, it's the sentiment behind this song that resonates the most.
"I began writing the first few lyrics as long as eight years ago in student halls in Glasgow and, at the time, the words were merely thoughts and jottings, more a means of catharsis than anything else," England shares. "I believe they must've been in response to the initial rumblings of – and excuse my language here – 'Brexit.' It was the first time in my life where xenophobic or racist views were able to be aired as if they were suddenly respectable. The rhetoric back then, as is being employed now with 'Stop the Boats', was so transparent a ploy in dividing the nation that I remember feeling a deep disappointment at how easily manipulated the public were. Ultimately, communities that have always been neglected by the privileged and the ruling class, were given an enemy that was simpler to understand: foreigners."
"However, this song does not blame deprived communities. People were unsatisfied with their lives and wanted change; change came but it was change for the worse, wrapped in a cloak of deception. The words reference those neighbourhoods we all know, where spotless cars are parked on immaculate driveways next to pristine front gardens. Everything is perfect on the surface but behind closed doors – literally- on the doormat you might find that day's copy of The Daily Mail. The early lines and phrases I wrote down are about latent racism and the fear of others, of outsiders, about living comfortable, often affluent, lives and choosing not to look beyond the roses at the end of the garden. In the countryside, people can be very protective of their 'way of life' and with that there can be a resistance to change, a fear of change, prejudice. Oskar and I grew up in very white neighbourhoods with not much of an influx of new people with new cultures and new ideas. It is very true that people fear the unknown and it's no coincidence that rural areas historically tend to vote more conservatively."
"It was also about eight years ago when I decided to turn those words into song. If I remember correctly, I wrote the first verse and then left it for a few years. I almost wrote it off. The song was building musically somewhere I didn't really want it to go. It wasn't until 2017, when Oskar came to visit me in Somerset after breaking up with his girlfriend at the time, that I unearthed the forgotten verse and played it to him. Oskar instantly sang a beautiful harmony over the top and the song was alive again. A fond memory we both have is driving up to Alexandra Park in Bath and singing it together, overlooking the city. I suppose, again, the song offered some form of catharsis, this time for Oskar."
"Although singing together has always been a hugely important part of our friendship, only recently has it become more than just a hobby and during this point in time we were both committed to pursuing a career in Acting. Oskar went away to drama school and I had just graduated. So, like many songs during this period, this one was put to one side. Again. Then, of course, everything changed. I'm sure we're not alone in saying the pandemic changed our outlook on life. We both simultaneously realised that the paths we were following no longer fulfilled us and that a life in music might enrich us more. Regularly, we'd meet up along the Jurassic coast, halfway between our homes, and write countless songs, and eat countless chips together on the beach. Our last single 'Nunney Town' was written during this time. 'English Roses,' on the other hand, was unchanged from where we last left it."
"2020 and the UK finally withdraw from the the EU and we finally pick up English Roses again. This time, we wrote the chorus and it was like the song wrote itself from there on. It all came together in one day. A song, grown out of bad soil, finally blossomed. Life in the country can be emptier; emptier in that there are fewer distractions, less clutter; an emptiness that brings a clarity and a fullness. But country life can also be emptier; emptier of new ideas and outside influences; an emptiness that sometimes brings a detachment from 'others.'"
"English Roses" is a call for human connection; for more empathy and understanding, less denigrating and othering. How can we hope to heal if we can't even come to the table together? It's our collective responsibility to improve lives where we see fault, and if it means having a difficult conversation with someone who only grows English Roses, then that's as good a start as any.
:: "FALLLLLLLL IN LOVE" – moony ::
Wistful and airy just like the whimsy of love, moony creates an irresistible single that is soft yet bold. With lyrics like "backup and let's drive, fall in love on the highway," the listener is instantly carried to that freeing feeling. The landscapes that are vibrant and vast are the perfect pairing to his warm, charming vocals. One listen and you cannot get enough.
Seth Findley, the brainchild behind moony, delivers music that expands from gritty alt-rock to laid-back indie and infectious pop. Every piece is highly emotive, touching on something so authentic and raw. This offering is just as profound and personal. Findley shares, "I married the love of my life at the end of 2022. It's about time I wrote a song about the feeling of falling in love with her."
:: "Don't Look Down" – Jai Wolf (ft. BANKS) ::
Jada Moore, Virginia
Summer is here – and it's in full force and electronic music producer Jai Wolf and Banks (quickly becoming known for her powerhouse vocals) have brought to us the ultimate summer song with "Don't Look Down."
Initiating the song is a careful and serious tune that then quickly turns synth and pop-y as Banks belts the first lyrics, "Sometimes I overthink, compulsively get in my head." It's the perfect antidote to what seems to be the song's general message of the fear of becoming stuck in the overthinking.
Instead, Banks sings about not wanting to do so, and of her aspirations to keep dreaming and never looking down (pun intended) – because if she does so, she can find comfort and freedom in the peace. "I'll keep my head in the clouds, if I don't look down. maybe I'll land on my feet, find comfort in quiet and peace. I'll be in the here, I'll be in the now."
:: "Wilt" – Sloppy Jane ::
Haley Dahl seems to see her ever-evolving outfit Sloppy Jane as both a challenge at times and an exercise in growth – recording in a series of West Virginia caves, as she did with her 2021 sophomore album Madison, speaks to that sentiment. And the fact that the record was written, like other Sloppy Jane releases, with a live show in mind is even more impressive – transporting audio equipment into those caves was no easy feat, and Sloppy Jane shows touch on elements that call to mind everyone from the Yeah Yeah Yeahs to Butthole Surfers.
To up the ante even further, Dahl released an impressive revamp of "Madison" via a memorable visual album earlier this year, and as with all things Sloppy Jane, the process is a kaleidoscopic one. Described by us at Atwood Magazine as a "monument to emotion," the original LP touched on baroque elements and chamber pop, but Dahl also describes Sloppy Jane as a punk outfit.
And about those live shows: Dahl is bringing a trio of them to Brooklyn on three consecutive August Sundays at intimate Williamsburg rock club Baby's All Right, each with a different theme: There's a wedding night and a Western theme, each with unique elements dreamed up Dahl (a member of Phoebe Bridgers' label, Saddest Factory). Filled with piercing lines likes "even if the roses are fake, the plastic is real," it might be safe to bet "Wilt" will make an appearance onstage in Brooklyn.
:: "Hello" – Magic Al ft. Viv & Riley & Sumbuck ::
I welcome "Hello" as an invitation to get lost in a trance. Magic Al's third career song – the second single off his forthcoming self-produced debut album Good Grief (out November 10th via Sleepy Cat Records) – is a sweet and stirring seduction. Gentle psych-soaked indie pop colors the air with bright, gentle hues as the North Carolina-based multi-instrumentalist and producer, born Alex Bingham, collaborates with indie-folk duo Viv & Riley and Caamp's Taylor Meier to lull us into an easy summer haze. The collective sing softly about embracing your loved ones through thick and thin ("in the face of an existence that can seem very bleak"), accompanying their tender vocals with glistening guitars and synths that ebb and flow with ease. And together, we all float down the river of life.
You're my racetrack lover you're my fastest friend
You're the only person that i'll count on when
The moon stops shining and the river rises
Up to the door of the house of misers
Hello
Well the bird in the cage says we do have long
But the crow hops in and he says that she's wrong
Is it better not to know, not to know what's coming
Is it better not to feel and get a head start running
Hello
"The morning that "Hello" was written, I felt a little nervous and unsure of myself," Magic Al's Alex Bingham tells Atwood Magazine. "Viv and Riley had become instant close friends and collaborators after making their record Imaginary People with me, but it was the first time where I was the focus. I had had this grand idea of grafting two ends of my musical world together – my deep love for the spirit in sample chopping and looping Dilla grooves, and the soul I find in folk singers. They have more connective tissue to me than most people might initially feel. Both interpret old music in new ways, have crooked rhythms whose feel comes from years of sinking into an underlying pulse and flow and most importantly they both have soul."
"The lyrics of the first couple verses just came out in a single sitting when we split off to write," Riley Calcagno adds. "Over the past couple years, the world has felt like it is getting more and more chaotic, especially with crazy weather and "natural" disasters. Our bandmate and my oldest friend lives in Eastern Kentucky and had the river rise up his steps last August during the deadly flooding. Driving through that area a few months later, it struck me how the very wealthiest people in that county, for instance the oil and gas magnate, live on tall hills while many of the poorest people are right next to the river."
"The "misers" aren't dealing with the conditions that they have helped cause. Something he said to me after the flooding had receded was that he realized that we only have each other, the people we love, our family in a chosen or unchosen sense. That has been kicking around my brain ever since. Generosity (and all that comes with it) is all we have over greed."
You're a one shot drummer with a crooked feel
Your mind it always stutters but the message is clear
Is it better not to know, not to know the feeling
It is better not to know and get a head start healing
Hello
There's an ache at the heart of "Hello"; a recognition of our collective suffering, and of the connective tissue that can form from that kind of shared experience. This song is undeniably bittersweet, and yet we come away from it feeling lighter and freer than when we went in.
:: "Blue" – Riley Max ::
A song evoking late night melancholy, Riley Max has crafted a piece that gently caresses our souls. "Blue," off her album Roy G Biv, paints a striking picture of the range of feelings the color conveys. The track opens with gentle jazz piano as she sings of the hue's vast beauty. Her imaginative lyrics such as "I think of the skies and the oceans, I think of common devotions," represent the wistful beauty of blue. There is also a deep sadness captured, which exhibits another element of the color. "To promises we never made, to people that we wish had stayed, oh blue…when I think of you." A subtle saxophone adds an extra layer of poignancy. The video takes place in a dimly lit theater with only her saxophonist in the shadows. The viewer is drawn into her intimate performance. The visuals end and she is left alone amongst the pillars of light.
Roy G Biv is a passionate offering showcasing different life experiences translated through colors that embody every emotion. The rising artist hailing from Colorado finalized her compilation by her 18th birthday. For this captivating body of work, she took on multiple roles. She sang, wrote and produced as well as played instruments. Max possesses a myriad of shades, much like blue.
:: in the flesh – Nxdia ::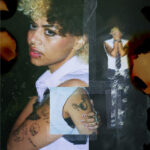 The now Manchester, UK based alt pop artist Nxdia has always had an eye for the arts, with their earliest memories being that of the cinema next door from their home in Cairo, Egypt. Inspired by the colorful, vibrancy of the movies, Nxdia was captivated by the power of storytelling, eventually turning to music as an outlet for their own emotions and experiences. Years later, the result is the brilliant new EP, in the flesh, a six-track release detailing Nxdia's tendencies to become consumed by their own thoughts and the overwhelming feeling of being quite simply, "stuck in the flesh."
A key track off of the EP is the gritty and edgy "decay," which points the finger to the corrupt tendencies of the people who run our country and how it can feel like we're constantly fighting against people in order to simply live our lives in the best and happiest way possible.
With every song, Nxdia offers up something new and exciting, as they experiment with a plethora of musical elements that they've discovered along their adventures, combining them to create the one-of-a-kind in the flesh.
:: "Billboards" – Aymee Weir ::
There's an undeniable resolve and strain of perseverance rippling through Aymee Weir's "Billboards." Independently released August 8, the Worcestershire-raised, London-based artist's new single is a radiant indie pop reverie that mixes some wonderful people-watching and in-the-moment observations with soul-stirring reflections on who we are, why we're here, and where we're going in this life.
Weir contemplates all this and more alongside a beat that pulses ever-forward, onward, and hopefully upward.
My quick step
Revealing my heart beating way too fast
Dayspring light on a Sunday
Church goers blurry
Last ones standing finally turning in
Angela's crying cause' mark was eyeing up the girl in the club
She's had enough
Maybe they're just looking for something to connect them
Leaves on the ground looking more like arrows
Life in a bag, I'm ready, to go
Late nights, following billboards
Left right, left right
"I was going through a period of doubting myself musically after having a spell of writer's block, so I went for a walk and started writing about this feeling whilst people-watching (one of my favourite places to start when writing..) and, ironically, ended up writing something I really loved," the artist tells Atwood Magazine.
"I really liked the imagery of 'following billboards' representing the pursuit of a dream. I took these lyrics into the studio and made this track with my friends, Zach Said and Bella Lueen. We talked about the importance of embracing the journey and the struggles that come with it, so it made sense to change the lyric to 'dancing 'round billboards' in chorus two, making it seem more light-hearted. We had a lot of fun recording this song- one of my favourite parts is hearing Bella's laugh at the end. I do a lot of busking on the streets of London and found that this song resonated with a lot of people which is why i've chosen to release it. I hope people will feel inspired when they hear it!"
Wake up
Miss my alarm and miss my mum
Make a cup of tea, no milk, no plan
And no pen to make one.
Outside sirens, violence
Inside, isolation, silence
Through the walls, hear Bob's calls
He wants a conversation
Leaves on the ground looking more like arrows
Life in a bag, I'm ready, to go
Late nights, following billboards
left right, left right
Never a straight line
It's fine cause' it's mine
And I'm ready to go
Green lights, dancing 'round billboards
left right, left right
"Billboards" sees life's gentle breeze disrupted by humanity's raw and relentless passion. It's a charming and charged ode to those long and winding journeys we each take, forging our own paths through the great unknown. "Never a straight line, it's fine cause' it's mine and I'm ready to go," Weir sings – and we're right there with her, following billboards and figuring it out one day, one road, and one step at a time.
:: "Monster" – AKICITA ::
There are those toxic relationships that are so painful to relive. The partnerships where all you do is give until there is nothing left to take. Addictive indie-pop artist AKICITA reflects on a challenging time in her life with her single "Monster." Not only was she battling with alcoholism, she was also grappling with unreciprocated love. The stirring offering takes us on a difficult journey through lovers' demise. With emotive vocals dripping atop intensely pulsing landscapes, the song's feeling of empowerment perfectly comes through. Lines like "were you afraid of something I would say, at least I say it to your face" she is calling them out and we are here for that bold annihilation.
Being Dominican and Native American, AKICITA's diverse background weaves itself into her haunting releases. Her masterful lyrics sung with fierce passion display raw honesty that is highly infectious. "Monster", part of her EP Future In Disguise, delivers that same steadfast authenticity.
:: "Shame" – Lindsay Lou ::
Lindsay Lou challenges us in the very best of way on her latest single, encouraging a collective cleansing of spirits to rid ourselves of the shadows that weigh down upon our souls. Released August 3rd via Kill Rock Stars Nashville, "Shame" inspires us to embrace all parts of ourselves – and in the context of the song itself, to celebrate the multitudes contained in every woman on this Earth. Following recent singles "Nothing Else Matters" and "Queen of Time," "Shame" is Lou's third song release of the year and the latest single taken off her forthcoming album Queen of Time (out September 29).
Black of the smoke
Taste of the flame
Blame the blood running through my veins
Can't hold on with your finger tips
Or taste the words coming out my lips
Dark as the night before the break of day
Cleanse my soul and wash away
The shame
Too timid to speak
Too lonesome to care
Still wondering if the score is fair
Stop looking at life like it's a test
Get to the end and finish best
If you get lost I'll hold your place
Let's take it down and wash away
The shame
"I don't think shame does us any favors," Lindsay Lou tells Atwood Magazine. "There's this lie that's been passed down and around that we need shame, that it keeps us safe or something. I'm calling bullshit on that. We contain multitudes, and each aspect is as deserving of love as the next."
"May we all embrace the balance of feminine and masculine aspects in our nature. May we reclaim our own self-expression and uncouple ourselves from systems that aim to oppress or cast shadows of shame on the beauty of our bodies."
It gets cold sometimes
I wish we could rewind
Sometimes I wish I could rewind
Been holding space for you
Changing place with you
Looking you dead straight in the eye
But you don't even live there anymore
I'm not gonna knock up on that door
But if you come around you'll see the way
This love is only going to stay
The same… The same…
A rousing guitar solo from Grammy-winner Billy Strings extra color and flavor to this already enchanting song, but ultimately it's Lou's own spellbinding performance – and the world she weaves through her words – that makes this song an irresistible part of our summer listening experience. Shed your shame and embrace your full character; hold nothing back. Let 2023 be the year we all resolved to live our best lives.
— — — —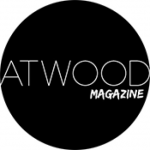 :: Weekly Roundup ::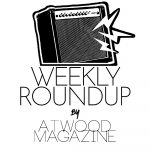 ---
:: This Week's Features ::
---