Sleek, smooth, and utterly finessed, R O N I's majestic debut EP 'Crown' is a dazzlingly cool seduction.
Stream: "Stop Motion" – R O N I
---
Music is truly the best cure for a broken heart, and I guess that means I'm taking my own medicine.
Sleek, smooth, and utterly finessed, R O N I's new EP is a dazzlingly cool indulgence. As majestic as it is mystifying, the aptly-titled Crown is a safe space to dwell; an aural and visual immersion that invites us to relinquish our control and float along with the current, if only for a moment.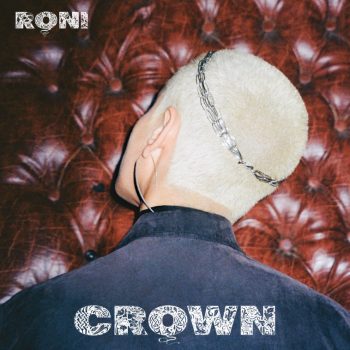 Missing you, stop motion
Live it up, go out
Drink it
Feel it bad in your stomach
Throw it
Bottom feels nice when it holds you
And falling on your face and it fucks you
Don't think you got it under control
Look it up suck it up
Pain lingers when
Missing you
You think you got it under control
Missing you
– "Stop Motion," R O N I
Independently released September 9, Crown is an incredibly cohesive and expansive offering. The four-track EP arrives as R O N I's formal debut under her own name; previously, the New York-based Jerusalem native has released two full-length albums under the alias Rony's Insomnia. Perhaps it's understandable that at this juncture, the artist would shed other titles and embrace her given one as an entity unto itself: Crown is intimate and sensitive, a record built off big emotions channeled through tender, stirring sounds.
"Crown was born of a fruitful collaboration in Tel Aviv while I was visiting my hometown of Jerusalem. I was brought to producer FortyForty's studio by collaborator Nir Yatzkan, to see if she would feel inspired to create," R O N I tells Atwood Magazine. "While they were working on sounds and beats, I stepped to the microphone and started improvising complete song ideas. My debut single "Stop Motion" is the first improvised song that came out of the session. A large portion of the initial gut improvised take was kept in the final vocal track. I later came back to NYC and started working in that same improvised way with different chord progressions (I have been a scholar guitar player for over 23 years) and patterns of rhythm, creating songs in that same stream of consciousness method. While working mostly remotely, three more songs were added, completing the 4 song EP."
This record speaks authentically about my life experience, relationships, growing up in the Middle East, dealing with aspects of my sexuality and substance abuse.
"FortyForty and I, along with the array of virtuoso musicians who have contributed to this EP (Nir Yatzkan, Or Lubilanker, Uri Kleinman) have managed to create a chilled down electro-pop complete package that's current, refreshing and genuinely delivered."
There's no denying R O N I's vocal prowess throughout Crown – from her first notes on opener "Permanent Vacation," she seems to effortlessly command the aural space. Yet it's completeness of her vision – a sort of art-pop, future R&B swell that travels through these four distinct tracks – that makes her EP such a seductive experience. From the opener's heat, to the intimate darker observations on "Stop Motion," to the more open and freeing nature of "Senses" and the tranquil tenderness of closer "Higher Ground," R O N I captivates with a short, yet memorable 15-minute journey out of the everyday.
Polished, yet imperfect, hot and cool at once, Crown is a magnetic listen. Its music entrances, promising the sort of escape we're not going to get from simply staring out of windows or wandering down familiar streets. Experience the full record via our below stream, and peek inside R O N I's Crown EP with Atwood Magazine as the artist goes track-by-track through the music and lyrics of her new EP! Crown is out now via InchPerSecond Records.
— —
Stream: 'Crown' EP – R O N I
:: Inside Crown ::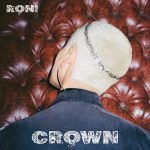 — —
Permanent Visions
"Permanent Visions" is the 1st part of the Crown visual album.  The lyrics are an homage to former lovers, acknowledging the good memories and feeling protective of their best interests ('I can't let you go alone, you're as fragile as the earliest memory of touch'), but not without a little wink of sass ('I could show you what you're missing if you'd let me').  I'm expressing a range of feelings; from reminiscing, to grieving, holding on, and finally- realizing the inner strength and moving on.
The video, along with the 3 other visuals, was a vision that came to me one night and wouldn't let me sleep! It's a development of the human connection narrative that I've experienced throughout the years. I've learned so much from relationships, humans and myself. As I was filming the videos, my life has also gone through some personal relationship turmoil, which gave an interesting & somewhat ironic vibe to the whole process and production. Music is truly the best cure for a broken heart, and I guess that means I'm taking my own medicine.
Stop Motion
"Stop Motion" is the first single from Crown. It is also the song that started it all for me and FortyForty, my producer. I was visiting my family in Jerusalem after going through a break up, and was invited by my friend (Nir Yatzkan, who played keyboard on all 4 songs) to a session with FortyForty. The intention was for me to hear some beats and productions they were working on and if I'd feel inspired to write anything and add vocals to it. I heard them working on a beat and some chord progression and just stepped up to the mic and started improvising/freesyling. I just allowed my gut and emotions to sing for me. The words, the hooks, the melodies- it all came out of my stream of consciousness. No filters, no inhibitions.
"Stop Motion" tells the story of failed relationships, the illusion that we're sometimes under ('It must be love, it must be something strong') and how self destruction can often follow ('Bottom feels nice when it holds you', 'Standing by, staying high, pain lingers when missing you'). The video is centered in and around one subway car. I wanted to give the viewers the feeling of a loop that one who is in a break up rage & self destruct mode feels. It's hard to move on, hard to 'get out' , kind of like a speeding train car that you keep feeling stuck in and can't get out of, while the rest around you is moving so fast.
Senses
Also a mostly improvised song, "Senses" taps into the deepest, most primal desires and urges that occur within sensuality and sexuality, that are specifically felt when one physically and emotionally interacts with another human for the first time. Letting go of inhibitions, releasing impulses and finding courage to go deeper into yourself through sensations felt with another; this is what "Senses" is all about.
We all relate music to certain experiences/times in our lives, and I wanted "Senses" to be a song that can be related to that 'first touch' experience. The video, within the 4 part narrative, gives a glimpse of the wild and all over the place experiences that can happen when one dreams. Dreams can be so unpredictable and strange, yet so exact and on point with what our true desires are.
Higher Ground
"Higher Ground" is the finish line of the record, the visual album journey, and it is the softest song on the record. "Foreign land is all around, on your left the dunes, gleaming over Mars. curves in the sand, why don't they shield me from the flaming rays from above as they descend on a white veil." The song was also improvised initially and was inspired by a road trip I did around the US, visiting 42 states, driving over 20,000 miles.
I was in awe of how diverse in nature and people this country is. I have only lived in New York, and was shocked that from one state to another – I was in jungles, then I was literally on Mars (especially in Utah). I met people from all walks of life and from all political backgrounds. When I improvised the song, I envisioned New Mexico's White Sands dunes and the beautiful rocky pillars in Arizona & Utah. After the self destruct feeling of "Stop Motion" and the sensual experiences of "Senses" I felt this humbling feeling in "Higher Ground." We are all in this together and we spend so much time fighting over political views, land, and human value that we sometimes forget that we deal with similar feelings and emotions. All is made and destroyed through reflections.
— — — —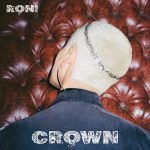 ? © Pritam Siri
art © Nadav D. Yahalomi
:: Stream R O N I ::
---