Along with the undulating plaits of The Calling's trip-hop soundscape, Sevdaliza's cryptic lyrics whisper seductively, seeking their place in your soul. Each track calls from different parts of the mental maze; beguiling us with its ethereal, down-tempo and trancy flow.
•• •• •• ••
Sevdaliza's latest EP The Calling (3/30/18 via Twisted Elegance) brings trip-hop from Bristol, UK to the Netherlands via the Middle East. Its dark, winding journey beckons, pulling us from a deep dank darkness into the intoxicating light of inner peace. Through the perfect combination of cryptic lyrics over sensual rhythms and extra terrestrial reverb, it's an adventure up the soul searchers summit. The Calling is a complex and spiritual soundtrack, worthy of this lofty life affirming journey.
Dutch artist, Sevdaliza was born Sevda Alizadeh in Tehran, Iran and grew up in the Netherlands. Alizadeh's performance career started out in the gym as a basketball player for the Dutch national team. Leaving home at the age of 16, Sevda learned how to survive and compete on her own. And while she enjoyed many aspects of the sport, as time went on it became clear to Sevda that driving towards the hoop was not her true calling.
Being a disciplined, goal-oriented didact by nature, Sevda set her sights on learning the music industry. As she had been writing lyrics and poetry since she was a young child, as soon as Sevda honed her own pipes, a trip-hop diva was born. Putting her basketball training to the test, this time in a studio, not a gym, Sevda pointed herself towards this new goal and bravely executed an epic life pivot. As she explained in an interview with Additors when Sevdaliza came across obstacles in her path she would ask herself, "Will it kill you? No? Then you simply go on." And she kept on driving. All that basketball training paid off.
In 2014, Sevdaliza and Rotterdam based producer, Mucky released her first single, "Clear Air" on Sevda's own label Twisted Elegance. It was followed closely by a steady stream of music and performance art including: 2 EPs, 2 full length albums, their artfully executed music videos, a short film entitled The Formula, and a politically inspired Farsi single "Bebin." Sevdaliza's very diverse repertoire seems to be growing steadily every year.
The Calling, Sevdaliza's most recent venture, is an album filled with the same poetically intricate dichotomies that have inspired much of her previous creations. Continuing her conversation with Additors, Sevdaliza explains her style:
"It is always sensual and dark. And it's always subtle. And then again not. What characterizes my music is that it is one big contrast… starts out fragile and then explodes into a very big sub…a big bass."
Sevdaliza dropped the first song off The Calling, "Soul Syncable," with a similarly veiled message. As if speaking through the lips of an entranced prophetess, Sevdaliza refers to herself in the third person, setting an eerie tone for The Calling, even before the music is queued.
 "These are glimpses of her supernatural realm, where she is a vessel. With healing songs to either lift curses or to move on to the next life, collecting masks as a memento in the process. Her inner guidance comes from the collected, ultimately channeling the supreme self." 
The rest of the album casts the same enchanted spell as Sevdaliza's message. Along with the undulating twists and turns of The Calling's trip-hop soundscape, Sevdaliza's soul searching lyrics whisper seductively, seeking that place in your soul where they make the most sense. The layers of each track beckon from different parts of the mental maze; beguiling us with their slow and breathy rhythm.
Indeed, while most of The Calling is driven by smooth synths and beats, the first track, ("Soul Syncable") cries out with an urgent grace, played magically by Mihai Puscoiu and his staccato strings. Sweeping us through a lush serenade, and leading us down a corridor of mantically shaking tambourines, a deliberate and creeping breakbeat ushers us finally to Sevdaliza's web of mantra-esque moans. We have arrived and are now tempered and ready for abstract lyrical adventure. 
It would be foolish to assume that these lyrics have one specific meaning. Sevdaliza's abstract prose morphs as we listen and learn. Her words and their meanings swirl together with our own personal schema and the outcome is a customized "Aha moment" for all. 
It hurts
Because you're growing
You can't escape
Patterns keep you going
We learn from The Calling that every fully-lived life contains pain as well as joy: dissonance as well as harmony. And Sevdaliza assures us, the listener, that the outcome of this musical journey will be growth. Her music helps us believe that we can practice hope; that eventually our life's challenges and growing pains will play out and pay off. 
I'm on codeine
Suffer to dream
In the most caring way
I am defined
By the endeared
See, see the soul syncables…
Do you see the soul syncables…?
Although we all feel growing pains, who is to say that we shouldn't try to find relief sometimes? Perhaps the gifts of joy and connection mark the experiences and people that are "soul syncables," those we connect to in the deepest most meaningful ways. They are the keepers, life givers and soul mates; the endeared that we keep with us always.
The second track on our musical journey is called "Soothsayer," and it starts out as a single note, lonely yet persistent in its resonance. The solitary note finds its company as the harmonious Sevdaliza begins to sing. Her lyrics, cryptic, pleading, and reassuring form a conversation between a soothsayer and her yearning sooth-seeker. Recorded from the perspective of a third party, we, the observer, are seductively invited to eavesdrop on a conversation to which one is usually not privy.
---
In order to illustrate this point, "Soothsayer" is presented below as a dialogue. Sevdaliza's lyrics are in bold.
This is my best
This is my worst
Cries the tired sooth-seeker
It's nothing, I promise
Reassures the Soothsayer 
Don't you get lost
When I am small
You have my world
Begs the sooth-seeker, dependent on the confident clarity of the soothsayer's prophetic words
The hero returns
In the heart
After she's learned
How to love herself
In both heaven or hell
The soothsayer presciently assures the seeker to love herself because of, and in spite of, her struggle
Sensitive infinitely
The guard of an anxious heart
And mystery came to my breath 
Blue shoes in the dark
They guide you
Look inside, don't look back
Don't hide you 
At this point in "Soothsayer," we approach the AHA moment: We are forewarned by the fortune teller that when we fall into dark times, we must ready our eyes for a flash of color. The "blue shoes in the darkness" will walk us into the light where we can again feel pride in who we are, happiness in our surroundings and unconditional acceptance from those we love.
---
How appropriate it is then, that The Calling's closer, "Observer," brings us from the darkness into the light. Fitting too, that the musicality of this track makes the perfect addition to the party time soundtrack for trip-hop night at the roller-rink. Filled with a well earned sense of accomplishment, "Observer"'is the perfect way to complete this leg of our, occasionally painful, life affirming journey.
Days float by
Observant
Conscience calls
State of mind
Home's within
Home's the heart
Following the soothsayer's guidance, we find our peaceful place, our "home," within ourselves, within our own heart. 
I'm high on light
I'm high
I'm high on light
I'm high
No matter the tempo, this chorus is a party. We've successfully climbed this peak on soul searchers mountain and lived to see a new day. Accomplishments like this are powerfully intoxicating; we are high on light.
Through her poetic prose and mostly brooding yet occasionally triumphant trip-hop, Sevdaliza's The Calling leads us on a journey from the melancholic depths of life's harder moments to the enlightened heights of truth, growth and self-love. Having an honest and ??worthy soundtrack while we embark on a search for our inner soul and strength makes all the difference. Heavy on the ??.
— —
— — — —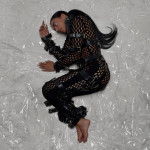 ? © Yann Weber
The Calling – Sevdaliza