Featuring 40 songs from over 40 years, U2's 'Songs of Surrender' is an odyssey well worth a listen as beloved tracks are reinvented into stripped acoustic versions with an exceptional amount of love, care, and attention – leaving old hits with an unmatched sense of novelty.
Stream: 'Songs of Surrender' – U2
---
What more is there to be said about one of the most prolific bands to exist possibly ever? With more than 40 years together under their belt, it's truly a shock to see such a poignant sense of humility from U2's four members – Bono, The Edge, Larry Mullen, and Adam Clayton – who have altered the music industry and been a force promoting boundless change universally.
The famed Dublin four piece have dismantled what it means to be punk, rock, alternative, pop, and every mismatched combination in-between, and reconstructed them to fit their own definition and desires. From giving a new breath of intimacy to the world of punk rock, stripping rock to its core, and giving alternative pop an identity of unmatched classicism. U2 is revolutionary. With a discography packed with heartfelt anthemic ballads, introspective diverse explorations of life's most boggling questions about faith and clever dissections of personal hardships, it's apparent that the ultimate crux of U2 is its four members' untethered devotion to music. It is larger than them and all they can do is, well, surrender to it – and act as emissaries of its prestigious call. The band make it clear that in the discourse of musical genius, they are small, even if critics and local observers would beg to differ.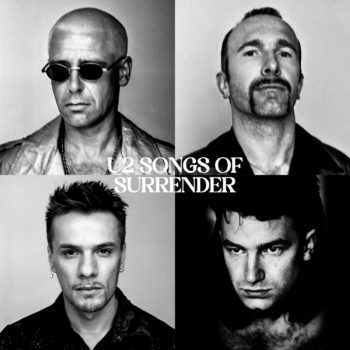 Released March 17 via Island Records, Songs of Surrender is a perfect portrait of U2. As a stripped back and reinvented curation of 40 songs from throughout their musical catalogue, the raw talent and expert artistry that lives within U2's collective body of work is put on proud display. Rounded out in just under three hours, this album is truly an auditory experience, and the difference between the original songs and these new reworks is astounding.
The album begins with "One," and though there are slight lyric changes with the elimination of the outro and the presence of a definite tempo difference, being that the song like the rest of the album is acoustic, the soul of the song stays the same. In classic U2 style, the tune is littered with biblical references and is intent on discussing world issues such as the AIDs crisis, and the common goal of love and unity. With the inclusion of backing piano chords and the gentle use of a drum kit, the song sounds like a lullaby and is increasingly comforting in nature. Bono's soulful vocals paired with The Edge, Mullen, and Clayton's wistful backing give this song a refreshing new life without being too jarring for longtime fans of the band.
Is it getting better
Or do you feel the same?
Will it make it easier on you, now
You've got someone to blame?
You say one love, one life
When it's one need in the night
One love, we get to share it
Leaves you, baby, if you don't care for it
---
Following "One" are hard-hitters "Where the Streets Have No Name," "Stories for Boys," and "Out of Control," which experience an intriguing reimagining. As these tracks are usually played, you would not expect for them to be so beautiful when stripped back. With weaned back instrumentation and production on these new versions, the lyricism is allowed the full spotlight which adds a newfound sense of value to the songs.
The second quarter of the album includes "Stuck In A Moment You Can't Get Out Of," off 2000's Grammy Award-winning tenth studio album All That You Can't Leave Behind, which has its emotions heightened to levels with the new production. Thematically, its no secret that this track is particularly painful and yet somehow, the altered rendition possesses an even more powerful grip and jerks tears from listeners almost instantly. It steals your lungs right from your chest as the lyrics ring out, "I wasn't jumping, for me it was a fall. It's a long way down to nothing at all." Something about the aching draw of Bono's vocals as he converses with the backing acoustics makes this conversation into a truly excruciating dance between the boundaries of life and death.
I was unconscious, half-asleep
The water is warm till you discover how deep
I wasn't jumping, for me it was a fall
It's a long way down to nothing at all
You've got to get yourself together
You got stuck in a moment
And now you can't get out of it
Don't say that later will be better
Now you're stuck in a moment
And you can't get out of it
---
Also in the middle of the album lies "Ordinary Love," which experienced a bit of change with the implementation of an almost Spanish-sounding guitar. With its easy plucks and progressions that carry the song as if it's weightless, even though its a melancholic romance that would be sure to weigh heavy on the heart, the alterations seem effortless and natural – as if this was the way the song was meant to be played since its original release in 2013.
Perhaps one of the most interesting parts about the reconstruction that went on with the formation of this album is the idea that at the original time of production, these songs were considered as close to perfect as possible by the band. By going through this process of reimagination, there is the indication and introduction of the idea that nothing can ever be perfect. You can write one song with a hundred different constructions and alter the lyrics for days and never be thoroughly satisfied. By conducting this reinvention – which goes beyond the usual remastering that often occurs – U2 have opened themselves up to a unique form of intimacy.
Take "I Still Haven't Found What I'm Looking For," which has long been established as a seminal classic and is known for its particular vulnerability. However, with the changes, the song has reaffirmed itself as a timeless piece of music. With the subtle tempo build and immersive auditory atmosphere built by a light tinny guitar, tappy drum, and steady bass and guitar combo, this rendition of the song is wholly immersive. It places the listener on an open craggy cliffside on the coast of Ireland, and leaves them to realize that whatever they are searching for, whether it is love or knowledge, may not be as far as you once thought.
I have climbed the highest mountains
I have run through the fields
Only to be with you
Only to be with you
I have run, I have crawled
I have scaled these city walls
These city walls
Only to be with you
I still haven't found
What I'm looking for
---
In the same vein as "I Still Haven't Found What I'm Looking For," is the new rendition of fellow The Joshua Tree classic, "With or Without You," which takes the lead in the final quarter of Songs of Surrender. The song is still wholly anthemic in its production and nature, but with an added layer of je ne sais quoi found through the purity exuded by Bono's raw vocals that contrast beautifully against the airy instruments. The juxtaposition of each of the elements of production here make the tune that much more personal and divine than the original version.
See the stone set in your eyes
Am I such a thorn in your side?
Should I wait for you?
A sleight of hand and a twist of fate
On a bed of nails you make me wait
Without you
With or without you
With or without you
---
Continuing on in this refreshed auditory trek through U2's discography, we arrive at "Sunday Bloody Sunday," which, when instrumentally stripped to its nerve endings, is viscerally impactful.
Lyrically the song is stunning; it always has been and it will continue to be, as it illustrates a devastating image of political unrest. In the original version of the song, fear and anger are deeply apparent through the screeching electric violin coupled with thumping drums and a gritty guitar that leaves little room for a casual breath. The Songs of Surrender version provides a more somber sensation to the track. Rather than aggression and rage, disappointment and quiet frustration are illuminated. Overall, the revisions made to this recording work marvelously to allow for the absolute gut-punch that are these lyrics to hit home and drive their message against violence to the soul of each individual who tunes in.
I can't believe the news today
I can't close my eyes, make it go away
How long? How long must we sing this song?
How long? How long?
'Cause tonight
We can be as one tonight
Broken bottles under children's feet
Bodies strewn across the dead end street
I won't heed the battle call
It puts my back up, my back up against the wall
---
Finishing off this collection of songs is "40," the final track off 1983's third studio album, War, which once again exhibits the raw talent of U2. "I will sing, sing a new song," Bono gently sings over a tender, lilting backdrop. The placement of "40" at the end to round out this album is especially clever, being that the band has closed countless shows with it. There is a unique resonance with the inclusion of this song, and it leaves the album in a place of hope, which is the end goal of surrender – the lead concept of this album:
I waited patiently for the Lord
He inclined and heard my cry
He lifted me up out of the pit
Out of the miry clay
I will sing, sing a new song
I will sing, sing a new song
– "40," U2
---
There is far more that could and should be delved into and dissected with Songs of Surrender, but fundamentally the album is perfection.
Yes, it has been done before, as the songs are not new, but they are by no means tired. Something incredibly genuine and wholly authentic thrives in these reimaginings. The lyrics have been given the space they deserve to flourish, and of course Irish culture is also highlighted as each and every song illustrates riveting storytelling.
The way U2 have updated and refreshed a large selection of some of their best songs with fresh vocals, new and rearranged lyrics, and acoustic instrumentation prove the excellence that is the brotherhood of this band. Lyrics, vocals, and instruments work in flawless unity to communicate and open the door for new chapters to be written by the band, and for everyone – creators, muses, and observers alike to surrender to the music and all that it preaches.
The sheer length of Songs of Surrender is biblical, but it is no doubt worth it to go on the 2 hour 46 minute journey and immerse yourself in this reimagination of musical masterpieces.
— —
— — — —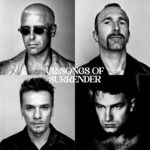 © Kurt Iswarienko
:: Stream U2 ::
---