Following up on 2013's Time is a Machine, Kansas City alternative spoken word band Listener has returned with "Shock and Value." This is a much heavier take than the band has had in the past, with much more distortion from the folk-tinged emo of past releases such as The Return to Struggleville. This loud track is truly based around frontman Dan Smith's whiny, yet powerful vocals with a heavy screamo influence, and we're proud to bring it you here.
Listen: "Shock and Value" – Listener
---
Smith's vocals sound are reminiscent of mewithoutYou's Aaron Weiss, as he barks, raps, and speaks over a twinkly, occasionally explosive instrumental. It's hard not to get caught up in Smith's cathartic, in-your-face vocals. He's not just a more intense Andrea Gibson though, as he recites poetry. He's really a master of image with symbols like being "trenched over above the trees" or graphic hotel scenes. His vocal delivery is not unlike a large number fo post-hardcore, emo-revivalists, but he really is one of the more gifted lyricists. One of the most grabbing lyrics is in the first verse:
You've got panic in your eyes,
and in your mind
built like the columns in the sky
you made for us all to climb on
but that all got pulled down,
and you had to watch it
digging more holes
to pay for your principles.
that just get filled up,
it got too much to take in.
While the band are not the only poetry-rock fusion, Smith is much more intense than artists like Hotel Books or Chris Zizzamia. Drummer Kris Rochelle had this to say about the song: "It's hard to explain how a Listener song comes into being. Dan typically has a ton of words and I have loads of music and we pretty much just smash them together until something happens that we don't hate. Then we leave it alone. When we come back to it awhile later, we either trash it or refine it a bit and that's usually that. There is a RARE occasion where the stars align and a song happens on the first "smashing" of words and tunes. That was the case with "Shock and Value." The aim is always that the words and music work together to create something bigger than the sum of its parts, and I think the way the music and lyrics interact together in this song makes each one of them more effective."
This is also much more sonically-interesting than most of Listener's contemporaries who recite poetry over intense instrumentals. It may be due to the fact that they've been around for about 15 years, and the band keeps the listener on their toes throughout this track, alternating between the soft verses, and pounding choruses.  There's a song structure to it, but its very subtle under Smith's vivid lyrics.
"Shock and Value" is from the band's Being Empty, Being Filled III, which is out October 30 (pre-order here).
— — — —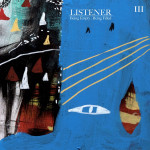 photo © Kevin Scullion
:: Listen to Listener ::