RIYL: John Mayer, Lake Street Dive, Delta Rae

— —
It's safe to say that Walker's debut EP packs more than your average punch. Grooving, jazzy rock with a bluesy feel, Walker's Something to Hold On To EP pulses with longing and our universal need for connection.
I'm trying to be
everyting you want from me
Learning to swim without you asking
Trying to do it all, have it all
But I'm barely staying afloat…
– "Waves," Walker
'Something to Hold On To' – Walker (listen in browser)
[soundcloud url="https://api.soundcloud.com/playlists/448544148?secret_token=s-vdY4T" params="color=ff5500&auto_play=true&hide_related=false&show_comments=true&show_user=true&show_reposts=false" width="100%" height="350″ iframe="true" /]
---
Atwood Magazine is proud to be premiering Walker's debut EP Something to Hold On To, independently out March 2, 2018. Comprised of Liz Walker (Vocals), Jake Dinneen (Guitar), Chet Zenor (Guitar), Simon Ciaccio (Bass), and Robby Kulik (Drums), Walker have been a rising force across Chicago over the past year, selling out venues throughout the city and slowly developing a dedicated, enthusiastic fanbase. With incredible guitar work surrounding Liz Walker's uniquely evocative voice, the band's first studio offering is the sort of record you can play on repeat without ever getting bored.
Walker's heavy, warm sonic experience begins with "Waves," a song that literally washes over us with its sweet, hot sound. Liz Walker's vocals are dynamic with bittersweet undertones, but what you notice off the bat is her tendency to trill her holds. Not only does this technique help her hit every note, but it allows her to throw feeling into parts of songs we sometimes forget about – the second line of a verse, for example. With Walker, every second counts – and she shows that by giving her all to every one of these
Give me strength to fight
the tide that's washing over me
I'm feeling weak, losing control…
Save me
Stretched out to be in
Ooh, I'm slipping under
These waves are pulling me under
Lost myself in
A sea of people trying to fit in
But these waves are pulling me under
– "Waves," Walker
"These songs represent the way the five of us sound in a room together. The EP is live recorded, so we were able to capture exactly how we sound," Walker tell Atwood Magazine. "These five songs specifically lend themselves to a diverse set list, and they also showcase our own individual styles. Something To Hold On To captures exactly what we want Walker to be." This is as close to the real Walker as folks can get without a 60XXX in their zip code. The live euphoric they've cultivated onstage flows through this EP with strength and ease: The band are in their natural habitat, plugging away as they were always mean to do.
You can lose yourself in the jammy, laid-back vibe of "Tiptoe," a song against love games. "Ooh, are we still playing these games? And we both don't like losing… " Liz Walker protests, going on to sing some of the most direct, well-said lyrics you've ever heard on this rocky subject: "Is it you, or is it me who's gonna start dictating what we feel toward each other? My head's going to explode, my heart will stop my chest if we don't stop this trend!"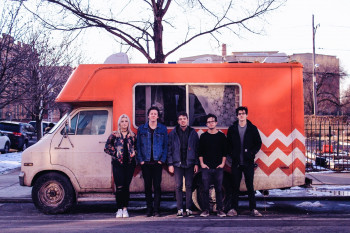 "Every song has a special place in our hearts for different reasons," the band shares. ""Moon" is just a rock banger, while "Waves" gets people dancing. "Tiptoe" seems to be the crowd pleaser that gets everyone singing along, and we love that. "Somethin' Somethin'" is our favorite song to play live because it grooves hard and has a deep pocket, and "Rain" pulls at the heartstrings. Really, the songs just get everyone in a room vibing together and having a great time, and that's what is special to us."
Ultimately, Walker are here to have a good time, as they keep the punches coming throughout their warm and evocative debut EP. Something to Hold On To is exactly what it claims to be – a ray of sun shining through misty blues and grays.
Stream Walker's Something to Hold On To, exclusively on Atwood Magazine!
— — — —
? © 2018
:: Stream Walker ::
[soundcloud url="https://api.soundcloud.com/playlists/448544148?secret_token=s-vdY4T" params="color=ff5500&auto_play=false&hide_related=false&show_comments=true&show_user=true&show_reposts=false" width="100%" height="350″ iframe="true" /]