New York's DJ ST. THOMAS dives into the eclectic and experimental music going into his forthcoming debut EP 'MATRIMONY'.
— —
Data analyst by day, DJ by night, Pedi Hashemian is now performing as DJ ST THOMAS and "setting into motion his eclectic vision and affinity for a multitude of genres." This musical versatility speaks to Hashemian's upbringing in Knoxville, Tennessee — a state nobody seems to ever leave without having been served a healthy dose of live music — as well as his multicultural heritage as a Persian-American and recent urban experience in Los Angeles and New York City, where he is currently based.
DJ ST THOMAS is currently preparing for the release of his debut EP, MATRIMONY (out Nov. 8) and has released two lead singles from it, "323" and "FODDER." Such a breakthrough moment in his career seemed to be the ideal time to venture inside the mind of the budding performer.
MEET DJ ST. THOMAS
Atwood Magazine: There are so many styles of music to choose from out there—what is it about experimental electronica that makes it your calling?
DJ ST. THOMAS: I've always gravitated towards more experimental music. I must have been 8 or 9 the first time I heard Aphex Twin's 'Come To Daddy' and I remember thinking "Wow, I've never heard anything like this before." Experimental music feels unique and authentic, which are two qualities that I want my music to embody. When I hear someone doing something new or different, it excites and motivates me. I want to figure out how to feel that same excitement for the work I create.
You told Complex that, 'MATRIMONY as a whole explores the concept of transitory love and 'FODDER' illustrates how the abundance of connection in the digital age can be so easily discarded.' What is it about these themes that matter a lot to you and made it feel urgent to address them on record?
DJ ST. THOMAS: A year ago, I found myself on a Hinge date with a lovely young woman. It was our first date and we ended up talking about the "paradox of choice". Dating apps give us an almost endless amount of options which should make connection easy. But in actuality, apps make it easier to give up on people. Instead of working through a potentially solvable problem, or overlooking a minor flaw, we keep swiping, believing the "perfect" person could be one match away.
Not only do we miss out on the connection right in front of us, we also miss out on the opportunity for self-growth. When you date a bunch of different people, you pull the same moves and tell the same stories—reinforcing all of your old patterns. But when you stick it out with one person, you're forced to grow and realize things about yourself that are difficult to come to terms with.
This conversation inspired a majority of lyrics on the EP because it made me reassess my past relationships not only with romantic partners, but also with friends, family, and even music.
'323' is described as a track about 'the vapid culture of Los Angeles,' yet the music video takes place in New York City. Do you think your cultural commentary carries over from one city to the
other?
DJ ST. THOMAS: 323 is more about how we use different tools to avoid vulnerability. My first-hand experience with this happened to take place in LA, where I saw a friend abandon vulnerability in the pursuit of material wealth. That said, I think this concept carries across cultures. In the 323 music video, the main character desires a deeper connection with his friends but struggles to engage with them beyond bodybuilding.
So far, '323' is the only video on your YouTube channel. Is this your first music video ever? What are some lessons you've learned from the art form that you would like to keep in mind going forward?
DJ ST. THOMAS: "323″ is the first music video for this project and the first I've ever directed. One of the main lessons I've learned from this art form is that not everything will go as planned and it's important to be open-minded and able to improvise. 
The concept for the video evolved before, during, and after shooting. I was very lucky to have an awesome team that was open to all of the changes throughout the entire process. Hefty shout-out to Altabrea <3
As a Persian-American born in Knoxville and currently living in NYC, how do these different regions influence your music and your persona?
DJ ST. THOMAS: Every Persian kid is forced to take piano lessons and there are two possible outcomes: 1) You become a virtuoso or 2) You never practice but somehow you learn the opening lines of Fur Elise which you're forced to play at every family gathering until the day you die. I definitely fell into the latter bucket, but taking lessons helped develop my ear for music. I could figure out a song without reading sheet music which my piano teacher (and parents) hated lol.
Growing up in Knoxville, the majority of people around me listened to pop music which compelled me to seek out music that was more on the fringe. We didn't have cable growing up so I spent a lot of late nights watching a very scrambled version of MTV, trying to absorb the music and videos. And finally, New York has played an instrumental role in my musical journey. DJ ST THOMAS wouldn't exist if I had never made it out this way. 
MATRIMONY is promoted as being 'entirely self-written, produced, mixed, and mastered.' What do you think most characterizes the solo music-making process? How is it similar or different to making music collaboratively?
DJ ST. THOMAS: Making music on a solo basis definitely has its pros and cons. On one hand, you have more creative freedom—you don't have to rely on others and you have the flexibility to create at your own pace which is nice (sometimes).
On the other hand, making music solo does not provide the opportunities for constructive criticism, the creativity of collaboration, having other ears to bounce ideas off of, or the routine and structure that can come with working alongside someone else.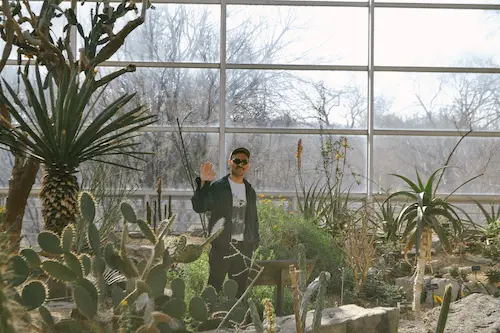 How significant is it for you to be releasing your debut EP in November? In what ways is the lead single 'FODDER' representative of the album as a whole?
DJ ST. THOMAS: November works out perfectly for this release. The project takes a somber yet optimistic tone which I think fits the approaching winter months nicely. I wouldn't say that "FODDER" is representative of the album as a whole, but more so a piece of the whole. 
After MATRIMONY comes out, where would you like to see your music take you next?
DJ ST. THOMAS: I'd love to go on tour, play some DJ sets, make merch, collaborate and produce with/for other artists, create more music videos, and continue putting out music! 😀
— — — —
? © 2019
:: Stream DJ ST. THOMAS ::
---