A sunny burst of optimistic folk-pop brilliance, "Made Up Misery" is a perfect feelgood introduction to indie pop duo The Foreword.
— —
You're the gavel, you're the jury, you're to blame for your handmade up misery.
The Foreword's debut single is built on a simple powerful premise: Life's too short to sweat the small stuff, so why be down when you could be up? A sunny burst of optimistic folk-pop brilliance, "Made Up Misery" is a perfect feelgood introduction to indie pop duo The Foreword.
When life seems all but set-set in stone
All you gotta do is let let let it go
Give me the reigns we're getting old
That rushing wind is just a breeze
You're caught up in your made up misery
Give me a break, we're getting old
Life's too short to worry,
so why give any — at all
Listen: "Made Up Misery" – The Foreword
---
Atwood Magazine is proud to be premiering "Made Up Misery," The Foreword's radiant debut and the lead single off their upcoming (and well-named) Coffee Cups and Second Shots EP, produced by All Time Low's Rian Dawson. A shimmering light in dark times, The Foreword consists of Maggie Schneider and Alex Crain – a dynamic couple with an ear for catchy, colorful vocal harmonies. "Made Up Misery" is playful and serious, acoustic and full-bodied. With its open, warmly acoustic sound and effortless harmonic indulgence, The Foreword's music is reminiscent of Atwood favorites Parker Lane, Smith & Thell, and Nate Ruess and Sam Means' former duo The Format, who (to provide context and make some readers feel old) broke up exactly ten years ago (where does the time go?).
The dirty little worry it'll
take-make-break the Queen
While your busy keeping hold of your ring
Give me the reigns you're getting old
Life's too short too worry
Let me take the wheel and
you can sit there in the middle
Fresh-faced and effusive, The Foreword are committed to lifting our spirits. Crain and Schneider trade vocal parts, singing both individually and together as they build up to rich outpourings of sound fueled by poetic lyricism and sweet melodies.
"'Made Up Misery' is a conversation about the importance of living life to the fullest and embracing an optimistic point of view," The Foreword tell Atwood Magazine. "It is heavily influenced by the Broadway musical, Dear Evan Hansen, and we wanted to write a fun, "cheer-up" kind of song. Life is what you make it, and the song is about allowing yourself to be happy."
Bright, buoyant, and instantly memorable, The Foreword are so much more than "a short introduction": They're the whole book, and resource full of lively music and thoughtful reflection. The duo leave a lasting impression in our ears and hearts in their passionate chorus:
I'm not saying sober up, but drink in life
Give it hell, it'll treat you well
Cause the sun comes up
even if you're in Seattle
Don't sober up, no, drink in life
I swear, I tell you it'll treat you well
Don't you know
you're killing me
with all your made up misery
It's hard to write an "always look on the bright side of life"-like song without sounding cheesy as hell, but The Foreword have somehow managed to avoid the corn altogether. Theirs is an homage to the good things – a testament to living well and making the most of every moment.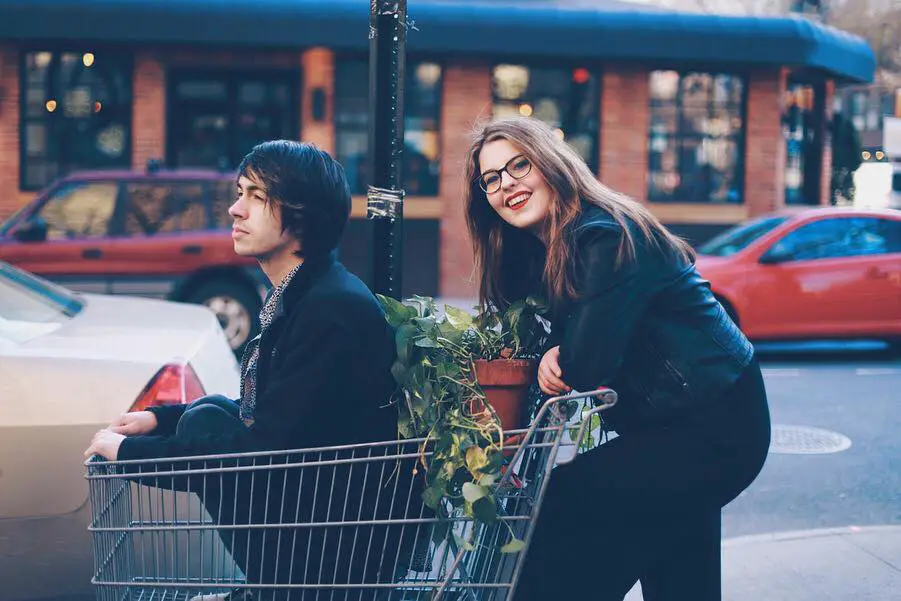 On a personal editor's note, this song captures a mantra I try to my best to live by every day. We're all entitled to a full range of powerful, meaningful emotions; but what's the use of dwelling in darkness all our lives, when you only live once and the sunshine feels so immeasurably good? Existence is a balance of all things. I cry; I get angry; I indulge in dark places; yet I live in the light, striving to immerse myself in joy and love each day. "Don't sober up… drink in life," The Foreword sing with emphatic joie de vie: This line deserves a medal, resonating with conviction and purpose.
"Coffee Cups and Second Shots tells the story of a relationship, and the ups and downs that come with that," The Foreword explain. "Each of the six songs acts as a new scene or chapter in the couple's lives. We wanted make sure that it was a balanced collection of songs, which is why each song is from a unique perspective. It is heavily influenced by contemporary musical theatre songwriters (like Pasek and Paul, as well as Jason Robert Brown), and every song was written together in Maggie's living room. We feel that this EP tells the story of a modern relationship, but also shines a light on our strong friendship."
The Foreword have made a big splash, and they're just getting started. Stream "Made Up Misery" exclusively on Atwood Magazine, and stay tuned for more from our favorite new Atlanta duo!
I'm not saying sober up, but drink in life
Give it hell, it'll treat you well
Listen: "Made Up Misery" – The Foreword
— — — —
? © 2018