The Hold Steady conjure feelings of nostalgia on their Jim Carroll Band-like new single, "Entitlement Crew," capturing both the worry and excitement we get from seeing old friends.
— —
Nostalgia and curiosity are both powerful, often daily prevalent forces in everyone's mental state. Nostalgic, when it comes to music writing, is often used to describe fuzzy acoustic ballads that are reminiscing on the past. The Hold Steady's recent single "Entitlement Crew" is nostalgic but with a twist. It's a Cheap Trick-like track, where frontman Craig Finn narrates being at a party reminiscing and talking to people about where their old comrades are now.
Tequila take off, Tecate landing
Sorry about the centerpiece,
thanks for understanding
Soft salesmen, hard branding
Campari commissions
I was sitting in the kitchen
trying to guess where she was living now
Hotel room in Houston
with the shades against the sunshine
Or maybe still in Scranton
like it's 1999
When I saw her rolling through
with the Entitlement Crew
I wasn't all that into it
but there was nothing I could do about it
Listen: "Entitlement Crew" – The Hold Steady
---
"Entitlement Crew" could be set in any bar on Thanksgiving Eve or a summer barbecue with old friends. It's paced like Finn showed up to the party about an hour late, when everyone there is just starting to get a little boozy. You start the night with shots of "Tequila take off," and settle into a "Tecate landing," when dealing with these sorts of circumstances in the most cautious possible way. Over palm-muted chords, Finn exchanges the sorts of quick catch up you do with old acquaintances:
I always really liked that song
You like that song too
I know that you do
While the upbeat nature of the tune makes it seem like friendly catching up, the line "I love the party favors, but I hate the party people" shows the narrator indulging in too many "party favors" and maybe making some jabbing comments to the party people like: "Your sister's in Seattle, and she's sleeping with the sharks" or "Your brother's in Boston, and he's acting like a dick." The whole song pounds through like a drunken parade through a party trying to find the one friend you've really been dying to see. Finn really does a great job of capturing not only the fun aspects of evenings like this but also the nervous and annoying parts that inevitably come with them. It's equal parts celebratory and anxious.
Still in the comments about brothers and sisters, Finn also wonders where a number of his friends have ended up. There's a shared experience with the people you bump into at a hometown bar that makes you wonder where the guy you sat in front of in math class is living now, or where the cute bartender you used to have a crush on has moved to. There's a recapturing of the past and desire to learn about the present, even if you can barely remember the next day.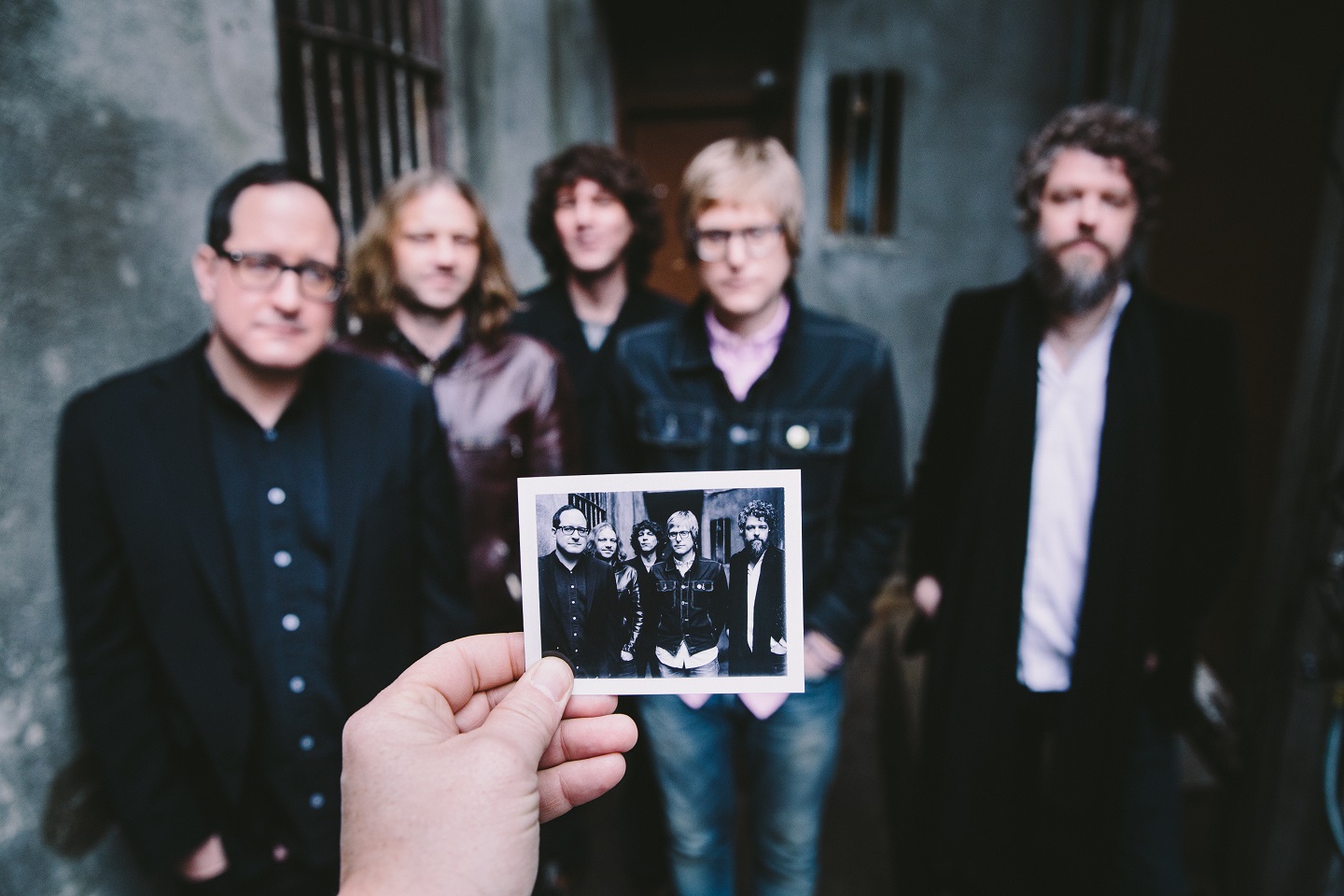 Over the references to Finn's solo work and old Lifter Puller songs, the band taps into a Cars-like power pop riffs courtesy of Tad Kubler and Steve Selvidge, but when the band channels Springsteen in the arena post-chorus riff, Franz Nicolay's piano pounding really shines. Most of all, the song gives Finn a chance to show off his underrated punk knowledge, with a melody that sounds like it's lifted from The Jim Carroll Band's "I Want the Angel" – possibly an unconscious decision, but a footnote in punk history Finn is certainly aware of.
Regardless of if The Hold Steady goes on to make a new album or just continues to release singles, "Entitlement Crew" and its B-Side "A Snake in the Shower" capture all of the worries and excitement that you get from seeing old friends. It's a short, fun burst that completely sticks its Tecate landing.
— —
— — — —
photo © Rich Tarbell
:: Stream The Hold Steady ::
---