Peace Chord's self-titled debut swells with harmonious synths that evolve into emotive and moving pieces that instill warmth with each note hit.
Stream: 'Peace Chord' – Peace Chord
---
There isn't a defined structure when it comes to the soundwaves of honesty. Whether it be the singer-songwriter approach of elevated acoustic balladry or sparse synths that crescendo into grand outpours of emotion, the path towards that willingness to share is varied, music offering one of the great mediums to unfold one's story. Canadian-based Daniel Robertson has taken that step into a more open dialogue, putting himself at the center. He calls it Peace Chord.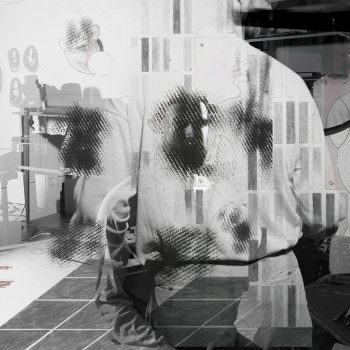 Peace Chord is a solo effort, and despite his heavy involvement in the band Crack Cloud, its Peace Chord that offers the avenue for Robertson to delve into his own life, offering listeners peeks into his world, and he does it with a sonic flair that, despite its scarcity, manages to create an intensity that envelops and warms listeners. That warmth stems from the stories themselves, Roberston delving into lost love, death of those closest to him, and the celebrations that have made him who he is. This is what his self-titled debut offers, and it's a strong showcasing of not only his artistry but the talent necessary to even pull something of this caliber off.
"Seventy Times Seven" begins the album and offers listeners a sample of what's to come. The piano melody joined by the whispered hushes of Roberston is a haunting duo. As the track progresses, synths enter and break the silence, turning haunting into eerie but never stepping into an uninviting territory. It's a delicate balance, but Roberston has made it clear he certainly has the ability to accomplish it. With "Empty In This House," a lusher soundscape is present that includes acoustic guitar and a more pronounced vocal presence.  Lighter in tone, it has an airiness surrounding it that makes it easy to become enraptured by.
Watch: "Memo" – Peace Chord
Building off of the previous track is "Spectral Processor," a song consisting only of a looping synth melody that has a dash of percussion in the faint foreground. It's simple yet at the same time inexplicably alluring. That simplicity is its weapon, something Robertson has brandished well. "Juno" is piano-driven, slowly ramping up into a more frenzied style of play that suddenly ceases. Each note undulates with a hypnotic grace and will have listeners transfixed with ease. The track "Omphalomancy" puts Roberston and his vocals on the main stage, and it's a dream-inducing experience. With piano backing him up and heightening each word sung, the song is able to reach a new state of beauty. 
"Memo" offers one of the album's most varied tracks – containing a swath of instrumentation and synth layers that all join together in a harmonious and bewitching style. One of the shorter tracks on the album, its impact manages to last well after that final note, swirling around headspaces with a welcoming aroma. The closing track, "Crescent of Sun," is all that is good and beautiful with Peace Chord. Adorned throughout the song is a blanket of majesty – the synths conjuring the feeling of weightlessness as listeners drift into an ether of Robertson's own creation. It's a close that teeters on somber and hopeful, and with its inspiration being that of the death of a close friend, it balances the two with deftness and poise. 
It's hard for one not to be left breathless after the album's finish, and it's a testament to Roberston and his abilities at creating such artistry that is teeming with sincerity and beauty. A debut is an opportunity to express one's self and create a vision for what is to come. Peace Chord provides a vision of delicate charm and refinement, an album whose influence will be seen for some time. Robertson has created splendor, Peace Chord being a project that has demonstrated its strength to great effect, and it's an effort worthy of praise.
— —
— — — —
Connect to Peace Chord on
Instagram
? © 2021
Peace Chord
an album by Peace Chord
---