Listening to music is more than just an auditory experience. Atwood Magazine's Tunes & Tumblers column explores the way our senses mingle by pairing new and classic albums with cocktail recipes. We invite you to bring out your inner mixologist as we approach the music we love from a unique, immersive, and thoroughly delicious perspective. Put up your feet and enjoy a cold one on us.
 
In 2003, hip-hop masterminds Outkast shook the pop landscape with their double album Speakerboxxx/The Love Below. What better way to commemorate this feat of genius than with one drink for each hand?
   
Picture it: literally any of your friends' weddings. The festivities are several trips to the open bar deep and a bunch of grown adults are gyrating like Round One contestants on So You Think You Can Dance. The DJ cycles through a Rolodex of tracks that slayed at your middle school dance. There's the Nelly, the Usher, the obligatory "Crazy in Love." Then something happens. A bouncing acoustic riff bursts from the monitors accompanied by the unmistakable vocal warble of André 3000.
Two three four!
My baby don't mess around
'Cause she loves me so
This I know fo sho!
The whole hall erupts in a synchronized clap and proceeds to lose its mind. If this scene sounds familiar, that's because it happens every weekend in every banquet hall across the US.
It's hard to imagine now, but at the dawn of 2003, the Atlanta power couple Outkast were primarily seen as a One Hit Wonder in pop circles. Sure, they hit gold with "Elevators" and helped put the ATL on the map in a time when New York and LA were seen as the only big players in the rap game, but the crossover behemoth "Ms. Jackson" (oooooh!) overshadowed the rest of their discography. The wold wasn't ready for the cultural shakeup that would begin with "Hey Ya!"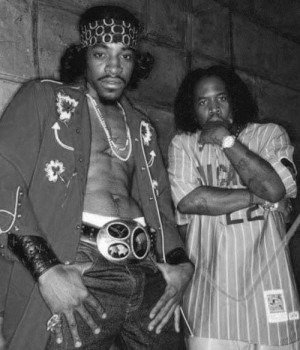 Had it happened on its own, this song still would have been the pinnacle of all things Outkast. Instead it came as the satin bow on their greatest gift to humanity, the double opus Speakerboxxx/The Love Below. It was a diamond monument on the skyline of pop music history. Two masterpieces packaged and sold back to back, and still the last hip-hop record(s) to win Album of the Year at the Grammy's.
If we got our feet wet in our last edition of Tunes & Tumblers, this is us jumping headfirst into the deep end with a cinder block tied to our feet. Technically speaking, we don't have one classic album ahead of us, but two – Big Boi's fiery, kinetic down-South Speakerboxxx and the genre-bending jazz of André 3000´s The Love Below. But why do we have two hands if not to double-fist our drinks?
Buckle up and get ready to zip back to 2003, when Stacy's mom had it going on and the worlds of hip-hop and pop would never look the same again. Please time travel responsibly.
THE DRINKS
Jalapeño Margarita
Speakerboxxx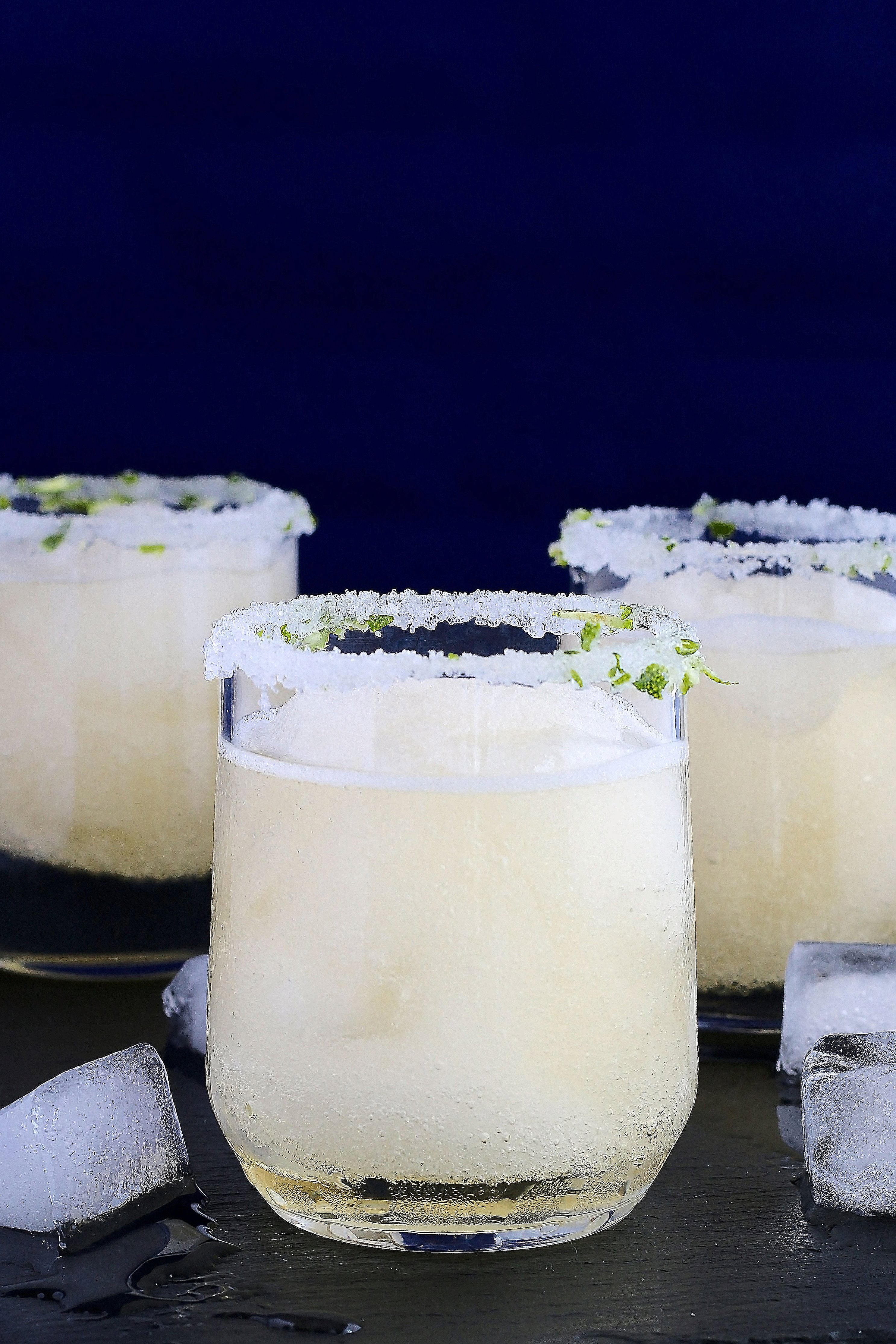 1 1/2 oz tequila
1/4 jalapeño pepper, plus extra slices for garnish
1 T Grand Marnier
1 oz fresh lime juice, plus a lime slice for garnish
1 T simple syrup or fresh squeezed orange juice
a splash of sparkling water
handful of ice
Instructions
Pour the tequila into a small mixing glass. Add the sliced jalapeño (up to 1/4 depending on how hot you like it). Set aside at room temperature for 15 minutes (or longer, again depending on how much heat you can handle).
Mix together the jalapeño-infused tequila, Grand Marnier, lime juice, and the simple syrup or OJ.
Taste it. If you'd like it spicier, add more jalapeño and let it sit a while longer.
Pour into glasses and add lime slices and jalapeños for garnish. If you like it lighter, fill the glass halfway and add sparkling water.
If he had his way, Big Boi would probably churn out a series of masterful raps over versions of the same backing track, speed dial his Favorites list for features, shrink wrap and repeat. I mean, take a look at the vast majority of his solo work. He's good at what he does, but that often involves running in place and ignoring current trends. With André in the wings though, his music gets a bit of a kick. IT's classic Outkast, but with a hint of spice, like it's been sprinkled with a dash of Latin flare and funk by Salt Bae.
When you sit down with Speakerboxxx, you're going to want a favorite with a twist. And who in their right mind doesn't like margaritas? There's nothing like kicking back on a Tuesday afternoon in Venice Beach, watching the sun dip into the ocean while clutching a delicious marg with a salted lip (yes, I know it's still winter, but a boy can dream). Infusing the tequila with sliced jalapeño only heightens the experience.
Like Big Boi's contribution, this isn't for those who can't take the heat. It's sweet, it's spicy, and most importantly, it's refreshing. One sip of this magical concoction pings every palette quadrant on your tongue. Feel it bounce from fiery to tangy as Big Boi takes you from the LSD soul drop of "War" to the salsa-dipped spice of mega hit "The Way You Move." And when you're done, make another. It's a nineteen track journey after all.
Pamplemousse Royale
The Love Below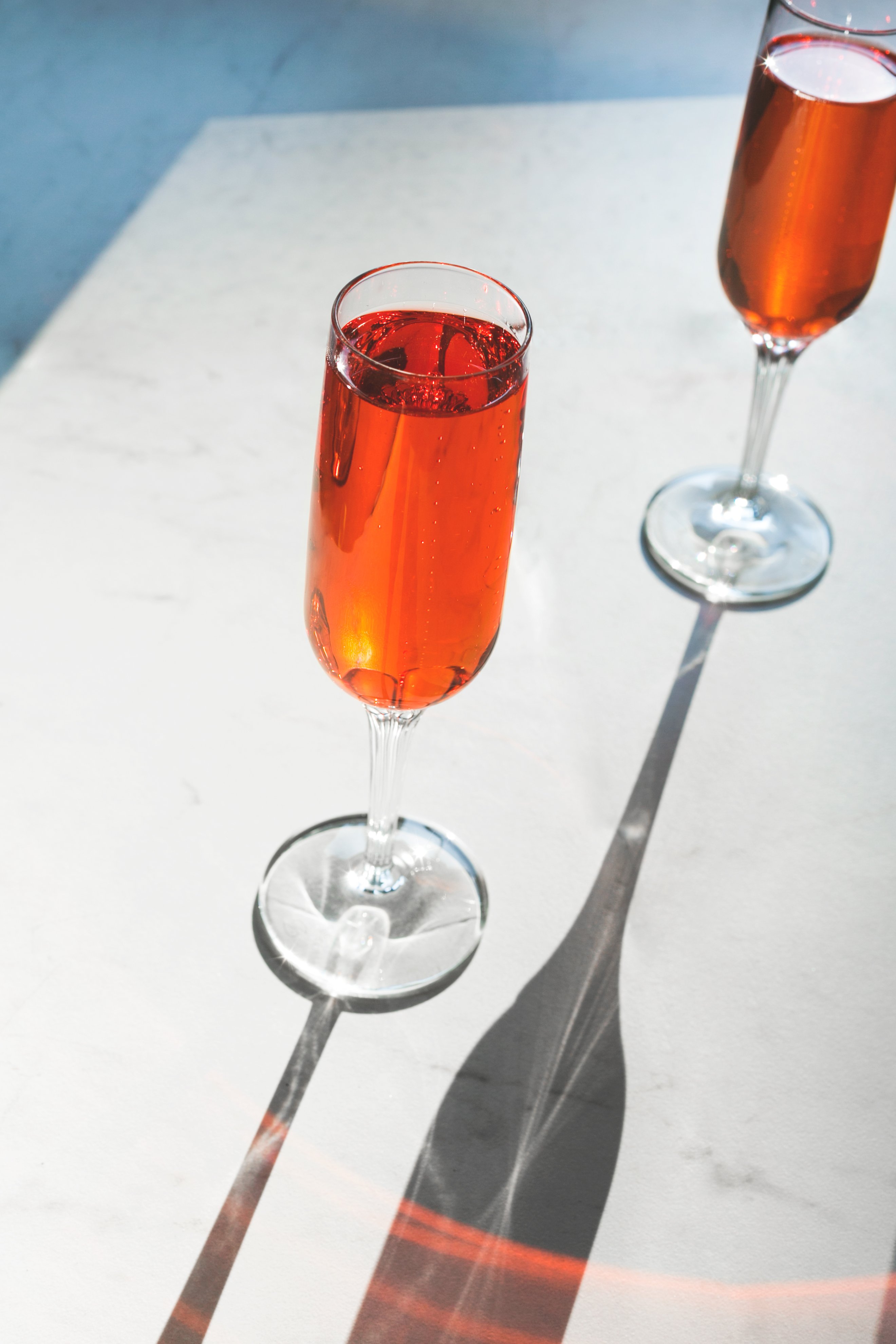 1 bottle sparkling rosé
Red grapefruit
3 oz vodka
1 oz agave syrup
Instructions
Prepare the liqueur: Remove the peel from the grapefruit. Carefully slice off and discard the white layer with a sharp knife and discard, saving the outer rind. Slice the rind into short, narrow strips, and place in a large measuring cup. Add the vodka and muddle thoroughly. Let stand for 5-10 minutes. Decant the liquid into another cup and add the agave syrup. Stir well and cover until ready to use.
Prepare the drink: Pour a small amount of liqueur into a cocktail glass. Fill the rest of the way with rosé.
As frantic as Speakerboxxx feels at times, it's practically a trip to the DMV compared to Side B. André 3000 approaches his contribution like a mad scientist- throwing everything into the pot until (cue lightning) it's ALIVE! Not all of his experiments hit the mark (looking at you, Idlewild), but The Love Below is full to bursting with beautiful, happy accidents.
You know what two things sound like they shouldn't mix? Champagne and grapefruit. They're two kids from opposite sides of the tracks whose parents never let them play together. But now that they've met, they couldn't imagine life without one another. It's an olfactory pairing that beautifully mimics the go-for-broke chutzpah of André's wild card of an album.
Like the jalapeño margarita, we'll be infusing our own liqueur here. The tartness of the grapefruit vodka knocks against the sweet bubbly like a twister in your mouth. It's the same head-scratching perfection that hits with the indie-rock-by-way-of-Little Richard "Hey Ya!" or the White Album worship of "Take Off Your Cool" with Norah Jones.
André resembles a bio-engineered clone of Prince, Jimmy Hendrix, and David Bowie more than he does half of the preeminent hip-hop duo of the day. But that's precisely what hip-hop used to look like — genres and influences sliced, sampled, chopped up, and melted down into a rich stew. To the trap connoisseur, this may feel more challenging than drag and drop hi-hats, but it's the foundation that built the house of hip-hop. It pulls from everywhere to simultaneously become everything and nothing (I defy you to classify a song like "Roses").
Likewise the pamplemousse royale defies traditional classification, but your taste buds don't need convincing. Turn a cheap bottle of bubbly into a tart slice of sophistication that will make the Dom drinkers jealous. That's the magic of hip-hop.
THE ALBUM
Speakerboxxx / The Love Below
Outkast
---
Jalapeño margarita in one hand and pamplemousse royale in the other, you're finally ready to tackle this masterpiece the way it was meant to be. I can't guarantee this was exactly what Big Boi and André 3000 had in mind when they took their respective solo projects and slapped the Outkast label on them, but here at Tunes & Tumblers, it's always our first assumption. They are two distinct statements from artists as different as the cocktails you hold. Separately, the seem to be missing something — Speakerboxxx loses its momentum with too much filler, and The Love Below sags under its own staggering length — but together they are inseparable. Yin and yang. Peanut butter and jelly. Twitter and outrage. It's only a matter of time before Nintendo makes competing Pokémon games based on them.
Comparisons to The White Album aren't unfair here. Both are double albums, both overflow with ideas and a near-maddening ecclecticism, and both seem to defy the sensibilities of their respective genres. Unleashed. Uncontainable. Masterstrokes. On one end, we have a delicious grab bag of everything that makes Southern-fried rap so salivatingly good; and on the other, we have a kaleidoscope of saturated jazz funk that worships at the feet of the Purple One.
If that isn't a mouthful, your drinks more than qualify. Knock back one, then the other, and slam the repeat button.
 
Have your own idea for a Tunes & Tumblers pairing? Let us know in the comments, or just shoot me a DM on Twitter.
   
:: Outkast ::