Listening to music is more than just an auditory experience. Atwood Magazine's Tunes & Tumblers column explores the way our senses mingle by pairing new and classic albums with cocktail recipes. We invite you to bring out your inner mixologist as we approach the music we love from a unique, immersive, and thoroughly delicious perspective. Put up your feet and enjoy a cold one on us.
 
The K-pop septet BTS has swept over pop culture like a tsunami and we have the perfect drink to toast their world domination.
   
When Stephen Colbert introduced late night audiences to a group of well-coifed Korean men, the allusion was obvious. Speaking in the halting cadence of a 60's TV host and filtered through retro black and white, he presented them like that other infamous band that took the world by storm once upon a time. "Ladies and gentlemen, and now for the performance you've been waiting for by these fabulous young lads from Seoul." He couldn't have channeled Ed Sullivan more if he stepped out of a box TV straight from 1964.
The coding of the Beatles' legendary television debut may seem hyperbolic at first glance, but it's arguably warranted the close you look. K-Pop idol group BTS are virtual superstars. Their recent US tour saw fans waiting days outside sold out arenas to see their shows. Their online presence is so prolific that they've sat atop the Billboard Social 50 for an unprecedented 134 weeks. Fans don't just talk and speculate about their music, but make whole careers around engaging with them on YouTube. BTS is more than a band. They're an entire ecosystem. Once that comes into focus, that comparison to the Beatles makes a lot more since. The most remarkable thing about their swift and sudden takeover though, is that mentions of BTS are more often than not met with a "who?"
How can a band that inspires millions of online conversations and sells tickets like gangbusters still seem like an anomaly to the uninitiated? That's a conversation that deserves its own column, but it presents a grand opportunity for Tunes & Tumblers — an opportunity to join the conversation already in progress. It's a chance to immerse ourselves in a phenomenon that feels familiar yet completely unlike anything we've seen before.
---
Dressed in matching suits, the seven members of BTS (Junkook, V, Jimin, Suga, Jin, RM, and J-Hope) invaded the TV sets of Colbert's Middle American audience, announcing their arrival as an unstoppable force of pop. They already hit #1 in the US with last year's Love Yourself: Tears album, and just a few months ago did a victory lap in the form of Map of the Soul: Persona (also a #1 smash). Either is a great place to get acquainted, but the beauty of BTS' music is how consistently accessible it is. That's how it's designed. Like the boy band factory that pumped out *NSYNC, the Backstreet Boys, and countless imitators, K-Pop is known for its meticulous sculpting of idol groups.
Let's forget about that for a minute though. Regardless of how it came to be, there's something striking about BTS' music. Yes, it's clearly pop with its thick percussion, bright synths, and catchy hooks (whether or not you speak Korean), but that's not all it is. Map of the Soul: Persona is peppered with a plethora of influences like a genre stew. "Intro: Persona" kicks things off with hard-hitting rap bars over an AC/DC-worshipping guitar loop. "Mikrokosmos" is a punchy electropop ballad that straddles mid-90's and late 10's like a wormhole. And "Home" is a thick slice of trap sweetened with a spoonful of sugar.
In fact, the whole affair is sugar-coated. It's a slow descent through pink-tinted clouds. It's a big, fluffy hug. Even if your musical intake is typically less saccharine, it's an inviting respite from the norm.
BTS — and K-Pop as a whole — invites hours and hours of conversation, certainly more than the couple thousand words I throw into this column every couple weeks. If we're even going to broach the CliffNotes, a drink is certainly in order. This album needs something sweet, drinkable, and most importantly gorgeous to look at. BTS in a glass if you will. Something comes to mind that fits this bill. Please join the worldwide phenomenon responsibly.
THE DRINK
The Dionysus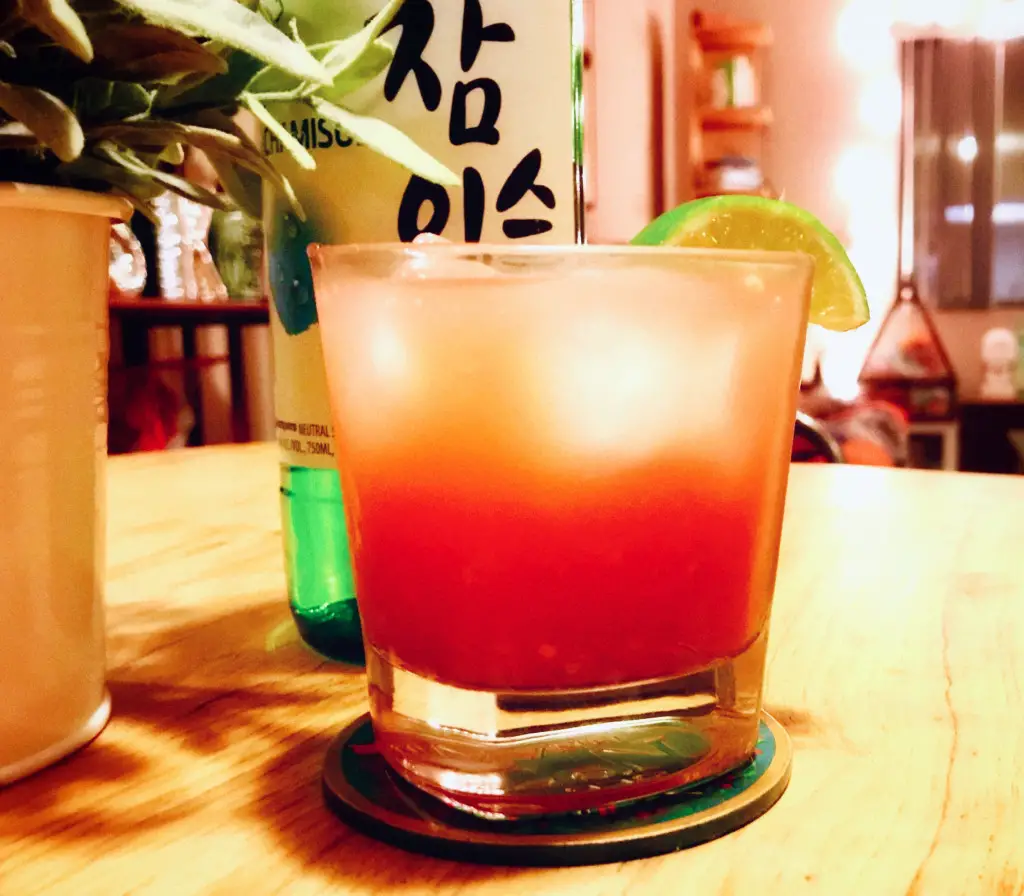 2 oz soju
1/2 watermelon
1/2 bunch of green grapes
1/4 lime
honey or agave nectar (for that extra punch of sweetness)
soda water
ice
Instructions
Purée the watermelon and grapes in a blender. Add agave nectar or honey to taste.
Combine ice and soju in a rocks glass. Fill nearly to the top with purée.
Top off with soda water to give it a little pop.
Garnish with a slice of lime.
Listening to this EP is an exercise in sugar-dipped escapism. It's poppy, it's bubbly, it's fun, it has a bit of depth, but most importantly, it's infinitely palatable. There's something for everyone on Map of the Soul: Persona, so it begs for a drink that will go down smooth no matter who you are. If you like our drinks strong, if you like them sweet, if you like them pretty, or if you like them simple, this week's pairing is the social lubricant for you.
The Dionysus gets its name from the closing track of the EP, the most straightforward "get on your feet and lose it" party banger of the set. Between stanzas sung in Korean, a few English phrases set an unmistakable tone:
…Where the party at (yeah)
…Where the party at (yeah)
Sing it…
Drink it…
…(Okay now I'm ready for sure)
The rally cry can be heard across borders and language barriers, scooping up the world in its pink bubblegum embrace. We wanted a drink that bottles this type of cross-cultural pollination, something distinctly Korean, but instantly appetizing to anyone with a free drink hand.
Soju — if you haven't partaken — is a rice spirit of Korean origin, a perfect base on which to build this delicious concoction. It has a lower alcohol content than most liquors (topping out at a meager 33-proof usually), so it's very easy to drink. For those of you who like to drink a lot, feel free to pour more liberally that the suggested two ounces. It won't overwhelm the other flavors in your glass.
Though traditionally enjoyed neat, we've mixed it up a bit to mimic K-Pop's appropriation of styles and genres the world over. Since Dionysus is the god of wine, we blended some grapes to pay him bacchanalian tribute. The water melon adds a bit of freshness to the mix, and lends the cocktail a pink hue strikingly similar to the album art. To top it all off, we float the mixture with a little soda water to give it that bubble and pop so characteristic of K-Pop. Finally, a hint of lime brings all those flavors together.
The result is crisp, delicious, and we defy you to notice you're drinking any alcohol at all. That may seem a little dangerous, but it's too delectable to say no to just one more round.
THE ALBUM
Map of the Soul: Persona
BTS
---
Tamar Herman of Billboard Magazine once said, "K-Pop isn't a music genre. It's a music idea." An album like Map of the Soul: Persona, certainly feels emblematic of this mindset. Its slim 26-minute run-time is a journey across the pop music landscape — a tasting menu of every stylistic button it can think to push. This is, of course, by design. BTS and the countless other idol groups bent on world domination exist to invade playlists, libraries, and News Feeds across the globe. That doesn't mean their artistic output is a net bad of corporate profiteering though.
In my other life, I make a living as a location sound mixer, basically spending my days pointing boom poles at talking heads, making sure they are heard crisply and clearly. Last month, this odd career path took me on the road with a documentary crew, chronicling BTS and their fandom. We interviewed people from all walks of life, from a single mother in the San Francisco Bay Area who runs a BTS fan forum, to the Vancouver-based woman who taught herself to walk so that she could attend their LA show. There was the Hawaiian flight deck worker who flew to the mainland for their Rose Bowl performance and the YouTube star in Vegas who makes her living theorizing about the group and the story line that comes together across their music videos (that is a deep rabbit hole that while fascinating, I don't have the time nor the cork board and string to piece it all together).
The scope and depth of their fandom is a wonder to behold. They capture the hearts and minds of seemingly anyone, whether senior citizens, scrappy kids, doting parents, or bohemian wanderers. Whatever their walks of life, all appear to identify in one way or another as outcasts or misfits in society at large. In BTS, they've found not just uplifting music, but a community of people like them — a family.
They call themselves ARMY, or "Adorable Representative MC's for Youth." Fans all assert this ins't an allusion to military, but instead to togetherness and protection. And what's truly remarkable about this worldwide collective is how positive its atmosphere is. Their forums are spaces of love and support, fans helping one another any way that they can. One woman we spoke to on the road said she gave away a BTS ticket to another ARMY who was financially incapable of attending on her own.
This attitude perhaps originates with the group itself. A lot of BTS songs tackle social issues, specifically calling attention to mental health. The band members pen many of the lyrics on their own, speaking candidly about their personal struggles with depression. When asked about the reason for this by Entertainment Weekly, Suga asserted that "If [celebrities] talk about depression… then it becomes more and more accepted if it's a common disorder like the cold." He impassioned that, "More and more, I think if artists or celebrities who have a voice should talk about these problems and bring it up to the surface."
Socially conscious pop stars are hardly a new phenomenon but seldom is that their ethos and identity. What BTS has is total harmony between music, message, and fandom, sprouting what has become a self-sustaining ecosystem. Map of the Soul: Persona may be just the latest blip in that unfolding story, but its uplifting effervescence is their appeal in a bite-size package.
The story of BTS and the K-Pop phenomenon still feels like it's in its infancy. With Beatles-nodding performances and Coachella appearances under its belt, this "music idea" seems poised for a magnificent takeoff. Like the got of pleasure BTS winks at, tilt back those drinks and wait for the party to begin.
— —
Have your own idea for a Tunes & Tumblers pairing? Let us know in the comments, or hit me up on Twitter.
? ? ? ?
:: BTS ::