Chicago singer/songwriter Tariq Shihadah creates a world of cozy warmth and wonder on his sophomore EP 'Tuck Me Away,' a heartfelt indie folk record that wraps around the ears like a softly soothing hug.
for fans of Matt Pond PA, Rocky Votolato, Andrew Bird
Stream: "Loophole" – Tariq Shihadah
---
I've always written music like a journal, like snapshots of the latest season of my life assembled onto a corkboard.
It may have come out in the middle of the summer, but Tariq Shihadah's new EP is the musical equivalent of a big, warm blanket:
A five track record of cozy, heartfelt indie folk poured from the artist's soul out onto the sonic page. Soft and sweet, Tuck Me Away is a comforting collection of gently stirring songs that promise to settle, soothe, and inspire. Whether you're in need of a good cry or simply relaxing on a sunny Sunday morning, open your ears and let Shihadah be your guide to a calmer existence.
is the time and place always random
Each moment for ransom?
Where we are now, bearing in the window
And it's magic, is it a loophole
That when there's nothing left but time
I'm in the music
(on the tip of your tongue, at the first sip of sun)
It was all a prelude
(in the earth that your fingers grip)
I'm in the music
(on the tip of your tongue, at the first sip of sun)
It was all a prelude
(in the earth that your fingers grip)
I'm in the music
Independently released July 15, 2022, Tuck Me Away is the sophomore EP from Chicago-based Palestinian-American Tariq Shihadah. A multi-instrumentalist singer, songwriter, and producer, Shihadah first debuted his artistry with 2019's three-track Hum in late 2019. We all know what happened just a few months later…
"In the winter of 2019, I was feeling good – I was full steam ahead, knowing that 2020 would be the year that my music would take the front seat," Shihadah tells Atwood Magazine. "It's no surprise that, that isn't quite what 2020 looked like for me after all. My music wilted over the course of that summer as did a lot of things, but out of nowhere a new season of writing started to form. I became pretty obsessed with birds that Fall, which is perhaps another story, but that drew me outside my shell in a sort of wild and unexpected way. With the help of a songwriting class through the Old Town School of Folk Music, I was able to kick off something that felt fresh, matured, and exciting. This new album became a sort of preface to this new creative me."
He adds, "One of my top goals in approaching an album is to write music that soothes me – it feels silly, but I love these tracks, and that brings out the best in me I think. With the help of a few brilliant friends of mine on some tracks, including guitarist Evan Opitz, bassist Nick Soria, and drummer Joey Buttlar, my sound has been able to expand and capture a more complete vision for the album. My hope is that listeners can feel a closeness to these songs through earnest lyrics, unique arrangements, and some fun creative choices and easter eggs."
For Shihadah, these songs are profound insights into his mind. Each of these tracks reads like its own intimate diary entry – relatable, yet deeply personal.
"I've always written music like a journal, like snapshots of the latest season of my life assembled onto a cork board," he explains. "But in recent years, I've felt compelled to dig a bit deeper, to reach out a bit more directly to listeners through storytelling and perhaps a bit more intentionality. Though I didn't start from a well-defined concept for this album, I meticulously began assembling it in the Fall of 2020. Mathematicians out there may notice that that is about two full years ahead of the album's release, so as you can imagine I sure took my time to complete it. Honestly, the vision changed every day until the release, but it's always been about being myself and connecting with listeners.
Though it's certainly not the most popular song on the EP, "Tuck Me Away" is perhaps the one that feels most personal to me. Being a song about spiritual deconstruction, it felt like an appropriate headline for the album, which tackles deconstruction of all sorts in each track.
The EP opens like a tender, haunting whisper as "Set Sail" washes over the ears. Shihadah's voice is unassuming, raw, and radiantly vulnerable, and he crafts a wave of tranquility with his acoustic fingerpicking – a staple of his guitar work that proves enchanting time and again throughout Tuck Me Away. "We started out as a body, there was nothing to see in me, but the body came to be fractured," he poetically sings, weaving the tapestry of a new beginning as he finds awe in life's fragility and wonder. "And as each part began to breathe, I felt nothing at all, until I exhaled and each cell came to life. Now one by one the fragments tessellate…"
With every moment high on a precipice
Staring into the face of it
I was gripping life with my fingertips
Learning how to lose control
And I felt nothing at all
Until I exhaled and at once realized
That there was nothing for me to decide
Cell walls came down
As we evolved without a sound
Time turns us on
As we turn into someone new
And a better reason pulls us through
"I got a bit goofy with the production on a few songs and threw in some field recordings to add a bit of spice," Shihadah says. "Some are easier to find than others, but throughout the album there are the sounds of a rolling river, a brick wall collapsing, and locusts singing at dusk at Jelke Creek Bird Sanctuary. See if you can find them all!"
As far as favorites are concerned, the singer/songwriter is quite to highlight a lyric in the opener: "At the end of "Set Sail" is the whispered line, "Spinning wheels of stardust and boundless galaxies above / I'm scaling down my bitterness and scaling up my love." This may be devastatingly cheesy, but to me it sets the stage for the rest of the album and reflects a choice I'm working on making these days despite every hitch along the way. It's a spirit that's wound up guiding a lot of my writing, which is often mournful and pained, but also rooted in love."
---
Maybe I just need some time away – a brand new view, a brand new world to taste…
– "Scattered," Tariq Shihadah
From the lush warmth of "Under My Feet" to the heart-on-sleeve, Death Cab for Cutie-esque ache of "Loophole" and the pure vulnerability of the title track ("How do I know, what is the succor in grace when I'm alone?"), Tuck Me Away quickly enshrines Tariq Shihadah as a name we won't soon forget. Whether you ultimately fall for his poetic insights, his unabridged introspection, his unbridled honesty, or his gentle, heartwarming arrangements, the Chicago artist's sophomore EP is one we can all look to as a source of comfort and relaxation.
Tuck me away, tuck me away in the box by your bedside
There I will lie, there I will wait for your hours to run dry
Sherry and wine, poured for the lips of the prodigal child
Where did you go? It matters not to me
But when you fly home, will you still cling to me?
Powers that be, where is the power you said belonged to me?
Hours I read, hours I spend digging for the space to breathe
How do I know, what is the succor in grace when I'm alone?
Where did you go? Of course it means everything
No shadow of home, no place to be seen
– "Tuck Me In," Tariq Shihadah
"I hope that it can be soothing," Shihadah shares. "I hope that folks can find a new connection to it with each listen and that it can offer the same peace and comfort it has offered me in creating it. I love the way that music can start conversations and synthesize a closeness between folks–out of nowhere. So I sure hope that somebody will listen, come find me, and say "Hey, let's talk about this."
Experience the full record via our below stream, and peek inside Tariq Shihadah's Tuck Me Away EP with Atwood Magazine as the singer/songwriter goes track-by-track through the music and lyrics of his latest release!
— —
Stream: 'Tuck Me Away' – Tariq Shihadah
:: Inside Tuck Me Away ::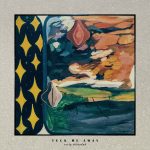 — —
Set Sail
The human body is a lot to process…the complexity and frailty of what we are has always freaked me out. In recent years I've been faced with a lot of reminders of this, experiences that have forced me to see myself and my loved ones for the fragile creatures we are–it's unnerving, but it also reveals so much beauty. This song is about facing that paradoxical feeling of horror and awe, seeing the magical fabric of life for what it is.
Under My Feet
Naturally, everyone was writing songs about the pandemic in 2020. Maybe it feels a bit trite now, but Under My Feet was my in-the-moment message to myself, trying to stay positive in the first downward slope of an inevitable mental health decline. We had no idea what was ahead when I first wrote these words in April 2020, but they still feel relevant to me today, reflecting a newfound scrappiness that's brought us this far.
Loophole
Doomsday Preppers. I was home alone one night, bored and buzzed enough to try out a weird-looking show on Netflix. It was fun to laugh about the antics of folks spending everyday waiting for the end of the world, but it occurred to my drifting mind that it was also a bit romantic. When the end of days came, they'd be ready for it, to face every threat and give their lives to save the ones they loved.
Tuck Me Away
Being in a time of spiritual deconstruction, this song sprang from a fascination with the story of the Prodigal Son. A favorite among Evangelicals, it relies on the foregone conclusion that the son was wrong to leave the comfort, safety, and simplicity of his home. Not every runaway child is lost–but if you know someone out there thinks you are, sometimes that might feel like the truth, and sometimes that's hard to get over.
Scattered
This song is the result of a dark, anxious, interminable winter in Chicago. I've been working from home full-time since the start of the pandemic, and though it's got some excellent perks, it can make time seem to stop. Everyday the same views out the window, the same steps down the short hallway, the same toast on my plate. If today feels exactly the same as yesterday, last week, or last month, am I really living? "But it's alright, I know, even when there's nothing much to show for it."
— —
— — — —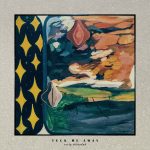 ? © 2022
:: Stream Tariq Shihadah ::
---