Every Friday, Atwood Magazine's staff share what they've been listening to that week – a song, an album, an artist – whatever's been having an impact on them, in the moment.
This week's weekly roundup features music by Coolio, Arctic Monkeys, Q, Oh Wonder, R. Flex, Noah Kahan, EMINZADA, Kleo, True Body, Elanor Moss, Blondshell, & Palaye Royale!
•• •• •• ••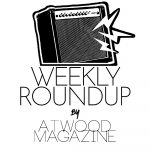 :: "Gangsta's Paradise" – Coolio ::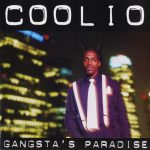 When a major star of yesteryear passes away, their music will inevitably get bumped back to the top of many fans' playlists. In the case of Coolio, I did make an effort to revisit some of his second-string hits, including "Too Hot," "Fantastic Voyage," and "1, 2, 3 (Sumpin New)." But look– at the end of the day, "Gangsta's Paradise" is far and away his best-known song. By extension, that's the one I first listened to, and the one I've listened to the most times, after the sad news broke on Wednesday that the former rap titan had died of a hard attack at age 59.
Rapping over a practically unaltered beat from a more-than-decade-old track by another artist is a practice that's largely gone out of style at this point. Yet there was a time when it served as the template for many popular hits: "Juicy," "U Can't Touch This" and "Nuthin' But a G Thang" are among the most famous ones from the '90s. "Gangsta's Paradise" is another shining example of that formula, as Coolio takes "Pastime Paradise"– Steven Wonder's 1976 plea for us lazy bums to get up off our butts and get to work– and refashions it as a cinematic overview of a hoodlum underworld. It's a land where "death ain't nothin' but a heartbeat away" and where "you and your homies might be lined in chalk" from any lack of attentiveness.
It's far more sinister than any of the other chart-toppers of 1995– Montell Jordan's party-ready "This Is How We Do It" and Mariah Carey's glossy "Fantasy" among them– yet the formula proved to be every bit as successful all the same, as "Gangsta's Paradise" wound up being the top-selling single of the year. "I'm 23 now, but will I live to see 24? The way things is goin', I don't know," Coolio rapped. Not only did he last a solid 35 years longer than he had feared, but this iconic single ensures that he will endure forever in the hearts of hip-hop fans worldwide.
:: "Stereo Driver" – Q ::
I can't get enough of Q Steven Marsden's soul-stirring sound, and his latest single has me absolutely and utterly enraptured. A smoldering, funk-soaked declaration from the depths of the heart, "Stereo Driver" (released September 23 via Columbia Records) sees the South Florida artist channeling his inner Prince into a captivating and cathartic red-hot R&B immersion. "Hey, is your story the same from the day when you had nothing to hold or to gain?" he sings from the start, his golden voice a powerhouse of emotion against a gentle bed of synths. "I can show you more than you wanted, what will it be?" Passion and purpose, intent and impact coalesce as this hauntingly beautiful slow-burn soldiers on.
Time will tell if you really grown or you stayed
Facing the worries of all your mistakes
But I could be your stereo driver
Just come and see
I'll be your stereo drive
rI've been involved within all of your ways
Waiting for you to come stand in my face
I want to give you a promise
To let you breathe
Chasing a fight that won't solve anything
Rest, be assured that you got everything
I will be your stereo driver
For your body, mind, and soul
"I wrote 'Stereo Driver' during a time of despair, and I had to lean on a higher power to help me through it," Q shared upon his song's release. "I wanted the lyrics to come off as a dialogue, and help people self reflect." The artist's self-reflection and soul-searching come to life with cinematic strength in a song dripping with unbridled intimacy, heart, hope, and intensity. Q has been dubbed "the unsearchable musician" by countless outlets covering him over the past four years; in contrast, each of his releases helps his audience feel a little more seen, and a little more found.
:: "Beautiful Life" – Kleo ::
You know things are going well when "it's a beautiful sky, beautiful night, beautiful time, beautiful life." In fact, that's just about as unalloyed as happiness can be– especially given the few precious add-ons, such as "all your favorite records playing aloud [and] all the fireworks spelling your name in the clouds  Converting those feelings of joy into song form, with an uptempo dream-pop soundscape to match, makes "Beautiful Life" one of the most absorbing new singles I've heard lately.
Denmark native Kleo is relatively new to the music game, having only put out two singles ("Miss You" and "Magic") before this one. Yet it's clear that she's got plenty of optimism for the road ahead. "For me, it's about being open and holding on to the feeling of happiness I feel in the present moment," Kleo says of the sentiments that guided her throughout her latest single. "For example, the feeling I get when I meditate, or when I'm completely head over heels in love with someone." Encapsulating that mindset proves to be a winning approach for "Beautiful Life," and hopefully she'll be able to keep up the momentum in the long run!
:: "Body Paint" – Arctic Monkeys ::
The Arctic Monkeys have blessed us with "Body Paint" this week, their newest track laced with orchestral strings, haunting piano and Alex Turner's iconic vocals. Following "There'd Better Be A Mirrorball," "Body Paint" is the second preview of the band's seventh studio album, The Car (out October 21st via Domino).
As with every Arctic Monkeys release, "Body Paint" highlights Turner's quintessential songwriting while striking bold balances of musicalities – synthesizers, piano, and electric guitar bolster melodic violins that crescendo and crash, as Turner croons in falsetto. He chimes "So predictable I know, what you're thinking" as he addresses deception and affairs.
My teeth are beating and my knees are weak
It's as if there's something up with the wiring
You can poke your head behind the mountain peak
Don't have to mean that you've gone into hiding
In true Arctic Monkeys fashion, every new single undeniably marks a new era of the band's longstanding discography, one of the greats of our generation. "Body Paint" is no exception.
:: "Sespsis" – Blondshell ::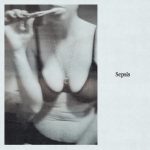 Blondshell is the project of LA based singer/songwriter Sabrina Teitelbaum which has recently entered the music scene. "Sepsis" (released in August) is the third single and follows "Olympus" and "Kiss City," two songs that are equally frank and raw in their writing and delivery. This week I saw Blondshell live in London at The Lower Third, a small basement amongst the bustle of Soho, and I can confirm that the on stage presence matches the music with the laid-back LA vibes and casual colloquial expression of thoughts.
"Sepsis" follows a similar approach to the other songs of Blondshell, a stream of soft melancholy that leads into a burst of grungy energy. It recounts the direct musings of a not-too-great relationship, of going with the flow in life and not considering too much the consequences.
He wears a front-facing cap
The sex is almost always bad
I don't care 'cause I'm in love
I don't know him well enough
What am I projecting?
He's gonna start infecting my life
It will hit all at once like sepsis
What if I'm down to let this kill me?
Oh!
During the set, Teitelbaum (on vocals) paced slowly across the stage and did moves in the form of robot style arms and yoga stretching. During one song, she lay on the ground and kicked her legs in the air as though dealing with a moment of angsty boredom on her bedroom floor. It appropriately complimented the music which feels particularly suited for solitary emo periods or nonchalant gatherings with friends. You will likely hear more of Blondshell in the near future with more music and tour dates to come.
:: "Can We Always Be Friends?" – Oh Wonder ::
Love has always been a higher power to Oh Wonder, and on the pair's latest single that sacred reverence comes out in full force. "Holy, look at all this light that I give you; you're shining like the top of a tower," Josephine Vander West sings softly, muted pianos glowing gently behind her tender voice. "Holy, look at all this life that you give me; I'm shining like I found all my power." So begins a cinematic celebration not of love as an abstract concept, but of the personal and profound love shared between two souls:
When we go, we go out dancing
Move Heaven and Earth
Spin around like we are endless
Can we always be friends?
We've got too much love
Can we always be friends?
Too much love, too much love
You and me together
Together 'til the end
Can we always be friends?
Can we always be friends?
When you're truly, madly this deep in love, it's all-consuming and ever-present – as it has been for Oh Wonder's Anthony Vander West and Josephine Vander West for quite some time. The longtime couple / bandmates wed last year and subsequently put out an entire album (October 2021's 22 Break) about how they had nearly broken up during the height of the COVID-19 pandemic. "We used music as a way out," Oh Wonder recently shared. "We wrote all our pain, sadness, and confusion into a collection of songs that we eventually released as the album, 22 Break. But for us, that was only half of the story."
Following on the heels of this year's singles "Magnificent," "F*ck It I Love You," and "True Romance," "Can We Always Be Friends?" (released September 28) heralds the upcoming release of 22 Break's second half, 22 Make: An album "soundtracking the light at the end of a tunnel," as the band so eloquently put it.
Oh Wonder are no strangers to love songs, but this is a whole love album. "We managed to survive our rocky patch, and emerge stronger than ever and full of love for each other," the pair explain. "It only felt right therefore, to write about the other side, where you realise not just that you're meant for each other, but also that it also takes two people to make a love flourish. We are thrilled to be releasing 22 Make, an album full of love and life-affirming songs that reflect on fate, gratitude and being there for someone."
Holy, body full of buzz when you're in view
Adoring you a million an hour
Holy, look at all this happiness come through
I'm flying like a bee to a flower
"Can We Always be Friends?" is a sweetly stirring, jazz-tinged embrace of the raw, intimate connection at the foundation of the Vander Wests' love. For many, true love makes you inseparable; makes you best friends; makes you partners for life "We've got too much love… you and me together 'til the end," the indie pop duo declare in this song's chorus. More a statement of intent than it is a real, or even rhetorical question, this song is its own form of sacred vows. 22 Make is out October 7th on Island Records.
So can we always be friends?
We've got too much love
Can we always be friends?
Too much love, too much love
You and me together
Together 'til the end
Can we always be friends?
Can we always be friends?
Can we always be friends?
'Cause in a world of plenty of people
There is no one else
So can we always be you and me?
:: Once Upon A Flex – R. Flex ::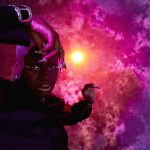 Combining the tender tones of R&B with the grooves of decade-inspired nostalgia, R. FLEX has returned with their new EP ONCE UPON A FLEX. In collaboration with multi-disciplinary producer David Psutka, their new offering highlights their ability to transcend 80's euphoria into a realm of musicality, consolidating R. FLEX's stake as an exceptional emerging talent.
Unraveling soundscapes and a pure captivation of the senses set this new offering apart. Opening with "The Fog," their new EP leans into a kaleidoscope of pop and trap. Discovering the many formations of ambiguity, R. FLEX confides, "I think for a song that pulls from quiet storm, which is already known for expanding masculinity to embrace domestic sensuality, this song pushes beyond heteronormative expectations." With musical intricacy and soaring melodies, "The Fog" sets the tone for an exceptional record.
Closely followed by "Hounds of Hell," R. FLEX's harmonies continue to ascend into a truly vibrant soundscape, one which enriches with both lyrical and melodious bliss. R. FLEX's unparalleled approaches and glowing resonance encourage listeners to feel, with an avid tension and admiral authenticity. As a true trailblazer of their time, R. FLEX is a fantastic advocate for individualism and a glowing example of the exceptional results driven by being boundaryless.
:: "Sociopath" – EMINZADA ::
Known for his exclusive style and multi-dimensional approaches, EMINZADA is back with his new single "Sociopath." Packing the perfect punch across his repertoire to date, his latest offering is truly no exception. In a realm of alternative pop with an Azerbaijani touch, EMINZADA's rich musical heritage comes to fruition in collaboration with Apollo Love, a multidisciplinary artist whose talents continue to exceed sonic heights.
Together, the duo have produced a single that encapsulates the perfect blend of sophistication and personification. EMINZADA shares, "This song is about the person who I was afraid to become. At some point, I met so many sociopaths in my life – their toxic character and demanding attitude was part of my life. I felt like a source of energy for them, and at the end of the day I was so drained that I couldn't continue doing my everyday activities."
Embellishing rich soundscapes with electronica-fuelled melodies, punching basslines and euphoric vocal energy, "Sociopath" soars with magnificent soundscapes and enriching lyricism. Consolidating his visionary creativity into yet another remarkable single, there's no doubt that "Sociopath" is the perfect power anthem, one which embellishes EMINZADA's growing repertoire and tasteful chronicles.
:: "Northern Attitude" – Noah Kahan ::
Driving through the Everglades. Hiking in the Smokies. A dark wood cabin with drops of sunlight. A cup of tea and existentialism for breakfast. Add in some fingerstyle guitar and airy vocals and you've got the essence of Noah Kahan's latest single "Northern Attitude." The piece beautifully paints a picture of the northeast and uses it to represent character – the idea of someone getting too close and having a "northern attitude" or cold behavior.
The young folk-pop artist also touches on the temporary and fleeting moments of life. Kahan sings: "You build a boat/You build a wife/You lose your kids/You lose your wife/You settle down/You're feeling lost." How one moment you're filled up in the present and the next you are learning to adapt to what no longer is. It is the cycle of life – the ups and downs, the gifts and losses, settling down and moving on. Kahan gives us a peek into his brain and perhaps reminds us of our own ways of thinking. He presents questions that build up and fade out with the instrumentals.
It is about the inevitable movement of time and how all we can do is move forward with it. He takes us along this journey–one that causes us to first look inwards and see how that reflects outwardly. Maybe it's in the warmth of the sun or the cool shade of a forest. For Kahan, it's the cold winters and limited light of the north. Noah Kahan's "Northern Attitude," is just a preview for his new album "Stick Season" being released on October 14th so be on the lookout. Here's to happy listening!
:: "Signal" – True Body ::
Feverish and impassioned, True Body's new single is beautiful inside and out. On the outside, "Signal" (released September 30th via Funeral Party Records) roars with urgent, heated post-punk fury; the NYC via Virginia five-piece channel the second coming of The Smiths and The Cure in their music, which (if I may be so bold) hits just as hard as those legendary bands did in their day. On the inside, "Signal" demands engagement and ownership; it's a stirring, striking call to action, with the message that we be more than detached critics and talking heads; that we be a real part of the world, rather than a reviewer on the sidelines.
I write this, all the while thinking far too deeply about how I am one of those folks writing, reviewing, and critiquing others' art from a distance. Way to hold the mirror up, True Body.
The flashing lights take a toll on you
There was nothing but darkness, before "he knew"
The righteous boys, the teardrop men
The cower and cry out, so pathetic
Send signal down your spine
Answer with an action
"This song is an expression of frustration with critics who shape reality without actively participating in reality outside of their own social bubbles," True Body vocalist Ivy Moreno Riaño explains. "An encouragement towards action itself, turning towards the world rather than away from it. Musings on trans street life in the USA, wealth gaps, crime."
Self-described "denizens of the hardcore and punk spheres, powerful trans thinkers and magicians, soldiers of techno and other various dance musik disciplines," True Body formed in 2015 and have established themselves as an underground/alternative fan favorite, with two studio albums (2015's Give Us Your Light and 2020's Heavenly Rhythms for the Uninitiated) under their proverbial belts. "Signal" is the group's first release of the year, and supposedly derives from a long-lost demo the band dusted off and polished. Whether these lyrics are six years old or brand new, their sentiment is regrettably evergreen: Underserved communities, from the trans community to the LGBTQ+ population to low income and homeless communities and beyond, remain underserved – and they need real action, not just pretty words from afar.
Drug sick angels strike sensual poses
The alleys we crawl back through
The gutters, we live there too
Things taste so much better when you're basically dying
Don't trust pretty faces; it's you that we're eyeing
Send signal down your spine
Answer with an action
No chance against our signal
Achingly emotional and evocative, "Signal" is a visceral anthem for those without a voice. It's empowering, inspiring, and unapologetic in its mission. True Body are clearly trying to evoke real, impactful positive change through their music, and we hope for nothing more than their resounding success: That those who need to hear this song take it to heart, internalize what it has to say, and get involved for the better.
Heed the "Signal" and give True Body a listen.
Thunder and sing, it don't mean a thing
Wasting away under silencing
Where's your signal? Our signal?
:: "Sorry Song" – Elanor Moss ::
Elanor Moss has released her new single, 'Sorry Song', this week. Following the release of her debut EP earlier this year, the new single comes as the next chapter in Moss' story. Her memorable vocals deliver even more memorable songwriting – touching her audience with the most honest and poetic storytelling, and once again doing so with the greatest ease.
A lush soundscape that feels much like a dream, flutes usher in Moss' crisp vocals in 'Sorry Song', followed by a rush of synths and guitars that still paint the most compelling subtlety. Warm and reflective, Moss seamlessly combines unique musicalities and masterful songwriting to address a loved one who supported her through a time in need. Accompanied by a music video just as rich in colorful visuals, the experience of 'Sorry Song' is a treat for the senses.
I'm sorry that I always stayed home instead
I'm sorry I'd rather exist in my head
Where nobody knew it but you
A baggage too heavy for two
"Sorry Song," just like the rest of Moss' discography, will undoubtedly resonate and remain in the hearts of her audience long after its first play. Opening up the possibilities of what's to come for her musical journey, her steady and ever-expanding fanbase will look to grow alongside her sincere and heartfelt stories.
:: "Lifeless Stars" – Palaye Royale ::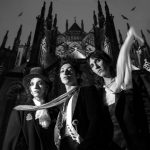 Dark and beautiful, but infectiously energetic, Palaye Royale have mastered channeling the grimmest parts of the human experience into soaring sounds and electrifying cabarets. Reminiscent of Danger Days/Revenge-era My Chemical Romance, the Los Angeles art-punk trio's September 22nd single, "Lifeless Stars," paints a vulnerable portrait of internal struggle and shows the fine line between weakness and strength. Paired with their elegant and whimsical visuals, this recent track is only one of countless masterpieces in Palaye Royale's renaissance of a discography.
Dedicated to the band's fanbase, the Soldiers Of The Royal Council, and their family, this lush and anthemic emo-ballad serves as a hauntingly gorgeous message of holding onto hope in the face of adversity. With glittering lyricism, dramatic crescendos, and Remington Leith's punk-infused vocals, "Lifeless Stars" beautifully puts into words some of the most difficult emotions to express. Leith and his brothers, Sebastian Danzig (guitar) and Emerson Barrett (drums), confront dark themes with rowdy guitars and shining imagery, simultaneously easing and thrilling the hearts of listeners.
"Lifeless Stars" accentuates the band's strongest qualities and their artful versatility, reminding us that "We all shine bright, but we all shine even brighter together." In terms of what's next for the three, their highly anticipated fourth full-length album, Fever Dream, is out on October 28th. Though this is unfortunately towards the tail-end of their North American tour, attendees for earlier dates have nothing to fear regarding exciting, new performances if the to-be-released tracks are anything like the few out already – and knowing Palaye Royale especially, the best is yet to come.
— — — —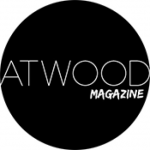 :: Weekly Roundup ::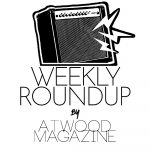 ---
:: This Week's Features ::
---