'Lavender' marks Terrell Morris' solo debut, but it's ignited by the spark of his collaborative work.
Stream: 'Lavender' – Terrell Morris
---
Superstar rapper Drake has done a ton to represent his hometown of Toronto throughout his decade-plus career—but nobody's familiarity with the Toronto hip-hop scene should end with Sir Aubrey Graham. After all, Canada's biggest city has fostered an incredible variety of rapping talent over the years, dating all the way back to the 1980s. Throughout that period, local pioneers such as Michie Mee, Maestro Fresh-West and Ghetto Concept proved instrumental in establishing and embracing an emerging genre some 500 miles northwest of its New York City birthplace.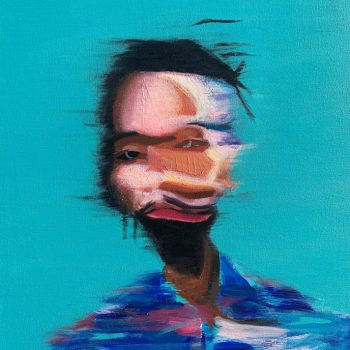 Many years later, another native son of Toronto named Terrell Morris has come along who's looking to make the most of his musical heritage – his stepfather, Dolo, is one of the members of the aforementioned group Ghetto Concept. Morris got started in 2018 with his debut EP, Molasses, a collaboration with production duo Free n Losh. Although those producers contribute to his recent full-length follow-up, Lavender, this album is credited as Morris' solo debut.
All throughout the record, Morris can be heard experimenting with genres aplenty. There's room for piano ballads like "Renaissance," jazzy trumpet numbers like "Winterfalls" and "Lavender Dreams,"—with lots more in between. He also demonstrates plenty of emotional vulnerability, like soft-spoken romantic bops "Twiss Up" and "ROXY." Overall, there's plenty of material packed into Lavender's half-hour that suggests Terrell Morris is a guy who can keep Toronto's hip-hop landscape alive and strong.
Here, he chats about his musical background and hometown ties with Atwood Magazine.
— —
A CONVERSATION WITH TERRELL MORRIS
Atwood Magazine: Growing up, what was your relationship to music? How much of an influence did your stepfather's role in the hip-hop group Ghetto Concept have on you?
My stepfather was a father figure from a young age. So between him and my mother, music held a special place in our household. Growing up around someone with respect in the Canadian music scene definitely made music a reasonable and realistic career path for me. It gave me confidence.
How have you spent the two years since your debut EP, Molasses? What are some important creative developments you've made from one record to the next?
I know what I'm doing now. I know what my strengths are and where I have a lot of work to do. The last few years have really just been about working through that – honing my craft. I'm producing more so I'm more involved in that process on this record. I really saw this project from top to bottom. Creatively there was nothing I didn't touch myself.
What is it like to be making a ''solo debut'' with Lavender, whereas Molasses was a collaboration with Free n Losh? Do you still stay in touch with that duo and/or have plans for future collaborations?
Losh is still my engineer and executive producer on Lavender. Free (aka Bobby Freemont) has production on multiple songs, and he's also the only credited feature on the album – I'm still very close to both of them and they won't be going anywhere.
As far as the difference between working on this project and Lavender – I just had a clearer vision of what I wanted since I had more deciding power. Yet still, so much of my team was the same that the working environment didn't change too drastically. Nothing but family in the room.
You show a lot of love for the local Toronto music scene, both on the album and in other contexts. In what ways has the creative community in your hometown influenced you positively over the years?
I've been able to grow with a lot of the current big players in the scene. I've known a lot of these guys for years, and the ones that I don't know are friends of friends. I think having familiar faces has been helpful for me as I've moved up in the industry. Having people I know personally find success is important – it's a reminder that everyone's story is different, and it'll happen on your own time.
Lavender makes room for quite a few different instruments: Are there any that you specialize in? What effect do you think is achieved by pulling together so many instruments on one record?
I like to have a lot of instruments on my music because it gives the songs life. It's not just a matter of rapping over a beat; it's a group of people working together on a full piece of work. That really shows on the final product. I didn't play any of the instruments on Lavender, but during the process of making the album I started teaching myself bass.
Some of your tracks, like ''Got the Love,'' have been described as ''making a nod'' to fellow Canadian Kaytranada. Do you have a professional or personal relationship with Kaytranada? How has he inspired you?
I don't know Kaytranada personally, and I can't say I had him in mind while working on that song either. That's not to say he didn't have any influence there, because he obviously did. However, I think that speaks less to him being my personal inspiration, and more to his general influence on the culture. He helped change dance music, and it wouldn't be the same without him.
What new terrains are you hoping to explore after Lavender?
If you had asked me this question at the top of year, I'd have had a different answer, but right now I just can't wait to be performing again. I can't wait to play this album the way it was meant to be heard.
— — — —
? © 2020
:: Stream Terrell Morris ::