Iowa's Treesreach follow a map from the past to the future in "Wisconsin," a heartwarming folk rock embrace eulogizing love and all that's left behind.
Stream: "Wisconsin" – Treesreach
[soundcloud url="https://api.soundcloud.com/tracks/658237757?secret_token=s-eMLbq" params="color=ff5500&auto_play=true&visual=true&hide_related=false&show_comments=true&show_user=true&show_reposts=false" width="100%" height="300″ iframe="true" /]
---
How do we commemorate the past; cherish a lost moment; honor the love we'll never have again? Iowa's Treesreach follow a map from the past to the future in "Wisconsin," a heartwarming folk rock embrace eulogizing love and all that's left behind. In reckoning through sorrow's dark corridors, the band light a tremendous spark of brilliant light.
You showed me a map once
that you keep folded and dry
Held in your heart of hearts
away from age and time
And every ancient photograph and anthem
Spreads it on your lap to map new lines
It lead to the highway to have us drive for awhile
Northeast with the River that's overflowed for miles
And as long as you're there with me wherever we may roam
Every slope of that hot road would feel like home
But something 'bout the drive
seems strange to me
The sun is out but I can barely see
Atwood Magazine is proud to be premiering "Wisconsin," part of Treesreach's new two-song single (alongside the track "Getting Used to Getting By"). A Cedar Rapids, Iowa-based trio consisting of Dillon Rairdin, Riley Thurm, and Luke Long, Treesreach first came onto our map nearly two years ago with our premiere of their song "Crowds and Loud Noises," a song offering "sanctuary from the storm with a moment of warmth, peace, and understanding." Ultimately releasing their debut album Some Night You Will Hear Me Crowing in January 2018, Treesreach rightfully pride themselves in incorporating a mixture of jazz and folk, rock and classical influences into their savvy, smart music.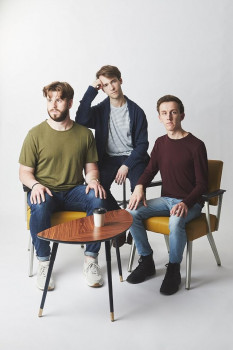 The band's first new music since releasing their epic debut album nearly two years ago, "Wisconsin" finds Treesreach returning to their folk rock roots and embracing the natural acoustic of piano, guitar, and voice. A warm pop song blending the melodic stylings of Queen, CSNY, and Wilco, "Wisconsin" employs dramatic harmonies and dynamic chord structures to deliver a continuously forward-moving contemplation on life, time, and relationships come and gone.
But something 'bout the drive seems strange to me
The sun is out but I can barely see
Give me one more drive up to Wisconsin
And we'll rest there on the Sometimes River's shore
If we map it that might set us free
And show us things we've never seen before
"'Wisconsin' was a song I knew needed to be written but that I had to wait patiently for. And even when it did start coming around in my head, the whole process of writing and recording it was slow," Dillon Rairdin explains. "It was especially hard to get the lyrics right, given how important the story told therein was to me. Then, once you have a song that means so much to you, the drive to get an impactful arrangement shaped and a compelling performance recorded increases tenfold. We all really had to bring our best to the table to get this song sounding right; I'm quite proud of the way it comes across and of all the energy and care my band mates put into it to really bring it to life."
It takes a few listens to "Wisconsin" to truly understand the importance of this special map, and all it represents to this bygone relationship – a love that, only at the end, do we truly recognize as having ended. Throughout the song, we find Treesreach wrestling with fantasies of what might have come had this relationship continued: The trips that were spoken of, but never taken; vacations that are now just a dream's dream:
Like vows and houses in sprawling fallen leaves
My life renewed and you my true and better Eve
As the orchard barn would surely see us married
And we'd tarry there in fortune we'd received
And we'd pull into Eau Claire some years down the road
With Mary and Arlo closely in tow
But your map was torn like that well-worn veil
It paved the way but still was built to fail
And I am like the ram beneath the knife
Finding strife in breath and death in life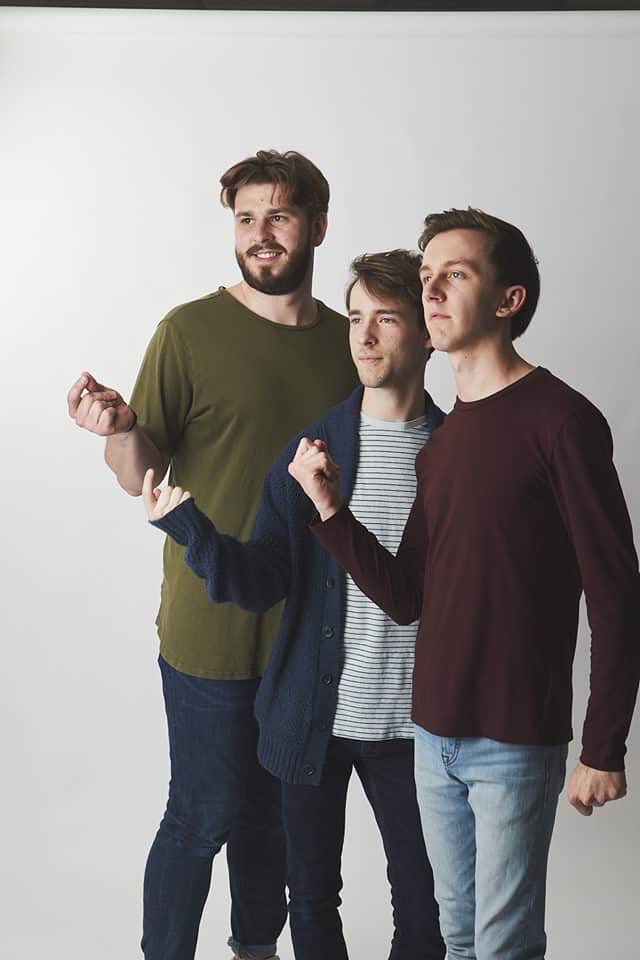 In contrast to much of the heavier content heard in Some Night You Will Hear Me Crowing, "Wisconsin" is a light acoustic folk rock song with a bright and reflective disposition. Treesreach are proving themselves as versatile as the best in their ability to flip the switch between heavier or experimental projects and songs such as this. Make no mistake; this still very much bears the mark of Treesreach's creative minds: The deep, grandiose harmonies, the warmth of the guitar, the background vocals swelling and swaying like leaves in the autumn breeze; these are all expertly-crafted minutiae the band spent hours tweaking until they were just right. Everything works in tandem to create that sense of melancholy, longing, and nostalgia that drive the music and band onward, upward, and forward.
Give me one more drive up to Wisconsin
Where I'm lost in the home we never knew
Just one day might take my mind away
From things I wish I'd never said to you
And if all my sorrows borrow from the past
Then they'll hum their tune till the future comes at last
I hope you still go up to Wisconsin
And write to me 'bout everything you see
Make sure to include if you saw me
Cause if I'm not there now I'm scared I'll never be
By the time "Wisconsin" comes to its poignant close, Treesreach have hit a new high in their pained penultimate stanza – a crescendo that bears the weight of a bygone world on its shoulders. Rairdin's once-fragile vocal roars with strength as he comes to some form of acceptance; he quaintly, mournfully recognizes that this "map" is unlikely to be used for its intended purpose. Instead, it is a relic of that which has been lost – a symbol of the connection between two hearts, minds, and bodies that no longer exists in that form.
"Wisconsin" is a sad song, and a happy song all in one. It's sad because it captures that which has been lost; it's happy, because it cherishes that memory, representing love's  everlasting nature. Stream Treesreach's newest single exclusively on Atwood Magazine, and stay tuned for more new music from these talented, introspective Iowans in the months to come!
You showed me a map once – seems now so long ago
Yeah, it's rent in two but there's still plenty lines to know
So I'll fold it and hold it in my open hand
Not to make new marks but rather move as planned
Ready and set to go at your command
Stream: "Wisconsin" – Treesreach
[soundcloud url="https://api.soundcloud.com/tracks/658237757?secret_token=s-eMLbq" params="color=ff5500&auto_play=false&visual=true&hide_related=false&show_comments=true&show_user=true&show_reposts=false" width="100%" height="300″ iframe="true" /]

— — — —
? © Pilsen Photo Co-op
:: Stream Treesreach ::
---