Transviolet's 'Valley' EP is a sonic adventure through life's excitement, fear, and even heartbreak, concluding in its danceable destination: Resilient success.
— —
Last week, Atwood Magazine had the pleasure of conducting an interview with Sarah McTaggart, frontwoman for LA based alt-pop quartet Transviolet. The conversation, which covered topics ranging from Transviolet's musical style and their experiences in the music business, also ventured into brave territory as McTaggart shared her life experiences with religion, sexuality, and abuse. This open candor, paired with a careful study of Transviolet's latest EP Valley (BMG 9/21/18), sheds light on the origins of the band's trademark salty and sweet flavor.
Listen: Valley EP – Transviolet
---
Since dropping their self titled debut EP in 2015, Transviolet, made up of singer Ms. McTaggart, multi-instrumentalist Michael Panek, drummer/producer Jonathan Garcia and guitarist Judah McCarthy, have been releasing music  that is a mixture of accessible pop with thoughtfully poetic lyrics. Lyrics, written by an understanding and honest heart, about life. This beautifully balanced discography is what lead Transviolet to their most recent professional adventure as they worked through the trials of big time label representation. An adventure that carried Transviolet through moments of excitement, fear and even heartbreak, before reaching success.
Transviolet's Valley is about developing strength by surviving a life experienced through the pantheon of human emotions. Unapologetically feeling through existence using weakness and imperfection to build strength. With tracks like "Close" and "Bad Intentions," Transviolet offers us a sensual listen to strength through sexy and confident vulnerability. While "Other Girl" and "Longshot" expose the soft underbelly of life's occassional meloncholia. "Small Victory," 'Valley''s third track, jumps in like a quirky best friend to lift our spirits, just in time. All that, through a spectrum of sick beats – Valley is everything.
Speaking to Atwood Magazine's Maggie McHale and Nicole Almeida, Sarah McTaggart explained:
The whole EP is about resilience and I come into that resilience through different passageways. Something like "Undo" and "Long Shot" it's all about coming to that resilience through the struggle, through the darkness. And then there's other ways you can find resilience as well through triumph, through humour, or where you're just having a good time. I think the EP as a whole has a good balance of happy and sad and all the feelings in between."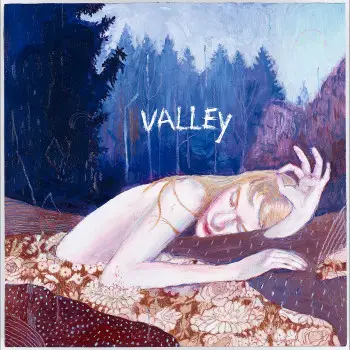 Valley opens with a track entitled "Close" (the opposite of far ?). Its gentle introduction eases us into '80s-style synth keyboard, as if our airplane was ascent bound. With lyrics like,
I'll be your opiate
You take a hit, I'll take you down with me
Send you Nylon looks
Got looks to kill, want you all over me 
It's obvious that this part of our Transviolet experience highlights strength through confident vulnerability. "Close" is a sexy upbeat girl-power anthem that celebrates the kind of prowess of which most can only dream. A beautiful woman beckoning,
I'll be your elegance
Got silk and lace and you all over me
Be my turbulence
Come shake me up, go crashing down on me
"Close" is the kind of song that'll have tendrils of steam swirling from your earbuds. You may break a bit of a sweat and catch yourself sexy muggin' in  the rearview. It's the sexy that pulsates through windows and makes passers by wonder what magic is happening in your car.
Valley's second track and lead single, "Undo," was inspired by author Cynthia Occelli, who wrote, "For a seed to achieve its greatest expression, it must come completely undone." In "Undo's" video, Transviolet let loose on a room full of fragile nick nacks that were painstakingly collected by McTaggart at local thrift shops. They should have seen it coming.  Sticking to the theme of resilience, McTaggart explains to LADYGUNN, "The idea behind the video was destruction and transformation: how sometimes in order to create something new, everything needs to come apart, and how beauty can be found in that vulnerable chaos." 
---
The lyrics of "Undo" suggest that it's McTaggart's "'fuck you, I'll write whatever I want' song." McTaggart continues in her conversation with LADYGUNN: "I was so tired of trying to write an upbeat 'radio hit'. I couldn't take it anymore. I got home after a particularly bad writing session, sat down at the piano, and started writing something that was purely for my own sanity."
And just look at this moxy laden result. "Undo"'is THE strength through perseverance theme song.
Oh, come on, just say something
No, go ahead, tell me, what do I need?
I'm not the kind of girl you undo
I'm not the kind of girl you undo
Oh, come on, oh, come on
I've been undone long before you
You can't tie your favourite noose around my neck
Cut me down when I turn blue
and act like I'm the wreck
I don't need your help
I don't need your help
I don't need your help
When McTaggart delivers these lyrics, you can hear the smirk on her curled lips. She means business and it's awesome.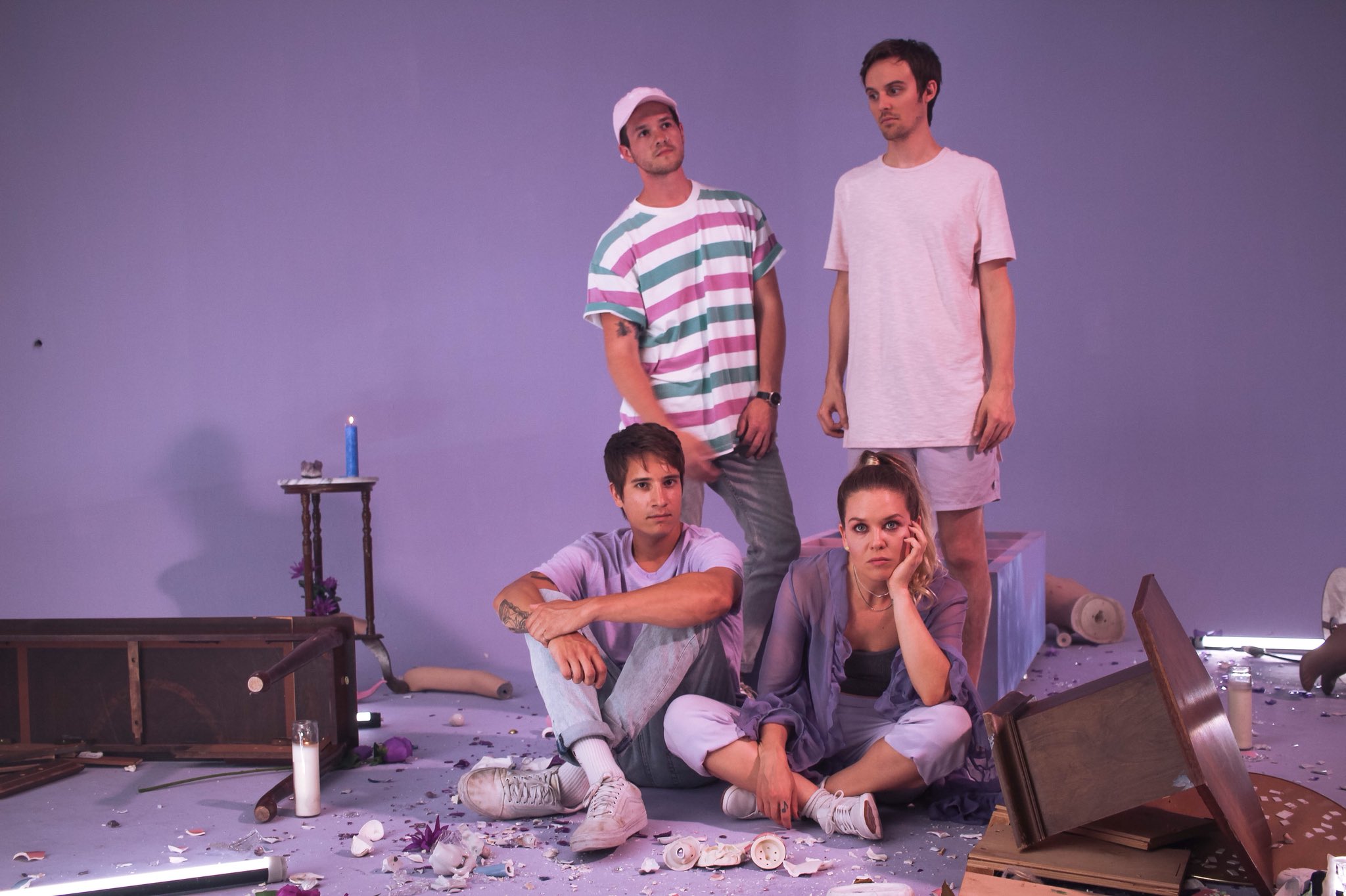 As varied as Valley is lyrically and sonically, Transviolet's music does share a common ingredient throughout. Just under their strong exterior, pulsates the undulating, lip biting, secret of sensuality. The third song on Valley, "Bad Intentions," strips off the outer layers of secrecy, turning the heat up and the lights down.
I never could say no to a free high
Take a hit, take a sip till I reach my limit
Roll one in the kitchen, light it up,
pass it back round to me
Gimme, pills from your pocket,
to the table, to my right hand
To my tongue, to my blood, to my synapse
Every inch of my skin iridescent
Mixed in with "Bad Intentions" verse chorus layers is a haunting hook, a cool nod to an epic Depeche Mode song "Enjoy the Silence" off their 1990 album Violater. Calling from beneath lyrics like,
Are you tryin' to get me drunk?
Are you tryin' to get me high?
Are you tryin' to take me home?
I'm just trying to have a good time
I'm just trying to have a good time
Are you tryin' to get me drunk?
Are you tryin' to get me high?
Are you tryin' to take me home?
I'm just trying to have a good time
I'm just trying to have a good time
the hook adds another dimension to the dark and sexy club vibe woven throughout "Bad Intentions."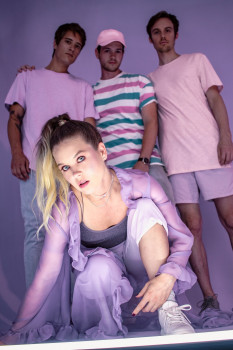 Valley's closer, the pièce de resilience, "Under" is the perfect product of the darkness and light of this entire EP.
In the dark, Imma fly
Like, like the moon in a black sky
On the rise like a new world wonder
Pull me down but I won't go under
Underground, I'm a geyser
In the pit, I'm the viper
On the rise like a new world wonder
Pull me down but I won't go under
But I won't go under, no I won't go under
On the rise like a new world wonder
Pull me down but I won't go under
McTaggart explains to Atwood Magazine that "Under" is her own inspirational call to action. "No," Sarah explains, "I'm going to keep going, I don't really care that things feel hopeless right now, I'm going to make it work no matter what." And Sarah is not only referring to rising above her musical challengers. Bravely, Sarah opens up about the root of her strength.
"As somebody who survived sexual assault as a teenager and grew up in a really religious background that thought of purity as the highest accomplishment it was also really complicated to come into womanhood and come into my own sexuality…. That's what inspired those lyrics. How do I become everything I want to become? How do I reach these goals that I've set out for myself when I'm still just trying to survive on such a primitive, basic level? How do I excel? How do I overcome these obstacles?" 
All this moxy, resilience, persistence and strength comes through in each track of Transviolet's Valley. It's what the world needs now.
— —
? © Chris Greenwell
:: Stream Transviolet ::
Ilana Kalish