Origami Crane's "Like A Flame" is an upbeat slice of passion worthy of fall or summer.
— —
Early fall songs are almost better than summer songs: They usually retain the same energy that mid-to-late summer songs can have, but they bring a darker, sexier element that can get lost in the dog days of summer. They're typically more intimate; where summer songs might call for camaraderie, autumnal songs are the type that get tied to a specific moment. Even though Origami Crane's "Like a Flame" has the shape of a summer song, it resonates and allures more like an up-tempo autumn jam.
Stream: "Like a Flame" – Origami Crane
---
Atwood Magazine is proud to be premiering "Like a Flame," the sophomore single from New York City's Origami Crane. Originally meeting as students at Boston's Berklee College of Music, the indie pop trio of Jake Fine, Noah Wilson, and Max McEwen introduced themselves just last month with debut single "Turn Around" (independently released August 31, 2018).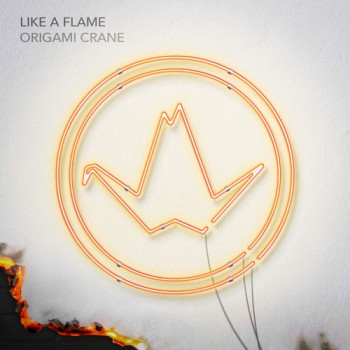 On the band's second single, drummer Max McEwen tells Atwood Magazine, "'Like A Flame' is a hot summer dance tune about what everyone wants: That passionate summer love with a person that blows your mind, and 'keep[s] burning through the night.' It's syncopated, it's groovy, and we really love playing it live."
Even though it's a self-described summer song, the more seductive nature of "Like a Flame" makes it an even better track for autumn. It's equal parts fun and intimate. Origami Crane's experience as studied musicians from the Berklee School of Music gives them a technical ability that compliments their organic, natural flow. Technical skill often drowns out the emotion further that music should evoke[i], but the band's seductive grooves, provided by McEwen and bassist Noah Wilson, match the playful timbre of Jake Fine's vocals.
"Seductive" and "Flirty" don't even begin to describe Fine's lyrics. The chorus' straightforward nature, "We're caught up like a flame/and wick burning through the night," is probably the least explicit lyric as the rest of the song details a night of dancing followed by passionate sex[ii]. See the first verse:
Tangled in the sheets
Figure over me
Breathing Heavily.
You get the picture. The next verse describes the thought process of dipping out before catching feelings:
Next thing I'm falling for her
Is this a bad idea?
I hear her coming; I go
Can't keep my head clean.
Between the double entendre and unquestionable imagery, this is a sensual song.
Origami Crane bring out some of the most seductive elements of their sound on "Like a Flame." It's a great kickoff-to-fall song to follow up their debut "Turn Around" and end the last summer month of 2018. It has the passion and fervor of a July evening, but the intimate sexuality of October.
Stream: "Like a Flame" – Origami Crane
— — — —
? © 2018
[i] See: Yngwie Malmsteen.
[ii] Is it wrong to compare this to Ricky Martin's "Livin' la Vida Loca," because it has similar sexy vibes to it?
:: Stream Origami Crane ::