Twelve of Tom Waits' iconic pieces delivered through a bevy of unique female voices lays a different filter over the already beautiful scenery captured by Waits' musical travelogue of life.
Stream: 'Come On Up to the House: Women Sing Waits'
---
The gruff and wavering yet charming and humorous voice of Tom Waits has long since been a safe landing place for the deep feeling, empathic travelers of life's absolutely imperfect trails.
Well the moon is broken
And the sky is cracked
Come on up to the house
The only things that you can see
Is all that you lack
Come on up to the house
All your cryin don't do no good
Come on up to the house
Come down off the cross
We can use the wood
Come on up to the house
Listening to a Tom Waits song/album feels like being snuggled up close to your (unshaven) best friend on a hard day.  While you feel their love and support, you know they're about to help you pull yourself up by your own bootstraps. The confidence that this friend has in you, mixed with their unwillingness to hold a pity party is what cures you of today's woe. It's that brand of real understanding and respect that Waits offers his listeners.
Luckily for us, Tom Waits' discography is vast, giving us plenty of the antidote for many of life's despairing moments. In addition to Waits' original work, we now have a collection compiled by writer and musician Warren Zanes in honor of Waits' 70th birthday, called Come On Up To the House: Women Sing Waits. By covering 12 of Waits' iconic pieces through a a bevy of uniquely beautiful female voices, Zanes lays a different filter over the already breathtaking scenery captured by Waits' musical  travelogue of life.
There's something about the female voice that's associated with a kind of vulnerability and a kind of emotion that we really wanted to breathe in these songs.
Zanes explains to NPR regarding the synthesis of this all female Tom Waits coterie.
Made up of musicians who share a deep love for Tom Waits' music and stories, the crew spans generation, genre and geographic origin. Due to the shear abundance of talent that is represented by such an amazing group of artists, there is no way to glaze over its participants without speaking each of their names separately and clearly in a credit-where-credit-is-due roll call. Involved in this project are the musical stylings of:
JOSEPH, AIMEE MANN, PHOEBE BRIDGERS, SHELBY LYNNE & ALLISON MOORER, ANGIE MCMAHON, CORINNE BAILEY RAE, PATTY GRIFFIN, ROSANNE CASH, KAT EDMONSON, IRIS DEMENT, COURTNEY MARIE ANDREWS, AND THE WILD REEDS.
Bursting with the ability to respectfully capture Waits' creative intentions in their own style, these artists do not disappoint with their delivery.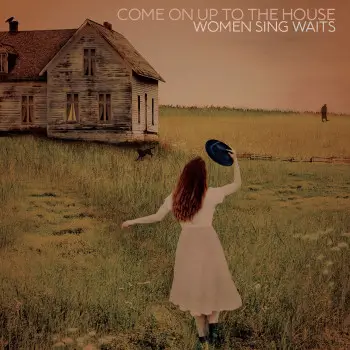 Reflecting back on their liaise with the material in Come On Up To the House: Women Sing Waits, Natalie Schepman from the Oregon based sister band, Joseph really says it all:
"When this project came up and Andrew (Stonestreet) suggested this particular song I was stopped dead in my tracks. "Well the moon is broken and the sky is cracked." Yep. "The only thing you can see is all that you lack." Yep. And the invitation follows: "Come on up to the house." The house is where someone's made a hot plate of dinner for you. It's where you can take off your coat and stay awhile. It's where you can sit and enjoy conversations with friends. You belong there. It's not that being there can fix any of your problems, but come on up. I love that it doesn't offer a fix to anything, because sometimes there is no fix. And maybe the song is talking more about a metaphysical state of mind to exist in. A way of thinking that is grounded in peace despite the chaos in your life. However you hear it, there's a place you belong and the song invites you there."
And Joseph are able to keep the original beauty of "Come On Up To the House" (Mule Variations, 1999) while infusing this invitation with their own flavor. Whereas the original Waitsian version, a growling plodish dirge, conjures images of a Nawlins style jazz funeral, the Joseph version is full of the incredible lightness of acceptance. Especially when they ply these lines with their signature harmonious swell:
Well you're high on top
Of your mountain of woe
Come on up to the house
Well you know you should surrender
But you can't let go
You gotta come on up to the house
---
The difference in delivery alters our expectations of what might meet us at the house. When Waits thrusts his gruff, gravely yet understanding invitation at us, one might expect a glass of whisky and a chain of cigarettes by the fire.  When invited by the the gentler voices of Joseph, you might look forward to a warm glass of mulled wine, a bowl of beef stew and a hand rolled joint at the cozy kitchen table. Either way, warmth, love and friendship are always on the menu.  Both versions of "Come On Up To The House" will certainly lighten your load.
In the tracks that follow, "Hold On," covered by smooth throated Aimee Mann, "Georgia Lee," (both from Mule Variations, 1999) by the ethereal Phoebe Bridgers and classic "Ol' 55" (Closing Time, 1973) by sing and sway sisters, Shelby Lynne and Allison Moorer there is a relief in the purity with which these songs are handled.  It's as if Waits' beloved versions were treated with a loving dose of WD40 to see what new and interesting wisdom could be expressed and heard with a slightly sweeter delivery.
When the haunting strum/buzz opens on Australian songstress Angie  McMahon's version of "Take It with Me" (Mule Variations, 1999) one may not be sure exactly which song they are about to hear. Using phantasmal humming where Waits taps on dampered piano keys, McMahon ventured to change the soundscape of "Take It With Me" while maintaining its original flavor.
It isn't until McMahon proclaims, "Phones off the hook…"
"…No one knows where we are…" that we know exactly which song we are about to enjoy.  The delicate piano of Waits' original recording harnesses the whispy tilt that McMahon's ghostly vocals spin. This ethereal take on "Take It With Me" sounds like a weary bedtime prayer prayed tearfully in the still, dark lonesome of a long overdue sleep. As opposed to the image of Waits, sat in front of a dingy barroom piano, singing straight from his demolished heart, the listener becomes witness to a broken woman allowing herself to delve deeply into an old yet still painful wound. Equal parts heart filled and excruciating, when McMahon tackles "Take It With Me's" most painful stanza, it hits hard.
In a land there's a town
And in that town there's a house
And in that house there's a woman
And in that woman there's a heart I love
I'm gonna take it with me when I go
I'm gonna take it with me when I go
If you have ever experienced any kind of loss, be it love or loved one… get some tissues, "Take It With Me" will invite that pain to visit for a time.
---
While we're on the topic of heartbreak, there is the ultimate farewell of "Ruby's Arms" (Heartattack and Vine, 1980.) A ballad written by Waits from the perspective of a war bound soldier leaving his lover's arms to join his brothers in arms for battle.  Described so beautifully to The Guardian by
British novelist, Sir Kazuo Ishiguro:
Waits sings … with cathartic magnificence, and you feel a lifetime of tough-guy stoicism crumbling in the face of overwhelming sadness.
It's crushing. It's beautiful. It's beautifully crushing.
When sung by the poetically fragile and trembling voice of Patty Griffin, it's hard not to imagine that she is the voice of Ruby herself.  It's a side of this story that has never been told. Perhaps, upon finding this song scrawled between the folds of a scrap piece of paper, Ruby sat down by her open bedroom window, reading, crying and rocking herself herself for comfort.
Griffin has been singing this song for a time even before the idea for this album came to be.
"I love 'Ruby's Arms'," explains Griffin, "because it makes me think of people in my family… it moves me in a way that helps me to look a little deeper at what might be thought of as weakness in someone." Using this perspective to find good in painful places, Griffin continues, "I do think there are good hearted people everywhere that don't know how to stay within the bounds of what is considered normal life, who for whatever reason feel frightened and suffocated in one place for too long even if that place is where love is… like it's protection of their real nature to keep moving and have the solitude of being a stranger wherever they are. To me this is a strong and compassionate story about that struggle."
It's is a good description of the strength in Tom Waits' craft. His brand is telling difficult stories in a compassionate way. It gives the listener an opportunity to find light in the dark spaces between people.
---
Rest assured, when choosing songs for Come On Up To The House: Women Sing Waits, Zanes did include some sunnier songs minus wincing heart ache. After all, in real life, Waits has a true, inspirational and long lasting happiness and love with his wife and longtime collaborator, writer and musician Kathleen Brennan.  Just as much as Waits has the artistic superpower to seize our heartstrings with a melancholy phrase or blue riff, he is equally capable of swooning them with a few words about his real and true epic soulmate, Kathleen.
She's the person by which I measure all others. She's who you want with you in a foxhole. She doesn't like the limelight, but she is an incandescent presence on everything we work on together.
Swoon.
Waits and Brennan wrote a beautiful song called "You Can Never Hold Back Spring" (Orphans: Brawlers, Bawlers and Bastards, 2006).
Sure, when delivered through Waits' endearing grumble/slur on top of a slow march it'd be perfect on a funeral playlist. However, when played through the rosy, wistful whisper of Austin's vintage pop canary Kat Edmonson, its a great potential soundscape for a magical Disney love scene.
What a powerful idea, that a song sung with the same lyrics and similar musical arrangement but passed over different vocal chords can take on a completely different meaning. While one version is a perfect burial song, another is entirely life affirming. This concept is exactly what Zanes was aiming for with the compilation of women covering Waits' work. With the addition of Edmonson's jazzy vintage warble, lyrics like these fill the heart with levity and hope:
You can never hold back spring
Even though you've lost your way
The world keeps dreaming of spring
So close your eyes
Open you heart
To one who's dreaming of you
You can never hold back spring
Baby
---
The tracks that follow, including Iris DeMent's trilly take on "House Where Nobody Lives," (Mule Variations, 1999) and Courtney Marie Andrews' turn with classic cover song "Downtown Train" (Rain Dogs, 1985) are less stories about love and loss and more words to the wise from the wise like,
So if you find someone
Someone to have, someone to hold
Don't trade it for silver
Don't trade it for gold
I have all of life's treasures
And they are fine and they are good
They remind me that houses
Are just made of wood
What makes a house grand
Ain't the roof or the doors
If there's love in a house
It's a palace for sure
Without love…
It ain't nothin but a house
A house where nobody lives
Without love it ain't nothin
But a house, a house where
Nobody lives
When sung by Dement and Andrews, Waits' messages are delivered with the kind of swinging rhythm that accompanies a good summertime porch sit between sisters. Not without pain, but with a softer and more compassionate tremble.
In the end, we are left with the ultimate expression of Waits' dichotomic style and Zane's ultimate success with The Wild Reeds version of "Tom Traubert's Blues." (Small Change, 1976). Written on top of an old Australian walk-about folk song about meandering. According to some of Waits' stage banter from a show in Sydney, Australia on May 2, 1979,
This is a song here. I kinda borrowed your unofficial national anthem on this whole thing. I'll give it back when I'm done. I met this girl named Matilda. And uh, I had a little too much to drink that night. This is about throwing up in a foreign country.
With the chorus of  "Waltzing Matilda," which means to wander life's trail with your earthly belongings on your back, it's the story of complete freedom and the ultimate burden, inspired by Waits' struggle with alcoholism. But somehow, self proclaimed "black metal sparkle folk" band from Los Angeles, The Wild Reeds, with their sweet and tranquil euphony, transform the song into a triumphant march towards the sunset. Unhindered by heavy sadness and regret, even these lines sound like a shimmering lullaby of sorts.
And it's a battered old suitcase to a hotel someplace
And a wound that will never heal
No prima donna, the perfume is on
An old shirt that is stained
with blood and whiskey
And goodnight to the street sweepers
The night watchman flame keepers
and goodnight, Mathilda too
In this and many ways, Come On Up To The House: Women Sing Waits is a staggering success that will hopefully introduce some new fans to these epic Waits works. Funny how this project started as a gift for Waits on the occasion of his 70th birthday, and ended up being a treasure for us all.
Happy Birthday Mr. Waits, thanks for showing the world that light and darkness can indeed exist symbiotically in one full lifetime. Here's to many more beauty filled and meaningful years to come. ❤️
— — — —
? © Dualtone Music Group
Come On Up to the House: Women Sing Waits
---
:: Stream Tom Waits ::
---